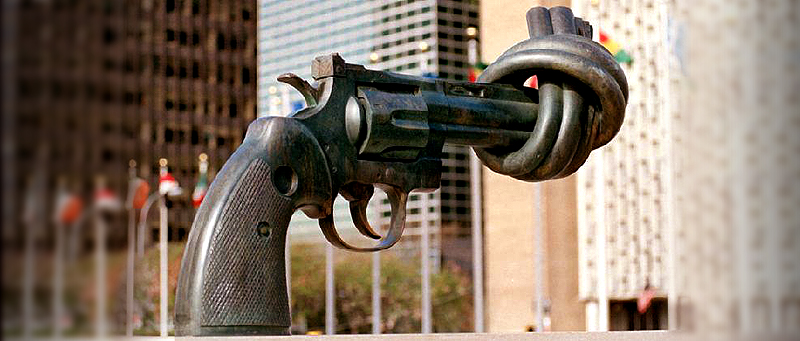 The Military is out directing traffic during public events, armed drones are set to fly over America with direction to track and trace law abiding gun owning citizens. The globalist police state grid has been slowly tighten its grip around the American public for decades. Now, as the control grid reaches its final stages and with the Bill of Rights almost completely destroyed, the globalists are playing the same card that mass murdering tyrants have always played: disarming the public.
---
THE UN AGENDA : CIVILIAN DISARMAMENT
WATCH THE FULL PRESENTATION HERE:
DHS Has Now Acquired Enough Bullets To Wage 30 Year War!!
LINK :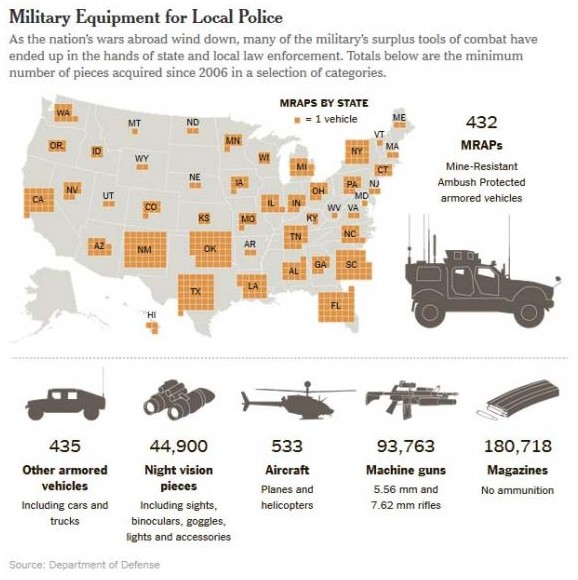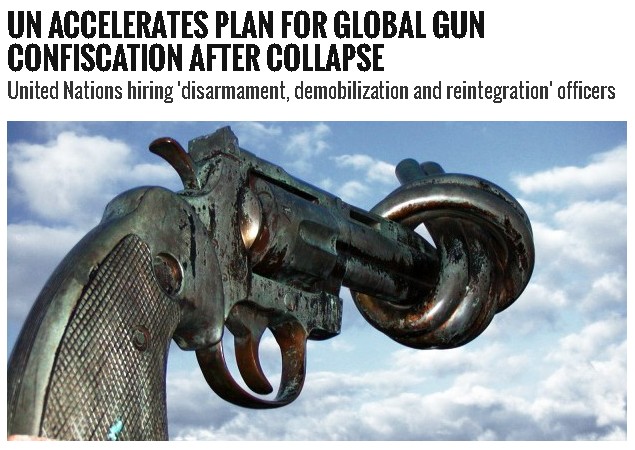 UN Accelerates Plan For Global Gun Confiscation After Collapse
United Nations hiring 'disarmament, demobilization and reintegration' officers
The United Nations is gearing up for gun confiscation in the event of a societal collapse in numerous countries by hiring "disarmament, demobilization and reintegration" officers who will be trained to seize guns "from the civilian population."
A posting on the United Nations Career Opportunities page announces a vacancy for the position of "Disarmament, Demobilization and Reintegration Officer" under the UN's Department of Peacekeeping Operations based out of New York.
UN Publicly Prepares For Gun Confiscation In US
We know they have been planning it for years, and the documents are legion. Now they are preparing to go operational.
The UN's page on DDR operations explains what role the DDR officer will be expected to undertake;
Disarmament is the collection, documentation, control and disposal of small arms, ammunition, explosives and light and heavy weapons from combatants and often from the civilian population.

Demobilization is the formal and controlled discharge of active combatants from armed forces and groups, including a phase of "reinsertion" which provides short-term assistance to ex-combatants.

Reintegration is the process by which ex-combatants acquire civilian status and gain sustainable employment and income. It is a political, social and economic process with an open time-frame, primarily taking place in communities at the local level.

The objective of the DDR process is to contribute to security and stability in post-conflict environments so that recovery and development can begin. DDR helps create an enabling environment for political and peace processes by dealing with security problem that arises when ex-combatants are trying to adjust to normal life, during the vital transition period from conflict to peace and development.
Although the posting prompted feverish speculation that the UN was about to embark on a mass gun confiscation program within the United States, it's important to note that the DDR program is only currently active in countries like the Democratic Republic of the Congo, Ivory Coast and Haiti.
However, concerns are understandable given the acceleration in anti-Second Amendment rhetoric and executive action on behalf of the Obama administration since the 2012 Sandy Hook massacre.
During a town hall event last week, Hillary Clinton asserted that gun control opponents should not be allowed to hold an opinion that "terrorizes" America.
Earlier this month, President Barack Obama also cited Australia's draconian gun confiscation program as an example to be followed by the U.S.
"It's no secret that the US government has been preparing riot gear, guns, ammunition, and detention centers for a major calamity that will likely involve violence and widespread civil unrest," writes Mac Slavo. Should such an event ever take place the first order of business will include a declaration of martial law. And just as we saw during Hurricane Katrina, when the U.S. Constitution has been suspended gun confiscation is soon to follow."
Since the 1990′s, Alex Jones and Infowars reporters have attended numerous urban warfare training drills inside the United States, many of which included exercises based around disarming American citizens. Foreign troops were also present at many of these drills.
Infowars first became aware of this story a week ago having been contacted by active duty military officials who saw the advertisement before it was posted publicly and we are currently working on a deeper angle that promises to provide further insight.
For anyone who still doubts that domestic gun confiscation would be plausible in the aftermath of a catastrophe, watch the short documentary below which highlights how authorities exploited Hurricane Katrina to seize firearms, including those belonging to residents who weren't even affected by the disaster.
Facebook @ https://www.facebook.com/paul.j.watson.71
FOLLOW Paul Joseph Watson @ https://twitter.com/PrisonPlanet
THE FIGHT OF OUR LIVES
Kurt Nimmo
Infowars.com
February 24, 2013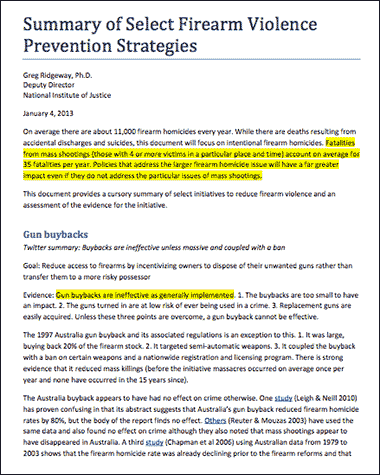 The National Rifle Association has obtained a Department of Justice memo calling for national gun registration and confiscation. The nine page "cursory summary" on current gun control initiatives was not officially released by the Obama administration.
The DOJ memo (downloadable here as a PDF) states the administration "believes that a gun ban will not work without mandatory gun confiscation," according to the NRA, and thinks universal background checks "won't work without requiring national gun registration." Obama has yet to publicly support national registration or firearms confiscation, although the memo reveals his administration is moving in that direction.
The memo stands in stark contrast to the administration's public stance on so-called gun control. White House spokesman Jay Carney said last month that laws proposed by Obama would not "take away a gun from a single law-abiding American."
The NRA declined to explain how it obtained the document. The memo was written by the acting director of the Justice Department's National Institute of Justice, Greg Ridgeway. It is dated January 4, two weeks before Obama mounted his attack on the Second Amendment following the Sandy Hook massacre. Ridgeway came to the Justice Department from the RAND corporation.
The memo says universal background checks on firearms purchases may help the government push to control and eventually outlaw firearms, but it would lead to an increase in illegally purchased guns.
It pointed out that banning high capacity ammunition clips would be ineffective due to the fact there is a large number of them already in circulation.
A Justice Department official said the memo is an unfinished review of gun violence research and does not represent administration policy.
The DOJ memo arrived a few weeks prior to a letter sent out by the Department of Veterans Affairs. "A determination of incompetency will prohibit you from purchasing, possessing, receiving, or transporting a firearm or ammunition," the sent to military veterans states. "If you knowingly violate any of these prohibitions, you may be fined, imprisoned, or both pursuant to the Brady Handgun Violence Prevention Act, Pub.L.No. 103-159, as implemented at 18, United States Code 924(a)(2)."
"US veterans are receiving letters from the government informing them that they are disabled and not allowed to own, purchase or possess a firearm. If the veteran does decide to purchase a firearm he will by fined, imprisoned or both," the Gateway Pundit remarked.
NRA's Chris Cox talks about the DOJ memo:
Ask Obama's Experts
The Untold Story of Gun Confiscation After Katrina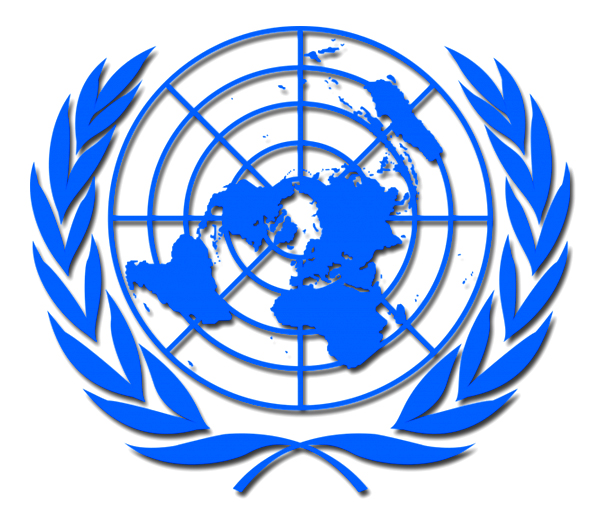 America:
Your Guns Are Being Taken And You Don't Even Know It
California Democrat senator Dianne Feinstein reveals the government agenda — confiscation:
Dianne Feinstein on Gun Ban in 1995 - "Mr. and Mrs. America, turn your gun in!"
Foreign Troops Training To Confiscate Guns of Americans
American troops were ordered to conduct door-to-door gun confiscation sweeps after Hurricane Katrina, and while it has emerged that at least one unit stood down and refused the order, many more carried out the unconstitutional mission. That precedent has been followed by other exercises training American soldiers for gun seizures, along with other martial law measures.
Infowars Nightly News co-host Rob Dew underscored the history of training to take American guns in his recent viral report:
Troops Ordered To Kill All Americans Who Do Not Turn In Guns
Meanwhile, the United Nations itself has forcibly disarmed numerous African nations using foreign troops, and the vacuum of power has led in several cases to genocidal atrocities as a direct result of taking away arms. The genocide in Rwanda was enabled by forcible disarmament. As Republic Magazine writes, the mass murder was "carried out by government-aligned Hutu tribal militias against a targeted ethnic population – the Tutsis – who had been disarmed with the help of UN "peacekeeping" forces under the supervision of future UN Secretary General Kofi Annan." The Darfur crisis in Sudan also has its roots in UN-led population disarmament, as does the Burma (Myanmar) massacre, again the result of disarmament. Armed troops representing international interests including the World Bank burned down homes and killed children in effort to forcibly evict some 40,000 Ugandans on the basis of conserving lands to combat climate change.
Indeed, genocide and disarmed populations go hand-in-hand through history– just look at the history of Democide (death by government). R.J. Rummel at the University of Hawaii is the leading academic on the subject, and has estimated that more than 262 million unnatural deaths in the 20th Century alone were caused by government, and most were at the hands of despots preying upon their helpless peoples. From Nazi Germany and Stalinist Russia, to Turkey, Armenia and beyond, gun bans have created a shift in the balance of power towards the state, creating an atmosphere of victim disarmament.
Blue helmets or foreign uniforms have no place on foreign soil, yet the UN Arms Trade Treaty text reveals a mechanism to impose just that type of control– even in America.
Read the treaty text for yourself and see our report from yesterday: Bombshell: Leaked UN Treaty Does Ban Guns
This article was posted: Sunday, February 24, 2013 at 12:20 pm
Tags: constitution, domestic news, gun rights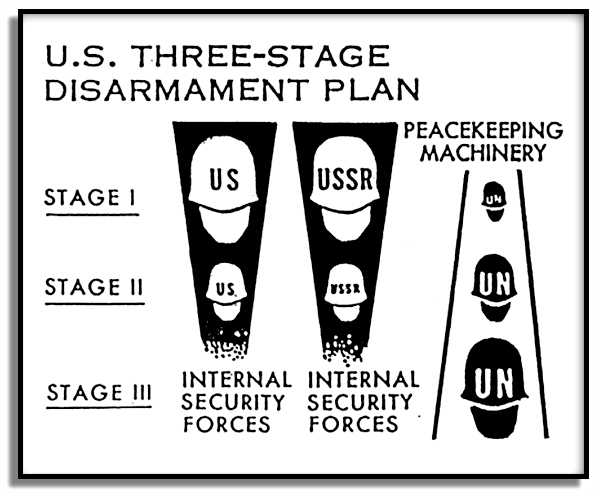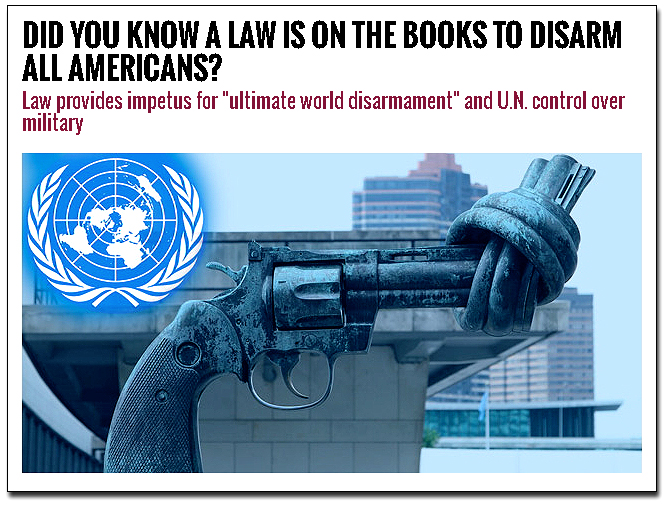 Did You Know a Law Is On The Books to Disarm All Americans?
Law provides impetus for "ultimate world disarmament" and U.N. control over military
P

ublic law 87-297, the Arms Control and Disarmament Act signed by President Kennedy in 1961, provides an impetus to not only ban civilian firearm ownership but to also transfer control of the U.S. military to the United Nations.

"It is the purpose of this Act to provide impetus toward this goal by creating a new agency of peace to deal with the problem of reduction and control of armaments looking toward ultimate world disarmament," the law states.

The law was based primarily on State Department Publication 7277, The United States Program for General and Complete Disarmament in a Peaceful World, which advocates the complete disarmament of every country in favor of a permanent U.N. military force:

DISARMAMENT GOAL AND OBJECTIVES

The over-all goal of the United States is a free, secure, and peaceful world of independent states adhering to common standards of justice and international conduct and subjecting the use of force to the rule of law; a world which has achieved general and complete disarmament under effective international control; and a world in which adjustment to change takes place in accordance with the principles of the United Nations.

In order to make possible the achievement of that goal, the program sets forth the following specific objectives toward which nations should direct their efforts:
The disbanding of all national armed forces and the prohibition of their reestablishment in any form whatsoever other than those required to preserve internal order and for contributions to a United Nations Peace Force;
The elimination from national arsenals of all armaments, including all weapons of mass destruction and the means for their delivery, other than those required for a United Nations Peace Force and for maintaining internal order;
The institution of effective means for the enforcement of international agreements, for the settlement of disputes, and for the maintenance of peace in accordance with the principles of the United Nations;
The establishment and effective operation of an International Disarmament Organization within the framework of the United Nations to insure compliance at all times with all disarmament obligations.
Department of State Publication 7277 Dtd 1961 by SFCWizard77
Since public law 87-297 was enacted, just about every president has worked to enact its provisions, including President Obama who signed a U.N. arms trade treaty which was rejected by the Senate.
"The right to own, buy, sell, trade, or transfer all means of armed resistance, including handguns, is denied to civilians by [Article 2] of the Arms Trade Treaty," wrote Joe Wolverton II of the New American. "Article 3 places the 'ammunition/munitions fired, launched or delivered by the conventional arms covered under Article 2′ within the scope of the treaty's prohibitions, as well."
Follow on Twitter:
@RealAlexJones | @KitDaniels1776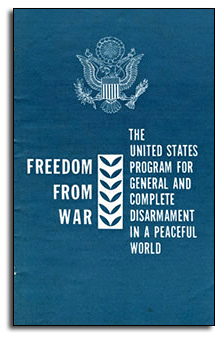 LINKS :
UN Arms Transfer Treaty (ATT) on Small Arms: Gun Grab Gradualism
DHS Preparing For 7-Year War Against American People
Federal Government Moves to Disarm Veterans
Founding Fathers Battle Gun Grabbers From the Grave
DOJ MEMO TO OUTLAW AND CONFISCATE ALL GUNS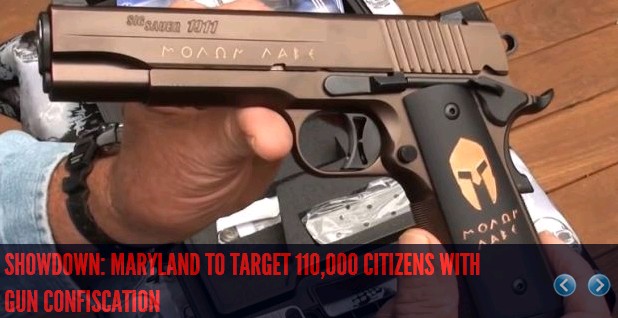 Showdown: Maryland to Target 110,000 Citizens With Gun Confiscation
New law would link gun registry with criminal database
Paul Joseph Watson
Infowars.com
March 5, 2014
Authorities in Maryland are set to target 110,000 citizens with gun confiscation under a new law that would link the state's gun registry with its criminal database, with new troopers set to be hired to enforce door to door visits of illegal gun owners.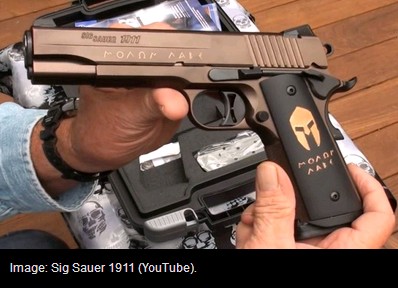 Maryland State Police complain that there is no way for them to identify gun owners who have been convicted of felonies, meaning they can't check if weapons have been relinquished in accordance with state law.
New legislation being considered by the Maryland House of Delegates would allow police to run checks of the state's gun registry against its criminal database at least twice a year at a cost of $300,000 dollars to create the new system.
"State Police estimate that if they linked the databases, they would find 10 percent of registered gun owners — about 110,000 people — would be disqualified. They estimate a rate of 1 percent each year thereafter," reports the Associated Press, adding that "seven new full-time troopers to investigate findings from the new database," would be hired, "with a cost of more than $1 million a year for salaries and equipment."
In other words, more armed police would be needed to conduct dangerous door to door gun confiscations of the thousands of people that would be snagged under the new law.
"This smacks of a police state mentality," said Maryland resident Ronald Smith in written testimony before a hearing on Tuesday.
While the law is ostensibly aimed at disarming criminals, we have seen a steady expansion of reasons that are being applied to bar Americans from owning firearms. The law also creates a chilling effect on the second amendment by implying that gun owners are all guilty until proven innocent.
Last year we reported on how US Navy Veteran David A Schmecker had his guns confiscated by police after a forced "psychiatric evaluation" despite him having no criminal or psychiatric history.
In August 2012, we reported on how a veteran in Ohio had his guns taken because he was adjudged to be mentally incompetent, despite the fact that his previous VA psychiatric evaluations were all clear, he was not on medication, and he had no criminal record.
In February 2012, David Sarti, one of the stars of National Geographic's Doomsday Preppers show, visited his doctor complaining of chest pains, only to have the doctor later commit him to a psychiatric ward and alert authorities, before Sarti was declared "mentally defective" and put on an FBI list that stripped him of his second amendment rights.
Maryland's preparations for gun confiscation arrive on the back of a similar showdown in Connecticut, where a vast majority of residents refused to register their assault rifles and high capacity magazines in accordance with a new law that took effect on January 1. Gun groups are now challenging authorities to either proceed with mass gun confiscation or repeal the law in full.
RELATED: Bloomberg Moves to Ban Pro-Gun Speech
Facebook @ https://www.facebook.com/paul.j.watson.71
FOLLOW Paul Joseph Watson @ https://twitter.com/PrisonPlanet
*********************
Paul Joseph Watson is the editor and writer for Infowars.com and Prison Planet.com. He is the author of Order Out Of Chaos. Watson is also a host for Infowars Nightly News.
This article was posted: Wednesday, March 5, 2014 at 5:47 am
Tags: gun rights
LINK : Free Speech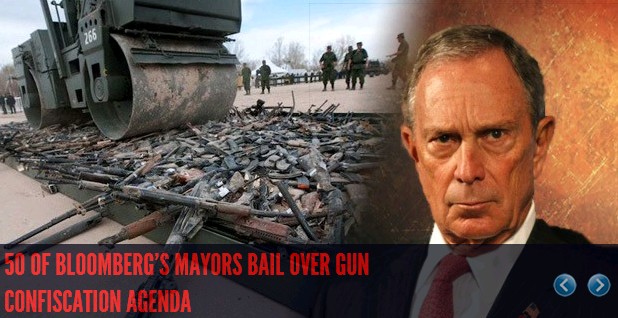 50 of Bloomberg's Mayors Bail Over Gun Confiscation Agenda
NYC mayor warns that group promotes "confiscation of guns from law-abiding citizens"
Adan Salazar
Infowars.com
February 10, 2014
Nearly 50 mayors have jumped ship on former NYC Mayor Michael Bloomberg's "Mayors Against Illegal Guns" campaign over allegations that the group's ultimate goal is outright gun confiscation, according to one former member.
As reported, Poughkeepsie Mayor John Tkazyik published a statement in last week's Poughkeepsie Journal coming clean about the group's true intentions, total disarmament of law-abiding gun owners.
"Under the guise of helping mayors facing a crime and drug epidemic, MAIG intended to promote confiscation of guns from law-abiding citizens," Tkazyik said, confirming what many already suspected about the group.
"Nearly 50 pro-Second Amendment mayors have left the organization. They left for the same reason I did," he also added.
The fact that 50 mayors bailed in response to a concerted effort to undermine the Bill of Rights is certainly headline-worthy, but so far, unsurprisingly, few other media outlets have picked the story up.
And Tkazyik isn't the first to cast these allegations. In 2007, the mayor of Williamsport, Pa., also said she left after witnessing "dubious" attempts to subvert the Second Amendment. "I have learned that the coalition may be working on issues which conflict with legal gun ownership, and that some actions on your behalf are dubious," then-Williamsport Mayor Mary Wolf wrote in a letter to Bloomberg himself.
And just last year, during a Mothers Demand Action rally (a gun control coalition which merged with MAIG in December 2013), Austin, Texas City Councilman Mike Martinez singled out a protestor carrying a "Stop the Gun Ban" sign and told him, "…there is no gun ban currently, but because of the work we're doing here today, we will make your sign legitimate shortly, so you hang on to that."
News of the group's traitorous crusade comes at a time when American gun owners are already wary of continual attempts to curtail firearm ownership. Since the Sandy Hook school shooting, the Obama administration has proposed legislation aimed at combating "gun violence," including proposals that would require background checks for all gun sales; in effect, registration.
American gun owners who know the history behind gun control are fearful that a federal gun registry will eventually lead to confiscation. Indeed, numerous articles have been published showing how, since 2007, roving law enforcement teams have been disarming Californians deemed "illegal" using a list of owners.
However, in the face of blatant evidence, the director of MAIG, Mark Glaze, has boldly gone on to publicly deny that "nobody in California has come to take anyone's guns."
The fact that groups like MAIG are to the point of openly bragging about their intentions doesn't bode well for gun owners. It signifies the establishment is preparing to take grand strides to convince the American public of the "dangers" posed by guns. That means more contrived scenes of violence with guns at their center.
The fact that Obama has repeatedly asserted his willingness to work around Congress to make things happen is also worrying. In his 2014 State of the Union speech he also mentioned that his administration would continue to address "gun violence," and that he intends to "keep trying, with or without Congress, to help stop more tragedies from visiting innocent Americans in our movie theaters and our shopping malls, or schools like Sandy Hook."
It should now be abundantly clear that any reassurances, given by known liars such as Obama or any of his anti-Second Amendment teams, are merely to placate gun owners into a state of pacification and complacency. However, the jig is now up and the curtain has been lifted.
Overall, 50 mayors bailing on the group over its future plans shows a definite sea change in the way public servants are regarding citizens' rights and the Second Amendment. However, it is simply incredible that more mayors, knowing the treasonous goals of the organization, have not abandoned ship.
Here's a list of mayors that are members of Bloomberg's initiative.
H/T Newsbusters
This article was posted: Monday, February 10, 2014 at 1:20 pm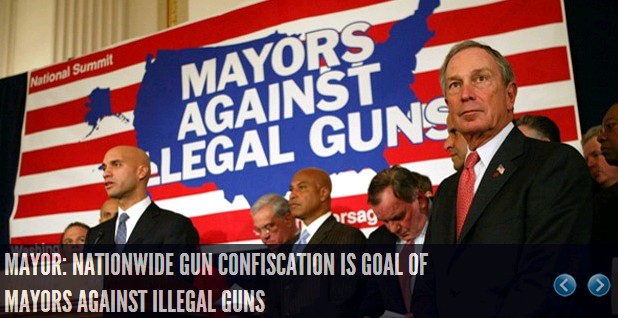 Mayor: Nationwide Gun Confiscation Is Goal of Mayors Against Illegal Guns
Poughkeepsie, N.Y. mayor says he left the group over confiscation plans
Kit Daniels
Infowars.com
February 7, 2014
A current New York mayor has publicly announced his decision to leave Mayors Against Illegal Guns because the gun control group demands an all-out "confiscation of guns from law-abiding citizens."
In an announcement published by his city's newspaper, Poughkeepsie, N.Y. Mayor John C. Tkazyik said he quit the group after realizing it was simply a vehicle for Michael Bloomberg to "promote his personal gun-control agenda."
"It did not take long to realize that MAIG's agenda was much more than ridding felons of illegal guns," he stated. "Under the guise of helping mayors facing a crime and drug epidemic, MAIG intended to promote confiscation of guns from law-abiding citizens."
"I don't believe, never have believed and never will believe that public safety is enhanced by encroaching on our right to bear arms and I will not be a part of any organization that does."
Tkazyik also pointed out that Chicago's extremely high crime rates are undeterred by the city's highly restrictive gun laws.
"Depriving law-abiding citizens of their right to own firearms only makes them more vulnerable," he added.
Tkazyik's announcement is a stark contrast to the rhetoric of other politicians who want to grossly violate human rights.
At a gun control event earlier this year, Austin, Texas City Council Member Mike Martinez admitted that gun control is simply a step-by-step process to completely eliminate the Second Amendment.
While pointing at a sign held by a protestor which read "Stop Gun Ban," Martinez said that "someone needs to inform him that there is no gun ban currently, but because of the work we're doing today, we will make [his] sign legitimate shortly."
"So you hang on to that [sign]," he said to a cheering crowd of gun control advocates.
And in a flashback to 1995, Sen. Dianne Feinstein (D-Ca.) told 60 Minutes that she wanted to outright ban all firearms owned by Americans.
"If I could have gotten 51 votes in the Senate of the United States for an outright ban, picking up every one of them … 'Mr. and Mrs. America, turn them all in,' I would have done it," she said.
This is the true intent of gun control, even though many of its advocates whitewash the truth with a variety of propaganda techniques or by just simply being ignorant.
For example, the organizers for the event at which Martinez spoke told reporters that they didn't want to ban guns even though that is exactly what Martinez demanded in his speech.
Gun control advocates constantly parrot deceptive phrases such as "common sense solutions" and "we don't want to ban guns" when selling their agenda which will only lead to the complete disarmament of the population by authoritarians.
Fortunately, on the other hand, Mayor Tkazyik is joining an ever-increasing list of public officials who have denounced gun control.
Last month, Detroit's Police Chief James Craig told reporters that legal gun owners deter crime.
"Coming from California, where it takes an act of Congress to get a concealed weapon permit, I got to Maine, where they give out lots of Carrying Concealed Weapon [permits], and I had a stack of CCW permits I was denying; that was my orientation," he said. "I changed my orientation real quick; Maine is one of the safest places in America."
"Clearly, suspects knew that good Americans were armed."
And last year, Erie Co., N.Y. Sheriff Timothy B. Howard publicly announced that his department would not enforce New York's latest gun control law, the SAFE Act.
"It's an unenforceable law and I believe it will ultimately be declared unconstitutional," he said to reporters. "Do you want law enforcement people that will say 'I will do this because I'm told to do this, even if I know it's wrong?'"
It is refreshing to see elected officials serving their constituents while also respecting the Bill of Rights.
This article was posted: Sunday, February 9, 2014 at 11:40 am
Kit Daniels
Infowars.com
August 21, 2013
As reported by David Knight, California law enforcement is now confiscating legally purchased guns from registered gun owners who have been labeled "Armed Prohibited Persons" (APPs.)
Police shoved two M16s within inches of gun owner Joe Mendez's face during a raid on his house to seize his legally-purchased firearms.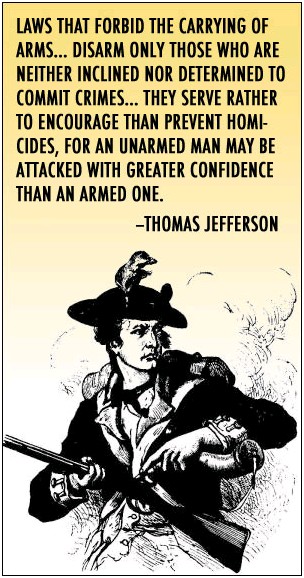 Fourteen officers total were involved.
Police even showed up later to lie to Mendez's wife about the raid, saying that they were only taking a report after her car was involved in a "hit and run."
All of the targeted APPs had purchased their firearms legally but the State of California declared afterwards that they were prohibited from gun ownership due to minor misdemeanor convictions or mental health concerns.
Gov. Jerry Brown even signed a bill this past spring to expand the program by spending $24 million to hire an additional 36 officers for a total of 69 agents to track down nearly 20,000 people on the APP list.
Before they can embark on gun confiscations, officers perform "tedious, expensive and time-consuming work, requiring hours of background checks and cross-referencing," as reported by NPR.
"There's a lot of work that goes into these," said California Dept. of Justice spokesperson Michelle Gregory to NPR. "People aren't always home, there's different stories as to where the firearms may be and there's a lot of follow-up [that] needs to happen after."
"So there's still going to be a lot of work even after they come out to these homes trying to confiscate these weapons."
In 2011, a gun confiscation sweep across 43 counties over a six week period resulted in over 1,200 firearms seized from 723 people.
Later on, the state can easily expand the list of "prohibited persons" to include even people who are behind on their state taxes or did not pay their toll fees on time.
This is clear evidence that gun registration ultimately leads to confiscation.
This article was posted: Wednesday, August 21, 2013 at 11:41 am
Tags: domestic news, gun rights
Harrowing Stories From Illegal Gun Confiscation Victims
Alex welcomes prolific YouTube video blogger Joe Mendez, recently the victim of a dubious arrest that led to his legal firearms being illegally confiscated, to discuss the expansion of the police state and the semi-covert war being waged on gun owners, journalists and influential bloggers. We'll also take your calls on this live Thursday broadcast.
http://www.youtube.com/user/Warrior4g...
http://www.infowars.com/dod-training-...
http://www.infowars.com/maryland-lawm...
Stay in the know - Follow Alex on Twitter: https://twitter.com/RealAlexJones
Gun Confiscation has Begun: Gun Owner Alert!

The Military is out directing traffic during public events, armed drones are set to fly over America with direction to track and trace law abiding gun owning citizens. The globalist police state grid has been slowly tighten its grip around the American public for decades. Now, as the control grid reaches its final stages and with the Bill of Rights almost completely destroyed, the globalists are playing the same card that mass murdering tyrants have always played: disarming the public.
We Are Nearing The Tipping Point
(The lies are getting too ridiculous.)
SHOCK VIDEO: Texas State Troopers Openly Defy The Law and Confiscate Gun
NOTE: Call DPS and let them know their public servants need to follow the law. (512) 424-2000
Friday the 13th must be defy the law day for the Texas Department of Public Safety. A legal lawful open carry rally at the capital became the site of a tyrannical abuse of power at the hands of our ignorant public servants. Terry Holcomb of Texas Open Carry was arrested for carrying a black powder pistol even though the act is perfectly legal.
We're in for The Fight of Our Lives
On the Thursday, March 7 edition of the Alex Jones Show, guest hosts Aaron Dykes and Paul Joseph Watson discuss Rand Paul's historic filibuster in protest of drone strikes on American citizens (on U.S. soil) with no due process, mainstream media's attempted cover up of the massive DHS ammo buy and the latest Syrian crisis in which U.S. funded rebels have captured 21 U.N. peacekeepers. Alex Jones also give a special report on the state of the union and what americans need to do to put a stop to the globalist plans to destroy america before it's too damn late!
Proof: Gun Registration Leads To Confiscation
Gun confiscations begin in New York, aided by existing firearms registry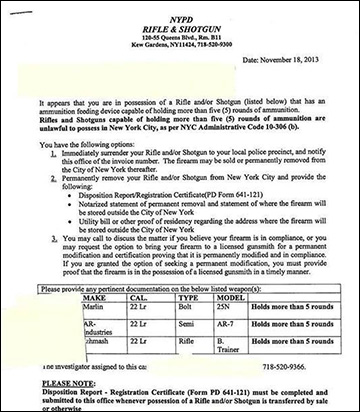 Kit Daniels
Infowars.com
November 27, 2013
In the wake of New York's latest gun control law, the New York Police Department is now sending out notices to registered gun owners demanding that they give up their firearms, clear proof that gun registration leads to outright confiscations.
The notice provides gun owners, who possess firearms now prohibited under New York's unconstitutional SAFE Act, the "options" to either surrender their firearms to the police, remove them from the city limits or otherwise render them inoperable.
The NYPD knew exactly who to send the notices to by using a centralized firearms registry which lists the city's gun owners and what firearms they have in their possession.
With the gun database already in place, the police merely needed to compile a list of firearm makes and models now banned under the SAFE Act and send the notices to the appropriate owners.
The SAFE Act, which was passed by the state legislature and signed by the governor on the same day in January, has numerous, draconian provisions including, but not limited to:
- Outright ban of magazines holding over 10 rounds
- Restriction on more than seven rounds being loaded into a magazine; the limited exceptions do not include home defense
- Mandatory background checks for ammunition
- The creation of a firearms registry for what the state considers "assault weapons"
- A requirement for firearm permit holders to fill out a form to keep the state from publicly identifying them
These unconstitutional provisions and the overall law itself have met significant resistance.
Erie Co., N.Y. Sheriff Timothy B. Howard publicly stated that his department will not enforce the SAFE Act, adding that the law is one of the strongest examples of the government not listening to the people.
"It's an unenforceable law and I believe it will ultimately be declared unconstitutional," he said during a press conference. "Do you want law enforcement people that will say 'I will do this because I'm told to do this, even if I know it's wrong?'"
Earlier this month, Howard won his re-election due to his stance against the gun control law.
"The SAFE Act was a major issue in this [Erie Co. Sheriff] election," Carl J. Calabrese, a political consultant, said to the Buffalo News. "A lot of people in Erie County, both Republicans and Democrats, are hunters, gun owners and shooters … These are motivated people who get out and vote."
"In a low-turnout election year like this one, it can make a huge difference."
Howard told the newspaper that he did what he thought was the right thing to do.
"People in Western New York feel strongly about the Constitution and Albany's misreading of it," he added.
While the NYPD's notice proves that gun registration leads to outright confiscations, Howard's re-election also proves that Americans are beginning to reassert their birth rights as recognized by the Constitution.
(H/T: The Truth About Guns)
This article was posted: Wednesday, November 27, 2013 at 1:12 pm
Tags: constitution, domestic news, government corruption, gun rights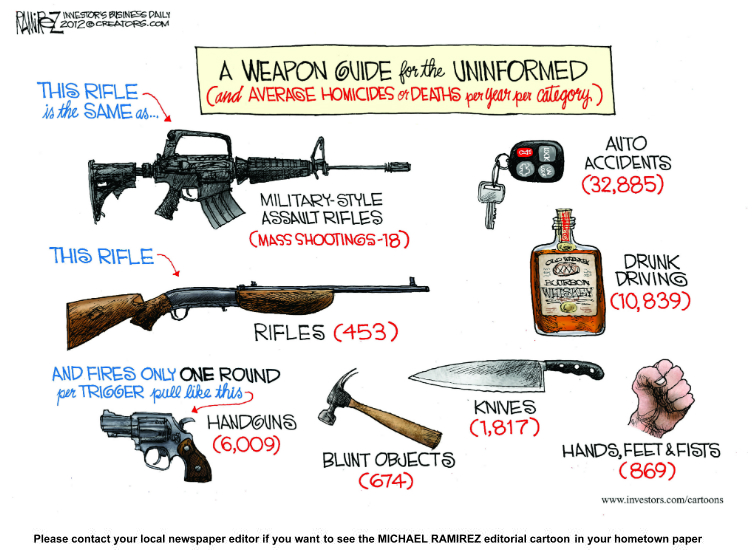 The Art of Driving, by John Taylor Gatto
Part five in a series of short videos based on John Taylor Gatto's book, The Underground History of American Education.

This excerpt is from Chapter One - The Way It Used to Be
Section Four: "The Art of Driving"(p.26-27)

Get the book: http://johntaylorgatto.com/underground/
PDF: http://johntaylorgatto.com/chapters/i...
Audiobook: http://www.radio4all.net/index.php/pr...

The Ultimate History Lesson: A Weekend With John Taylor Gatto (Documentary)
https://www.tragedyandhope.com/th-fil...
Related Articles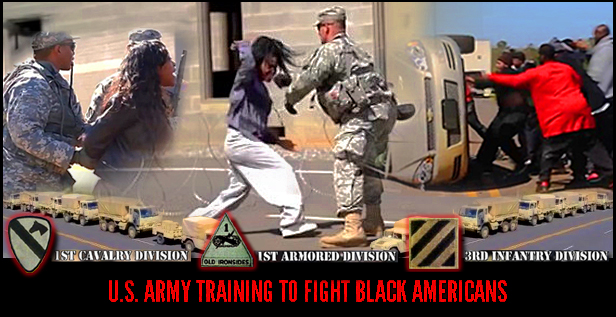 In the video below, Alex Jones highlights how the Guardian Centers video is yet another startling indication that authorities in the United States are preparing for civil unrest as America increasingly begins to resemble a militarized police state.
U.S. Army Training to Fight Black Americans
LINKS :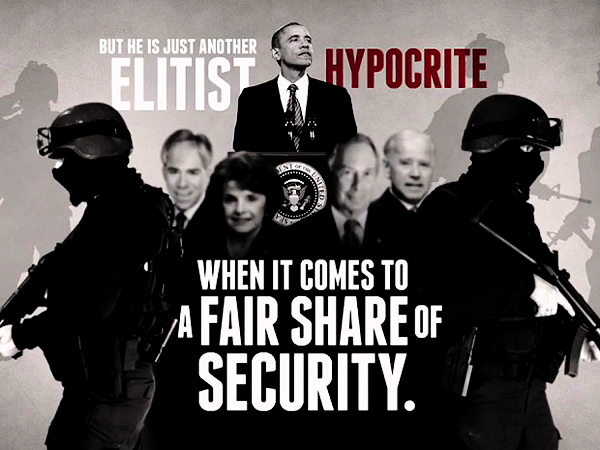 Despite launching a gun control agenda that threatens to disarm the American people, President Obama has signed a bill that would afford him armed Secret Service protection for life.
-- One rule for you, another rule for them --
LINK :

REACH OUT TO OTHERS
[Help Educate Family And Friends With This Page And The Links Below]
---
MORE:
Troops Ordered To Kill All Americans Who Do Not Turn In Guns
DHS Preparing For 7-Year War Against American People
Police Trained That Informed Americans Are Terrorists
Law Enforcement Requested Shooting Targets of Pregnant Women
DOJ MEMO TO OUTLAW AND CONFISCATE ALL GUNS
Federal Government Moves to Disarm Veterans