Gun Control Leads To Genocide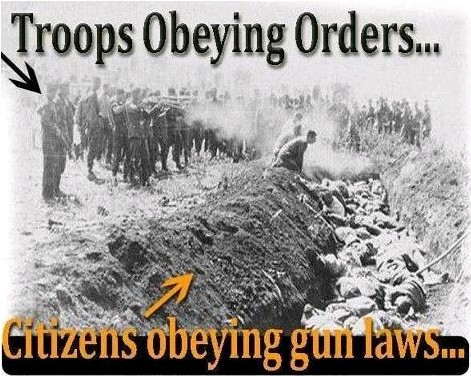 ---
THE UN AGENDA : CIVILIAN DISARMAMENT
WATCH THE FULL PRESENTATION HERE:
As these mini-documentaries show, citizen disarmament has always been the precursor to government-led mass murder of disarmed citizens. A disarmed citizenry exists at the mercy of the government ego-maniacs in charge, and history has shown that those who seek such power are almost always criminally insane... capable of committing acts of genocide and murder against their own people (Hitler, Stalin, Mao, Pol Pot, etc).

And today, even as the U.S. government is attempting to abolish the U.S. Bill of Rights and deny Americans their Second Amendment rights, the government itself is arming to the teeth, having recently purchased1.4 billion rounds of ammunition for use by the Department of Homeland Security. (http://www.naturalnews.com/036847_ammo_purchases_government_stockpili... )
DHS Preparing For 7-Year War Against American People

These bullets, for the record, are mostly hollow-point anti-personnel rounds which are illegal, under the Geneva Convention, to use in war. They can only be used domestically, against the American citizens.

It is only the possession of tens of millions of firearms among the U.S. citizenry that prevents the government from attempting to roll out a total military dictatorship right now. This is why there is such a push among power-hungry maniacs such as Obama, Schumer, Pelosi and Bloomberg to disarm the American public: it is the last step before the next holocaust begins.

Learn more:
http://www.naturalnews.com/036863_self_defense_divine_rights_video.html#ixzz246j0e2Uo
DHS Has Now Acquired Enough Bullets To Wage 30 Year War!!
LINK :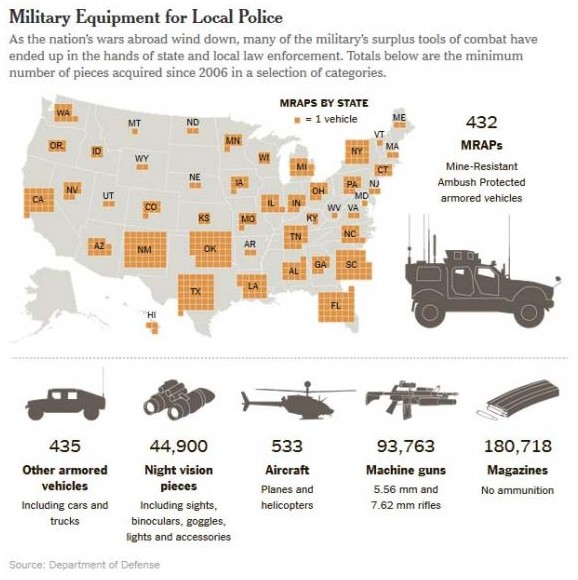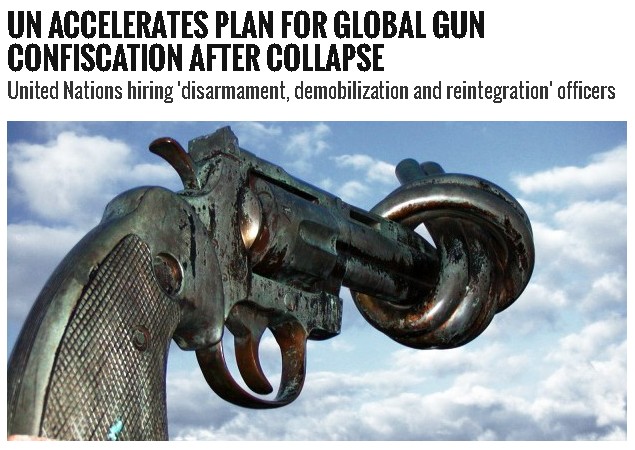 UN Accelerates Plan For Global Gun Confiscation After Collapse
United Nations hiring 'disarmament, demobilization and reintegration' officers
The United Nations is gearing up for gun confiscation in the event of a societal collapse in numerous countries by hiring "disarmament, demobilization and reintegration" officers who will be trained to seize guns "from the civilian population."
A posting on the United Nations Career Opportunities page announces a vacancy for the position of "Disarmament, Demobilization and Reintegration Officer" under the UN's Department of Peacekeeping Operations based out of New York.
UN Publicly Prepares For Gun Confiscation In US
We know they have been planning it for years, and the documents are legion. Now they are preparing to go operational.
The UN's page on DDR operations explains what role the DDR officer will be expected to undertake;
Disarmament is the collection, documentation, control and disposal of small arms, ammunition, explosives and light and heavy weapons from combatants and often from the civilian population.

Demobilization is the formal and controlled discharge of active combatants from armed forces and groups, including a phase of "reinsertion" which provides short-term assistance to ex-combatants.

Reintegration is the process by which ex-combatants acquire civilian status and gain sustainable employment and income. It is a political, social and economic process with an open time-frame, primarily taking place in communities at the local level.

The objective of the DDR process is to contribute to security and stability in post-conflict environments so that recovery and development can begin. DDR helps create an enabling environment for political and peace processes by dealing with security problem that arises when ex-combatants are trying to adjust to normal life, during the vital transition period from conflict to peace and development.
Although the posting prompted feverish speculation that the UN was about to embark on a mass gun confiscation program within the United States, it's important to note that the DDR program is only currently active in countries like the Democratic Republic of the Congo, Ivory Coast and Haiti.
However, concerns are understandable given the acceleration in anti-Second Amendment rhetoric and executive action on behalf of the Obama administration since the 2012 Sandy Hook massacre.
During a town hall event last week, Hillary Clinton asserted that gun control opponents should not be allowed to hold an opinion that "terrorizes" America.
Earlier this month, President Barack Obama also cited Australia's draconian gun confiscation program as an example to be followed by the U.S.
"It's no secret that the US government has been preparing riot gear, guns, ammunition, and detention centers for a major calamity that will likely involve violence and widespread civil unrest," writes Mac Slavo. Should such an event ever take place the first order of business will include a declaration of martial law. And just as we saw during Hurricane Katrina, when the U.S. Constitution has been suspended gun confiscation is soon to follow."
Since the 1990′s, Alex Jones and Infowars reporters have attended numerous urban warfare training drills inside the United States, many of which included exercises based around disarming American citizens. Foreign troops were also present at many of these drills.
Infowars first became aware of this story a week ago having been contacted by active duty military officials who saw the advertisement before it was posted publicly and we are currently working on a deeper angle that promises to provide further insight.
For anyone who still doubts that domestic gun confiscation would be plausible in the aftermath of a catastrophe, watch the short documentary below which highlights how authorities exploited Hurricane Katrina to seize firearms, including those belonging to residents who weren't even affected by the disaster.
Facebook @ https://www.facebook.com/paul.j.watson.71
FOLLOW Paul Joseph Watson @ https://twitter.com/PrisonPlanet
- The Divine Right of Self Defense -
Mike Adams documentary
This mini-documentary by Mike Adams explains the "divine right" of self-defense, which is reflected throughout nature. Nearly all forms of life have "weapons" of self defense, including insects, mammals, plants and even birds.

Here, you'll learn why the possession of weapons for the purpose of self defense is a human right - even a "divine" right - that must be protected for humanitarian reasons.

Mike Adams is the editor of NaturalNews.com and a frequent fill-in host of the Alex Jones Show (InfoWars.com).
- Gun Control is Genocide -
documentary by Mike Adams
Gun Control is Genocide. Why? Because throughout history, citizen disarmament has always been a precursor of mass genocide carried out by government gone bad. The term for it is "democide."

In the last century, governments have murdered 262 million people -- far more than have died on the battlefield in all the wars combined. Government becomes extremely dangerous when it controls all the firepower while the citizenry controls none. This imbalance of power leads to genocide.

It is only the presence of citizen firepower that prevents government -- which is inherently evil and destructive -- from enslaving the population.

The Second Amendment is the one right that defends all other rights.

See PART ONE of this video at:
http://www.youtube.com/watch?v=cCk90X...

Learn more from Mike Adams at www.NaturalNews.com
56 Million Exterminated Under the Guise of Gun Control!!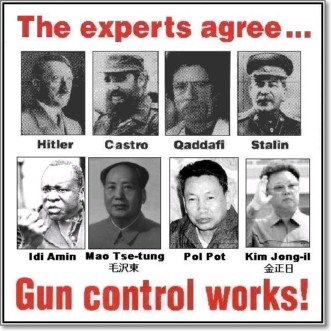 THIS IS WHY WE HAVE GUNS!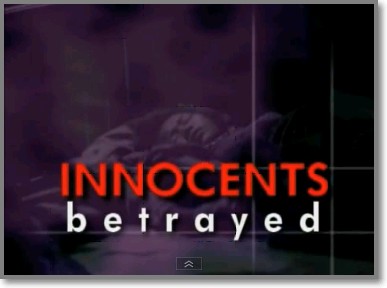 Warning: Graphic Violence. This disturbing video clearly demonstrates the consequences of centralizing government power and disarming citizens. Genocide always follows, leaving millions of innocent victims dead.
THE 2ND AMENDMENT IS TO FIGHT TYRANNY AND GENOCIDE!! 170,000,000 KILLED BY GOVERNMENT IN THE 20TH CENTURY
No Guns for Negroes Part One
No Guns for Negroes exposes the racist history behind American gun control laws.
No Guns for Negroes Part Two
No Guns for Negroes exposes the racist history behind American gun control laws.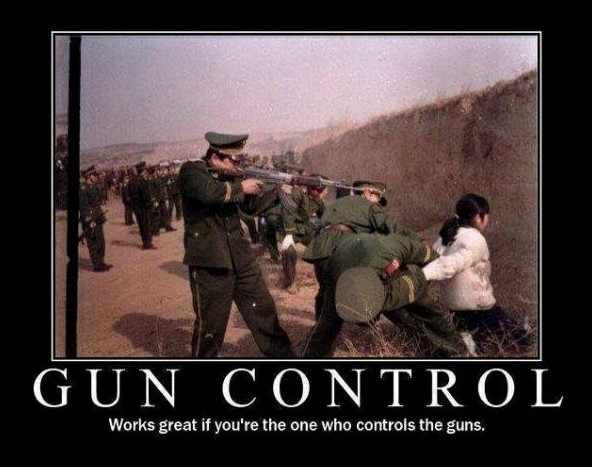 http://www.gunfacts.info/pdfs/gun-facts/6.1/gun_facts_6_1_screen.pdf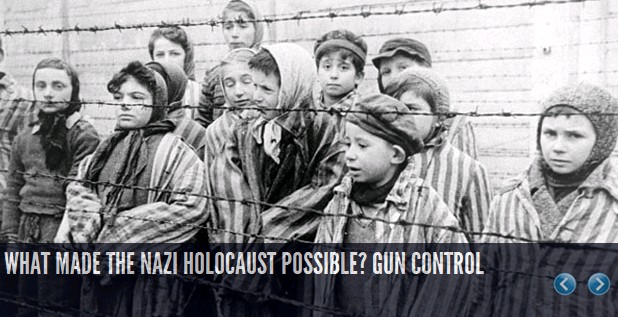 What made the Nazi Holocaust possible? Gun control
Stephen P. Halbrook
washingtontimes.com
November 13, 2013
This week marks the 75th anniversary of Kristallnacht, or the Night of the Broken Glass, the Nazi pogrom against Germany's Jews on Nov. 9-10, 1938. Historians have documented most everything about it except what made it so easy to attack the defenseless Jews without fear of resistance. Their guns were registered and thus easily confiscated.
To illustrate, turn the clock back further and focus on just one victim, a renowned German athlete. Alfred Flatow won first place in gymnastics at the 1896 Olympics. In 1932, he dutifully registered three handguns, as required by a decree of the liberal Weimar Republic. The decree also provided that in times of unrest, the guns could be confiscated. The government gullibly neglected to consider that only law-abiding citizens would register, while political extremists and criminals would not. However, it did warn that the gun-registration records must be carefully stored so they would not fall into the hands of extremists.
The ultimate extremist group, led by Adolf Hitler, seized power just a year later, in 1933. The Nazis immediately used the firearms-registration records to identify, disarm and attack "enemies of the state," a euphemism for Social Democrats and other political opponents of all types. Police conducted search-and-seizure operations for guns and "subversive" literature in Jewish communities and working-class neighborhoods.
This article was posted: Wednesday, November 13, 2013 at 11:22 am
Tags: domestic news, gun rights
---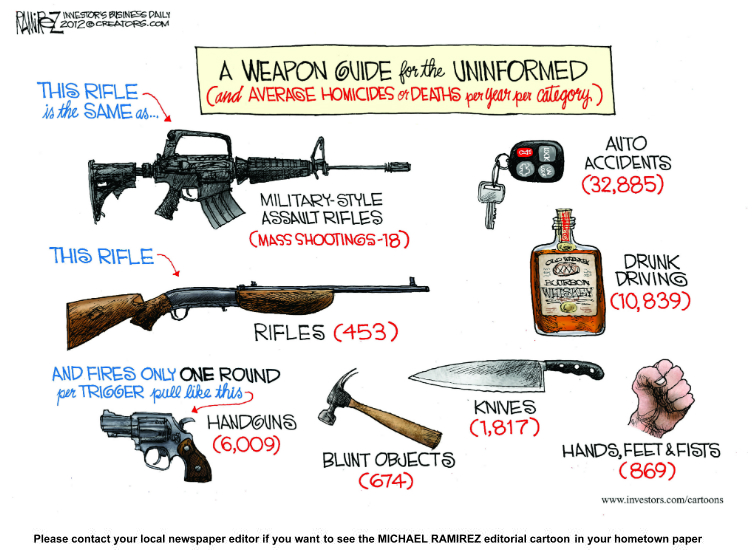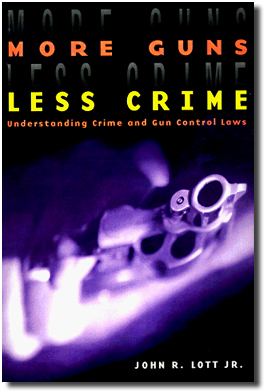 http://www.amazon.com/More-Guns-Less-Crime-Understanding/dp/0226493636
Does allowing people to own or carry guns deter violent crime? Or does it simply cause more citizens to harm each other? Directly challenging common perceptions about gun control, legal scholar John Lott presents the most rigorously comprehensive data analysis ever done on crime statistics and right-to-carry laws. This timely and provocative work comes to the startling conclusion: more guns mean less crime. In this paperback edition, Lott has expanded the research through 1996, incorporating new data available from states that passed right-to-carry and other gun laws since the book's publication as well as new city-level statistics.
"Lott's pro-gun argument has to be examined on the merits, and its chief merit is lots of data. . . . If you still disagree with Lott, at least you will know what will be required to rebut a case that looks pretty near bulletproof."--Peter Coy, Business Week
"By providing strong empirical evidence that yet another liberal policy is a cause of the very evil it purports to cure, he has permanently changed the terms of debate on gun control. . . . Lott's book could hardly be more timely. . . . A model of the meticulous application of economics and statistics to law and policy."--John O. McGinnis, National Review
"His empirical analysis sets a standard that will be difficult to match. . . . This has got to be the most extensive empirical study of crime deterrence that has been done to date."--Public Choice
"For anyone with an open mind on either side of this subject this book will provide a thorough grounding. It is also likely to be the standard reference on the subject for years to come."--Stan Liebowitz, Dallas Morning News
"A compelling book with enough hard evidence that even politicians may have to stop and pay attention. More Guns, Less Crime is an exhaustive analysis of the effect of gun possession on crime rates."--James Bovard, Wall Street Journal
"John Lott documents how far 'politically correct' vested interests are willing to go to denigrate anyone who dares disagree with them. Lott has done us all a service by his thorough, thoughtful, scholarly approach to a highly controversial issue." --Milton Friedman
The Art of Driving, by John Taylor Gatto
Part five in a series of short videos based on John Taylor Gatto's book, The Underground History of American Education.

This excerpt is from Chapter One - The Way It Used to Be
Section Four: "The Art of Driving"(p.26-27)

Get the book: http://johntaylorgatto.com/underground/
PDF: http://johntaylorgatto.com/chapters/i...
Audiobook: http://www.radio4all.net/index.php/pr...

The Ultimate History Lesson: A Weekend With John Taylor Gatto (Documentary)
https://www.tragedyandhope.com/th-fil...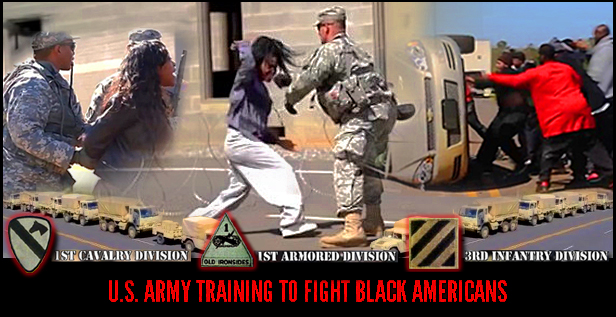 In the video below, Alex Jones highlights how the Guardian Centers video is yet another startling indication that authorities in the United States are preparing for civil unrest as America increasingly begins to resemble a militarized police state.
U.S. Army Training to Fight Black Americans
LINKS :
---
Death by "Gun Control"

http://jpfo.org/filegen-a-m/deathgc.htm
Why must all decent non-violent people fight against "gun control"? Why is the right to keep and bear arms truly a fundamental individual right? You can find the answers in this new book.
People frequently ask why we are so dedicated to our cause? This book answers that question by collecting the key facts and arguments in one place.
People have asked us to present the whole JPFO argument in one place. We have done it. Available now in an easy-reading format and a handy size, the new book is entitled Death by Gun Control: The Human Cost of Victim Disarmament.
The message is simple: Disarmed people are neither free nor safe - they become the criminals' prey and the tyrants' playthings. When the civilians are defenseless and their government goes bad, however, thousands and millions of innocents die.
Professor R.J. Rummel, author of the monumental book Death by Government, said: "Concentrated political power is the most dangerous thing on earth." For power to concentrate and become dangerous, the citizens must be disarmed.
What disarms the citizens? The idea of "gun control." It's the idea that only the government has the right to possess firearms, and that citizens have no unalienable right to use force to defend against aggression.
Death by Gun Control carefully examines the "gun control" idea: its meaning, its purposes, its effects. It comes in many forms, but in every form it enables the evildoers and works against righteous defense.
The Mother of All Stats

The Human Cost of "Gun Control" Ideas
The Genocide Chart © JPFO.org 2002
Government
Dates
Targets
Civilians Killed
"Gun Control" Laws
Features of Over-all "Gun Control" scheme
Ottoman Turkey
1915-1917
Armenians
(mostly Christians)
1-1.5 million
Art. 166, Pen. Code, 1866
& 1911 Proclamation, 1915
• Permits required •Government list of owners
•Ban on possession
Soviet Union
1929-1945
Political opponents;
farming communities
20 million
Resolutions, 1918
Decree, July 12, 1920
Art. 59 & 182, Pen. code, 1926
•Licensing of owners
•Ban on possession
•Severe penalties
Nazi Germany
& Occupied Europe
1933-1945
Political opponents;
Jews; Gypsies;
critics; "examples"
20 million
Law on Firearms & Ammun., 1928
Weapon Law, March 18, 1938
Regulations against Jews, 1938
•Registration & Licensing
•Stricter handgun laws
•Ban on possession
China, Nationalist
1927-1949
Political opponents;
army conscripts; others
10 million
Art. 205, Crim. Code, 1914
Art. 186-87, Crim. Code, 1935
•Government permit system
•Ban on private ownership
China, Red
1949-1952
1957-1960
1966-1976
Political opponents;
Rural populations
Enemies of the state
20-35 million
Act of Feb. 20, 1951
Act of Oct. 22, 1957
•Prison or death to "counter-revolutionary criminals" and anyone resisting any government program
•Death penalty for supply guns to such "criminals"
Guatemala
1960-1981
Mayans & other Indians;
political enemies
100,000-
200,000
Decree 36, Nov 25 •Act of 1932
Decree 386, 1947
Decree 283, 1964
•Register guns & owners •Licensing with high fees
•Prohibit carrying guns
•Bans on guns, sharp tools
•Confiscation powers
Uganda
1971-1979
Christians
Political enemies
300,000
Firearms Ordinance, 1955
Firearms Act, 1970
•Register all guns & owners •Licenses for transactions
•Warrantless searches •Confiscation powers
Cambodia
(Khmer Rouge)
1975-1979
Educated Persons;
Political enemies
2 million
Art. 322-328, Penal Code
Royal Ordinance 55, 1938
•Licenses for guns, owners, ammunition & transactions
•Photo ID with fingerprints
•License inspected quarterly
Rwanda
1994
Tutsi people
800,000
Decree-Law No. 12, 1979
•Register guns, owners, ammunition •Owners must justify need •Concealable guns illegal •Confiscating powers
Truth They Cannot Refute
Death by Gun Control delivers the essential - and gut wrenching -- truth that the anti-self defense "gun control" advocates never try to refute. They simply cannot refute the facts or the formula.
Here's the Formula: Hatred + Government + Disarmed Civilians = Genocide
What makes the argument so powerful? Two factors. First, it makes common sense: unarmed defenseless people have no hope against armed aggressors. Second, it states the historical truth: evil governments did wipe out 170,000,000 innocent non-military lives in the 20th Century alone.
Using the facts in Death by Gun Control, you can take down the enemies of the Bill of Rights. The rights-destroyers have no answers to these facts. They have no excuses for their killer ideas.
JPFO's work has already borne fruit. John R. Bolton, an under-Secretary of State for the United States, this year urged the United Nations to recognize how an "oppressed non-state group defending itself from a genocidal government" will need ready access to firearms. Mr. Bolton might have been the first U.S. official in modern history to have argued to the UN that private citizens might need to be armed against their own killer governments.
Paul Harvey, the world-renowned and much admired radio commentator, last year reportedly broadcast the JPFO-produced facts linking "gun control" to the genocide of millions of unarmed civilians. Country by country, Mr. Harvey counted the murdered victims of civilian disarmament policies.
Our new book could inspire other opinion-makers to join the chorus. Chapters in the book teach about:
The essential meaning of "gun control"

The Genocide Formula

The laws and policies that led to mega murder in Cambodia, China, Nazi Germany, Guatemala, Rwanda, Ottoman Turkey, Uganda, USSR

Zimbabwe's land invasions and firearms confiscations

Soaring crime in Britain after gun prohibition

Violence and police state polices in Japan

The right and duty of armed self-defense in Judaism and both Protestant and Catholic Christianity

Racist roots of "gun control" in America

The United Nations program to disarm civilians worldwide

Police state polices that condition Americans to accept victim disarmament.
Contributors: Leading Lights for Liberty
There is much more. Death by Gun Control features articles contributed by:
James Bovard

(Introduction):

"Not every firearms regulation leads inexorably to genocide. ... But there is no trigger guard on political ambition."

Stephen Halbrook, Ph.D.

(Chapter 9):

How Nazi firearms laws disarmed German Jews -- the whole story.

Jacob Hornberger

(Chapter 10):

Retelling the tragic, inspiring tale of The White Rose Society, college students who paid the ultimate price for freedom of mind.

Larry Pratt

(Chapter 18):

What the Bible says to Christians and Jews about self-defense and victim disarmament.
Death by "Gun Control"

http://jpfo.org/filegen-a-m/deathgc.htm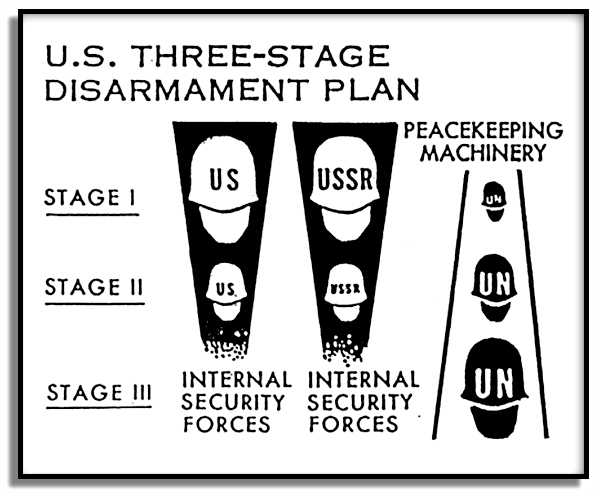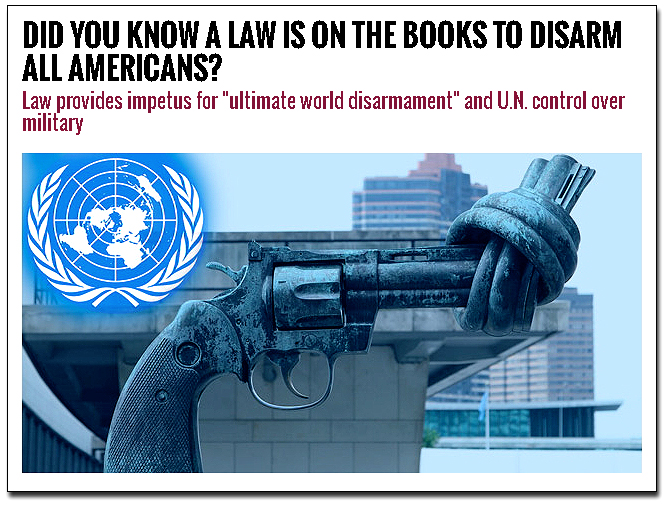 Did You Know a Law Is On The Books to Disarm All Americans?
Law provides impetus for "ultimate world disarmament" and U.N. control over military
P

ublic law 87-297, the Arms Control and Disarmament Act signed by President Kennedy in 1961, provides an impetus to not only ban civilian firearm ownership but to also transfer control of the U.S. military to the United Nations.

"It is the purpose of this Act to provide impetus toward this goal by creating a new agency of peace to deal with the problem of reduction and control of armaments looking toward ultimate world disarmament," the law states.

The law was based primarily on State Department Publication 7277, The United States Program for General and Complete Disarmament in a Peaceful World, which advocates the complete disarmament of every country in favor of a permanent U.N. military force:

DISARMAMENT GOAL AND OBJECTIVES

The over-all goal of the United States is a free, secure, and peaceful world of independent states adhering to common standards of justice and international conduct and subjecting the use of force to the rule of law; a world which has achieved general and complete disarmament under effective international control; and a world in which adjustment to change takes place in accordance with the principles of the United Nations.

In order to make possible the achievement of that goal, the program sets forth the following specific objectives toward which nations should direct their efforts:
The disbanding of all national armed forces and the prohibition of their reestablishment in any form whatsoever other than those required to preserve internal order and for contributions to a United Nations Peace Force;
The elimination from national arsenals of all armaments, including all weapons of mass destruction and the means for their delivery, other than those required for a United Nations Peace Force and for maintaining internal order;
The institution of effective means for the enforcement of international agreements, for the settlement of disputes, and for the maintenance of peace in accordance with the principles of the United Nations;
The establishment and effective operation of an International Disarmament Organization within the framework of the United Nations to insure compliance at all times with all disarmament obligations.
Department of State Publication 7277 Dtd 1961 by SFCWizard77
Since public law 87-297 was enacted, just about every president has worked to enact its provisions, including President Obama who signed a U.N. arms trade treaty which was rejected by the Senate.
"The right to own, buy, sell, trade, or transfer all means of armed resistance, including handguns, is denied to civilians by [Article 2] of the Arms Trade Treaty," wrote Joe Wolverton II of the New American. "Article 3 places the 'ammunition/munitions fired, launched or delivered by the conventional arms covered under Article 2′ within the scope of the treaty's prohibitions, as well."
Follow on Twitter:
@RealAlexJones | @KitDaniels1776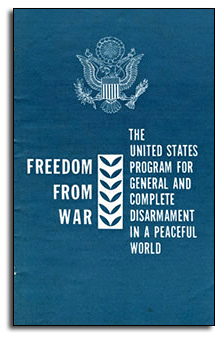 LINKS :
UN Arms Transfer Treaty (ATT) on Small Arms: Gun Grab Gradualism
DHS Preparing For 7-Year War Against American People
Federal Government Moves to Disarm Veterans
Founding Fathers Battle Gun Grabbers From the Grave
DOJ MEMO TO OUTLAW AND CONFISCATE ALL GUNS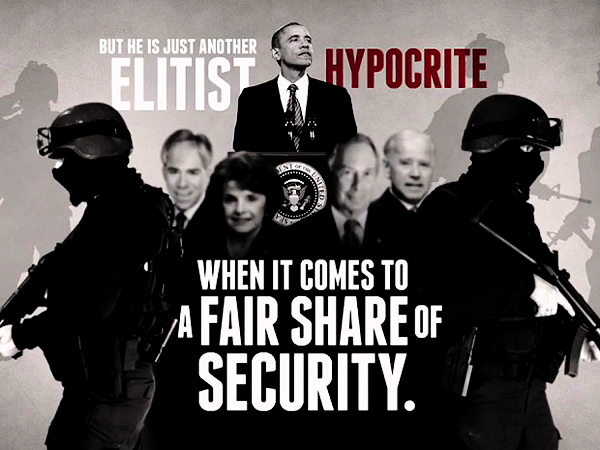 Despite launching a gun control agenda that threatens to disarm the American people, President Obama has signed a bill that would afford him armed Secret Service protection for life.
-- One rule for you, another rule for them --
LINK :

REACH OUT TO OTHERS
[Help Educate Family And Friends With This Page And The Links Below]
---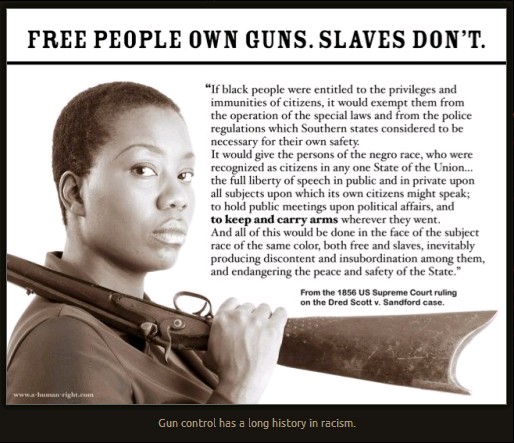 MORE:
Founding Fathers Battle Gun Grabbers From the Grave
DOJ MEMO TO OUTLAW AND CONFISCATE ALL GUNS
UN Arms Transfer Treaty (ATT) on Small Arms: Gun Grab Gradualism