Luby's Massacre Survivor Advocates Concealed Carry

Before a standing army can rule, the people must be disarmed; as they are in almost every kingdom in Europe. The supreme power in America cannot enforce unjust laws by the sword; because the whole body of the people are armed...."- Noah Webster, An Examination of the Leading Principles of the Federal Constitution, 1787

---
Suzanna Gratia Hupp explains meaning of 2nd Amendment!
"Before a standing army can rule, the people must be disarmed; as they are in almost every kingdom in Europe. The supreme power in America cannot enforce unjust laws by the sword; because the whole body of the people are armed...."- Noah Webster, An Examination of the Leading Principles of the Federal Constitution, 1787

On October 16, 1991, Hennard drove his 1987 Ford Ranger pickup truck through the front window of a Luby's Cafeteria at 1705 East Central Texas Expressway in Killeen, yelled "This is what Bell County has done to me!", then opened fire on the restaurant's patrons and staff with a Glock 17 pistol and later a Ruger P89. About 80 people were in the restaurant at the time. He stalked, shot, and killed 23 people and wounded another 20 before committing suicide. During the shooting, he approached Suzanna Gratia Hupp and her parents. Hupp had actually brought a handgun to the Luby's Cafeteria that day, but had left it in her vehicle due to the laws in force at the time, forbidding citizens from carrying firearms. According to her later testimony in favor of Missouri's HB-1720 bill[1] and in general, after she realized that her firearm was not in her purse, but "a hundred feet away in [her] car", her father charged at Hennard in an attempt to subdue him, only to be gunned down; a short time later, her mother was also shot and killed. (Hupp later expressed regret for abiding by the law in question by leaving her firearm in her car, rather than keeping it on her person. One patron, Tommy Vaughn, threw himself through a plate-glass window to allow others to escape. Hennard allowed a mother and her four-year-old child to leave. He reloaded several times and still had ammunition remaining when he committed suicide by shooting himself in the head after being cornered and wounded by police.

Reacting to the massacre, in 1995 the Texas Legislature passed a shall-issue gun law allowing Texas citizens with the required permit to carry concealed weapons. The law had been campaigned for by Suzanna Hupp, who was present at the Luby's massacre and both of whose parents were shot and killed. Hupp testified across the country in support of concealed-handgun laws, and was elected to the Texas House of Representatives in 1996. The law was signed by then-Governor George W. Bush and became part of a broad movement to allow U.S. citizens to easily obtain permits to carry concealed weapons.
Luby's Massacre Survivor Advocates Concealed Carry
I made the most stupid decision of my life when I decided, several months before the Luby's shooting, to stop carrying a revolver in my purse in the event that I would be caught and lose my chiropractor's license. That decision left me unarmed at the time when I most needed a gun. I'm not mad at the guy that killed 23 people that day. How can I be mad at a rabid dog? I don't blame guns. I blame politicians that legislated away my right to carry a gun to protect myself and my family.
http://www.suzannahupp.com/
THE UN AGENDA : CIVILIAN DISARMAMENT
WATCH THE FULL PRESENTATION HERE:
DHS Has Now Acquired Enough Bullets To Wage 30 Year War!!
LINK :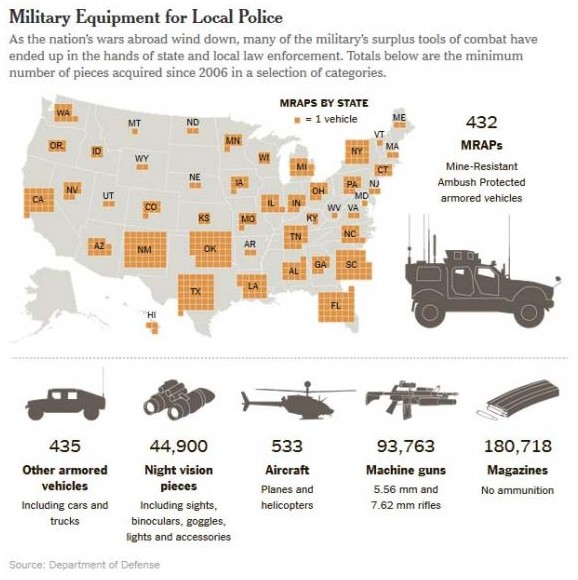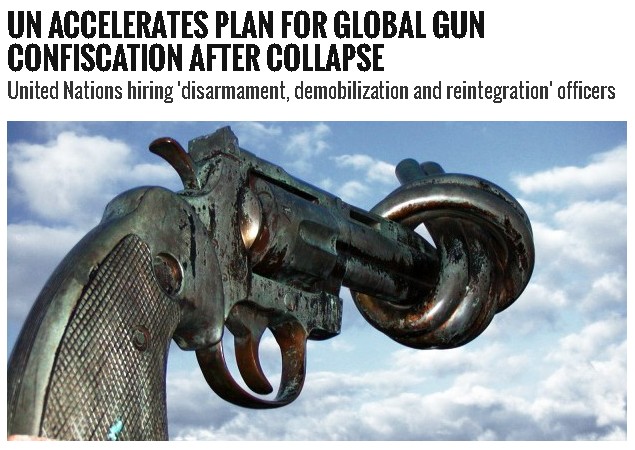 UN Accelerates Plan For Global Gun Confiscation After Collapse
United Nations hiring 'disarmament, demobilization and reintegration' officers
The United Nations is gearing up for gun confiscation in the event of a societal collapse in numerous countries by hiring "disarmament, demobilization and reintegration" officers who will be trained to seize guns "from the civilian population."
A posting on the United Nations Career Opportunities page announces a vacancy for the position of "Disarmament, Demobilization and Reintegration Officer" under the UN's Department of Peacekeeping Operations based out of New York.
UN Publicly Prepares For Gun Confiscation In US
We know they have been planning it for years, and the documents are legion. Now they are preparing to go operational.
The UN's page on DDR operations explains what role the DDR officer will be expected to undertake;
Disarmament is the collection, documentation, control and disposal of small arms, ammunition, explosives and light and heavy weapons from combatants and often from the civilian population.

Demobilization is the formal and controlled discharge of active combatants from armed forces and groups, including a phase of "reinsertion" which provides short-term assistance to ex-combatants.

Reintegration is the process by which ex-combatants acquire civilian status and gain sustainable employment and income. It is a political, social and economic process with an open time-frame, primarily taking place in communities at the local level.

The objective of the DDR process is to contribute to security and stability in post-conflict environments so that recovery and development can begin. DDR helps create an enabling environment for political and peace processes by dealing with security problem that arises when ex-combatants are trying to adjust to normal life, during the vital transition period from conflict to peace and development.
Although the posting prompted feverish speculation that the UN was about to embark on a mass gun confiscation program within the United States, it's important to note that the DDR program is only currently active in countries like the Democratic Republic of the Congo, Ivory Coast and Haiti.
However, concerns are understandable given the acceleration in anti-Second Amendment rhetoric and executive action on behalf of the Obama administration since the 2012 Sandy Hook massacre.
During a town hall event last week, Hillary Clinton asserted that gun control opponents should not be allowed to hold an opinion that "terrorizes" America.
Earlier this month, President Barack Obama also cited Australia's draconian gun confiscation program as an example to be followed by the U.S.
"It's no secret that the US government has been preparing riot gear, guns, ammunition, and detention centers for a major calamity that will likely involve violence and widespread civil unrest," writes Mac Slavo. Should such an event ever take place the first order of business will include a declaration of martial law. And just as we saw during Hurricane Katrina, when the U.S. Constitution has been suspended gun confiscation is soon to follow."
Since the 1990′s, Alex Jones and Infowars reporters have attended numerous urban warfare training drills inside the United States, many of which included exercises based around disarming American citizens. Foreign troops were also present at many of these drills.
Infowars first became aware of this story a week ago having been contacted by active duty military officials who saw the advertisement before it was posted publicly and we are currently working on a deeper angle that promises to provide further insight.
For anyone who still doubts that domestic gun confiscation would be plausible in the aftermath of a catastrophe, watch the short documentary below which highlights how authorities exploited Hurricane Katrina to seize firearms, including those belonging to residents who weren't even affected by the disaster.
Facebook @ https://www.facebook.com/paul.j.watson.71
FOLLOW Paul Joseph Watson @ https://twitter.com/PrisonPlanet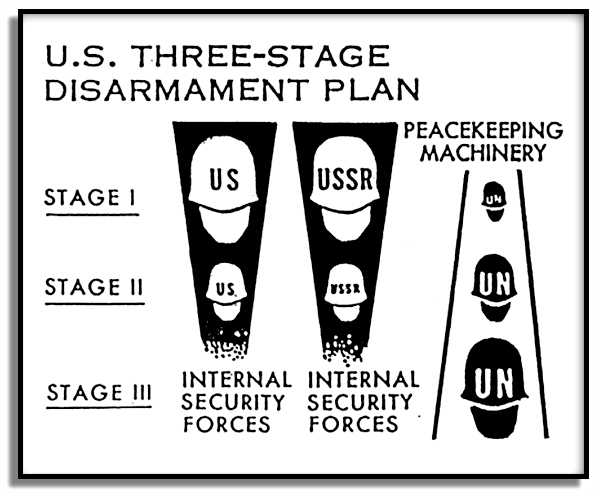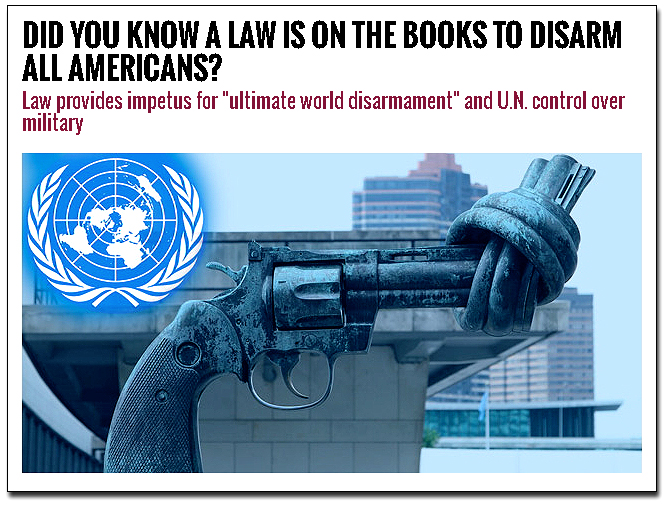 Did You Know a Law Is On The Books to Disarm All Americans?
Law provides impetus for "ultimate world disarmament" and U.N. control over military
P

ublic law 87-297, the Arms Control and Disarmament Act signed by President Kennedy in 1961, provides an impetus to not only ban civilian firearm ownership but to also transfer control of the U.S. military to the United Nations.

"It is the purpose of this Act to provide impetus toward this goal by creating a new agency of peace to deal with the problem of reduction and control of armaments looking toward ultimate world disarmament," the law states.

The law was based primarily on State Department Publication 7277, The United States Program for General and Complete Disarmament in a Peaceful World, which advocates the complete disarmament of every country in favor of a permanent U.N. military force:

DISARMAMENT GOAL AND OBJECTIVES

The over-all goal of the United States is a free, secure, and peaceful world of independent states adhering to common standards of justice and international conduct and subjecting the use of force to the rule of law; a world which has achieved general and complete disarmament under effective international control; and a world in which adjustment to change takes place in accordance with the principles of the United Nations.

In order to make possible the achievement of that goal, the program sets forth the following specific objectives toward which nations should direct their efforts:
The disbanding of all national armed forces and the prohibition of their reestablishment in any form whatsoever other than those required to preserve internal order and for contributions to a United Nations Peace Force;
The elimination from national arsenals of all armaments, including all weapons of mass destruction and the means for their delivery, other than those required for a United Nations Peace Force and for maintaining internal order;
The institution of effective means for the enforcement of international agreements, for the settlement of disputes, and for the maintenance of peace in accordance with the principles of the United Nations;
The establishment and effective operation of an International Disarmament Organization within the framework of the United Nations to insure compliance at all times with all disarmament obligations.
Department of State Publication 7277 Dtd 1961 by SFCWizard77
Since public law 87-297 was enacted, just about every president has worked to enact its provisions, including President Obama who signed a U.N. arms trade treaty which was rejected by the Senate.
"The right to own, buy, sell, trade, or transfer all means of armed resistance, including handguns, is denied to civilians by [Article 2] of the Arms Trade Treaty," wrote Joe Wolverton II of the New American. "Article 3 places the 'ammunition/munitions fired, launched or delivered by the conventional arms covered under Article 2′ within the scope of the treaty's prohibitions, as well."
Follow on Twitter:
@RealAlexJones | @KitDaniels1776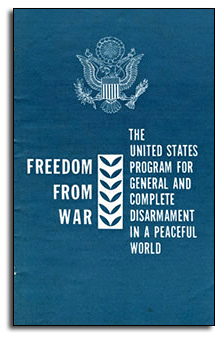 LINKS :
UN Arms Transfer Treaty (ATT) on Small Arms: Gun Grab Gradualism
DHS Preparing For 7-Year War Against American People
Federal Government Moves to Disarm Veterans
Founding Fathers Battle Gun Grabbers From the Grave
DOJ MEMO TO OUTLAW AND CONFISCATE ALL GUNS
FULL Reality Check Special: Gun Control HD
"It's not about Left vs. Right... It's about Liberty vs. Oppression" -Ben Swann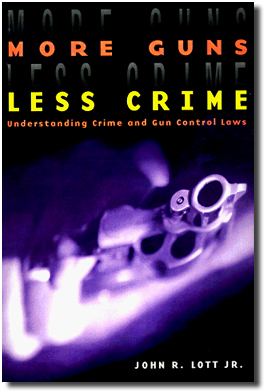 http://www.amazon.com/More-Guns-Less-Crime-Understanding/dp/0226493636
Does allowing people to own or carry guns deter violent crime? Or does it simply cause more citizens to harm each other? Directly challenging common perceptions about gun control, legal scholar John Lott presents the most rigorously comprehensive data analysis ever done on crime statistics and right-to-carry laws. This timely and provocative work comes to the startling conclusion: more guns mean less crime. In this paperback edition, Lott has expanded the research through 1996, incorporating new data available from states that passed right-to-carry and other gun laws since the book's publication as well as new city-level statistics.
"Lott's pro-gun argument has to be examined on the merits, and its chief merit is lots of data. . . . If you still disagree with Lott, at least you will know what will be required to rebut a case that looks pretty near bulletproof."--Peter Coy, Business Week
"By providing strong empirical evidence that yet another liberal policy is a cause of the very evil it purports to cure, he has permanently changed the terms of debate on gun control. . . . Lott's book could hardly be more timely. . . . A model of the meticulous application of economics and statistics to law and policy."--John O. McGinnis, National Review
"His empirical analysis sets a standard that will be difficult to match. . . . This has got to be the most extensive empirical study of crime deterrence that has been done to date."--Public Choice
"For anyone with an open mind on either side of this subject this book will provide a thorough grounding. It is also likely to be the standard reference on the subject for years to come."--Stan Liebowitz, Dallas Morning News
"A compelling book with enough hard evidence that even politicians may have to stop and pay attention. More Guns, Less Crime is an exhaustive analysis of the effect of gun possession on crime rates."--James Bovard, Wall Street Journal
"John Lott documents how far 'politically correct' vested interests are willing to go to denigrate anyone who dares disagree with them. Lott has done us all a service by his thorough, thoughtful, scholarly approach to a highly controversial issue." --Milton Friedman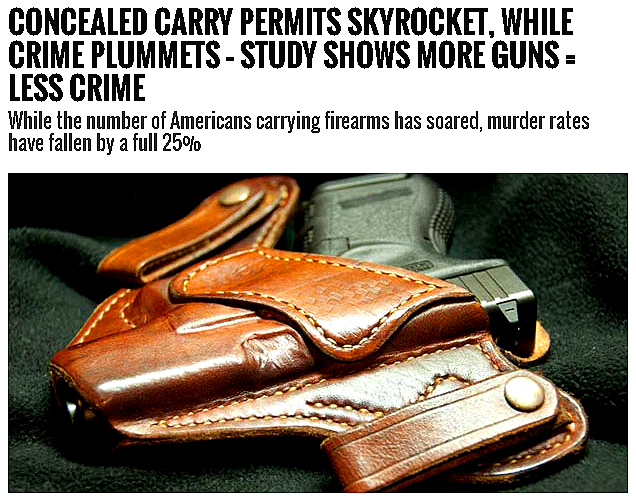 Concealed Carry Permits Skyrocket, While Crime Plummets – Study Shows More Guns = Less Crime
While the number of Americans carrying firearms has soared, murder rates have fallen by a full 25%
by Free Thought Project | Eva Decesare | July 18, 2015
According to a recent study by the Crime Prevention Research Center, the election of Barrack Obama may have played a significant part in reducing crime in the U.S. – but not in a way he is likely to brag about. In short, the election of Obama, a very vocal advocate of "gun control, has persuaded more and more Americans that they should keep and bear arms themselves. And that has, in turn, led to significantly lower crime rates.
Each year from 1999 to 2007, a little under a quarter of a million new permits were issued to Americans, allowing them to legally carry concealed firearms. In the four years after that, during Obama's first term, the rate of new permits being issued more than tripled, and has continued to grow since then. In 2007, about 4.6 million Americans already had concealed-carry permits. Now that number is over 12.8 million, with more new permits being issued to women and minorities than to white males.
That's a lot of average citizens carrying guns, and these numbers don't even include those who live in the eight states where one can legally carry a concealed firearm without a permit.
Meanwhile, gun sales have continued to rise since Obama took office. Around 14 million guns were purchased in the U.S. between 2008 and 2011 and over 20 million were purchased between 2012 and 2013 – around five million of those being sold to first-time gun buyers.
So what has been the effect on crime? Advocates of gun control have long insisted that arming average citizens would lead to bloody mayhem and chaos in the streets. However, while the number of Americans carrying firearms has soared, murder rates have fallen by a full 25%, from 5.6 down to 4.2 per 100,000 people, according to the Crime Prevention Research Center study.
As Larry Keene, senior vice president of the National Shooting Sports Foundation, says,
"It puts the lie to the myth promulgated by anti-gun individuals that somehow more law-abiding citizens carrying guns will lead to more crime."
But some advocates of public disarmament remain clinging to their illogical assertion that more legally-obtained guns mean more violent gun crime. The Violence Policy Center still insists that average citizens with guns "are a threat to public safety," and that "all too often, private citizens use their concealed handguns to take lives, not to save them." To support that claim, they point to a total of 561 incidents in which permit holders shot and killed a total of 743 people.
How many of those were justified acts of self-defense? The Center was not specific (shocker), but said that a "tiny fraction of these cases [were] ever ruled to be in self-defense."
Of course, advocates of gun control such as Obama and the Violence Policy Center never advocate that agents of government be disarmed. However, maybe they should due to the fact that the recent study also shows that average citizens who possess carry permits commit crime at a far lower rate than police officers do.
According to Edward Stringham, although official statistics have historically been scant, we now know that police killed 1,100 Americans in 2014 and 476 Americans in the first five months of 2015. Given that America has roughly 765,000 sworn police officers, that means the police-against-citizen kill rate is more than 145 per 100,000.
That means that police kill more than 30 times that of the average citizen.
In Florida and Texas, for example, permit holders are convicted of misdemeanors and felonies one-sixth as often as police are, despite how rarely violent police actually get prosecuted for the crimes they commit.
In the battle of ideas, the gun-grabbers are losing. Badly. In a Gallup poll in 2000, 35% of those polled thought that owning a gun made their home safer. By 2014, 63% thought so. And a Pew Research poll in 2014 confirmed that a majority of Americans believe that preserving the right of people to own guns is more important than the government trying to control gun ownership.
"The public increasingly understands that gun control is a failed social experiment, and it doesn't work," explains Larry Keene. "All gun control ever does is infringe upon the rights of the law-abiding citizens and does nothing to stop criminals from illegally acquiring firearms, and it doesn't stop them from misusing them in crime."
Ironically, what seems to increase gun sales the fastest is politicians calling for "gun control." Furthermore, when police prove daily that they not only choose not to protect the people but actually pose a threat to the people, it's no wonder more and more Americans are making it their personal responsibility to defend themselves, their families and their fellow citizens. As that mindset continues to spread, violent crime will continue to decrease.
In the meantime, however, we'll just sit by and watch while attempts to strip citizens of their means of protection blows up directly in the faces of the politicians trying to make that happen.
Milwaukee County law enforcer urged his citizens to arm themselves


Steve Watson
Infowars.com
Feb 19, 2013
A Milwaukee County Sheriff has warned that a second American Revolution may be sparked if unconstitutional gun laws are enforced by police and sheriff's department officials.
Sheriff David Clarke recently urged the citizens he serves to consider learning firearm safety because of "a duty to protect yourself and your family."
In a message posted on the Sheriff's website, Clarke wrote "I need you in the game, but are you ready? With officers laid-off and furloughed, simply calling 9-1-1 and waiting is no longer your best option. You can beg for mercy from a violent criminal, hide under the bed, or you can fight back; but are you prepared?"
"Consider taking a certified safety course in handling a firearm so you can defend yourself until we get there. You have a duty to protect yourself and your family. We're partners now. Can I count on you?" the message urged.
Speaking on the Alex Jones Show yesterday, the Sheriff hit home his opinions on the gun control proposals that are being pushed via presidential executive orders.
"First of all, to me that would be an act of tyranny. So the people in Milwaukee County do not have to worry about me enforcing some sort of order that goes out and collects everybody's handgun, or rifles, or any kind of firearm and makes them turn them in." Clarke said.
"The reason is I don't want to get shot, because I believe that if somebody tried to enforce something of that magnitude, you would see the second coming of an American Revolution, the likes of which would make the first revolution pale by comparison." the Sheriff urged.
Sheriff Says We're To See 2nd American Revolution
Alex welcomes Milwaukee County Sheriff David Clarke who recently urged the citizens he serves to consider learning firearm safety because of "a duty to protect yourself and your family." http://county.milwaukee.gov/Officeoft...
Like Alex Jones, Sheriff Clarke also recently appeared on CNN's Piers Morgan Tonight, in an interview that was clearly set up by Morgan in a failed attempt to demonize lawful gun owners and push the idea of strict gun control. During the broadcast Morgan said that Clarke's plea regarding citizens arming themselves would "turn Milwaukee into the Wild Wild West".
"This has nothing to do with violence reduction because the type of violence that we're talking about, that I see on the streets in the Milwaukee area on a daily basis is not even committed using the weapons that the left is trying to ban." Clarke told Jones' listeners.
"They are not using assault rifles, they are not using high capacity magazines, they are not buying their ammo over the internet. The criminals couldn't care less about a background check, so that tells me that this is ingenuous." he added.
Related: Many More Sheriffs Vow Not To Enforce Federal Gun Control Laws
"If they were serious about violence reduction, they would get behind me… and join me arm in arm in calling for longer periods of incarceration for repeat career criminals who have demonstrated over and over again that they are going to get a hand gun, that they are going to get a firearm and perpetrate violence." Clarke noted.
The Sheriff added that a recent a Sikh temple shooting in his County a few months ago was perpetrated by an individual who passed a firearms background check.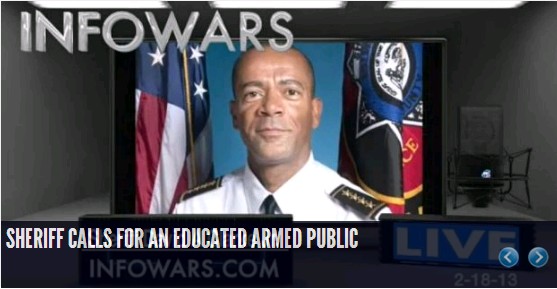 "My understanding is the creep in Aurora Colorado who shot up the theatre, also passed a background check." Clarke said. "This isn't about background checks, of which the overwhelming majority of gun transfers go on anyway."
"This is about attacking the Second Amendment, it's about going after the wrong crowd." The Sheriff posited.
Asked why he believed such strict measures were being pushed by the Obama administration at this time, the Sheriff pointed toward a general push for increased governmental control over society.
"Government control cannot go on as long as people have some sort of ability to say 'hey wait just a doggone minute'." The Sheriff told listeners. "That's what the government fears, they don't really fear the criminals, they support the criminals. What they fear is a law abiding person." he added.
"Read the Declaration of Independence, it's right there where a law abiding people say 'enough is enough, you are exerting too much influence in our lives, this is tyrannical and we're going to stop it,' that's what they are worried about." he concluded.
—————————————————————-
Steve Watson is the London based writer and editor for Alex Jones' Infowars.com, and Prisonplanet.com. He has a Masters Degree in International Relations from the School of Politics at The University of Nottingham, and a Bachelor Of Arts Degree in Literature and Creative Writing from Nottingham Trent University.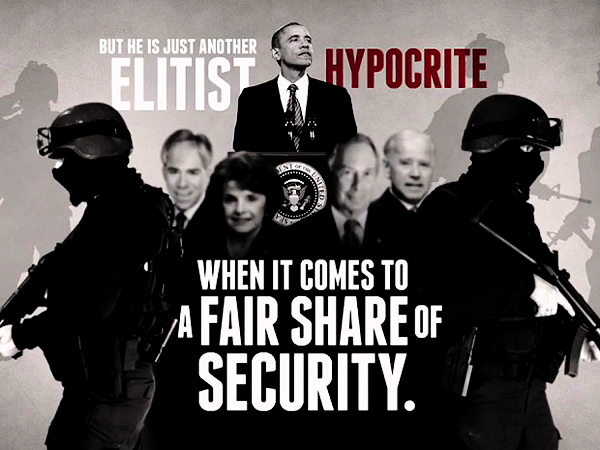 Despite launching a gun control agenda that threatens to disarm the American people, President Obama has signed a bill that would afford him armed Secret Service protection for life.
-- One rule for you, another rule for them --
LINK :

REACH OUT TO OTHERS
[Help Educate Family And Friends With This Page And The Links Below]
---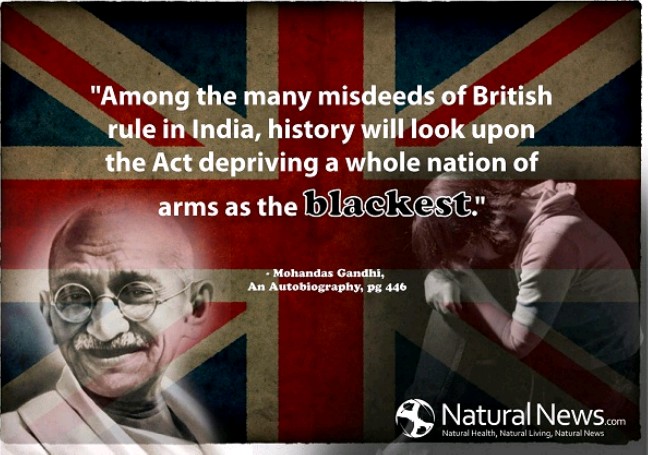 MORE:
DHS Preparing For 7-Year War Against American People
Doomsday Preppers Will Be Treated As Terrorists
Troops Ordered To Kill All Americans Who Do Not Turn In Guns
Foreign Troops Training To Confiscate Guns of Americans
DOJ MEMO TO OUTLAW AND CONFISCATE ALL GUNS
Founding Fathers Battle Gun Grabbers From the Grave
UN Arms Transfer Treaty (ATT) on Small Arms: Gun Grab Gradualism
Federal Government Moves to Disarm Veterans
Luby's Massacre Survivor Advocates Concealed Carry