Martial Law 9/11 Rise of The Police State (Full Movie)
Description
E

vil has spread across the land.

Martial Law: 9-11 Rise of the Police State

exposes the high-tech control grid that is being set up across America.

Out of the ashes of the September 11th tragedy, a dark empire of war and tyranny has risen. The Constitution has been shredded and America is now a police state. This film exposes not just who was behind the 9/11 attacks, but the roots and history of its orchestrators.

Learn the terrifying secret that holds the future of the world in its grasp.

From the frontlines of the police state to the darkest sanctum of the secret society that controls it,

Martial Law

reveals the master-plan of a group hell-bent on capturing America today — and tomorrow the world.



The New World Order has set in motion the Fourth Reich.





Martial Law

is a blazing spotlight piercing the electronic Berlin Wall of controlled corporate media. Plumb the depths of the elites' minds: their ideology, their driving philosophy, and uncover the power-mad cult of death that is sworn to turn the Earth into a prison planet. Discover the documented truth yourself — before it's too late.
Support The Film Makers & Spread The Word : HQ Version
http://www.infowarsshop.com/Martial-Law-9-11-The-Rise-of-the-Police-State_p_16.html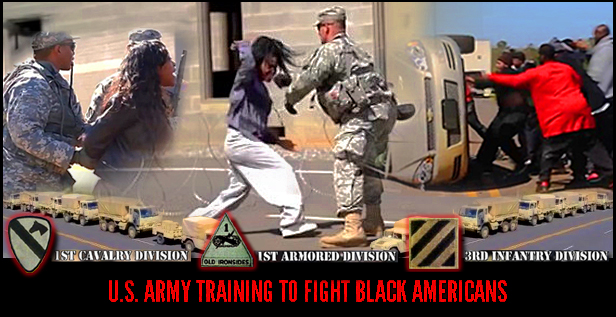 In the video below, Alex Jones highlights how the Guardian Centers video is yet another startling indication that authorities in the United States are preparing for civil unrest as America increasingly begins to resemble a militarized police state.
U.S. Army Training to Fight Black Americans
LINKS :

REACH OUT TO OTHERS
[Help Educate Family And Friends With This Page]