Why eFoods?
eFoodsDirect believes in three principles: Serve, Save, and Share—Serve great food and one another, Save for unforeseen circumstances that lie ahead, and Share the message of gaining control of your food supply and be less dependent on others.
Why choose eFoodsDirect?
A commodity that has universal appeal. Everyone needs food. This is a transfer item that you purchase every day—and purchase better quality food for less.
Security against rising inflation and recession. With global warming, unstable economies, food rations, and other unknown factors, food prices may increase, which means your dollar power will be much less when you purchase from the store. We purchase our ingredients directly from our suppliers and aim to keep prices as low as possible for as long as we can.
Quick and easy preparation perfect for busy mothers, camping trips, students on a budget. Not only is this food delicious and highly nutritious, it's easy to make, lightweight, and economical. All this plus a shelf life of up to 25 years.
Help for those who lost their job. Food is our greatest dependency, and being prepared with food reserves gives you one less worry when there are so many others.
Convenience for those recovering from illness or injury. Just add water and you're ready to go. We offer enough products that you're sure to find something that sounds delightful, especially in our variety of soups and breads alone!
A valued gift to ensure elderly parents are eating well. Our products offer high-quality nutrition and provide peace of mind. You are what you eat, and we won't give you any old ingredients, especially when valued sustenance is a key component to your daily meals.
Start your food reserves today with eFoodsDirect and give yourself the security of knowing you have control over food, you and your family's greatest dependency.
Learn how you can get 6 free meals from eFoodsDirect

REACH OUT TO OTHERS
[Help Educate Family And Friends With This Page And The Links Below]
---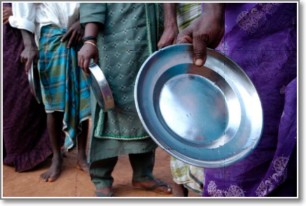 RECOMMENDED LINKS :
Gov Wants Growing Food Illegal
MORE:
Fighting Back Against Big Brother
Ambush / Undercover Journalism