Tattle-Tell Squads, and Surveillance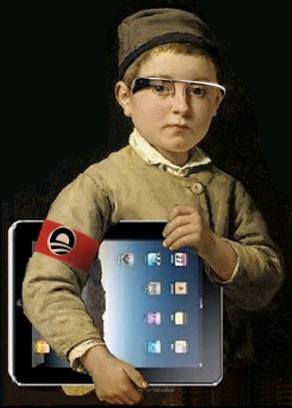 Germans under Hitler denounced their neighbors and friends not because they genuinely believed them to be a security threat, but because they expected to selfishly benefit from doing so, both financially, socially and psychologically via a pavlovian need to be rewarded by their masters for their obedience. At the height of its influence around one in seven of the East German population was an informant for the Stasi. As in Nazi Germany, the creation of an informant system was wholly centered around identifying political dissidents and those with grievances against the state, and had little or nothing to do with genuine security concerns.
---
Florida Neighbors Encouraged to Snitch
Given the fact that Palm Beach County Sheriff Ric Bradshaw is set to launch a $1 million dollar program which will encourage Floridians to report on people who "hate government," how long before Palm Beach resident Rush Limbaugh is sent to a Soviet-style mental hospital?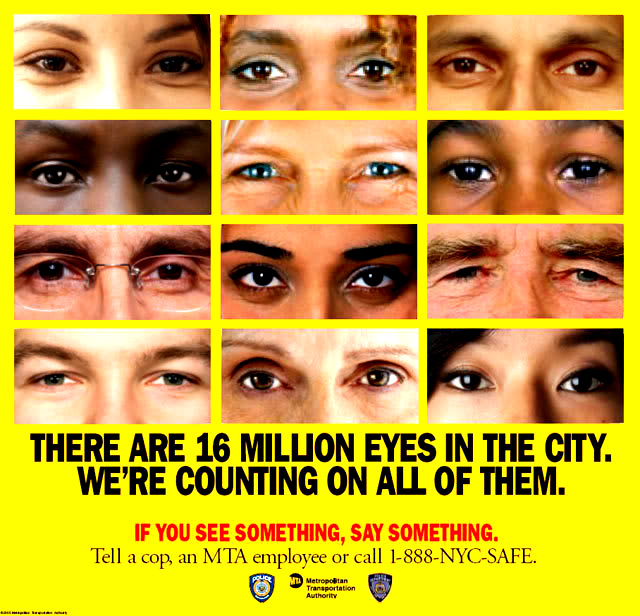 Floridians Encouraged to Report Neighbors Who "Hate Government"
$1 million dollar hotline characterizes dissent as extremist threat
Paul Joseph Watson
Infowars.com
May 2, 2013
A new $1 million dollar program led by Palm Beach County Sheriff Ric Bradshaw aimed at "violence prevention" is encouraging Floridians to report their neighbors for making hateful comments about the government, a chilling reminder of how dissent is being characterized as an extremist threat.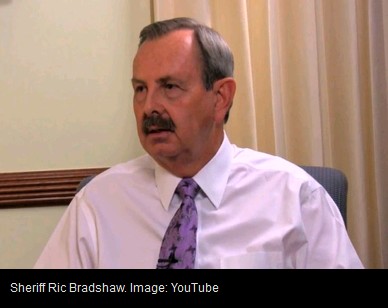 "Bradshaw plans to use the extra $1 million to launch "prevention intervention" units featuring specially trained deputies, mental health professionals and caseworkers. The teams will respond to citizen phone calls to a 24-hour hotline with a knock on the door and a referral to services, if needed," reports the Palm Beach Post.
Bradshaw makes it clear that the kind of behavior which could prompt a visit from the authorities includes anti-government political statements that may be deemed a prelude to violent action.
"We want people to call us if the guy down the street says he hates the government, hates the mayor and he's gonna shoot him," Bradshaw said. "What does it hurt to have somebody knock on a door and ask, 'Hey, is everything OK?'"
The program will also include "public service announcements to encourage local citizens to report their neighbors," reports the newspaper.
The program has sparked concerns that the hotline could violate civil liberties or even be exploited to pursue personal vendettas, with Bradshaw acknowledging that, "anyone in a messy divorce or in a dispute with a neighbor could abuse the hotline," and that it will prompt "frivolous complaints."
That caveat is all the more chilling given the research of Florida State University's Robert Gellately into how Germans under Hitler denounced their neighbors and friends not because they genuinely believed them to be a security threat, but because they expected to selfishly benefit from doing so, both financially, socially and psychologically via a pavlovian need to be rewarded by their masters for their obedience.
"How are they possibly going to watch everybody who makes a comment like that? It's subjective," said Liz Downey, executive director of the Palm Beach County branch of the National Alliance on Mental Illness. "We don't want to take away people's civil liberties just because people aren't behaving the way we think they should be."
The program is set to go ahead unless it is vetoed by Governor Rick Scott.
As Thomas DiLorenzo points out, the program is also a disturbing throwback to how political dissidents were imprisoned in Soviet mental hospitals, where criticism of the state was deemed "philosophical intoxication."
Under Stalin, dissidents were sent to infamous psikhushka psychiatric prisons where they were isolated and brainwashed in order to have their political ideas discredited amongst the general public.
It is important to stress that both the First and Second Amendments are being targeted via rhetoric about mental health issues, while the threat posed by one of the real culprits behind violence in America, SSRI drugs, continues to be ignored by the mass media.
As we have documented, while efforts at gun control have largely failed at the legislative level, authorities are greasing the skids for wider gun confiscation by expanding the definition under which a person can be declared "mentally ill," to the point where harsh anti-government rhetoric is now being treated as a potential precursor to terrorism.
Veterans are already having their guns seized by police off the back of forced "psychiatric evaluations," while the U.S. Department of Veterans Affairs is sending out letters to servicemembers warning them that "A determination of incompetency will prohibit you from purchasing, possessing, receiving, or transporting a firearm or ammunition."
Last year former Marine Brandon Raub was forcibly incarcerated in a psychiatric ward by authorities in Virginia for political posts on Facebook.
The fact that authorities in the U.S. are now pursuing similar programs to those used to marginalize political dissidents in historical dictatorships, albeit on a smaller scale, in response to recent incidents of terrorism and mass shootings – which statistically represent a minute threat to the lives of Americans – serves as a warning of how the state is increasingly citing mental health concerns as a means of eroding fundamental constitutional freedoms.
*********************
Paul Joseph Watson is the editor and writer for Infowars.com and Prison Planet.com. He is the author of Order Out Of Chaos. Watson is also a host for Infowars Nightly News.
This article was posted: Thursday, May 2, 2013 at 6:41 am
Tags: police state
NY DHS Offers $500 To Rat Out Your Neighbors

Published on Jul 26, 2014
New York's Division of Homeland Security is posting signs on businesses to encourage people to snitch on fellow citizens who buy such things as MRE's (Meals Ready to Eat), ammunition, flash lights, match containers, gas masks and other items deemed to be 'prepper' in nature. http://www.truthandaction.org/ny-dhs-...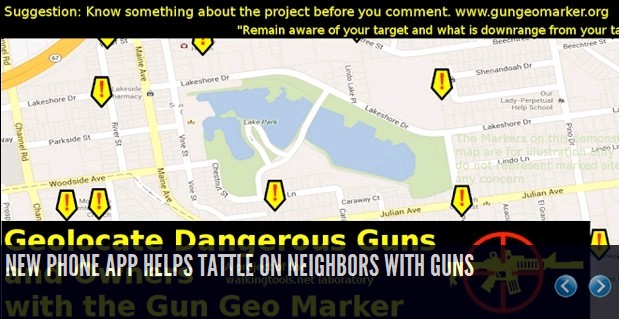 New Phone App Helps Tattle on Neighbors with Guns
A new Smart Phone app describing itself as "tattle ware" allows users to upload information regarding locations where they have "gun related concerns," allowing people to anonymously report their neighbors and others if issue is taken with their ownership of firearms.

GUN GEO MARKER!
Snoop Society Has A New Gun Grabbing Tool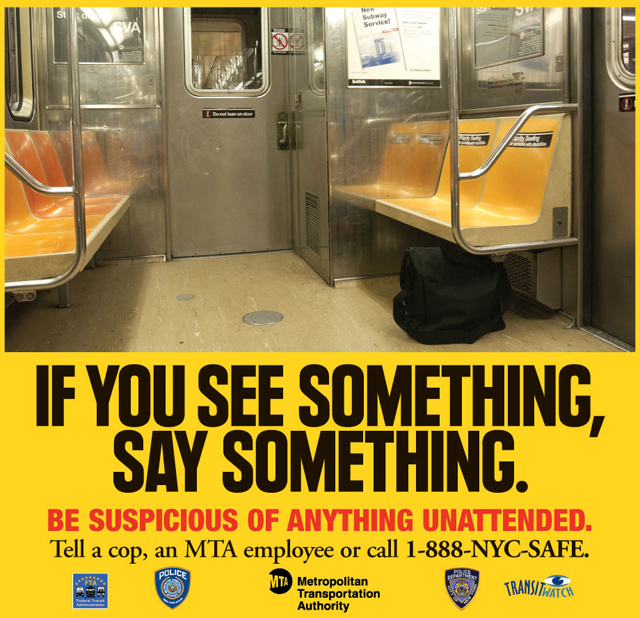 Germans under Hitler denounced their neighbors and friends not because they genuinely believed them to be a security threat, but because they expected to selfishly benefit from doing so, both financially, socially and psychologically via a pavlovian need to be rewarded by their masters for their obedience.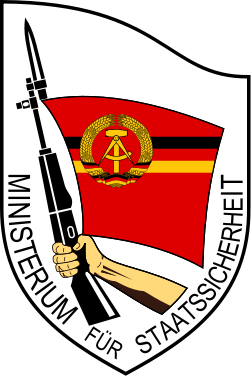 At the height of its influence around one in seven of the East German population was an informant for the Stasi. As in Nazi Germany, the creation of an informant system was wholly centered around identifying political dissidents and those with grievances against the state, and had little or nothing to do with genuine security concerns.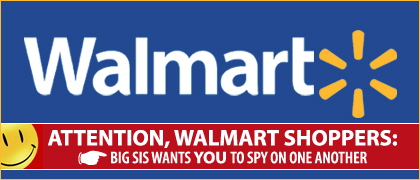 Big Sis Invades Wal-mart: 'If You See Something, Say Something'
Drudge Report
December 6, 2010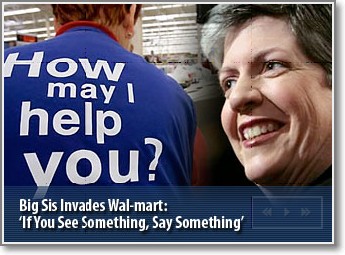 WASHINGTON — Department of Homeland Security (DHS) Secretary Janet Napolitano today announced the expansion of the Department's national "If You See Something, Say Something" campaign to hundreds of Walmart stores across the country—launching a new partnership between DHS and Walmart to help the American public play an active role in ensuring the safety and security of our nation.
"Homeland security starts with hometown security, and each of us plays a critical role in keeping our country and communities safe," said Secretary Napolitano. "I applaud Walmart for joining the 'If You See Something, Say Something' campaign. This partnership will help millions of shoppers across the nation identify and report indicators of terrorism, crime and other threats to law enforcement authorities."
The "If You See Something, Say Something" campaign—originally implemented by New York City's Metropolitan Transportation Authority and funded, in part, by $13 million from DHS' Transit Security Grant Program—is a simple and effective program to engage the public and key frontline employees to identify and report indicators of terrorism, crime and other threats to the proper transportation and law enforcement authorities.
More than 230 Walmart stores nationwide launched the "If You See Something, Say Something" campaign today, with a total of 588 Walmart stores in 27 states joining in the coming weeks. A short video message, available here, will play at select checkout locations to remind shoppers to contact local law enforcement to report suspicious activity.
Over the past five months, DHS has worked with its federal, state, local and private sector partners, as well as the Department of Justice, to expand the "If You See Something, Say Something" campaign and Nationwide SAR Initiative to communities throughout the country—including the recent state-wide expansions of the "If You See Something, Say Something" campaign across Minnesota and New Jersey. Partners include the Mall of America, the American Hotel & Lodging Association, Amtrak, the Washington Metropolitan Area Transit Authority, sports and general aviation industries, and state and local fusion centers across the country.
In the coming months, the Department will continue to expand the "If You See Something, Say Something" campaign nationally with public education materials and outreach tools designed to help America's businesses, communities and citizens remain vigilant and play an active role in keeping the county safe.
Wal-Mart Invasion Part of Larger DHS Takeover of America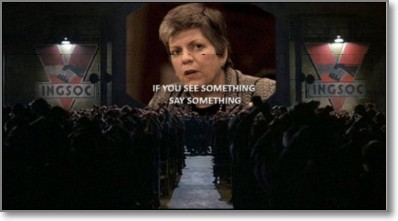 http://www.prisonplanet.com/big-sis-i...

WASHINGTON — Department of Homeland Security (DHS) Secretary Janet Napolitano today announced the expansion of the Department's national "If You See Something, Say Something" campaign to hundreds of Walmart stores across the country—launching a new partnership between DHS and Walmart to help the American public play an active role in ensuring the safety and security of our nation.
Alex Jones Rant TSA Invading America
http://www.prisonplanet.com/americans...

Alex Jones rails against the 1984-style "Telescreens" that Homeland Security, not content with airport Gestapo tactics alone, plans to unroll in over 800 Wal-Mart stores and other retailers to keep consumers fearful of a potential terror attack in their local (*or in the case of Wal-Mart anti-local globalist) shops.

Wal-Mart Invasion Part of Larger DHS Takeover of America
http://www.youtube.com/watch?v=ntCYie...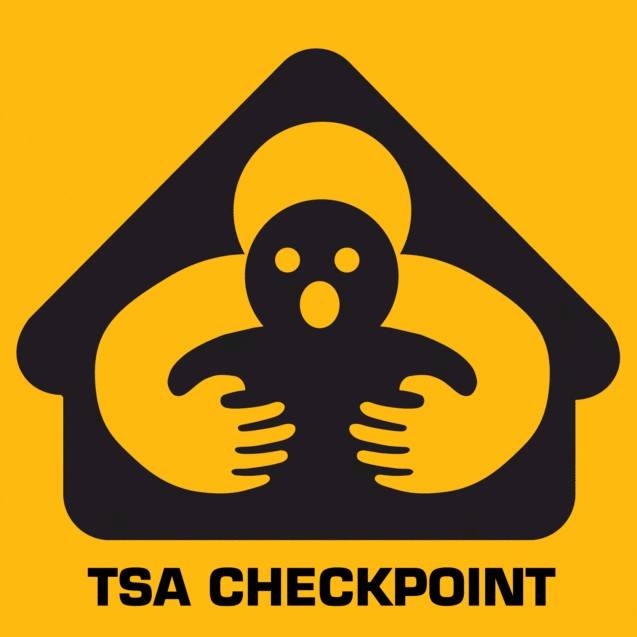 LINKS :
PUBLIC DUPED INTO NAKED BODY SCANNERS
Ex Marine Reveals Hidden Spy Recruitment Program Behind FBI
No Spy No Fly (paperback) by Abe Mashal is the life story of a United States Marine Veteran, who was placed on the No Fly List as leverage to become an undercover informant for the FBI. In chilling detail, Abe explains how the FBI and other government agencies are abusing their expanded powers since 9/11.

Author Abe Mashal is an honorably discharged United States Marine Corps Veteran. He owns "Marine Corps Dog Training" and lives with his wife and four children in Saint Charles, IL. His story has been featured on CNN, The Wall Street Journal, Al Jazeera and PBS Newshour.
http://www.infowarsshop.com/No-Spy-No...
LINK : F.B.I.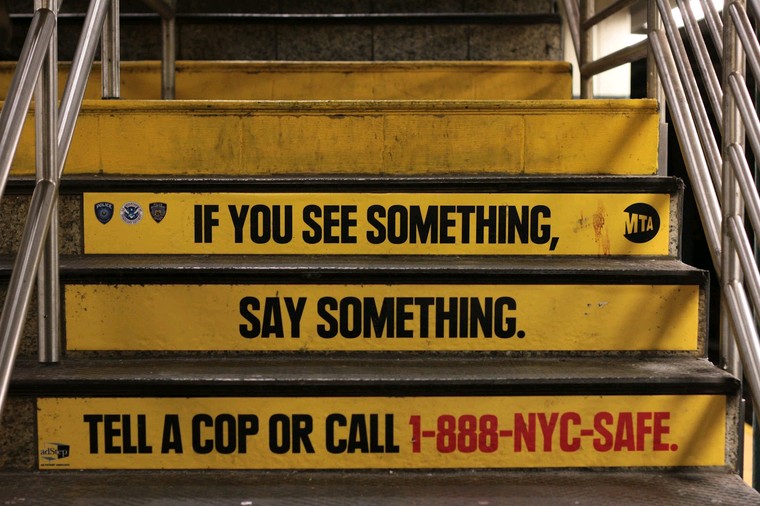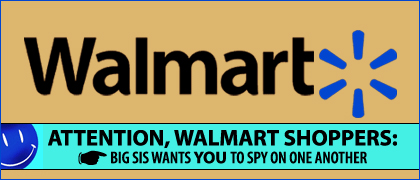 Big Sis Invasion of Walmart Start of Obama's Civilian Security Force
Paul Joseph Watson
Infowars.com
December 7, 2010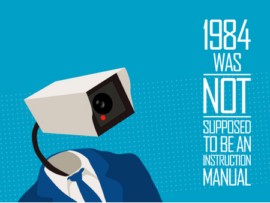 Americans have reacted with outrage to Big Sis Janet Napolitano's announcement that Homeland Security messages encouraging shoppers to spy on each other will play at Wal-Mart checkouts, but the announcement is part of a wider takeover of America that will see the DHS invade virtually every aspect of public life in the United States as the country sinks into a decrepit banana republic.
The Department of Homeland Security's official You Tube channel has been bombarded with complaints, many of them littered with furious profanity, after the announcement yesterday that the DHS would team up with 588 Wal-Mart stores in 27 states to place monitors at checkout locations that would play a video message by Janet Napolitano encouraging Americans to spy on each other and report "suspicious activity" to law enforcement and Wal-Mart employees.
The announcement leaves no room for doubt that America has officially entered the realm of Orwell's 1984 as the federal government moves to entrench an onerous surveillance society where ordinary members of the public are enlisted as spies for the state to create a constant sense of distrust and fear.
From VIPR teams that now patrol Amtrak's Northeast Corridor and Los Angeles rail lines; ferries in Washington state; bus stations in Houston; and mass transit systems in Atlanta, Philadelphia, Washington and Baltimore, to invasive pat downs at bus and train terminals and on street corners across the country, to radiation-emitting naked body scanners that roam the highways scanning vehicles and homes, to interrogation checkpoints at sporting and other public events, Big Sis is engaged in a total takeover of society, turning America into a giant prison grid where everyone is guilty until proven innocent and treated as a potential terrorist.
Openly encouraging Americans to become informants for the government as they purchase their weekly groceries represents a new low in America's total collapse into a dictatorial banana republic. It's a sad and pathetic reminder that this once great beacon of freedom, strength and prosperity has now been hijacked by people who hate everything about what America once represented.
Given the fact that Homeland Security is mimicking British authorities in its Orwellian approach, we can expect "suspicious activity" to include such behavior as paying for Wal-Mart's Chinese slave goods with cash, or merely daring looking back at the surveillance cameras spying on Americans in the shopping mall.
As America sinks deeper into a militarized police state, society begins to parallel more and more aspects of Nazi Germany and other historical dictatorships, especially in the context of citizens being turned against each other, which in turn creates a climate of fear and the constraining sense that one is always being watched.
One common misconception about Nazi Germany was that the police state was solely a creation of the authorities and that the citizens were merely victims. On the contrary, Gestapo files show that 80% of all Gestapo investigations were started in response to information provided by denunciations by "ordinary" Germans.
"There were relatively few secret police, and most were just processing the information coming in. I had found a shocking fact. It wasn't the secret police who were doing this wide-scale surveillance and hiding on every street corner. It was the ordinary German people who were informing on their neighbors," wrote Robert Gellately of Florida State University.
Now the federal government is urging Americans to "denounce" each other at Wal-Mart. Are we seeing the beginnings of President Barack Obama's promised "civilian national security force" that would be just as powerful and well funded as the US military?
Gellately discovered that the people who informed on their neighbors were motivated primarily by banal factors – "greed, jealousy, and petty differences," and not by a genuine concern about crime or insecurity. Indeed, history tells us that any Stasi-like society does nothing to increase genuine security and only turns the host population against each other while decaying the country from within.
Gellately "found cases of partners in business turning in associates to gain full ownership; jealous boyfriends informing on rival suitors; neighbors betraying entire families who chronically left shared bathrooms unclean or who occupied desirable apartments."
"And then there were those who informed because for the first time in their lives someone in authority would listen to them and value what they said."
Gellately emphasizes the fact that the Germans who sicked the authorities on their neighbors knew very well what the consequences for the victims would be – families torn apart, torture and internment in concentration camps, and ultimately in many cases death – but they still did it with few qualms because the rewards of financial bounties and mere convenience were deemed more important to them.
This strikes at the root of the selfish and childish urges the government is trying to manipulate in getting people to report on their fellow Americans. The self-important feeling of being listened to, ascribed some temporary sense of authority, and the cult-like pavlovian reward of being metaphorically patted on the head by someone in a uniform, are all tendencies such campaigns play on.
However, if we don't want to end up in a society that exists in a constant state of tyranny and fear as in Stasi East Germany or Stalinist Russia, we must learn that our neighbors and friends are not our enemies, and that the only real threat against which we need to unite is an oppressive state that tries to destroy us by turning us against each other.
This role has now been undertaken by Big Sis and the Department of Homeland Security, which is actively finalizing the invasion and total takeover of American society, using tools and programs that every single odorous dictatorship in modern history has resorted to – checkpoints, interrogations, strip-searches, training the people to spy on each other, guilty until proven innocent. Each and every facet betrays a country in terminal decline and one that will end up as a decrepit, lifeless, authoritarian cesspit, forever confined to the slagheap of history as just another example of how a civilized, cultured and prosperous society allowed itself to be destroyed from within by fear at the hands of a gaggle of jackbooted thugs.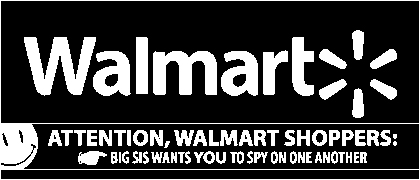 Walmart Rolling Out Facial Recognition System To Identify Customers!!!
Walmart Rolling Out Facial Recognition System To Identify Customers.
*SUBSCRIBE* for more great videos!
Mark Dice is a media analyst, political activist, and author who, in an entertaining and educational way, gets people to question our celebrity obsessed culture, and the role the mainstream media and elite secret societies play in shaping our lives.
LINK : Facedeals scans your face to customize deals
Is Your Neighbor a CIA Snitch? A Look at Nextdoor.com
The Nextdoor neighborhood website is funded in part by the former head of the CIA. So we asked the question
http://www.infowars.com/new-phone-app...
http://www.infowars.com/show
http://www.infowars.com/see-something...
http://www.infowars.com/new-u-s-domes...
LINK : C.I.A.
Government Recruiting Spies for Fire Department
Big brother mentality infesting society


Infowars receives a curious job posting showing that the Houston Fire Department has a classified position with Homeland Security.

LINK :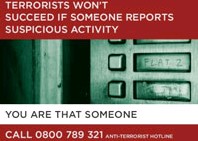 The Panopticon: A Mass Surveillance Prison For Humanity
Latest trends in Big Brother outstrip Orwell's worst nightmare
Alex Jones & Paul Joseph Watson | January 11 2006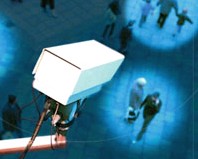 The Panopticon is defined as a prison so constructed that the inspector can see each of the prisoners at all times, without being seen. This is an accurate description of the accelerating movement by western governments to erect giant, powerful, all-pervading mass surveillance, tracking and control grids that will keep all populations firmly under the baleful and watchful gaze of Big Brother.
We are still debating the NSA listening to foreign calls from the US when the NSA admitted twenty years ago that they were listening to domestic US calls under the Echelon program. This is de-classified and public but the media acts like they don't know about it.
Why is there even a debate about if they are tracking and tracing us when RFID transponders are going in cars nationwide to follow our every movement?
This system has already been partly implemented in Britain with barely a whimper of dissent.
You can call your cell phone company, ask them where you are and they will tell you down to a few feet. That is a federal operation that's hooked into the NSA right at this moment and about to be hooked into every major police department and squad car.
Your name, everything about you, what you're doing, where you're going and the cop can punch in a few keys and use your phone as an audio sensor.
Major cities such as Austin, Texas installed gunshot detection microphones. The government assured us that they respect our privacy but the very companies installing them bragged about how they can listen to a kid on the street talking to his friend two hundred yards away.
And now, from Rochester New York to Austin Texas to Chicago, the government has announced that they are being used as microphones and they will be used to listen to us.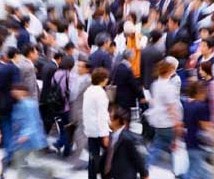 Consider today's BBC report concerning CCTV surveillance systems in an area of London which is planned to be expanded to include, just on its first implementation, tens of thousands of other citizens in other areas.
The government funded program, called ASBO TV, invites residents to pay £3.50 and have access to a TV channel that enables them to monitor 400 different CCTV surveillance cameras and report on suspicious or anti-social behavior, comparing suspects to an on-screen rogues gallery.
This combined with the government's encouragement for Londoners to report their neighbors for suspicious activity, of which potential signs of terrorism include owning a vehicle, living in a house or getting a refund on a credit card, fuse the infrastructure of a classic total surveillance state, with civilian tattle-tale squads forming the modern say Stasi. Meanwhile, posters at bus terminals inform Londoners that they are 'secure beneath the watchful eyes' of Big Brother.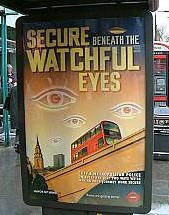 The exact same program was announced for the US years ago in the New York Times. The difference is that in the US they plan to force people to watch the system either over their computer or cable system. It will be classified as 'public service' to pay for speeding tickets and eventually as a mandatory function of your civil defense Homeland Security draft duties.
Starting at two hours a week and, if you wish to be paid, upwards of twenty hours a week, you will monitor the cameras for signs of terrorism and also, as admitted in the New York Times piece, for crime.
The latest artificial intelligence systems, for example DARPA's gait analysis program, which made headlines in 2003 for claiming to be able to identify terrorists by the way they walk, are not yet perfected and the involvement of the general population gives Big Brother the added advantage of pounding into people the feeling that their behavior is being monitored at all times and that if they step out of line in any way they will face the consequences. This in turn makes people self-regulate their actions to the point where exercising even basic freedoms becomes a potential precursor to being disappeared. In addition, using a method called the Delphi Technique, the general public are more likely to support the idea because they are hoodwinked into believing that they are involved in it and are part of the power structure. Therefore they feel their time is invested in the common security of everyone.
In effect, by an incessant demand that people report any suspicious behavior, they're creating terrorist cadres that don't exist to justify police state legislation under the guise of protecting the public.
And they're shifting the surveillance grid into areas where its not mechanized, to become self-regulating.
Because if you pound it into people that everything they're doing is constantly being monitored, which is part of the motivation behind the NSA spying furor, it has the effect of making the people regulate their own behavior and have absolutely no confidence to exercise their innate freedoms.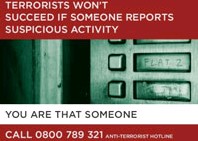 By announcing all this they're shaping individual behavior, which means that they don't have to worry as much about what slips past their surveillance grid, because people are cowering in fear of speaking out or being active in any way.
And for the elite that self-regulatory little brother syndrome is going to be ultimately more successful for them, because a dictatorship by fiat rather than force is something that's far easier to package and sell to the wider population.
The government has been caught using chemical and biological weapons on the American people ad on the British people. They cannot be trusted to do anything and they have no moral authority. We have former and current Bush administration advisors advocating torturing children. Statistically, governments have been found to engage in more criminal activity than the general member of the public. It is not because we have something to hide that we don't want this. It is because we don't trust the government on the basis that history and common sense shows that they do this to enslave and abuse populations. Corrupt people want more power and control.
A government engaging in escalating criminal actions and becoming more and more secretive should not be watching and tracking us as if we're all criminals. The same goes for CCTV surveillance. That's not freedom. Would you let a convicted murderer and pedophile watch your child 24/7?
The often peddled mantra of 'why should you care if you have nothing to hide?' is manifestly ridiculous in light of the fact that we have a government that has everything to hide and yet we're the ones under suspicion.
We are told by the government to make our lives completely transparent or go to jail while the government itself becomes more secretive than ever before.
Why should they know everything about us when they won't tell us anything about them?
Would you walk up to a gang of criminals and give them your credit card and PIN number?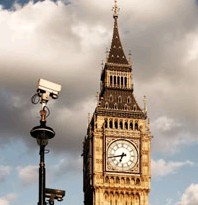 The British government told us that the ID card would make our information more secure. Blair said this would protect, not infringe our liberties. And how did they propose paying for it? By selling the information of 44 million British citizens to private companies. How secure is that?
High level dictators will put in thousands of viceroys and minions who will all set up their own petty little empires in your neighborhood and make your life a living hell.
This control grid is being implemented not just so it is there in place but so they can abuse us further. The more we put up with and become acclimatized to it, even more control will be layered on top. This control grid is being constructed so they can enforce mandatory psychological testing and drugging, now a proposed federal law, to be done nationwide under the New Freedom initiative. It is so they can enforce conscription and the national draft, it is so they can enforce their feudal land grabs under zoning laws.
They did not ask us if we wanted any of this. They install the surveillance grid and then claim that we agreed to it. They were erecting license plate readers in Indiana six years ago and now they are going in nationwide. London is already fully covered with an automatic tracking and taxation camera control grid.
Small towns in Florida were already running scans on cars three years ago and that program has vastly expanded across the country. They put the system in place and then announce it. Notice how they put the cameras in first and stated that they were just for traffic. Then they announce that squad cars were going to be hooked into the cameras and now it's happening.
They did not ask us, but retroactively, when we do hear about it in polls, almost everybody is against it but they just don't care. In Texas we beat the law that would have put RFID tags in inspection stickers, after polls showed a 95 per cent plus opposition to the plan. And what happens? The Texas Department of Transportation announce that they are going to put two million in this year without even asking. The law was defeated but they are just going to go ahead and do it anyway because they are criminals.
There are no ifs, ands and buts about it. We have criminals announcing that they are watching us and that they want to institute yet more expansive and wide ranging systems of surveillance.
GPS surveillance systems in cars are about to become mandatory and are in all new cars as standard. The British government has announced a taxation by mile program that will track every car on every British road. The exact same systems are going in the UK, the US, Germany and western Europe, betraying the organized global design of this movement.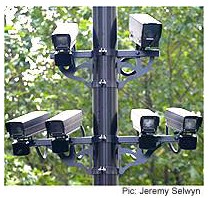 They have told us that our digital cable boxes and TIVO systems are recording what we watch to create psychological algorithms which are stored on government databases. These systems track what we watch, for exactly how long we watch it, and what our psychological score is based on those factors.
Imagine having millions of your choices over the years stored on centralized government databases. It's already happening.
Similarly, supermarket loyalty cards hold the same data and Walmart in league with the Defense Department has ordered all major supermarket chains to switch from barcode to RFID tracking so that every purchase you make emits a radio frequency from the store shelf, to your home, to the landfill.
The introduction of the national ID card and blanket surveillance and recognition systems in the UK and US is one step further towards the mandatory implantation of ID chips in all citizens. Does this sound outlandish? Implantable chip technology has been in existence for a decade and discussions on ID chipping humans is in the news regularly. Tommy Thompson, the former Health and Human Services Secretary in the Bush administration, promised to have a chip implanted and is now touring the country lauding the virtues of ID chips. During the the confirmation hearings for John Roberts Jr., George W. Bush's nominee for Supreme Court chief justice, Roberts was questioned by Senator Joseph R. Biden on whether he would rule against a mandatory implantable microchip to track American citizens.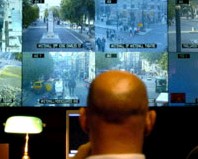 No matter how diabolical and unbelievable it appears to the rational thinking person, the government's of the west are doing it.
Cameras in school bathrooms, security blimps in major cities watching us as we step out of the door. Surveillance systems used on insurgents in Iraq are here.
This is systematic. They built the electrically wired cage around us and then they turned it on. The state is doing all this for the moment when they take your pension funds, private property, and guns because you won't be able to resist. Big Brother will be two steps ahead at all times and there will be nowhere to hide.
A once free people are being totally enslaved and they have no idea as it brazenly unfolds in front of their very eyes.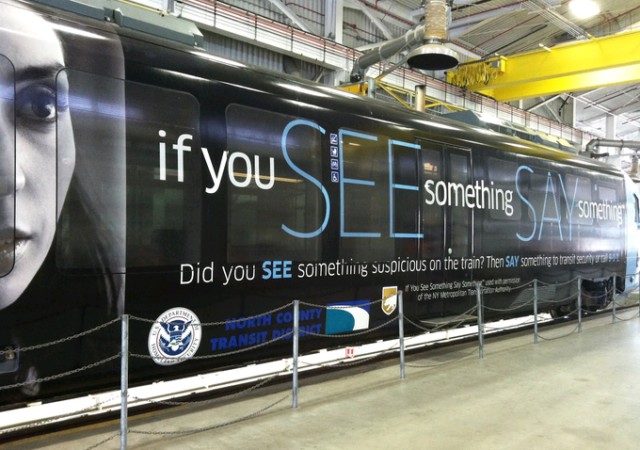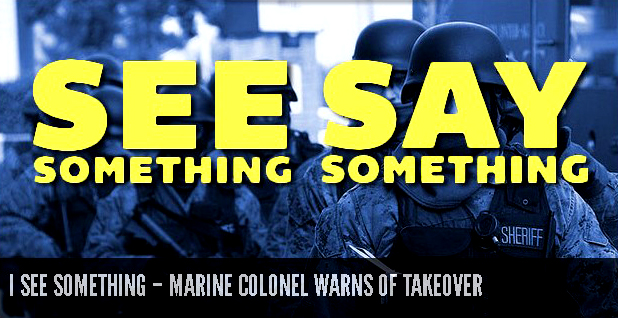 I See Something
Marine Colonel Warns of Takeover
Go get your horned hat and take back the ship
by Col Pete Martino USMCR (Ret.) | Infowars.com | August 5, 2014
Homeland Security's "See Something, Say Something" campaign motivated me to say something. Since that's the purpose of this tax payer funded behavior modification program, consider this a rare government success story.
I see a world being led by the least among us, while the best continue to re-arrange the deck chairs on the Titanic. The biggest threat facing our country is not terrorism, the debt, drugs, poverty, healthcare, immigration, climate change, abortion, gay rights, racism, school shootings, the militarization of the police, the privatization of the military, or even the wave of biological time bombs walking across our southern border and being escorted to Everytown USA. To anyone looking for a campaign slogan:
"It's the corruption stupid!"
To the saber rattlers looking for the next wars to fight, might I suggest corruption, abuse of power, and ignorance? Ignorance is fought by simply shining a light on the other two, something our mainstream media has forgotten. Thanks to the internet and the citizen journalist, that darkness is being pierced. How can we even have honest debates about the troubles facing our nation when the people in power control the debate, yet lost their credibility long ago? Where is the moral high ground in a bottomless pit? It can be found in pockets of excellence across the country throughout our government institutions. Honest people who simply give a damn (I refuse to call them "whistleblowers"), saw something and said something at the VA, IRS, DHS and the State Department, yet our "leaders" will expend more resources investigating them or conducting bogus investigations more intent on damage control than holding anyone accountable. The fact that no one from any of these institutions has even been arrested as a result of the corruption and abuse of power that we already know about, is proof alone that the President and the Attorney General belong in jail.
What should we expect when the head of Homeland Security publicly states that he is impressed with the "integrity" of his Chief of Staff, a man who testified against his father-in-law (a state senator who went to prison on 137 corruption charges) to keep from going to prison himself? As the NSA turns the whole planet into "The Truman Show", we're told to not be alarmed because federally appointed judges are watching them in secret FISA courts. Hopefully, not someone like Judge Samuel Kent who went to prison on charges he abused his power and lied to cover up sexual assaults on two women who worked for him. He told one of them, "I am the Government. I'm the Lion King. It's good to be king. I'm the Emperor of Galveston, the man wearing the horned hat, guiding the ship."
Despite basic human fallibility and corruptibility, we allow our "leaders" to claim more and more authority over our lives. In case you haven't been paying attention, the President has already claimed and exercised the authority to kill any American citizen, without due process, simply by claiming that he or she is a "terrorist". If you're not a terrorist, you've got nothing to worry about. But what if the most powerful man in the Senate thinks you are, and says so publicly? I'm sure Cliven Bundy is thankful that Harry Reid isn't the President. Some of our "leaders" should be more careful about the way they throw around the "T-word" lest they be forced to look in the mirror.
It's quite possible that any armed revolution that some fear is coming, could be avoided by simply fighting a "cold war" on corruption instead. Unconventional battles could be fought at the water coolers, cubicles and conference rooms of our bureaucracies as well as the courts. The weapons would include emails, memos and other documents. The warriors will be the government employees who stand up because they are inspired by and follow the lofty mission statements that provide the moral guidance for all of their agencies' actions. One of the most crucial steps in the Military Decision Making Process is "Mission Analysis" and involves taking a very comprehensive look at the mission you've been given, in order to ensure that you understand completely what is expected of you and your people. Commanders go to great lengths to make them as clear as possible, so that even an individual separated from the group, and in the absence of any further guidance, will know how best to act in any given situation. A commander will also personally write a "Commander's Intent" which offers even further clarifying guidance. I challenge every government employee to go and read your organization's mission statement and then act accordingly. If the mission has changed, then demand a new one be written, and update the website so we can all see what it really is.
If more and more honest people who give a damn banded together and took back our institutions, then our "leaders" would suddenly realize that no one is following, and they would be disarmed of their weapon of power which is WE THE PEOPLE who actually run those institutions and drive those Bearcats.
There, I said something. Now, go get your horned hat and take back the ship.
This article first appeared at TheOneManMarch.wordpress.com.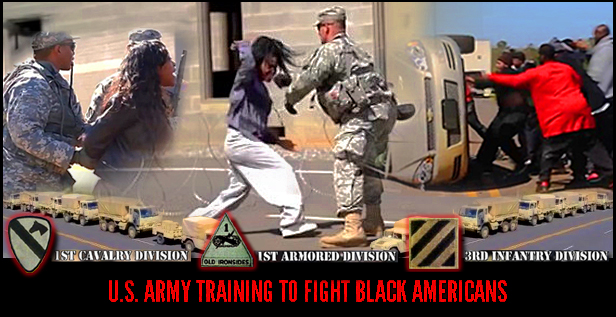 In the video below, Alex Jones highlights how the Guardian Centers video is yet another startling indication that authorities in the United States are preparing for civil unrest as America increasingly begins to resemble a militarized police state.
U.S. Army Training to Fight Black Americans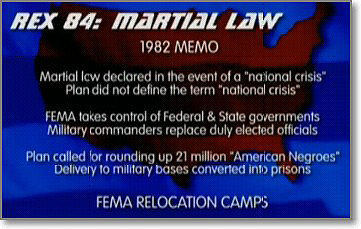 LINKS :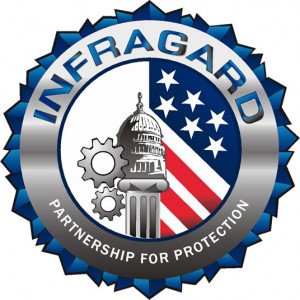 Big Brother - InfraGard - Surveillance on U.S. citizens - with Jesse Ventura
http://www.facebook.com/ConspiracyThe...
Big Brother is watching and it's not who you think. Jesse Ventura's investigation of government surveillance on its citizens tears the lid off a nationwide program that is thought to turn local businessmen and office workers into spies, snooping on their neighbors and ratting on their friends in exchange for information and special privileges from the FBI- including, some charge, a "license to kill."
http://www.infragardmembers.org/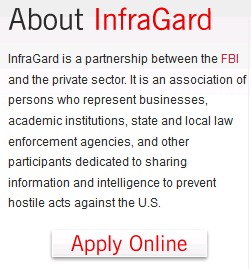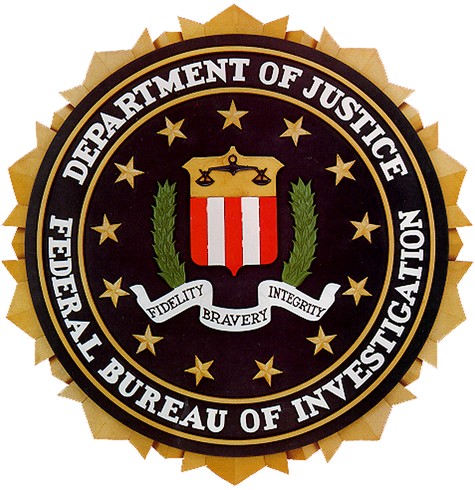 FBI: Paying Cash For a Cup of Coffee a 'Potential Indicator of Terrorist Activity'
Advisory aimed at Internet Cafe owners characterizes mundane behavior as "suspicious activity"
Paul Joseph Watson
Infowars.com
Tuesday, February 7, 2012
An FBI advisory aimed at Internet Cafe owners instructs businesses to report people who regularly use cash to pay for their coffee as potential terrorists.
The flyer, issued under the FBI's Communities Against Terrorism (CAT) program, lists examples of "suspicious activity" and then encourages businesses to gather information about individuals and report them to the authorities.
"Each flyer is designed for a particular kind of business," writes Linda Lewis, a former policy analyst and planner for the U.S. government. "For example, this list was prepared for owners of internet cafes. Unquestionably, someone planning a terrorist attack has engaged in one or more of the "suspicious" activities on that list. But so, too, have most of the estimated 289 million computer users in this country."
Indeed, the flyer aimed at Internet Cafe owners characterizes customers who "always pay cash" as potential terrorists.
Of course, the vast majority of people who visit Internet Cafes use cash to pay their bill. Who uses a credit card to buy a $2 dollar cup of coffee? A lot of smaller establishments don't even accept credit cards for amounts less than $10 dollars.
Other examples of suspicious behavior include using a "residential based Internet provider" such as AOL or Comcast, the use of "anonymizers, portals, or other means to shield IP address" (these are routinely used by mobile web users to bypass public Internet filters), "Suspicious communications using VOIP," and "Preoccupation with press coverage of terrorist attack" (this would apply to the vast majority of people who work in the news or political blogging industry).
Searching for information about "police" or "government" is also listed as a potential indication of terrorism, as is using a computer to "obtain photos, maps or diagrams of transportation, sporting venues, or populated locations," which would apply to virtually anyone who uses Google Maps or Google Earth.
People who may wish to keep private the contents of a personal email or an online credit card purchase by attempting to"shield the screen from view of others" are also characterized as potential terrorists.
Business owners who spot patrons engaging in these types of activities are encouraged to call the FBI's Joint Regional Intelligence Center (JRIC), after first gathering information on license plates, names, ethnicity, and languages spoken.
In total, there are 25 different CAT flyers aimed at businesses from across the spectrum – everything from hobby shops to tattoo parlors.
As we have documented on numerous occasions, the federal government routinely characterizes mundane behavior as extremist activity or a potential indicator of terrorist intent. As part of its 'See Something, Say Something' campaign, the Department of Homeland Security educates the public that generic activities performed by millions of people every day, including using a video camera, talking to police officers, wearing hoodies, driving vans, writing on a piece of paper, and using a cell phone recording application," are potential signs of terrorist activity.
The CAT program again underscores how federal authorities are empowering poorly trained citizens to become terrorist hunters, stoking fears that America is sinking deeper into a Stasi-style informant society. Last week we reported on how the DHS had trained hot dog sellers and other vendors to spot terrorists at this past weekend's Super Bowl event.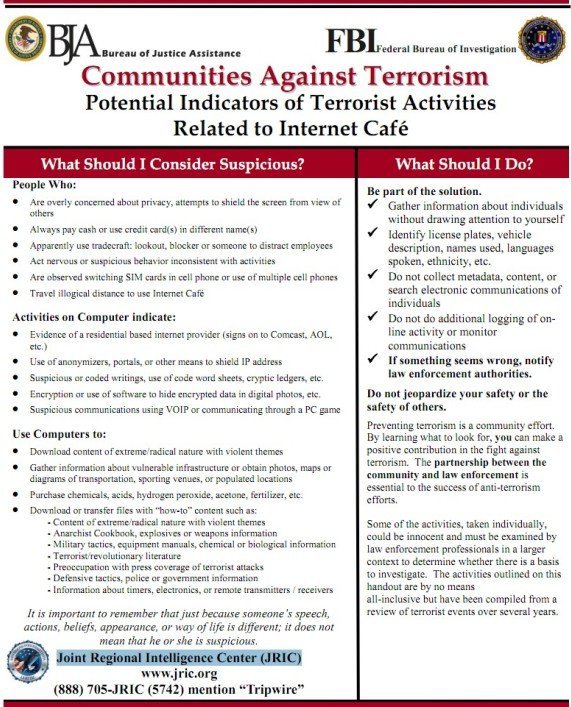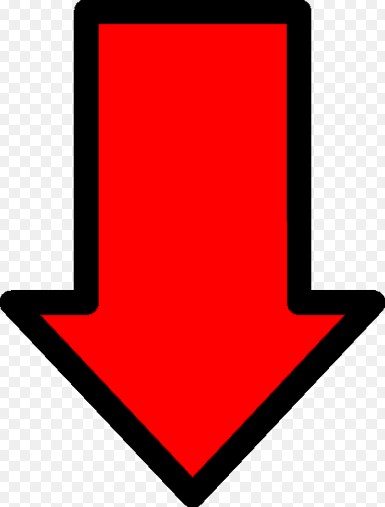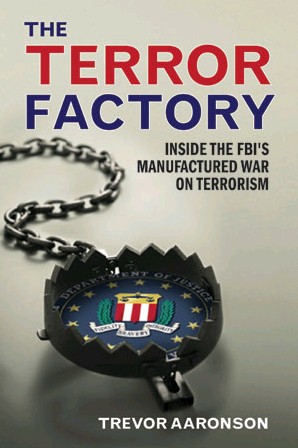 LINKS :
Alex Jones Joins the Snitch Society
Feel like a healthy bit of gallows humor? Seems like Alex Jones had just gotten a new gig as a Barista when his mind started playing tricks on him. All that "See Something Say Something" dogma might have gone to his head this time. Or maybe the propaganda by Big Sis, Homeland Security, Infra-guard, or those pesky F.B.I. leaflets have finally turned him to the dark side. Tune in and see what kind of trouble the alter-ego mobster style Alex Jones can get himself into when he turns Federal Informant for the Infra-Guard.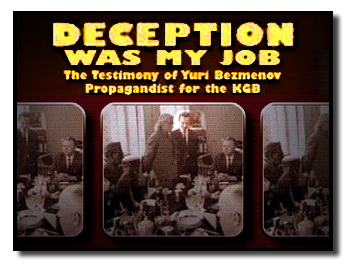 LINK :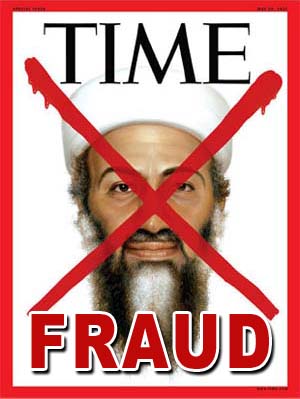 LINK : THE FAKE WAR ON TERROR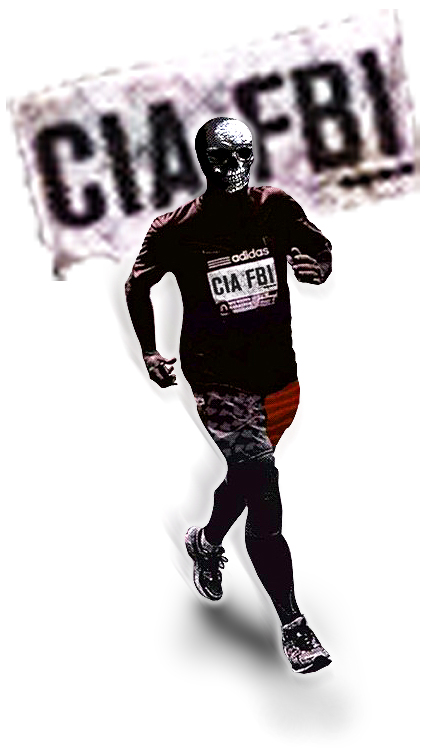 THE CIA
An independent agency of the United States government responsible for collecting and coordinating intelligence and counterintelligence activities abroad in the national interest; headed by the Director of Central Intelligence under the supervision of the President and National Security Council...There has been considerable criticism of the CIA relating to security and counterintelligence failures, failures in intelligence analysis, human rights concerns, external investigations and document releases, influencing public opinion and law enforcement, drug trafficking, and lying to Congress. In 1987, the former CIA Station Chief in Angola in 1976, John Stockwell, said the CIA is responsible for tens of thousands of covert actions and destablization programs since it was created by Congress with the passage of the National Security Act of 1947. At the time, Stockwell estimated that over 6 million people had died in CIA covert actions.
LINK : C.I.A.
THE FBI
The Federal Bureau of Investigation (FBI) is a governmental agency belonging to the United StatesDepartment of Justice that serves as both a federal criminal investigative body and an internal intelligence agency (counterintelligence). Also, it is the government agency responsible for investigating crimes on Indian reservations in the United States under the Major Crimes Act. The branch has investigative jurisdiction over violations of more than 200 categories of federal crime. The agency was established in 1908 as the Bureau of Investigation (BOI). Its name was changed to the Federal Bureau of Investigation (FBI) in 1935. The agency headquarters is the J. Edgar Hoover Building, located in Washington, D.C. The agency has fifty-six field offices located in major cities throughout the United States, and more than 400 resident agencies in lesser cities and areas across the nation. More than 50 international offices called "legal attachés" exist in U.S. embassies and consulates general worldwide.
'Federal Bureau of Investigation organizes almost all terror plots in the US' ...The report reveals that the FBI regularly infiltrates communities where they suspect terrorist-minded individuals to be engaging with others. Regardless of their intentions, agents are sent in to converse within the community, find suspects that could potentially carry out "lone wolf" attacks and then, more or less, encourage them to do so. By providing weaponry, funds and a plan, FBI-directed agents will encourage otherwise-unwilling participants to plot out terrorist attacks, only to bust them before any events fully materialize.
LINK : F.B.I.
EVERYONE
IS A TERRORIST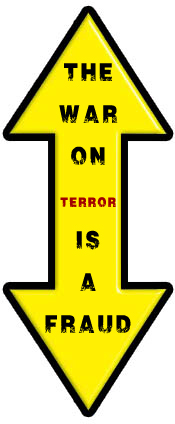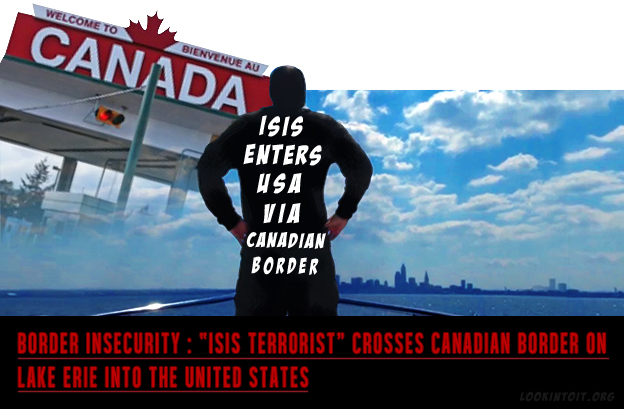 How could there be a War on Terror and actually say that we're having a war against terrorism, and leave the borders wide open? If you were the President of the United States, or I were the President of the United States, and 9/11 really happened the way they want us to believe it happened, the first thing you would do is shut down the borders, so people couldn't get in the country to harm you. But they left the borders wide open. Because the bankers want the borders open, because they want a one-world government. They want a North American Union. They don't want borders here. 9/11 was only a manifestation. It was done to create a fear in the American public, so that we will obey what they want us to do.
LINKS :
Illegal Checkpoints In America
Mobile Van Radiating the Public
Police Trained That Informed Americans Are Terrorists
The NSA (National Security Agency)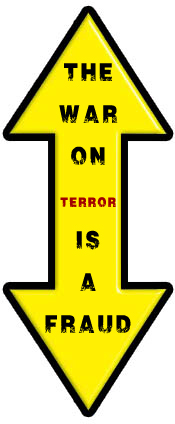 It's no longer Al-Qaeda, it's now supposedly your friends and neighbors. This is the prevailing meme of every tyrannical fascist regime in history.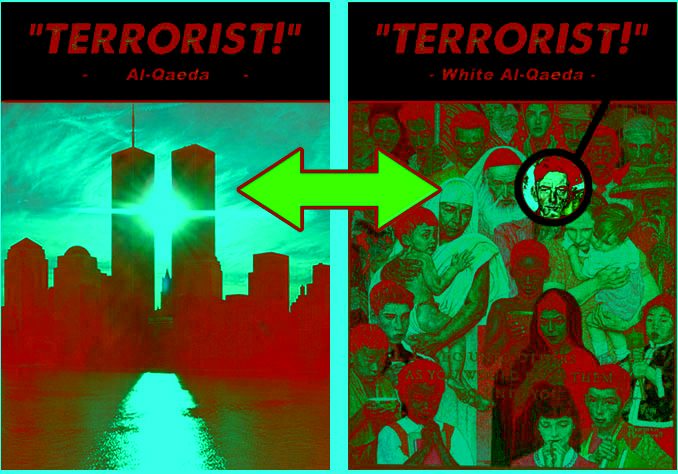 Attorney General Holder: American People Are Terrorists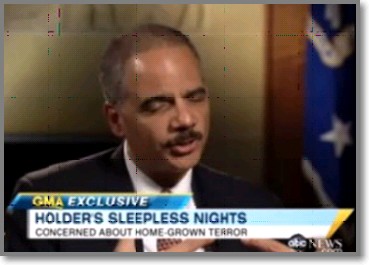 THE WAR ON TERROR IS AN ABSOLUTE FRAUD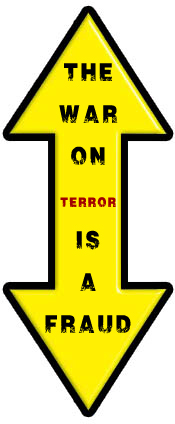 [OBAMA RELEASES MAJOR TERRORIST ORGANIZERS OF THE TALIBAN]
Could Obama Face Impeachment For Bergdahl release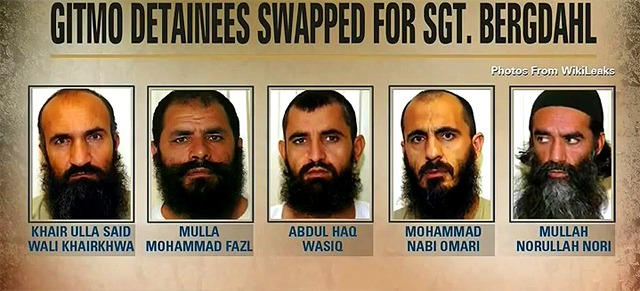 What happened in the last few weeks to change the Bergdahal situation? Was he a CIA operative, or was this a failed attempt to take the heat off the VA scandal?
Impeachment now very valid argument
http://www.infowars.com/judge-napolit...
Jay Carney 2013: we won't transfer detainess without consulting congress
http://www.weeklystandard.com/blogs/j...
Obama clearly broke the law
http://www.infowars.com/pro-obama-har...
Is this a ramp up to "White al Qaeda"
http://www.infowars.com/holder-to-cre...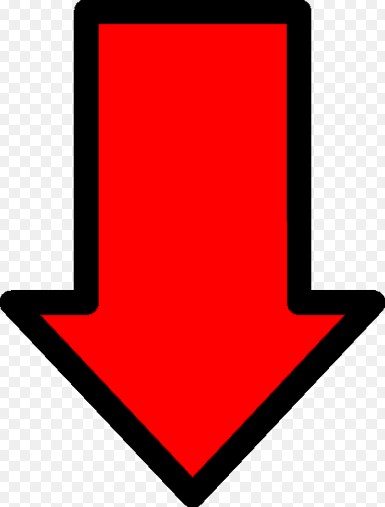 LINK : THE FAKE WAR ON TERROR!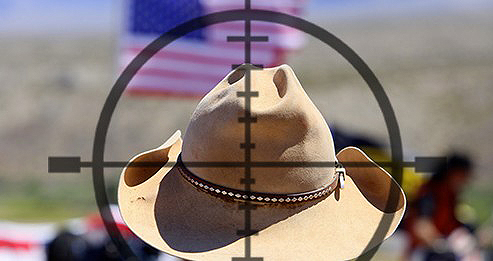 Alex Jones breaks down the bigger picture behind the move to turn the war on terror against American citizens
EVERYONE IS A TERRORIST

White House Tells Parents: Children Could Be Terrorists!
I have told you this was coming. Under the new homeland we are all the enemy in the eyes of the occupiers.
LINKS :
AGENDA 21 Cliven Bundy Case Example
Police Trained That Informed Americans Are Terrorists
Troops Ordered To Kill All Americans Who Do Not Turn In Guns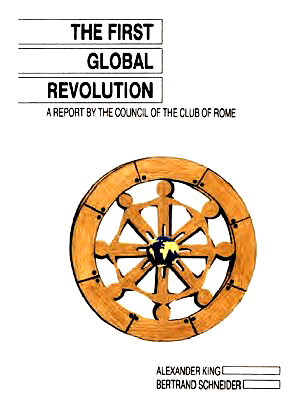 In 1991, the Club published The First Global Revolution. It analyses the problems of humanity, calling these collectively or in essence the 'problematique'. It notes (laments) that, historically, social or political unity has commonly been motivated by enemies in common: "The need for enemies seems to be a common historical factor. Some states have striven to overcome domestic failure and internal contradictions by blaming external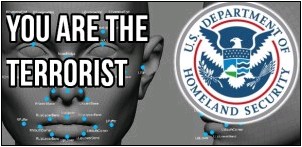 enemies. The ploy of finding a scapegoat is as old as mankind itself - when things become too difficult at home, divert attention to adventure abroad. Bring the divided nation together to face an outside enemy, either a real one, or else one invented for the purpose. With the disappearance of the traditional enemy, the temptation is to use religious or ethnic minorities as scapegoats, especially those whose differences from the majority are disturbing." "Every state has been so used to classifying its neighbours as friend or foe, that the sudden absence of traditional adversaries has left governments and public opinion with a great void to fill. New enemies have to be identified, new strategies imagined, and new weapons devised."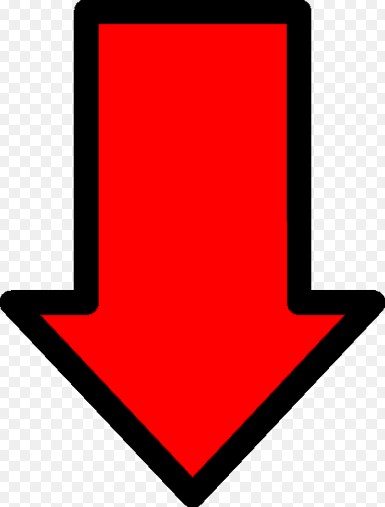 THE GLOBALISTS MOVE FROM THEIR ALQAEDA CREATION, TO FABRICATING HOMEGROWN DOMESTIC TERROR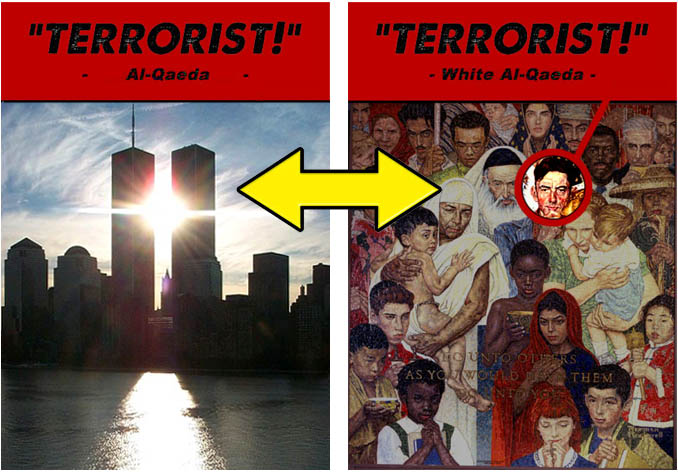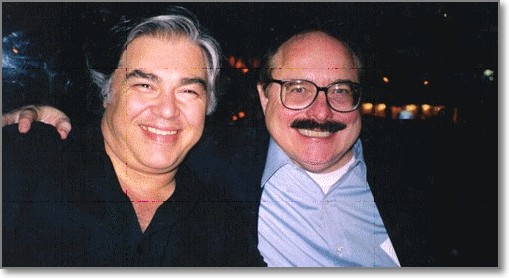 Several years ago, after his popular video "Mad As Hell" was released and Aaron Russo began his campaign to become Governor of Nevada, Russo was noticed by Nicholas Rockefeller and introduced to him by a female attorney. Seeing Russo's passion and ability to affect change, Rockefeller set about on a subtle mission to recruit Russo into the elite's CFR. Watch the full interview here: Reflections and Warnings.
Aaron Russo talks about the CFR...And The Fake War On Terror!
Aaron Russo talks about the CFR...And The Fake War On Terrorism!
LINKS :
Educational System Dismantlement

REACH OUT TO OTHERS
[Help Educate Family And Friends With This Page And The Links Below]
---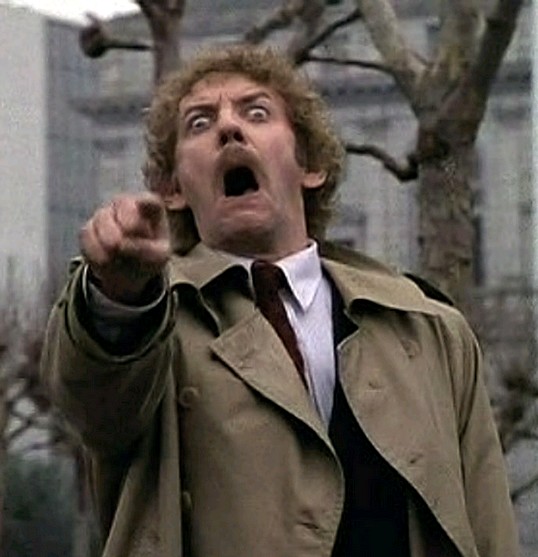 LINKS:
Tattle-Tell Squads and Surveillance
Post Office Trucks Stasi Data Collection Nodes
Big Brother/Sis & Surveillance Systems
The NSA (National Security Agency)
MORE:
Educational System Dismantlement