V.I.P.R. TEAMS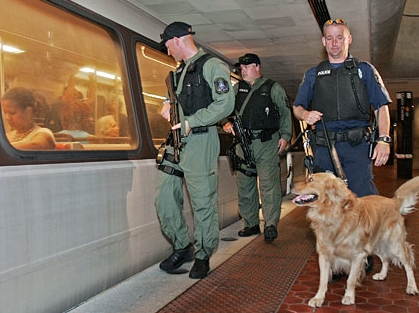 TSA Visible Intermodal Prevention and Response (VIPR) teams are responsible for around 10,000 checkpoints every year in the US, and have expanded from airports to bus & train terminals and even highways despite the fact that there is "no proof that the roving viper teams have foiled any terrorist plots or thwarted any major threat to public safety," according to the L.A. Times.
The VIPER teams have nothing to do with preventing terrorism, they are there to get people to cower and accept they are under control. Air marshal spokesman David Adams has commented that there is no new intelligence indicating that terrorists are interested in targeting transportation modes.
---
Homeland Security VIPER Teams Hit Tampa Florida Bus, Train Stations
Homeland Security VIPER Teams Hit Tampa Florida Bus, Train Stations
Truckers Inspected by V.I.P.R. teams
Truckers Inspected by V.I.P.R. teams
The TSA has announced its intention to expand the VIPR program to include roadside inspections of commercial vehicles, setting up a network of internal checkpoints and rolling out security procedures already active in airports, bus terminals and subway stations to roads and highways across the United States.
VIPR TEAMS STATEWIDE IN TENNESSEE!!
VIPR TEAMS STATEWIDE IN TENNESSEE!!
PORTLAND, Tenn. -- You're probably used to seeing TSA's signature blue uniforms at the airport, but now agents are hitting the interstates to fight terrorism with Visible Intermodal Prevention and Response (VIPR).

"Where is a terrorist more apt to be found? Not these days on an airplane more likely on the interstate," said Tennessee Department of Safety & Homeland Security Commissioner Bill Gibbons.

Tuesday Tennessee was first to deploy VIPR simultaneously at five weigh stations and two bus stations across the state.

Agents are recruiting truck drivers, like Rudy Gonzales, into the First Observer Highway Security Program to say something if they see something.
DHS Building 'Domestic Army'
Marine Corps Colonel: Homeland Security Building "Domestic Army"
http://www.prisonplanet.com/marine-co...

Citizens Alarmed as Militarized Cops Invade Missouri Neighborhood
http://www.infowars.com/citizens-alar...

Video: Obama Backed Militants Execute Teenage Boys
http://www.prisonplanet.com/video-oba...


Bidondi Man on the Street :"Americans Demand Obama Stop Funding Al-Qaeda"
Stay in the know - Follow Alex on Twitter: https://twitter.com/RealAlexJones
DHS Has Now Acquired Enough Bullets To Wage 30 Year War!!
LINK :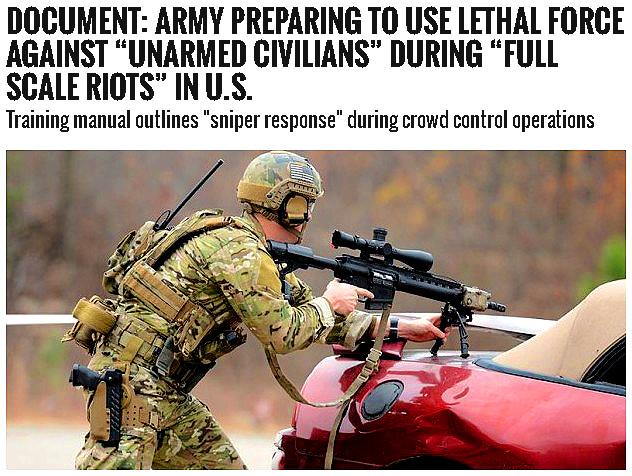 Document: Army Preparing to Use Lethal Force Against "Unarmed Civilians" During "Full Scale Riots" in U.S.
Training manual outlines "sniper response" during crowd control operations
by Paul Joseph Watson | August 18, 2014
A document released by the U.S. Army details preparations for "full scale riots" within the United States during which troops may be forced to engage in a "lethal response" to deal with unruly crowds of demonstrators.
The appearance of the document amidst growing unrest in Ferguson, Missouri, with the National Guard now being called in to deal with the disorder, is an ominous coincidence.
The 132-page document, titled U.S. Army Techniques Publication 3-39.33: Civil Disturbances (PDF), was written in April 2014 and recently obtained by Public Intelligence.
The document makes it clear that the techniques detailed therein are to be applied both outside and inside the "continental United States (CONUS)" in the event of "unruly and violent crowds" where it is "necessary to quell riots and restore public order."
HD :
https://www.youtube.com/watch?v=SrVLHRgm1tc
https://www.youtube.com/watch?v=6swh3MvV8yA
https://www.youtube.com/watch?v=EDk6NuguoSE
https://www.youtube.com/watch?v=YCNHsvS4QkA
https://www.youtube.com/watch?v=eb4He1gEP6U
The training manual outlines scenarios under which, "Civil unrest may range from simple, nonviolent protests that address specific issues, to events that turn into full-scale riots."
The most shocking aspect of the document is the fact that it describes the deployment of a "lethal response" directed against "unarmed civilians," including "sniper response" and "small arms direct fire."
Under the heading "sniper response," the document states, "Ensure that target leaders or troublemakers are targeted," in addition to a passage which states, "Exploit the psychological effect of an attack."
Under the heading "small arms direct fire," the manual states, "Escalate gradually, starting with a small caliber, single round and work up to a large caliber, automatic."
Another graphic which depicts "escalation of trauma" directs soldiers how to use "riot batons" in order to cause the necessary level of injury or death to the subject. "Deadly force final target areas" include the back of the neck, the solar plexus, the neck, the spine and the head.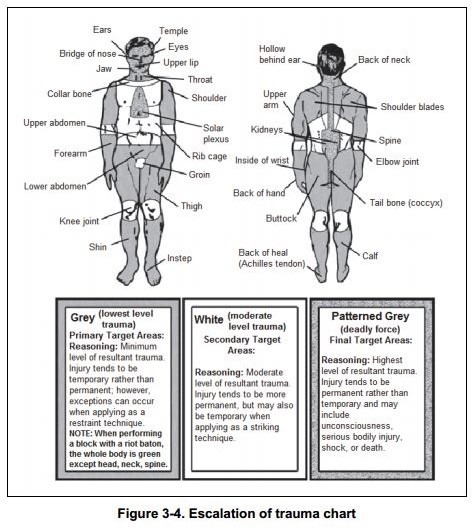 In light of events in Ferguson, where a predominantly black community has faced off with militarized police, it's interesting to note that the manual makes reference to civil unrest that can arise out of "ethnic hatred" and, "Community unrest (that) results in urban conflicts that arise from highly emotional social and economic issues." The document also mentions how rioters target "retail stores," as happened during the looting in Ferguson.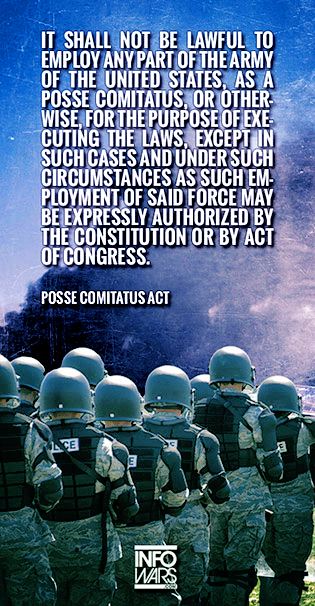 LINK :
"Significant ethnic differences in a community can create an atmosphere of distrust, even hatred…… (and) can cause an eruption of civil disorder that can lead to full riots," states the document.
Although the document makes reference to the Constitutional rights of American citizens it goes on to stress that such protections are null and void under a state of emergency, asserting that Posse Comitatus, which is supposed to limit the power of the federal government to use military personnel domestically, "does not apply" under declared "emergency authority" or "When the need for the protection of federal property or federal functions exists."
It is important to stress that this training manual applies to U.S. Army operations in foreign countries as well as domestically on U.S. soil. Indeed, section 2-18 of the document goes into detail about domestic protests such as the 1999 anti-WTO demonstration in Seattle.
The emergence of the document as National Guard troops prepare to descend on Ferguson, Missouri to deal with looting and civil unrest follows a report we published just a few weeks before the outbreak of the Ferguson riots which documented how National Guard troops were training to detain unruly African-American citizens in prison camps before handing them over to police.
In a special video report, Alex Jones documented how the story was part of wider preparations by the government for domestic disorder that have been ongoing for years.
We have reported previously on similar documents that outline how the U.S. Army would be forced to resort to lethal measures in order to deal with unruly Americans during times of emergency within the United States.
In 2012 we covered FM 3-39.40 Internment and Resettlement Operations, a U.S. Army manual that describes how political activists in prison camps will be indoctrinated by specially assigned psychological operations officers. The document makes numerous references to how government agencies like the DHS, ICE and FEMA will be involved in the domestic internment of U.S. citizens during "civil support operations."
A second US Army Military Police manual that was leaked months later also outlined how military assets would be used domestically to quell riots, confiscate firearms and even kill Americans on U.S. soil during mass civil unrest.
U.S. troops and National Guard also worked with local police to incarcerate Americans in detention camps during drills Alex Jones covered in 1999 in Oakland, California.
A report produced in 2008 by the U.S. Army War College's Strategic Institute warned that the United States may experience massive civil unrest in the wake of a series of crises which it termed "strategic shock."
"Widespread civil violence inside the United States would force the defense establishment to reorient priorities in extremis to defend basic domestic order and human security," stated the report, authored by [Ret.] Lt. Col. Nathan Freir, adding that the military may be needed to quell "purposeful domestic resistance".
Rex 84, short for Readiness Exercise 1984, was established under the pretext of a "mass exodus" of illegal aliens crossing the Mexican/US border.
During the Iran-Contra hearings in 1987, however, it was revealed that the program was a secretive "scenario and drill" developed by the federal government to suspend the Constitution, declare martial law, assign military commanders to take over state and local governments, and detain large numbers of American citizens determined by the government to be "national security threats."
Facebook @ https://www.facebook.com/paul.j.watson.71
FOLLOW Paul Joseph Watson @ https://twitter.com/PrisonPlanet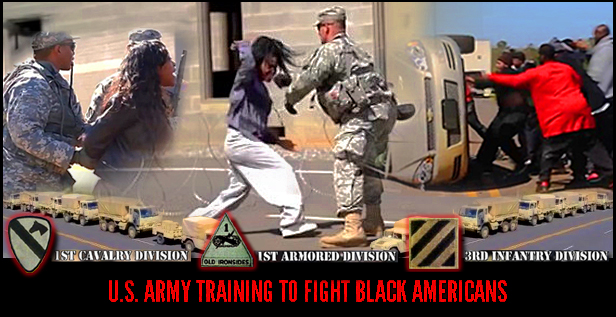 In the video below, Alex Jones highlights how the Guardian Centers video is yet another startling indication that authorities in the United States are preparing for civil unrest as America increasingly begins to resemble a militarized police state.
U.S. Army Training to Fight Black Americans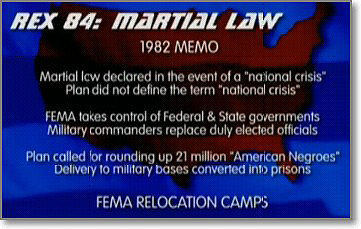 LINKS :
Breaking: Veteran's Insight on TSA Purchasing 3.5 Million Rounds
Breaking InfoWars EXCLUSIVE on TSA Purchase order of 3.5 million rounds of ammunition and what veterans warn is behind it.
Stay in the know - Follow Alex on Twitter: https://twitter.com/RealAlexJones
'Like' Alex on FACEBOOK - https://www.facebook.com/AlexanderEme...
http://www.infowars.com/
http://www.prisonplanet.com/
http://www.infowars.net/
http://www.prisonplanet.tv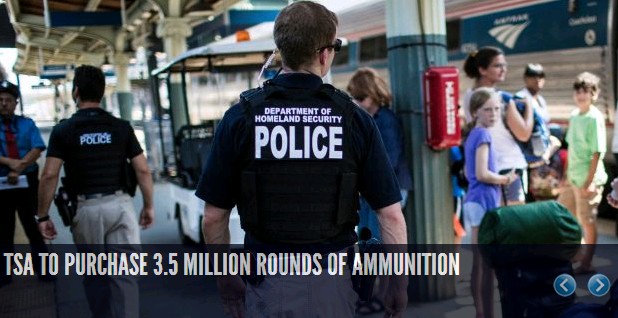 TSA to Purchase 3.5 Million Rounds of Ammunition
Enough for its agents to fire 9,400 bullets a day, every day of the year
Paul Joseph Watson
Infowars.com
August 19, 2013
The Transportation Security Administration is set to purchase 3.5 million .357 SIG caliber bullets, enough for its agents to fire 9,400 rounds a day, every day of the year.
According to a solicitation issued by the agency on August 16, the TSA is looking to buy "3,454,000 rounds of .347 SIG Caliber Training Ammunition".
Although TSA agents in airports are currently unarmed, last month the TSA announced its plan to hire the use of a firing range within a 20 mile radius of LaGuardia Airport in order to train TSA workers.
The federal agency's huge bullet buy could signal an expansion of its controversial Visible Intermodal Prevention and Response (VIPR) program, where teams of armed TSA officers patrol railroad stations, bus stations, ferries, car tunnels, ports, subways, truck weigh stations, rest areas, and special events.
VIPR teams currently conduct around 8,000 operations a year. As well as providing security at transport hubs, VIPR teams are now being used to keep tabs on fans at sporting events.
Earlier this month it was announced that VIPR agents would now be patting down Americans "outside the airport" by conducting stop and search shake downs at transport hubs and public events.
As Government Security News notes, the amount of ammunition being purchased, "means the TSA could fire off more than 9,400 rounds per day, every day of the year, to consume that entire quantity annually."
Significant bullet purchases by the TSA are likely to fuel concerns that the federal government is arming itself to the teeth in preparation for some form of domestic unrest or other catastrophe, following the Department of Homeland Security's commitment to purchase more than 1.6 billion rounds of ammunition over the course of the last 18 months.
As we reported last week, Congressman Jeff Duncan's attempt to get answers on why the IRS is also training its agents with semi-automatic AR-15′s designed for "standoff capability" has been ignored by the federal agency.
Facebook @ https://www.facebook.com/paul.j.watson.71
FOLLOW Paul Joseph Watson @ https://twitter.com/PrisonPlanet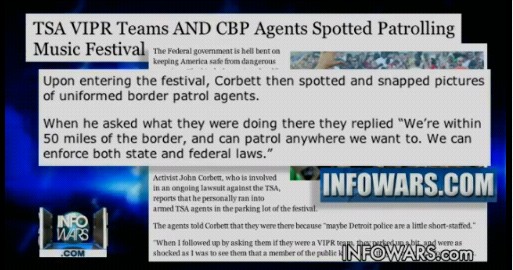 TSA VIPR Show Up at Music Festival
TSA VIPR Show Up at Music Festival
Expansion of The TSA with Jon Corbett
Expansion of The TSA with Jon Corbett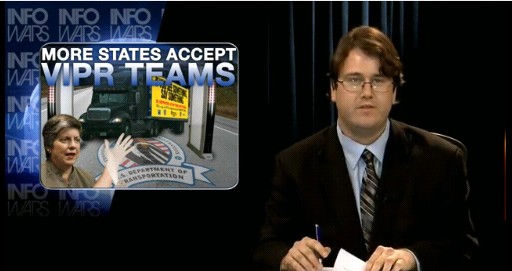 More States Accept VIPR Teams: Infowars Nightly News
More States Accept VIPR TEAMS
TSA Viper Teams Look for "Trouble Makers" on Trains
People are used to seeing TSA inspectors at airports but on Wednesday, a specialized team made their presence known at the Amtrak station in Emeryville. Train stations are difficult to secure because they're so wide open but on Wednesday, the TSA showed up unannounced to let the public, especially potential troublemakers, know that they are keeping an eye on the rails.

Amtrak passenger Vera Molina said she noticed all the black-clad TSA inspectors right away and it's a presence she appreciates. Asked if she would like to see them more often she said, "I would, can't hurt, just in case you never know." As part of their nationwide "Viper Team" effort, the Transportation Safety Administration put about a dozen agents at the station to see and be seen, although some of the inspectors also work undercover.

"The visible deterrent is making a presence known at the station, getting on the train, talking to passengers, lettings the bad guys know that we're here, and letting the passengers know that we're here, and working with law enforcement to really tailor our Viper teams to their needs," TSA spokesman Nico Melendez said.
---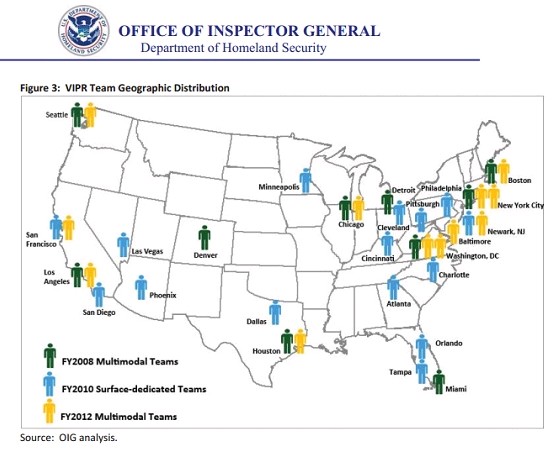 Jackboot Society: Pure Tyranny on the Streets of America

Latest bill of rights evisceration: Ohio Patriot Act arrests for not showing ID
Infowars Network | December 23 2005
By Alex Jones & Paul Joseph Watson
We never stop talking about martial law and that's because we are constantly fed with new examples of how America has turned into a police state right in front of our very eyes.
The latest instance comes out of Ohio and has been labeled 'the Ohio Patriot Act'.
According to News Net 5,
One state representative said it resembles Gestapo-style tactics of government, and there could be changes coming on the streets of Ohio's small towns and big cities.
The Ohio Patriot Act has made it to the Taft's desk, and with the stroke of a pen, it would most likely become the toughest terrorism bill in the country. The lengthy piece of legislation would let police arrest people in public places who will not give their names, address and birth dates, even if they are not doing anything wrong.
WEWS reported it would also pave the way for everyone entering critical transportation sites such as, train stations, airports and bus stations to show ID.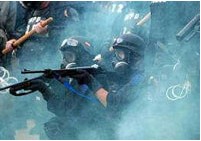 Simultaneously, the Miami Police Department announced an identical 'shock and awe' program in which cops would randomly conduct sieges on buildings with no evidence linking them to terrorist activity and randomly check identification
The Miami and now Ohio model is akin to the police looking for a man driving a red Volkswagen in the western United States. They decide to raid a bank building in Albuquerque because the felon just might happen to be in that one building out of a list of potential hundreds of thousands.
It makes absolutely no sense unless it is designed to scare people into groveling to the overlords in black ski masks.
Concurrently also is the introduction of TSA VIPER squads to patrol mass transit facilities in major cities conducting searches and checking ID's.
This is to be implemented NATIONWIDE: "The so-called "Visible Intermodal Protection and Response" teams — or VIPER teams — will patrol Amtrak's Northeast Corridor and Los Angeles rail lines; ferries in Washington state; bus stations in Houston; and mass transit systems in Atlanta, Philadelphia, Washington and Baltimore."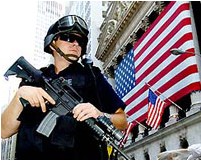 The VIPER teams have nothing to do with preventing terrorism, they are there to get people to cower and accept they are under control. Air marshal spokesman David Adams has commented that there is no new intelligence indicating that terrorists are interested in targeting transportation modes.
The move into martial law comes shortly after the incident in Miami where reportedly mentally unstable man Rigoberto Alpizar was gunned down on board American Airlines Flight 924 for "saying he had a bomb".
We exposed the fact that witnesses reported that Alpizar never screamed that he had a bomb and passengers related that they were more frightened of Air Marshals putting guns to their head and threatening them not to look at what was taking place. The incident was a primer for the move to put federal militarized police on the streets and all over transport networks.
This is total Stasi America and it has nothing to do with keeping you safe as they tag on blanket amnesty provisions to the latest immigration bill. The borders are wide open and border patrol have in the past been ordered to stand down and not arrest illegals.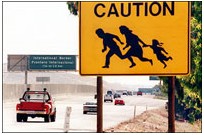 The one place where all this security and police presence would be its most useful, the border, is the only place that the federal government is willing to turn a blind eye to. Test runs where terrorists smuggle dummy nuclear bombs across the border without being apprehended were successfully conducted by Glenn Spencer's American Border Patrol on three separate occasions.
The federal government isn't concerned about that but they are concerned about demanding middle aged women present ID on buses in Denver and arresting men for donating travel tokens to people without the right change in New York.
This is textbook, mechanized, classic tyranny.
The very same people who grope pregnant women and make 90-year-old men remove their shoes in airports are now going to be on American streets.
Three years ago Governor Ridge announced that Americans would have to have an ID card to have a job and that we would all be graded on four different color coded levels of security clearance. Cameras scanning your license plates, cameras scanning the RFID tag on your inspection sticker, cameras biometrically scanning your face.
This is the implementation of the jackboot society and it has already arrived in major cities.
Senate bill 742 in Oregon which was slimly defeated by just three votes would have classified terrorism as a plethora of completely unrelated actions. Downloading music, blocking traffic, writing a hot check or any form of protest. All these would be punishable by life in prison unless you agreed to attend a "forest labor camp" for 25 years of enforced labor.
These are actual bills being drawn up by our supposed representatives in government.
Does this sound like a sick joke? Yes, but the bill is real and it nearly passed.
Not even Communist China or Stalinist North Korea put people in labor camps for writing a hot check but this was actually debated in the 'land of the free'.
In Rhode Island, governors proposed a bill that would have outlawed criticism of the government, defining it as anarchy under World War One era rhetoric.
As the elite externalize their plans to the point where the agenda is crystal clear, more credible individuals of conscience step forward to oppose the slaughter of America.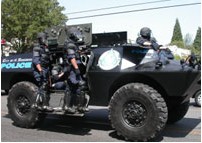 Maybe we should pay attention when Congressman Ron Paul warns that martial law is being implemented, or when Former Republican Congressman and CIA official Bob Barr says a military dictatorship is emerging. Or perhaps it's noteworthy when former associate editor of the Wall Street Journal and former Assistant Secretary of the US Treasury Dr. Paul Craig Roberts says the Government is in the hands of total psychopaths hell bent on martial law.
Voting Hillary Clinton into office won't save us either. People need to become active in local government, especially in major metropolitan areas and demand that the Constitution, a document that President Bush refers to as a "God damned piece of paper," is recognized and upheld.
Only through constant activism, lobbying and vigilance can we escort martial law away from American shores and live peacefully in a society where we do not cower in fear of the armed security guard barking orders at us when simply walking down the street, "citizen, show me your papers."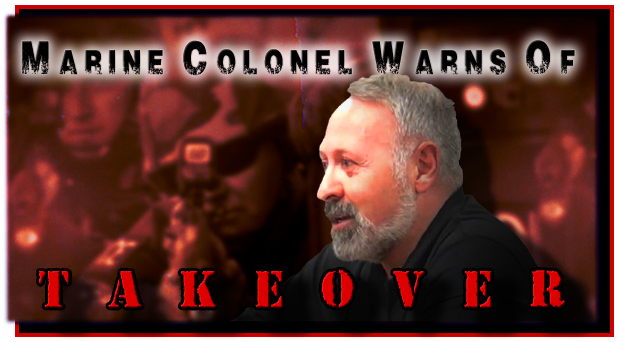 A former Marine Corps Colonel who was stationed in Fallujah and trained Iraqi soldiers warns that the Department of Homeland Security is working with law enforcement to build a "domestic army," because the federal government is afraid of its own citizens.
In this exclusive in studio interview Ret. Col Martino covers the DHS buildup and solutions our overreaching corrupt government officials.
Ret. Marine Col:
DHS Is Prepping For War With Americans

LINKS :
Police Trained That Informed Americans Are Terrorists
Doomsday Preppers Will Be Treated As Terrorists
U.S. Military Killing Its Own Troops!
The NSA (National Security Agency)
Tattle-Tell Squads and Surveillance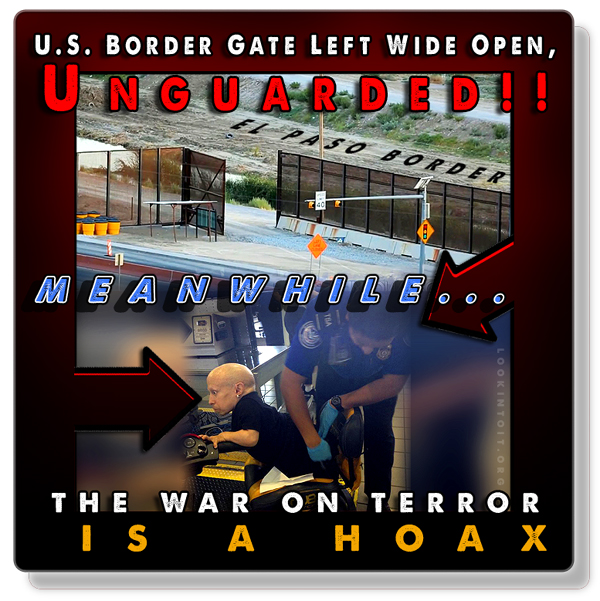 LINK :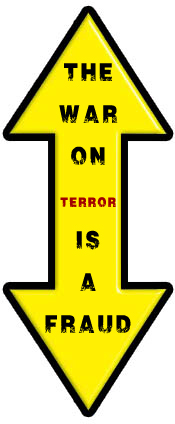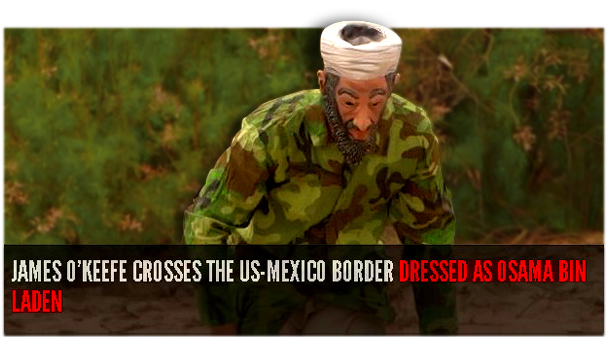 James O'Keefe Crosses The US-Mexico Border Dressed As Osama Bin Laden
O'Keefe: "I see no border patrol. I see no security."
by Patrick Howley | Daily Caller | August 11, 2014
Investigative filmmaker James O'Keefe exposes the U.S.-Mexico border's vulnerability to terrorism in his latest undercover project, obtained exclusively by The Daily Caller.
O'Keefe's Project Veritas video reminds viewers of recent statements by the president and Obama administration officials that the southern border is secure. O'Keefe then proceeds to Hudspeth County, Texas, to easily cross back and forth cross the Rio Grande wearing the costume of modern history's most recognizable terrorist.
"I see no border patrol. I see no security," O'Keefe said in the video before donning a bin Laden mask. "Thousands of people have stood in my footsteps right now. They've come from South America, Honduras, Guatemala, and they've all crossed the border. And if they can cross, anybody can cross." (RELATED: The Time Fidel Castro Snuck Into America From Mexico)
O'Keefe's work often distinguishes itself for proving taboo but accurate premises – in this case, that Islamic extremists are able to gain entry to the United States from Mexico, where drug cartels are linked to numerous terrorist organizations including Hezbollah and the Islamic State of Iraq and the Levant (ISIS), the strongest al-Qaida-like organization in the heart of the Middle East.
This summer has seen a whirlwind of terrorist activity on the southern border, with dire anecdotes pouring out of local news stations but ignored by the mainstream press. Security contractors found a Muslim prayer rug on the Arizona border, where 300 extremists affiliated with al-Qaida's Somalia syndicate al-Shabab recently entered the United States unaccounted for. Terrorist watch-list suspects were also detained trying to get into the country through California. Country music legend Charlie Daniels revealed that, "I personally spoke with an Arizona law enforcement officer who had taken four what he called 'Taliban' out of the back of an 18 wheeler."
Relevant on the contemporary merits, O'Keefe's video also makes an important symbolic point thirteen confusing years after the attacks of 9/11. The terrorists we're fighting today are more technologically savvy than their idol Osama bin Laden, the self-designed political figure who tried to fire history's loudest shot. But their motives have not changed. And they have access to the United States.
Read more: http://dailycaller.com/2014/08/11/new-video-james-okeefe-crosses-the-border-as-osama-bin-laden/#ixzz3A6QksaDG
LINKS :
Ambush / Undercover Journalism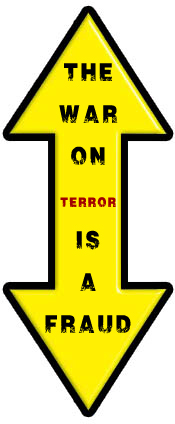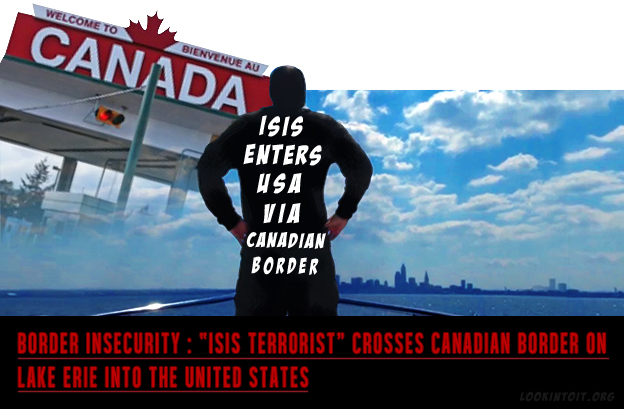 How could there be a War on Terror and actually say that we're having a war against terrorism, and leave the borders wide open? If you were the President of the United States, or I were the President of the United States, and 9/11 really happened the way they want us to believe it happened, the first thing you would do is shut down the borders, so people couldn't get in the country to harm you. But they left the borders wide open. Because the bankers want the borders open, because they want a one-world government. They want a North American Union. They don't want borders here. 9/11 was only a manifestation. It was done to create a fear in the American public, so that we will obey what they want us to do.
LINKS :
Illegal Checkpoints In America
Mobile Van Radiating the Public
Police Trained That Informed Americans Are Terrorists
The NSA (National Security Agency)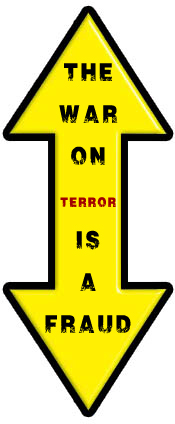 It's no longer Al-Qaeda, it's now supposedly your friends and neighbors. This is the prevailing meme of every tyrannical fascist regime in history.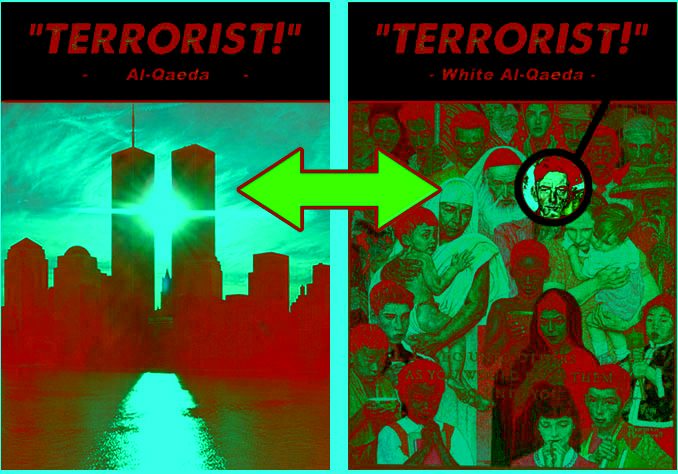 Attorney General Holder: American People Are Terrorists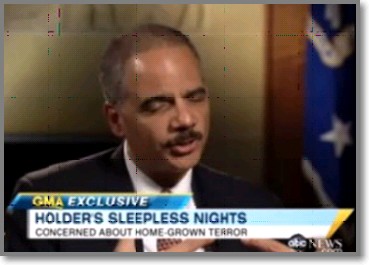 THE WAR ON TERROR IS AN ABSOLUTE FRAUD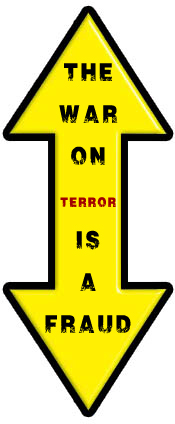 [OBAMA RELEASES MAJOR TERRORIST ORGANIZERS OF THE TALIBAN]
Could Obama Face Impeachment For Bergdahl release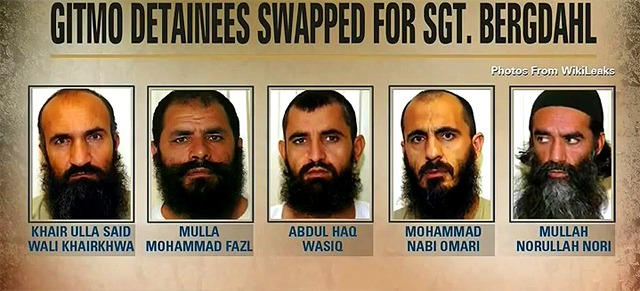 What happened in the last few weeks to change the Bergdahal situation? Was he a CIA operative, or was this a failed attempt to take the heat off the VA scandal?
Impeachment now very valid argument
http://www.infowars.com/judge-napolit...
Jay Carney 2013: we won't transfer detainess without consulting congress
http://www.weeklystandard.com/blogs/j...
Obama clearly broke the law
http://www.infowars.com/pro-obama-har...
Is this a ramp up to "White al Qaeda"
http://www.infowars.com/holder-to-cre...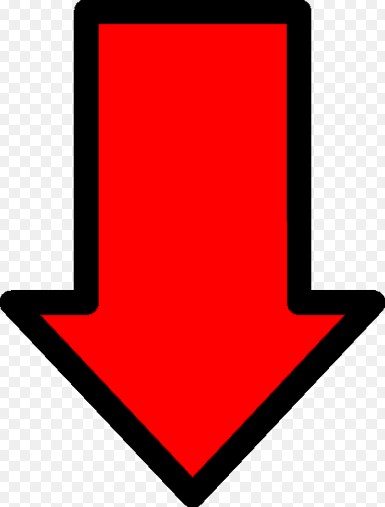 LINK : THE FAKE WAR ON TERROR!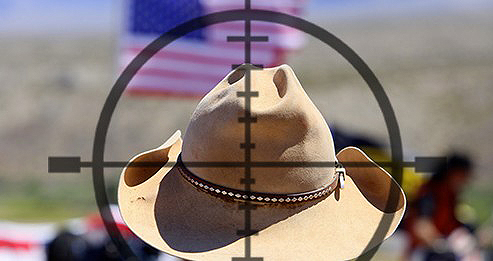 Alex Jones breaks down the bigger picture behind the move to turn the war on terror against American citizens
EVERYONE IS A TERRORIST

White House Tells Parents: Children Could Be Terrorists!
I have told you this was coming. Under the new homeland we are all the enemy in the eyes of the occupiers.
LINKS :
AGENDA 21 Cliven Bundy Case Example
Police Trained That Informed Americans Are Terrorists
Troops Ordered To Kill All Americans Who Do Not Turn In Guns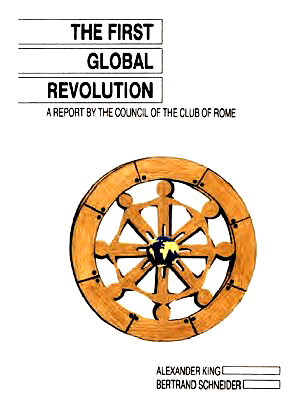 In 1991, the Club published The First Global Revolution. It analyses the problems of humanity, calling these collectively or in essence the 'problematique'. It notes (laments) that, historically, social or political unity has commonly been motivated by enemies in common: "The need for enemies seems to be a common historical factor. Some states have striven to overcome domestic failure and internal contradictions by blaming external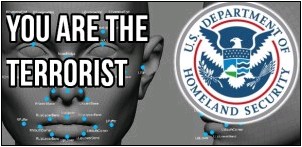 enemies. The ploy of finding a scapegoat is as old as mankind itself - when things become too difficult at home, divert attention to adventure abroad. Bring the divided nation together to face an outside enemy, either a real one, or else one invented for the purpose. With the disappearance of the traditional enemy, the temptation is to use religious or ethnic minorities as scapegoats, especially those whose differences from the majority are disturbing." "Every state has been so used to classifying its neighbours as friend or foe, that the sudden absence of traditional adversaries has left governments and public opinion with a great void to fill. New enemies have to be identified, new strategies imagined, and new weapons devised."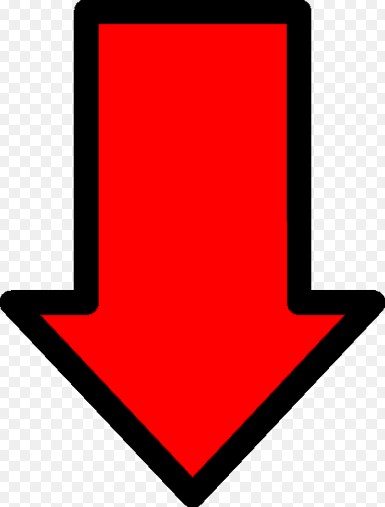 THE GLOBALISTS MOVE FROM THEIR ALQAEDA CREATION, TO FABRICATING HOMEGROWN DOMESTIC TERROR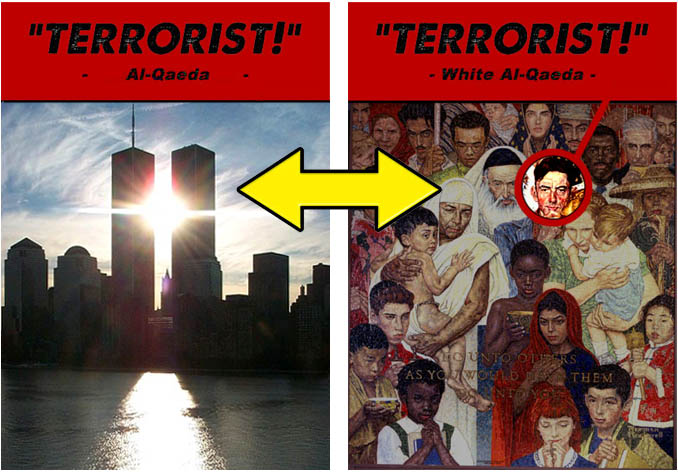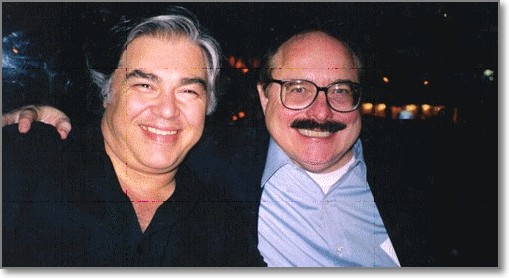 Several years ago, after his popular video "Mad As Hell" was released and Aaron Russo began his campaign to become Governor of Nevada, Russo was noticed by Nicholas Rockefeller and introduced to him by a female attorney. Seeing Russo's passion and ability to affect change, Rockefeller set about on a subtle mission to recruit Russo into the elite's CFR. Watch the full interview here: Reflections and Warnings.
Aaron Russo talks about the CFR...And The Fake War On Terror!
Aaron Russo talks about the CFR...And The Fake War On Terrorism!
LINKS :
Educational System Dismantlement

REACH OUT TO OTHERS
[Help Educate Family And Friends With This Page And The Links Below]
---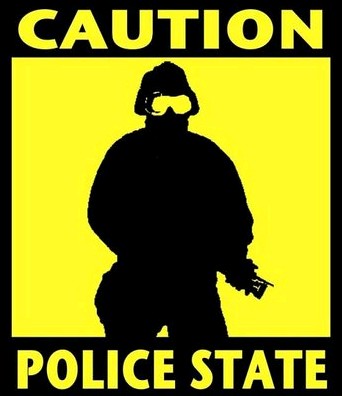 RECOMMENDED LINKS:
Police Trained That Informed Americans Are Terrorists
Troops Ordered To Kill All Americans Who Do Not Turn In Guns
Foreign Troops Training To Confiscate Guns of Americans
The International Criminal Court