INFANTICIDE!!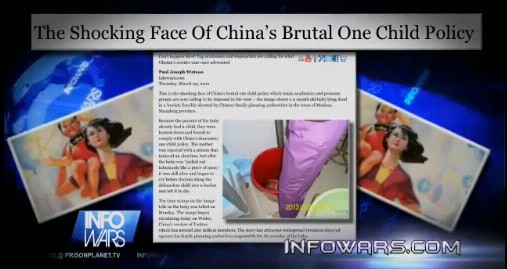 This is the shocking face of China's brutal one child policy which many academics and pressure groups are now calling to be imposed in the west -- the image shows a 9 month old baby lying dead in a bucket, forcibly aborted by Chinese family planning authorities in the town of Moshan, Shandong province. Because the parents of the baby already had a child, they were hunted down and forced to comply with China's draconian one child policy. The mother was injected with a poison that induced an abortion, but after the baby was "pulled out inhumanly like a piece of meat," it was still alive and began to cry before doctors slung the defenseless child into a bucket and left it to die.
---
The Shocking Face Of China's Brutal One Child Policy

Can't happen here? Top academics and eugenicists are calling for what Obama's science czar once advocated (Note the video center of the page on John P. Holdren)
Paul Joseph Watson
Thursday, March 29, 2012

This is the shocking face of China's brutal one child policy which many academics and pressure groups are now calling to be imposed in the west -- the image shows a 9 month old baby lying dead in a bucket, forcibly aborted by Chinese family planning authorities in the town of Moshan, Shandong province.


Because the parents of the baby already had a child, they were hunted down and forced to comply with China's draconian one child policy. The mother was injected with a poison that induced an abortion, but after the baby was "pulled out inhumanly like a piece of meat," it was still alive and began to cry before doctors slung the defenseless child into a bucket and left it to die.

The time stamp on the image tells us the baby was killed on Monday. The image began circulating today on Weibo, China's version of Twitter, which has around 260 million members. The story has attracted widespread revulsion directed against the family planning authorities responsible for the murder of the baby.

China's one child policy is enforced by way of forced abortions, infanticide and compulsory sterilization. In many cases, women are literally kidnapped off the street by state goons from the "Birth Control Office," driven to government hospitals, drugged, and their child is forcibly aborted.

In one case in 2009, both a young woman and her baby were killed after such an abduction in Liaocheng City.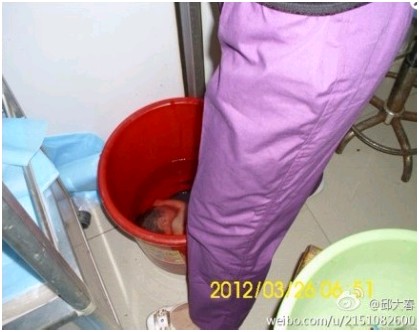 http://www.infowars.com/the-shocking-face-of-chinas-brutal-one-child-policy/
Acclaimed Author Exposes Overpopulation Myth
Alex welcomes an internationally recognized authority on China and population issues, as well as an acclaimed author and speaker, Steven W. Mosher. Mosher is the president of the Population Research Institute and the author of the best-selling A Mother's Ordeal: One Woman's Fight Against China's One-Child Policy.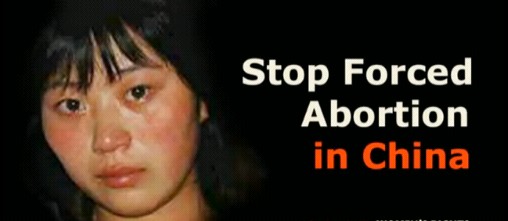 Forced Abortions 1
Forced Abortions 2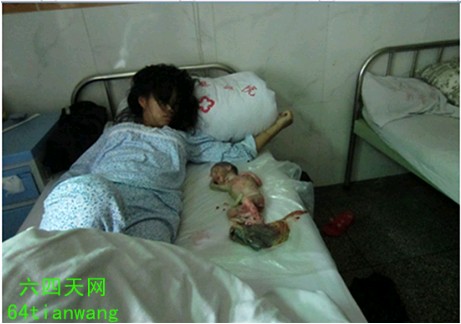 http://www.lifenews.com/2012/06/12/chinese-woman-seven-months-pregnant-becomes-victim-of-forced-abortion/
---
How baby flushed down toilet was lucky: Shocking toll of China's one-child rule
http://www.mirror.co.uk/news/world-news/how-baby-flushed-down-toilet-1925083
Hazel Knowles
Jun 1, 2013
For people in China, the baby's pitiful ordeal has touched a painfully raw nerve and ­triggered a frenzy of bitter self-criticism
It was an image that startled the world – a newborn wailing in distress as he is cut free from a filthy sewage pipe after being flushed down a toilet in China.
The survival of Baby 59 – named after the incubator where he recovered following three hours wedged in the pipe – is an extraordinary story of human spirit and the sheer will to live.
For people within China, however, the baby's pitiful ordeal has touched a painfully raw nerve and ­triggered a frenzy of bitter self-criticism.
"This shames our nation," one blogger, Zhong Zi Wei from Beijing, posted. "We are worse than animals.
"The one-child policy has turned us all into brutes."
Another, Fu Hei Dou from the southern city of Guangzhou, wrote: "It must seem to the world that China is a country that puts no value on human life.
"Our new president talks about the Chinese Dream, but is this any way for an infant to begin his life? It is unfair and it is utterly uncivilized."
The fact Baby 59 is alive today is a freakish slice of fortune in a country where unwanted babies are discarded and common humanity takes second place to Communist Party decree.
Thousands of women across China are subjected to forced abortions every year if they violate the one-child policy and fail to pay fines. There is no legal limit on how late in the pregnancy they can be carried out.
Outrages that would be classed as crimes of murder or manslaughter elsewhere in the world are routinely committed by officials appointed to enforce the 34-year-old law.
Last June, Feng Jianmei, who was seven months pregnant, was injected with a chemical to kill her unborn child because she could not afford the £4,000 fine for having a second child.
A photo posted online of the bereft 27-year-old lying in hospital in Shaanxi province with her stillborn daughter caused uproar.
Officials were sacked, but none were prosecuted.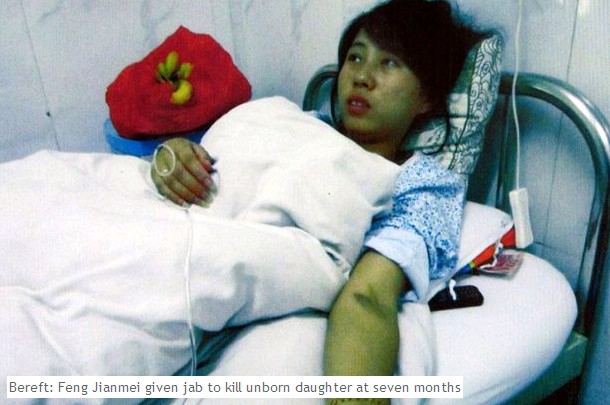 Bereft: Feng Jianmei given jab to kill unborn daughter at seven months
Introduced by Deng Xiaoping in 1979 to curb an anticipated population explosion, the one-child policy is the world's biggest exercise in population control.
City dwellers are allowed only one child, while in rural areas couples can only have a second child if the first is a girl. Only ethnic minorities such as Tibetans and Mongolians are exempt.
Fines range from around £260 to £8,500 but ­families must then pay thousands of pounds more in lifelong levies for the health and education costs of illegal children.
The policy is often ruthlessly enforced. A Shanghai office worker pregnant with a second child in the 1980s was fired, forced to have an abortion and sent to a labour camp for years.
Across China, feared family planning units staffed by 300,000 workers and 80 million volunteers are notorious for snooping on neighbours who break the rules.
They have the power to confiscate livestock and even homes of families with illegal children and can force pregnant women to have abortions and be sterilised.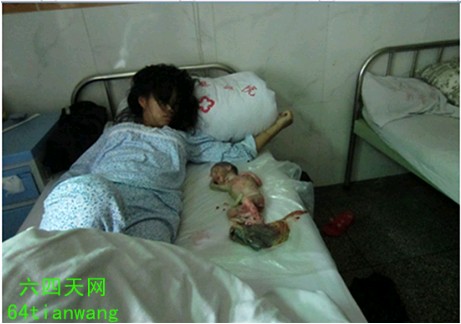 Shocking: This picture of Feng Jianmei with baby's body caused uproar
Women who have had their one legal child are forced to have intrauterine devices fitted that they cannot remove, to prevent them falling pregnant again.
Village family planning chiefs painstakingly chart the menstrual cycle and pelvic examination results of every woman in their community of childbearing age.
More than 300 million abortions have been carried out since the policy was introduced and more than 200 million women sterilised.
Deaths of unwanted infants are so commonplace that dead babies, especially girls, are sometimes abandoned.
It led to one horrific incident in 2001 when scores of pedestrians walked nonchalantly past the body of a dead baby girl left in the gutter of a street in Hunan province.
Eventually, an elderly man picked up the body, placed it in a box and put it in a bin. Police refused to take any action and instead arrested a woman who photographed the heartbreaking scene and reported it.
Communist Party officials insist the one-child policy has spared China the chaotic overpopulation of India, whose numbers will soon soar past China's 1.34 billion.
Critics call it a "barbaric experiment in social engineering" which has left China sitting on a demographic timebomb it cannot defuse.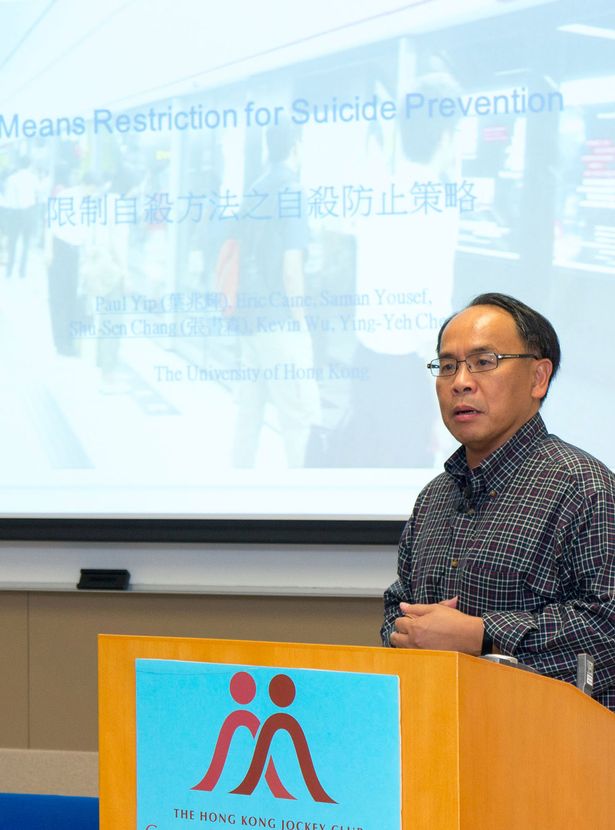 Population expert Professor Paul Yip of the University of Hong Kong said the policy had thrown up two significant but unforeseen social consequences.
The first was the so-called "four-two-one" problem where a single child born in the 80s is today left alone to support two parents and four grandparents on a single income.
Yip said: "In China, many people get old before they get rich. We do not have a well-developed social welfare system. Most support for the elderly comes from the family."
With no siblings to help, single children care for parents and grandparents. However, the system could buckle under its own pressure, he said.
A second issue was the "little emperors" syndrome – the vulnerability of only children born under the one-child policy and their inability to manage in the adult world.
Referring to the recent spate of suicides among staff at the Foxconn factories making Apple products, Prof Yip said: "Many only-children cannot cope with problems.
"They have huge mental health issues that sometimes lead to suicide. They have never had to compete with anyone before because there was only one child in the household."
More critically, the policy is blamed for a yawning gender gap which has seen the ratio in China stretch to 118 men to every 100 women through decades of sex-selective abortions.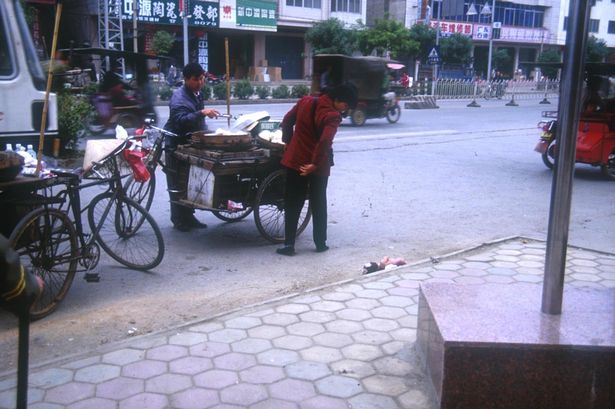 Ignored: People pass baby's body in gutter in 2001
The skewed numbers means there are not enough wives to go around – leaving an underclass of low-educated men known as "bare branches" with little prospect of family life.
An estimated 50,000 women every year – some of them snatched from neighbouring countries including Burma – are being ­trafficked and sold as brides in China.
As hosts of the world's biggest all-male singles club, Beijing's biggest worry might be that in the days of imperial China, "bare branch" gangs led anti-government revolts.
Some critics, like Dr Yi Fuxian, argue the one-child policy was not necessary and that birth rates in China would have fallen naturally as they have in Japan.
Dr Yi, who moved from China to the US and had three children, said infertility rates in his home country had risen tenfold since the 1980s in line with developed countries with falling birth rates.
However, he predicted that even if the policy was scrapped today it would be too late to solve an ageing population and a shrinking labour force.
Professor Yip, who took part in a forum on the issue in Shanghai last month, said there was mounting pressure for the Chinese government to at least ease the one-child policy.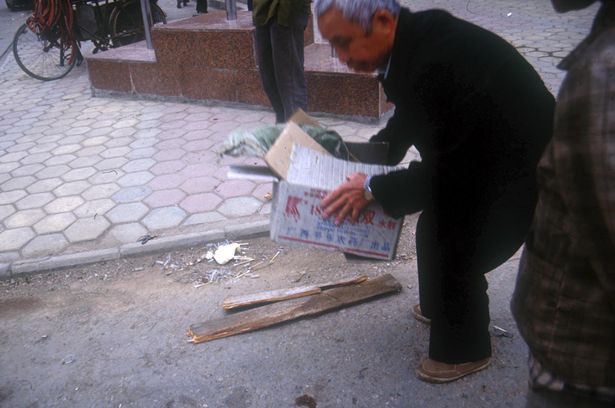 Trash: Baby taken out of gutter and put in the bin by passer-by
He said: "In China, life is cheap. This isn't a very stable foundation for society. How we value life reflects our moral position as a society.
"The government is looking at this now. They want a more humane and tolerant society.
"They know if they continue with the one-child policy, there will be a price to pay."
For millions of women – and millions of unborn infants who didn't share the astonishing luck of Baby 59 – any change that comes will be too late.
Now aged 55, He Shaoying weeps bitterly when she recalls the day 20 years ago when she was taken to a hospital in Fujian province while eight months pregnant with her second child.
She said: "I was told it was a boy after the induced labour was over but they took him away and soon afterwards told me he had died.
"My friends working in the hospital told me later that my baby was given a lethal injection."
According to Ma Jian, the dissident author of the one-child policy book The Dark Road, these atrocities are among the worst of the past century.
He concluded: "The stain it has left on China may never be erased."
---
Abortion Clinic Employees -- "Babies born alive daily."
Life Dynamics Inc. a national pro-life organization located in Denton, Texas, has released an interview with three former abortion clinic workers which prove the Pennsylvania abortion doctor Kermit Gosnell, recently convicted of murder, is not an anomaly.

The interview was conducted on May 3, 2013 with clinic employees located in a different state. Though their descriptions are disturbing, the video images are non-graphic.

Mark Crutcher, President of Life Dynamics: "While the pro-life movement claims that abortion takes the life of a living human being, nobody on earth knows that better than the people who work at abortion clinics. The lofty rhetoric of "choice" may insulate those who work in the political and public relations arena, but the day-to-day reality for those who provide those "choices" is to deal with the corpses and parts of corpses they pull out of their customers' bodies. "

Abortion clinic employee, " I thought, well, it's an abortion you know, that's what he does, but I wasn't aware that it was illegal...Most of the time we would see him where the fetus would come completely out and of course, the fetus would still be alive.."

"He does a lot of huge abortions. A lot of the times, we would bring the big fetus that were over age, we would re-open the bag and just look at it and be like, 'Oh my gosh, it's so big!'"

"Sometimes he couldn't get the fetus out. He would yank pieces -- piece by piece -- when they were oversize. And I'm talking about the whole floor dirty. I'm talking about me drenched in blood."
What we have witnessed in the Gosnell case and here in our video is the nature of the beast.
Simply put, this is Abortion!

www.LifeDynamics.com
To see more of the interview we conducted order our An American Abortion Clinic DVD, see the trailer here http://www.youtube.com/watch?v=fXh2Pd...
Texas Lawmakers Call for Investigation of Late Term Abortionist
http://www.youtube.com/user/LifeDynamics?feature=watch
http://www.prolifeamerica.com/
On May 3, 2013, Life Dynamics recorded an interview with three of late term abortion doctor Douglas Karpen's former employees in which they admitted to participating in numerous instances in which babies were being born alive and killed during abortion procedures at Karpen's Houston abortion clinic.

After viewing the video, Texas District 61, State Representative Phil King sent a request to Life Dynamics for the unedited raw footage of the interview, which Life Dynamics provided on DVD.

Rep. King informed Life Dynamics that his office then mailed that DVD to Lt. Richard Kleczynski with the Homicide Division of the Houston Police Department. He also sent a letter to Ms. Mari Robinson, executive director of the Texas Medical Board, and David L. Lakey MD., Commissioner of the Texas Department of State Health Services, requesting a full investigation. These letters were co-signed by 20 Texas lawmakers.

"We strongly support a full investigation into the allegations of Dr. Karpen. As a state, we must ensure that the health and safety of women and children are being protected by laws and regulations in place," King wrote to the agencies.

About Life Dynamics http://www.lifedynamics.com


Full Report: http://www.scribd.com/doc/145947933/T...


Watch the entire interview with the three workers here: https://www.youtube.com/watch?v=9fhyJ...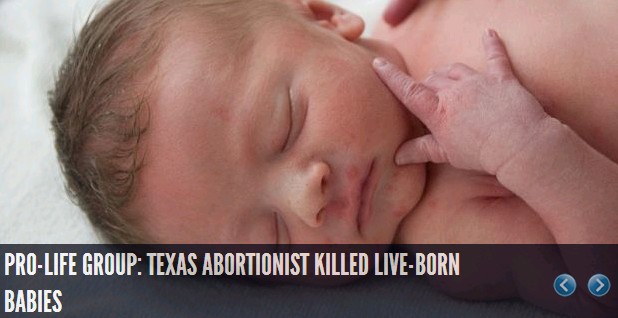 Pro-Life Group: Texas Abortionist Killed Live-born Babies
Dave Bohon
New American
November 4, 2013
A Texas-based pro-life group is drawing attention to a late-term abortionist who has committed crimes, it charges, that are as horrific as those of convicted murderer Kermit Gosnell, the Philadelphia abortionist serving a life sentence for killing babies who were born alive at his "house of horrors" clinic. According to those who worked at the clinic, Gosnell and a handful of his associates may have murdered hundreds of babies during the decades the clinic was open by delivering them alive and then plunging a surgical scissors into the newborns' necks and snipping their spinal cords.
In the case of Houston abortionist Douglas Karpen, Texas-based Life Dynamics says that employees at his clinic have recounted similar stories of horrific child murders, but that thus far nothing has been done to stop the late-term abortion mechanic or to bring him to justice for the alleged murders.
As reported by The New American, in May Life Dynamics recorded an interview, available on YouTube, with three former employees at Karpen's Houston area clinic, in which they charged that Karpen killed babies who were born alive. In the interview the women, who worked at the Aaron Women's Clinic, told of regular late-term abortions in which babies came out alive and were killed by Dr. Karpen, either by "snipping" the spinal cord or by inserting an instrument into the soft spot on a baby's head. In other instances, one employee said, Karpen twisted the heads off live babies with his bare hands.
In her testimony Deborah Edge, who worked for Karpen for some 15 years before leaving in 2011, recalled that when the physician did abortions at 20 weeks or more, "most of the time the fetus would come completely out before he cut the spinal cord or he introduced one of the instruments into the soft spot of the fetus, in order to kill the fetus."
She added that much of the time "we would see him where the fetus would come completely out and of course, the fetus would still be alive." She recalled that every morning, "if we had 20-something patients, of course ten, or twelve, or fifteen patients would be large procedures, and out of those large procedures, I'm pretty sure that I was seeing at least three or four fetuses that were completely delivered in some way or another," most of them alive, she said.
Edge described newborns emerging from the womb moving and breathing before being killed, and told of other instances in which the doctor delivered babies feet first with their toes wiggling — until he stabbed them with a surgical scissors — at which time the toes would suddenly spread open before going limp. There were also times, Edge said, when Karpen would kill a baby by "twisting the head off the neck."
The video-taped testimony from the women prompted articles in the Houston Chronicle, along with international coverage from newspapers like the UK's Daily Mail, and while the charges from the women have been termed little more than allegations, the disturbing photos they took of the horrific conditions at the clinic, and of aborted babies, was enough to bring a response from Texas Lieutenant Governor David Dewhurst, and to prompt calls by a number of state legislators for an investigation of Karpen and his operation.
"I read with disgust about the allegations of Houston-based abortionist Douglas Karpen performing illegal late-term abortions surrounded by appalling sanitary conditions in his clinic," said Dewhurst in a measured and careful statement. "The Harris County authorities should perform a full-scale investigation and take action against those who broke state law."
In June Texas State Representative Phil King made a copy of the interview with Karpen's former employees and sent it to Lieutenant Richard Kleczynski of the Homicide Division of the Houston Police Department. Additionally, he sent a letter to Mari Robinson, executive director of the Texas Medical Board, and Dr. David L. Lakey, commissioner of the Texas Department of State Health Services, requesting that Karpen be fully investigated.
"We strongly support a full investigation into the allegations against Dr. Karpen," King wrote in the letter signed by 20 other Texas lawmakers. "As a state, we must ensure that the health and safety of women and children are being protected by laws and regulations in place."
While several state officials have promised to look into the allegations, thus far, said Mark Crutcher of Life Dynamics, Karpen continues to do his abortion business with no apparent effort to call him to account for the serious charges against him. Crutcher told One News Now that he is suspicious the "fix is in" at the top of Houston's government to keep Karpen from being brought to justice.
Crutcher said that his attitude from the beginning "was let's give them time to do their job. Homicide investigations take a while and indictments don't come down overnight." But as the months go by and with no movement forward, he has grown suspicious that the investigation is being stonewalled. Crutcher pointed out to One News Now that the lesbian partner of Houston's mayor is connected with Planned Parenthood. "So I guess we shouldn't be surprised," he said.
In the November edition of his group's Life Talk television program, Crutcher was more forceful in his charges of possible corruption and underhanded dealings with regards to the investigation. "The Houston Police Department was allegedly doing a homicide investigation, which they should have been doing," he said. "You've got three eye witnesses to homicides taking place, and photographic evidence of it. Now we are several months down the trail and nothing's happening. And we know that the Houston Police Department has a long history of corruption and Houston government in general."
Concluded Crutcher: "I'm beginning to get the suspicion that the cover-up is on in Houston. And now we have another problem in Houston — the Mayor is unfortunately a lesbian and a lesbian activist and hard core pro-abort. Her [partner Kathy Hubbard] is a former board member of Planned Parenthood, so I suspect that the fix is in."
In June, as the video interview of Karpen's former employees was going viral, Crutcher noted: "One thing that was often overlooked about the conviction and life sentence recently given to abortionist Kermit Gosnell, is that eight of his employees also received long prison sentences for their roles in what he was doing. Today, the abortion lobby is in 'damage control mode' and telling anyone who will listen that Gosnell is an aberration and that every other abortionist in America is Mr. Clean. But the people who actually work in these places know better, and they are beginning to fear that they could be the next ones dragged into a courtroom wearing handcuffs and leg irons."
This article was posted: Monday, November 4, 2013 at 5:42 am
Tags: domestic news

LINK : Dead Fetus Cells in Pepsi and other Products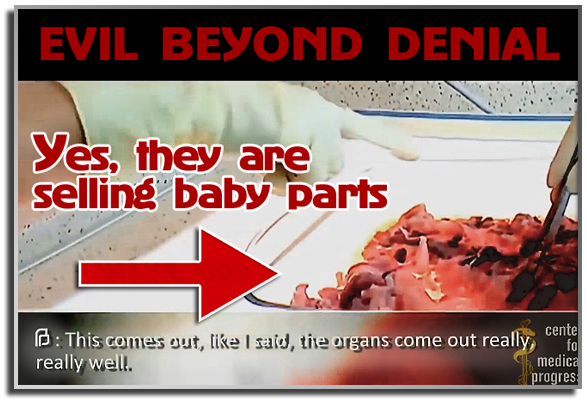 Yes, they are selling baby parts.
Published on Aug 8, 2015
Yes, they are selling baby parts. There are literally hours of unedited video of them haggling over specific pieces in Planned Parenthood offices across the country. But don't let the truth get in the way of a good old fashioned false debate...
All Planned Parenthood undercover videos can be found on the official YouTube channel for The Center for Medical Progress here: https://www.youtube.com/playlist?list...
Here is the latest "Intact Fetuses 'Just a Matter of Line Items' for Planned Parenthood TX Mega-Center: https://www.youtube.com/watch?v=egGUE...
LINK :
Yes, they are selling baby parts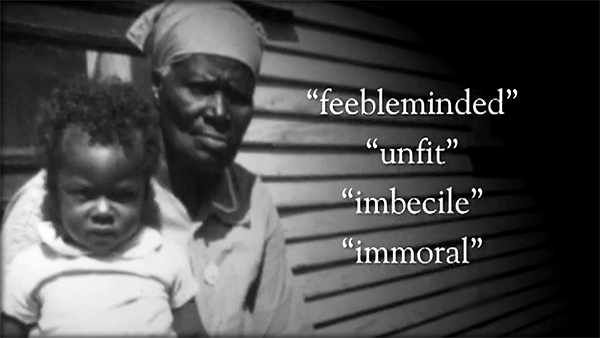 THE EUGENICIST ONSLAUGHT :
Breakdown of The Green Takeover
MAAFA 21 TRAILER
Maafa 21: Black Genocide in 21st Century Americawill take those who have sat on the sidelines of the abortion fight and drive them to the streets. This powerful DVD is about eugenics, racial agendas, and elitism. It exposes the ties between the Nazis, the American eugenics movement, Planned Parenthood, and a plan to create "racial purity" that began over 150 years ago.


They were stolen from their homes, locked in chains and taken across an ocean. And for more than 200 years, their blood and sweat would help to build the richest and most powerful nation the world has ever known. But when slavery ended, their welcome was over. America's wealthy elite had decided it was time for them to disappear and they were not particular about how it might be done. What you are about to see is that the plan these people set in motion 150 years ago is still being carried out today. So don't think that this is history. It is not. It is happening right here, and it's happening right now.
http://www.maafa21.com/order-dvd/


MAAFA21
(FULL MOVIE)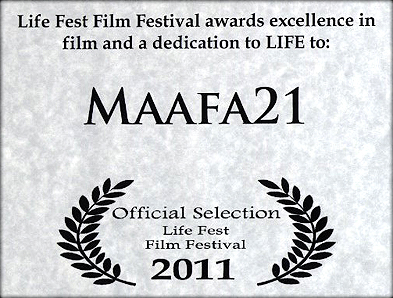 Support The Film Makers & Spread The Word : HQ Version
http://www.maafa21.com/order-dvd/
An Interview With MAAFA21 Film Maker :
MARK CRUTCHER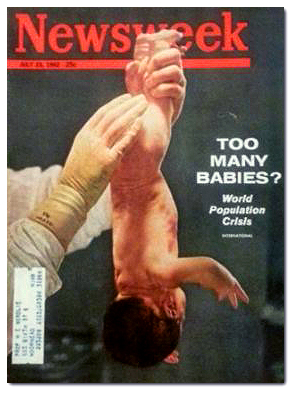 OBAMA SUPPORTED INFANTICIDE IN 2002 AS SENATOR.
(If you are not convinced, look at who he's appointed as his Science Czar: John Holdren, Author of the insidious population control book: Ecoscience, which covers this very thing!)

You can find out more about Obama's Science Czar (John P. Holdren - Ecoscience) in this video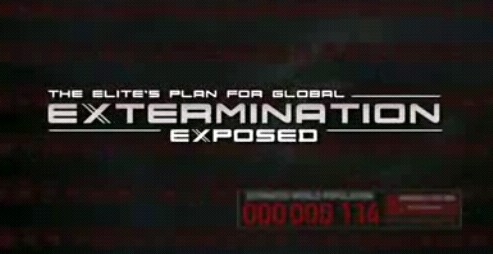 John Holdren, Obama's Science Czar, says: Forced abortions and mass sterilization needed to save the planet.
Book [Ecoscience] he authored in 1977 advocates for extreme totalitarian measures to control the population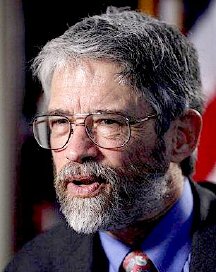 John P. Holdren
Webster Tarpley: The Elites Plan for World-Wide Genocide Revealed
In this interview, Dr. Tarpley reviews the writings of John P. Holdren, the current White House science advisor. This interview conclusively exposes scientific elite's true agenda, world-wide genocide and the formation of a global government to rule.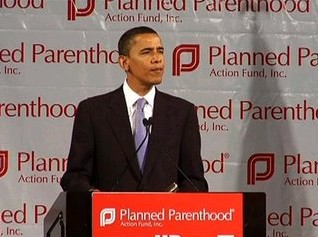 Students Sign Petition To Kill Newborns (Up To 5yrs Old)
Published on Oct 30, 2014
Infowars Reporter Joe Biggs Goes to University of Texas in Austin to ask students if they will sign a petition to kill newborn babies up to 5yrs old. This was done in light of an article on "The College Fix" site where students across America at different colleges were asked if they supported Post-Birth Abortion. Whether or not you support abortion, the fact that people want to "abort" a newborn baby that laying in someones arms, smiling and glad to be alive, is simply murder. People are arguing that it is up to the patient and doctor if they want to preform this procedure, but once the baby is born, isn't it now the patient? Tell us what you think in the comments below.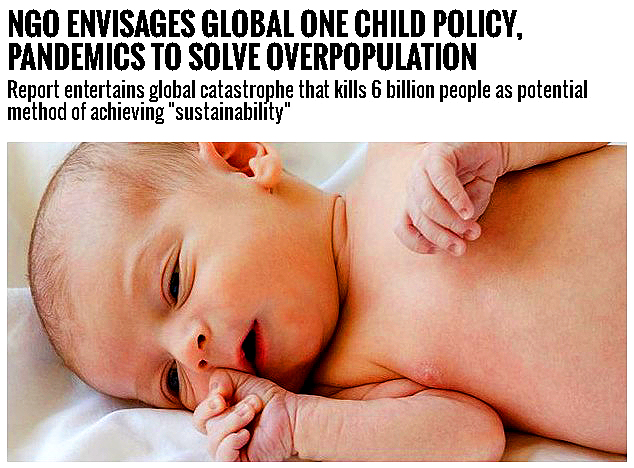 NGO Envisages Global One Child Policy, Pandemics to Solve Overpopulation
Report entertains global catastrophe that kills 6 billion people as potential method of achieving "sustainability"
by Paul Joseph Watson | October 28, 2014
The National Academy of Sciences has published a shocking report which envisages a Chinese-style global one child policy as the only means of reversing climate change and reducing global population to a "sustainable" number of 1-2 billion people.
The white paper, entitled Human population reduction is not a quick fix for environmental problems and authored by the University of Adelaide's Corey Bradshaw and Barry Brook, even entertains the impact of world wars and global pandemics that wipe out 6 billion people as potential methods of combating the threat posed to the environment by overpopulation.
Crucially, the paper is edited by Stanford University's Paul R. Ehrlich, a perennial advocate of population reduction whose dire proclamations about environmental catastrophes as a result of overpopulation have been proven wildly inaccurate time and time again.
In his 1968 book The Population Bomb, Ehrlich infamously predicted that, "In the 1970s hundreds of millions of people will starve to death," as a result of overpopulation, just one of many ludicrous forecasts that Ehrlich has got spectacularly wrong on a routine basis.
Ehrlich has also expressed his support for mandatory population control, arguing that such methods must be imposed "by compulsion if voluntary methods fail," while the biologist co-authored Ecoscience with White House Science Czar John P. Holdren, the textbook that advocates putting drugs in the water supply to sterilize people, mandatory forced abortions, and a tyrannical eco-fascist dictatorship run by a "planetary regime."
Given that connection, it's unsurprising that the white paper struggles to disguise its advocacy for draconian methods of population reduction in the name of saving mother Earth.
The report presents a selection of scenarios to achieve "reductions in human fertility" in order to prevent "climate change," threats to biodiversity and to help "plan for a healthy future society."
The authors admit that global fertility rates are already dropping but that "rising affluence-linked population and consumption rates" (in other words – higher standards of living) are contributing to worsening environmental conditions.
Under one scenario, a global pandemic wipes out 6 billion people from 2041 onwards, resulting in the planet's population being reduced to 5.1 billion by 2100. However, this reduction of 2 billion people compared to current figures is not sufficient to accomplish the level of human culling desired by the authors, who note that "even future events that rival or plausibly exceed past societal cataclysms cannot guarantee small future population sizes without additional measures, such as fertility control."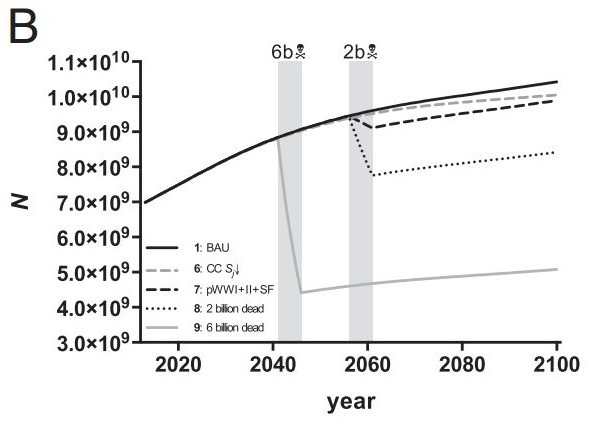 Graph: Global pandemic events which reduce population by 2 billion and 6 billion denoted by skull and crossbone image.
While the paper admits that the notion of global pandemics and wars as tools to reduce population is an "amoral" consideration, its tone almost laments the fact that these "stressors" would not significantly reduce population down to the desired "sustainable" figure of 1-2 billion people.
"It has been suggested that a total world population between 1 and 2 billion might ensure that all individuals lived prosperous lives, assuming limited change in per capita consumption and land/materials use," states the report. The sober academic tone of the paper only partially obscures the fact that the authors are advocating that 5 billion people be eradicated from the Earth, a notion they acknowledge is "politically sensitive."
In two other scenarios, a combination of deaths from a massive world war and a Spanish flu-style event combined, as well as a pandemic that kills 2 billion people, both fail to achieve the desired level of population reduction by 2100.
The only method to truly achieve anywhere near the kind of population reduction desired to achieve sustainability and prosperity, according to the report, is a global Chinese-style one child policy, which if imposed by 2045 would reduce global population to 3.45 billion, less than half current levels, by 2100. Models show that this would take at least 140 years to achieve if females were restricted by law to having just one child.
The report notes that one of the main obstacles to imposing stricter family planning measures and a global one child policy is "conservative religious and political opposition." What is not discussed is the fact that China's barbaric one child policy is imposed by means of crippling economic coercion and via a system of state terror where pregnant women are kidnapped off the street by government goons, drugged and made to undergo forced abortions before being sterilized.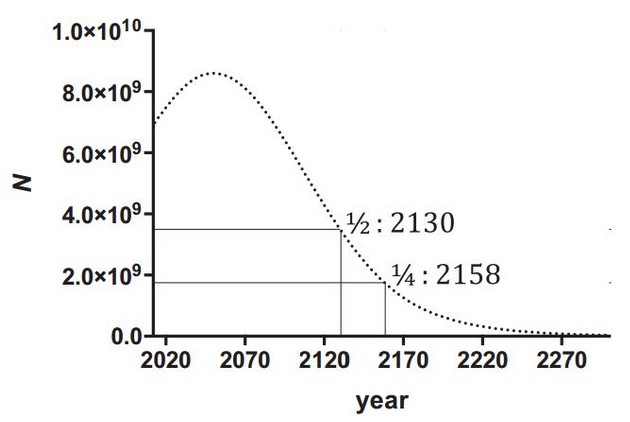 Graph: According to the report, the only way to reduce global population anywhere near to "sustainable" levels of 1-2 billion would be a global one child policy.
Acknowledging that the imposition of such measures would be "challenging to achieve," the authors assert that such draconian methods offer, "great potential to reduce the size of the human population and alleviate pressure on resource availability over the long term."
"There are clearly many environmental and societal benefits to ongoing fertility reduction in the human population," conclude the authors, arguing that such measures represent a "solution long in the making."
In reality, when one studies models of human demographics produced by other entities, including the United Nations' own figures, overpopulation ceases to be an issue past 2050 and in fact the real problem becomes underpopulation.
As the Economist reported, "Fertility is falling and families are shrinking in places— such as Brazil, Indonesia, and even parts of India—that people think of as teeming with children. As our briefing shows, the fertility rate of half the world is now 2.1 or less—the magic number that is consistent with a stable population and is usually called "the replacement rate of fertility". Sometime between 2020 and 2050 the world's fertility rate will fall below the global replacement rate."
In addition, Professor Hans Rosling's study of global demographics, expertly summarized in his presentation Don't Panic – The Truth About Population (embedded below), illustrates how "in a few generations' time, world population growth will level off completely."
Given the fact that the white paper published by the National Academy of Sciences has debunked alarmist Paul R. Ehrlich's fingerprints all over it, its value lies not in providing us with accurate statistics about population growth, but in offering a shocking glimpse into the eugenics-driven madness and environmental radicalism that still pervades the halls of academia worldwide in the context of hysteria about overpopulation.
This World Don't Panic The Truth About Population
Facebook @ https://www.facebook.com/paul.j.watson.71
FOLLOW Paul Joseph Watson @ https://twitter.com/PrisonPlanet
*********************
Paul Joseph Watson is the editor at large of Infowars.com and Prison Planet.com.
LINKS :
Paul R. Ehrlich advocate of population reduction
Ecoscience with White House Science Czar John P. Holdren
---
One-Child Policy Enforcer Crushes Baby To Death After Parents Refuse To Pay "Fine"

One Child Policy Enforcer Runs Over Baby!
A Chinese official from Wenzhou, China, crushed a 13-month old baby-boy to death by driving over him after the parents refused to pay a fine for violating China's one-child policy.

According to AFP, a state official working to enforce China's one-child policy drove over a 13-month old baby-boy, resulting in the infant's death.

A news item issued by PhuketNews relates that the official had an argument with the parents as, presumably, they "violated" the one-child policy by refusing to pay a fine. The reports goes on to say that the parents acted "agitated" in response to the official's request.

The spokesman stated that the parents of the murdered baby were "agitated" as a result of the disagreement with the one-child policy enforcer, after which the official in question drove his car over the baby. PhuketNews however reports that Wenzhou authorities were quick to label the murder as an unfortunate accident. http://www.infowars.com/one-child-pol...
One-Child Policy Enforcer Crushes Baby To Death After Parents Refuse To Pay "Fine"
Jurriaan Maessen
Infowars.com
Feb 6, 2013
A Chinese official from Wenzhou, China, crushed a 13-month old baby-boy to death by driving over him after the parents refused to pay a fine for violating China's one-child policy.
According to AFP, a state official working to enforce China's one-child policy drove over a 13-month old baby-boy, resulting in the infant's death.
A news item issued by PhuketNews relates that the official had an argument with the parents as, presumably, they "violated" the one-child policy by refusing to pay a fine. The reports goes on to say that the parents acted "agitated" in response to the official's request.
The spokesman stated that the parents of the murdered baby were "agitated" as a result of the disagreement with the one-child policy enforcer, after which the official in question drove his car over the baby. PhuketNews however reports that Wenzhou authorities were quick to label the murder as an unfortunate accident:
"After starting the car to bring the family to the office to discuss the matter, the official discovered the child had been crushed underneath the car."
Tragically the baby died soon as a result of his wounds shortly after he was rushed to the hospital: yet another victim of China's draconian one-child policy. The Global Post goes into more detail in regards to the fine mentioned in the AFP report:
"Under China's population controls, instituted more than 30 years ago, couples who have more than one child must pay a "social upbringing" fine, while in some cases mothers have been forced to undergo abortions."
The Global Post article also brings into memory that China's population control policies have been increasingly subject to criticism, both from outside China and within.
"There was widespread outrage last year after a woman who had been forced to abort seven months into her pregnancy was pictured with the bloody foetus."
On March 29, 2012, Paul Joseph Watson brought attention to the brutal face of China's one-child policy, describing how a 9-month old baby was forcibly aborted, after which it was thrown in a bucket. Watson writes:
"Because the parents of the baby already had a child, they were hunted down and forced to comply with China's draconian one child policy.
The mother was injected with a poison that induced an abortion, but after the baby was "pulled out inhumanly like a piece of meat," it was still alive and began to cry before doctors slung the defenseless child into a bucket and left it to die."
Although some may try to comfort themselves by imagining these one-child ideas are limited to China, the fact is these ideas and policies are widely held and promulgated by politicians and scientists all over the world. In 2010, Business Insider featured a post by geography professor Gary L. Peters under the headerPopulation Growth Is Still The Biggest Problem Facing Humanity.
After channeling armchair-eugenicist Alan Weisman, who stated: "The intelligent solution (to the problem of population growth) would require the courage and the wisdom to put our knowledge to the test. It would henceforth limit every human female on Earth capable of bearing children to one", the professor added:
"Started now, such a policy would reduce Earth's population down to around 1.6 billion by 2100, about the same as the world population in 1900. Had we kept Earth's population at that level we would not be having this conversation."
Who is the "we" Peters mentions that would be assigned to keep the earth's population at any level? As John P. Holdren, Obama's science czar, wrote in his monstrosity Ecoscience: Population, Resources, Environment:
"(…) a Planetary Regime- sort of an international superagency for population, resources, and environment. (…). The Planetary Regime might be given responsibility for determining the optimum population for the world and for each region for arbitrating various countries' shares within their regional limits. Control of population size might remain the responsibility of each government, but the Regime would have some power to enforce the agreed limits."
Such an agency exists. It is called the United Nations. After all, only a global government with a system-wide, coordinated eugenics-agenda would have the power necessary to impose such laws upon all the peoples of the world. There's no other way to make it so.
"We can no longer wait for increasing wealth to bring down fertility in remaining high fertility nations; we need policies and incentives to stop growth now", Peters stated in his article.
"Population growth on earth must cease", Peters argues again. Citing eugenics-front-man Paul Ehrlich and his equation of death (I = PAT), he attempts to disarm critics of the overpopulation mantra with this spell:
"(…) I represents our impact on the Earth, P equals population, A equals affluence (hence consumption), and T stands for technology."
Let's not forget it's not just professors that advocate global one child policies. CNN founder Ted Turner, who has openly stated the earth would be better off when 95% of the human population would vanish, has also professed his admiration for the Chinese (read: UN) policies. In 2010 the Globe and Mail quoted Turner as saying:
"the environmental stress on the Earth requires radical solutions, suggesting countries should follow China's lead in instituting a one-child policy to reduce global population over time. He added that fertility rights could be sold so that poor people could profit from their decision not to reproduce."
This echoes the views of Jeffrey Sachs, Ban Ki-moon's "sustainability" advisor. In June of 2011, US congressman Chris Smith rightly announced that the UN and China are working hand-in-hand to export China's one-child policy to Africa. Sachs told AFP newswire in May of that year he "worries" about Africa's "ballooning population". Sachs:
"I am really scared about population explosion in Nigeria. It is not healthy. Nigeria should work towards attaining a maximum of three children per family."
As I reported some time ago, UN strongman Maurice Strong told an audience of environmentalists at a side-event to the 2012 Earth Summit in Rio de Janeiro that China is the model-state for the rest of the world to emulate in regards to environmental matters.
"What China does matters to the world", Strong said, "and what China is doing is actually a tremendous source of encouragement."
Strong went on to say that "sustainable development" has become a "people's movement guided by the people's government."
Strong is a long-time advocate of the sort of draconian population policis that China has forced upon its people. As far back as the early 1970s, Strong hesitatingly admitted to the BBC that such a thing as a license to have a child is the kind of system he would see implemented globally:
Maurice Strong Interview (BBC, 1972)
[Who is Maurice Strong?] Today, Maurice Strong sits atop the global environmental movement headed by the United Nations and its interlocking NGO's and tax-exempt foundations.

Strong is considered to be the person behind the globalization of the foundation-funded environmental movement, and was the Secretary-General of the United Nations Conference on the Human Environment held in 1972, in Stockholm, Sweden.

He co-authored the 'Earth Charter' with Mikhail Gorbachev in 1992. It was Gorbachev who stated in 1996 that the "threat of environmental crisis will be the 'international disaster key' that will unlock the New World Order."

Strong was recruited by David Rockefeller at the age of 17 and groomed for the role he serves today. Despite not having a college education, he was a millionaire by his early 20's and wielded enormous power and influence.

Already in 1972, at the time of this interview, there is talk of doomsday scenarios if people don't give up their rights and drastically alter the way they live. Also mentioned in the interview is zero growth, put forward by the Club of Rome in the late 60's/early 70's, which called for the control of population and economic growth, and was the precursor to what we see happening today with the US economy and infrastructure being gutted and sent overseas.

In this interview clip Strong discusses his proposal of licenses in order for women to give birth, which has been of much talk among the elite for the past several decades. In the 70's, David Rockefeller extended his praise to communist dictator of China, Mao Zedong, in an article published in the New York Times, for his country's one-child policy, which will be the model for the Western nations to follow in the future -- hence China's "Most Favored Nation" status granted by the UN.

For more information on Strong, see my article titled 'Eco-economic Warfare and the Planned Collapse of Western Civilization
[Jurriaan Maessen Article Continued]
Besides these UN hotshots calling for a global one-child policy, low-grade actors from Holluywood have joined the dehumanizing choir. For example, Baywatch "star" Alexandra Paul recently spoke at a TEDX conference, calling not only for a total rewiring of human biology "to recognize the benefits of a one-child family", but also for the global human population to be brought down to two billion- a 75% reduction compared to current levels.
Paul, who starred in over 70 films and television shows, explicitely states that the entire modern-day culture should serve to convince people to "rewire biology" so that the natural urge to procreate will be changed into a rational, "eco-friendly" one, aspiring to just one child per family.
"Will it (world population) stop growing because of famine, disease, or war over resources- or will it stop growing because people choose to have smaller families- and by smaller families I mean one-child families."
Talking About What We Don't Want to Talk About : Alexandra Paul at TEDxTopanga
Actress Alexandra Paul discusses her lifelong concern about human overpopulation and the fears we all have about discussing the issue.
Although Paul stresses that "forcing people to have fewer children does not work", she does emphasize that modern culture should be moulded in such a way as to convince people that we have to "change and rewire our biology and our culture to recognize the benefits of a one-child family."
"As a culture we need to emphasize the benefits of having a one-child family so people will choose to have fewer kids.", she stated.
The Baywatch-"star" explains why she has chosen to not have kids:
"(kids) might be wonderful, but they're also wasteful."
Quoting UN population projections, she advocates a fairly massive reduction in human numbers compared to current levels:
"The number of humans on earth needs to go down. And I believe it needs to go down to two billion.", she said.
She closed her anti-human speech by calling on her listening audience to take her words to heart and quit reproducing after the first child:
"Let's be part of the solution, and choose from now on to bring forth no more than one child ourselves."
It's this kind of dangerous thinking that ultimately leads to brutal policies that are designed to target the most vulnerable.
Jurriaan Maessen is the writer and editor at ExplosiveReports.Com
---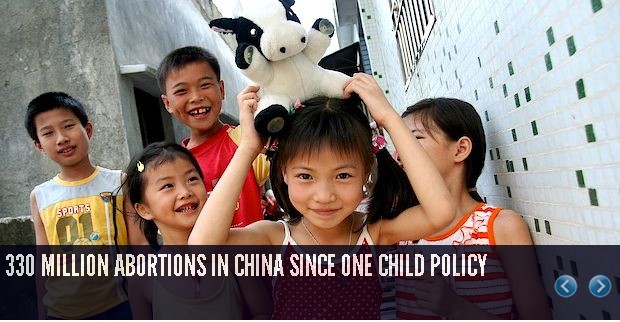 Data reveal scale of China abortions
Chinese doctors have performed more than 330m abortions since the government implemented a controversial family planning policy 40 years ago, according to official data from the health ministry.
China's one-child policy has been the subject of a heated debate about its economic consequences as the population ages. Forced abortions and sterilisations have also been criticised by human rights campaigners such as Chen Guangcheng, the blind legal activist who sought refuge at the US embassy in Beijing last year.
China first introduced measures to limit the size of the population in 1971, encouraging couples to have fewer children. The one-child rule, with exceptions for ethnic minorities and some rural families, was implemented at the end of the decade.
Since 1971, doctors have performed 336m abortions and 196m sterilisations, the data reveal. They have also inserted 403m intrauterine devices, a normal birth control procedure in the west but one that local officials often force on women in China.
The numbers do not directly equate to "missing" births because some couples who violate the one-child rule have also had abortions or been sterilised, while intrauterine devices can be removed.
The Chinese government has previously estimated that without restrictions, the country's 1.3bn population would be 30 per cent larger.
In the US, where the population is 315m or about one-quarter the size of China's, an estimated 50m abortions have been performed since the landmark Roe vs Wade Supreme Court decision legalised abortion in 1973.
The Chinese data also show that the number of medical procedures to prevent births has been steady since the late 1990s, despite repeated calls for a softening of the one-child rule. Every year Chinese doctors abort roughly 7m pregnancies, sterilise almost 2m men and women, and insert 7m intrauterine devices.
As China's working-age population begins to decline, economists have warned that the family planning rules will pose an increasing drag on economic growth. China's dependency ratio – which compares the potential workforce with the number of children and retirees – rose last year for the first time in 40 years.
"This makes China's population look more like a developed country than a developing one, which is a key disadvantage in labour-intensive industries," said Ken Peng, an economist with BNP Paribas who analysed the health ministry data.
The birth restrictions have also led to a severe gender imbalance because of a traditional preference for male children and the selective abortion of female foetuses. There are now 34m more men than women in China.
During the annual session of the Chinese parliament, which concludes on Sunday, the government merged the commission that enforces the one-child policy with the health ministry. Some analysts believe the move could presage a more rapid shift away from strictly enforced birth controls.
"After the ministerial restructuring, the power of the family planning unit will be reduced," said He Yafu, a Chinese demographer. "It won't have the ability to design policies and it will have less say in the country's population strategy."
According to Mr He, one likely change to family planning rules would be to permit two children for parents who were both single children themselves. The policy, in place on a trial basis in some cities, could be implemented nationwide, he added.
Mr Peng, however, said that even a total abolition of the family planning rules at this point would not be enough to alter China's demographic structure, and would simply delay the country's ageing process by a few years.
The calls for relaxation are also meeting resistance.
After supervision of the one-child policy was given to the health ministry, the deputy head of the family planning unit rounded on critics of his department's work. "The idea of easing the ageing problem by increasing the fertility rate is like drinking poison to quench thirst," Yang Yuxue said.
---
Obama Supporters Sign Petition Calling For Killing Newborn Babies Under Obamacare
Infanticide is now being seriously proposed by some in medical establishment
Paul Joseph Watson
Infowars.com
August 12, 2013
A new video by social analyst Mark Dice shows Obama supporters in San Diego signing a petition to back making infanticide (post-birth abortion) legal under Obamacare.
Obama Zombies Sign Petition Supporting Infanticide as Part of Obama Care (Post-Birth Abortion)
Dice explained that the petition supported giving parents the right to kill children aged under 3-years-old in order to "relieve the burden to deal with the children themselves".
Others were told that killing babies would "help keep the population down" as they signed the petition.
One man even signed the petition while holding his own child on his shoulders as Dice explained that the petition was to "support infanticide for small children".
"It's sort of like infanticide, homicide, it's the parents' right to eliminate the burden of having to have to take care of the child themselves," Dice told another signatory to the petition. "Post birth abortion….It's like homicide for children," Dice told another woman.
Once again, Dice illustrated that the public can be made to get behind virtually anything, so long as it's backed by the words "support Obama".
In another recent video, Media Research Center reporter Dan Joseph convinced numerous students at George Mason University (GMU) to sign a petition demanding lawmakers legalize "fourth trimester" abortions, in other words killing babies that had already been born.
Students Sign Petition to Legalize 4th Trimester Abortion
Once again, MRCTV's Dan Joseph went to a college campus and asked students to sign a petition. This time the goal was to get people to show their support for legalizing 4th trimester abortion.

For those of you who failed biology, babies are born at the END of the 3rd trimester. For those of you who didn't, watch this....
While these videos show how gullible the public is when it comes to supporting the horrific practice of infanticide, something that "house of horrors" abortionist Kermit Gosnell carried out on a routine basis, legalizing post-birth abortion has actually been seriously proposed by the medical establishment.
Last year, the University of Melbourne's Alberto Giubilini and Francesca Minerva wrote a paper arguing that "after-birth abortion' (killing a newborn baby) should be permissible, including in cases where the newborn is not disabled."
The notion of infanticide was also implicitlybacked by MSNBC host Melissa Harris-Perry, who recently said that newborn infants don't count as being considered "alive".
Facebook @ https://www.facebook.com/paul.j.watson.71
FOLLOW Paul Joseph Watson @ https://twitter.com/PrisonPlanet
*********************
Paul Joseph Watson is the editor and writer for Infowars.com and Prison Planet.com. He is the author of Order Out Of Chaos. Watson is also a host for Infowars Nightly News.
---
Ethicists Argue Killing Newborn Babies Should Be Allowed
Shocking reminder that eugenicist beliefs underpin medical establishment
Paul Joseph Watson
Infowars.com
Tuesday, February 28, 2012
A paper published in the Journal of Medical Ethics argues that abortion should be extended to make the killing of newborn babies permissible, even if the baby is perfectly healthy, in a shocking example of how the medical establishment is still dominated by a eugenicist mindset.
The authors argue that "both fetuses and newborns do not have the same moral status as actual persons," and that because abortion is allowed even when there is no problem with the fetus' health, "killing a newborn should be permissible in all the cases where abortion is, including cases where the newborn is not disabled."
"The fact that both are potential persons is morally irrelevant," the authors claim, arguing that adoption is not a reasonable counter-argument because the parents of the baby might be economically or psychologically burdened the process and the mother may "suffer psychological distress". How the mother could not also "suffer psychological distress" by having her newborn baby killed is not explained.
"Merely being human is not in itself a reason for ascribing someone a right to life. Indeed, many humans are not considered subjects of a right to life: spare embryos where research on embryo stem cells is permitted, fetuses where abortion is permitted, criminals where capital punishment is legal," the authors write.
The practice of infanticide has its origins in barbaric eras of ancient history, but it is still common is many areas of the world today, including China where the one child policy allied with the social pressure to have boys has resulted in a massive imbalance in the population. Studies have found that 40 million girls are 'missing' in China as a result of gender-selective abortion and infanticide. In India, there are 50 million less females for the same reasons.
In Pakistan, over 1000 babies a year are the victims of infanticide, which is rarely punished.
Matthew Archbold of the National Catholic Register explains how the legalization of infanticide, killing newborn babies, is the logical conclusion of the starting point of the argument, which is that the fetus is not human and has no right to live.
"The second we allow ourselves to become the arbiters of who is human and who isn't, this is the calamitous yet inevitable end. Once you say all human life is not sacred, the rest is just drawing random lines in the sand," he writes.
Respected bioethicist Wesley J. Smith notes that the debate surrounding "the right to dehydrate the persistently unconscious," which eventually led to events like the Terri Schiavo case, started with articles in bioethics and medical journals.
"Or to put it another way, too often bioethics, isn't. On the other hand, to be fair, the ancient Romans exposed inconvenient infants on hills. These authors may want to take us back to those crass values, but I assume they would urge a quicker death," he writes.
Gattaca becomes reality as scientists start to screen, abort human babies based on 3,500 'genetic faults'
Monday, June 11, 2012 by: Ethan A. Huff, staff writer
http://www.naturalnews.com/036136_GATTACA_genetic_screening_babies.html#ixzz1xjUscopb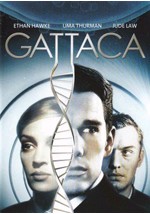 (NaturalNews)
The popular 1997 science fiction film Gattaca portrays a futuristic world in which human beings genetically engineered (GE) with certain desirable and superior genetic traits are given preference to natural-born human beings who are considered inferior. And in just 15 years since the release of the film, this scenario has become a reality, as modern science has come up with a new way to test unborn babies for roughly 3,500 so-called genetic "defects."

The U.K.'s Telegraph reports that a team of researchers from the University of Washington (UW) in Seattle has contrived a method of examining the genetic code of unborn babies via blood samples taken from their mothers, and saliva samples taken from their fathers. The tiny amounts of free-floating DNA present in both samples allow researchers to essentially map the entire genetic code of unborn babies and determine which genetic traits they will have upon birth.

Some babies are born naturally with "de novo" mutations, which are said to be linked to genetic defects such as Down syndrome and cystic fibrosis. These mutations are typically not passed down from parents to their children, and are instead acquired in some other way, including potentially through vaccinations and toxic environmental exposures.

In 39 out of 44 tested cases, the UW researchers were able to accurately pinpoint prior to birth de novo mutations that would occur in babies after birth. And as the technology becomes widely available to parents in the near future, the ghastly scenario depicted in the movie Gattaca will evolve into an ever-present reality where the only unborn babies permitted to live and thrive will be those with "superior" genetic makeups.

"This work opens up the possibility that we will be able to scan the whole genome of the fetus for more than 3,000 single-gene disorders through a single, non-invasive test," said Dr. Jay Shendure, lead scientist for the research published in the journal . His entire team, however, corporately added that "incorporating this level of information into prenatal decision-making raises many ethical questions that must be considered carefully within the scientific community and on a societal level."
Genetic screening will lead to more abortions, more eugenics, and a culture of genetic class suppression
When science starts openly tampering with human life based on subjective perceptions of which genetic traits are desirable and which are not desirable, there is no stopping the pandora's box of population control techniques that will surely ensue. Parents seeking the "perfect" child, for instance, will be more likely to simply abort a child with genetic "errors" and keep trying until they get the one they want.

As government-run healthcare emerges into full reality, state-controlled doctors may begin telling parents that they are not allowed to have an imperfect child because treating that child's inevitable genetic conditions will cost the state too much money. Forced abortions, in other words, could become the norm if genetic testing techniques like the ones developed at UW become widespread.

And ultimately, the breeding of genetically "superior" children will more than likely lead to a genetically superior class of humans that looks down on those with inferior genetic traits. This is exactly what occurred in the movie Gattaca, as "inferior" humans with natural imperfections were denied jobs and treated like second-class citizens.

Instead, researchers should be looking for ways to eliminate the thousands of untested chemicals that are added to the food supply (http://www.naturalnews.com/035680_food_packaging_chemicals_PFOA.html), remove toxic fluoride chemicals from water supplies (http://www.fluoridealert.org/downs-syndrome.htm), and end the administration of gene-tampering vaccines to young children (http://www.naturalnews.com/033062_Rupert_Murdoch_Andrew_Wakefield.html ).

These human interventions have been shown to be directly responsible for causing genetic defects in humans, and are just a few of the many causes of de novo mutations. If unborn babies were not exposed to chemicals like bisphenol A, herbicides like glyphosate (Roundup), genetically-modified (GM) organisms, and chemical vaccine adjuvants like Thimerosal (mercury) and aluminum, many of them would not even develop genetic defects in the first place.

Recent research has proven that genetic damage caused by chemical exposure can pass from generation to generation through a process known as epigenetics, even when subsequent generations are not directly exposed to those chemicals (http://www.naturalnews.com). This means that man-made toxins such as those sprayed on conventional food crops, added to processed foods, laced in the water supply, and applied to furniture and other consumer products are a blatant scourge on the human genome.

But science would rather ignore the obvious, and instead design technologies that will allow the system to filter out genetic "undesirables" after they have been conceived. What Hitler and other deranged tyrants of the past tried to accomplish violently is now becoming possible genetically with "scientific advancement" as its cover.

Sources for this article include:

http://www.telegraph.co.uk
Learn more:
http://www.naturalnews.com/036136_GATTACA_genetic_screening_babies.html#ixzz1xjUscopb
ENDGAME
(FULL MOVIE)
Description
For the New World Order, a world government is just the beginning. Once in place they can engage their plan to exterminate 80% of the world's population, while enabling the elites to live forever with the aid of advanced technology. For the first time, crusading filmmaker Alex Jones reveals their secret plan for humanity's extermination: Operation

ENDGAME

.
Jones chronicles the history of the global elite's bloody rise to power and reveals how they have funded dictators and financed the bloodiest wars – creating order out of chaos to pave the way for the first true world empire.
Watch as Jones and his team track the elusive Bilderberg Group to Ottawa and Istanbul to document their secret summits, allowing you to witness global kingpins setting the world's agenda and instigating World War III

Learn about the formation of the North America transportation control grid, which will end U.S. sovereignty forever

Discover how the practitioners of the pseudo-science eugenics have taken control of governments worldwide as a means to carry out depopulation

View the progress of the coming collapse of the United States and the formation of the North American Union
Support The Film Makers & Spread The Word : HQ Version
http://www.infowarsshop.com/ENDGAME-Blueprint-for-Global-Enslavement_p_23.html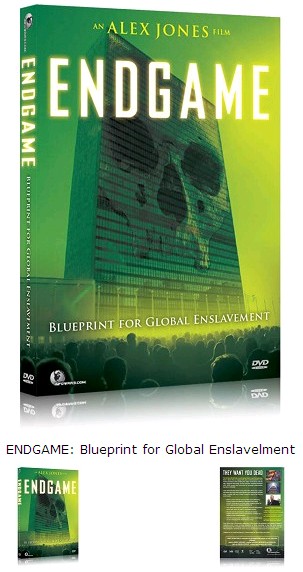 REACH OUT TO OTHERS
[Help Educate Family And Friends With This Page And The Links Below]
---
MORE:
Genocide by The House of Windsor
Bisphenol A (BPA) Death by Plastic