Enemy Belligerent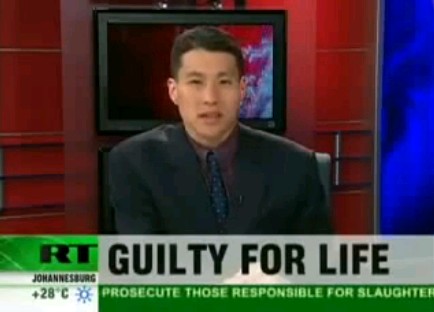 Interrogation, Detention, and Prosecution Act
"Obama can lock any US citizen up without trial"
---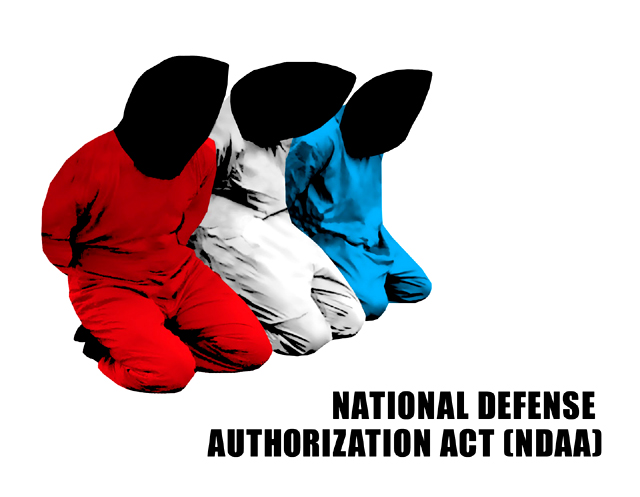 S.3081 - Enemy Belligerent, Interrogation, Detention and Prosecution Act of 2010
The NDAA Explained in 3 Minutes

Published on Jul 4, 2014
Script and sources; http://stormcloudsgathering.com/the-n...
Follow us on Facebook: http://facebook.com/StormCloudsGathering
Follow us on Twitter: http://twitter.com/SCGupdates
Donate: http://StormCloudsGathering.com/donate
Get email updates of new content: http://stormcloudsgathering.com/scg_u...
LINK : NDAA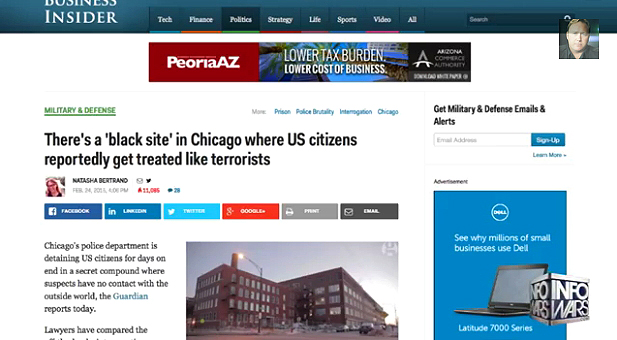 Citizen Torture Site Discovered In Chicago
Published on Feb 25, 2015
Alex Jones reveals the newly discovered Blacksite in Chicago were Americans rights are being taken away.Some of the activities include off the books interrogation of political activists and suspected criminals. Civilians are being held without access to the outside world or legal represintation.

Horrified! Locals Unaware of Chicago Torture Site

Published on Mar 2, 2015
Infowars reporter Joe Biggs takes to the streets of Chicago and is shocked to find out that the majority of Chicagoans are completely unaware of the horrific torture site located right in their back yard. Chicago locals also sound off on the upcoming run off of the mayoral election and how Rahm Emanuel should not be re-elected if he had knowledge of this black site.
http://www.dod.mil/pubs/foi/operation_and_plans/Detainee/taguba/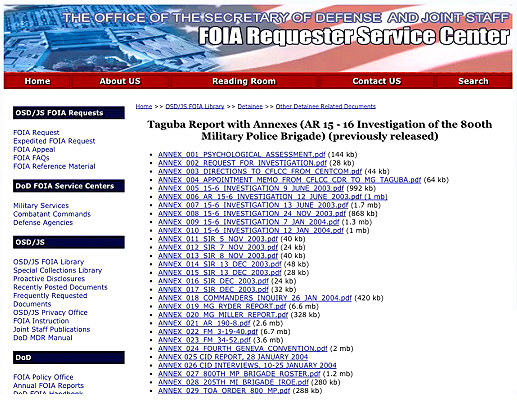 Torture Comes Home To Roost

Published on Dec 15, 2014
Taking full responsibility for the unspeakable horrors that the CIA inflicted on supposed terrorists, Evil Sith Lord Dick Cheney goes all-in with his pompous, self-righteous, unapologetic soliloquy to the world. http://www.infowars.com/the-unmitigat...
http://www.infowars.com/former-vice-p...
LINK : C.I.A.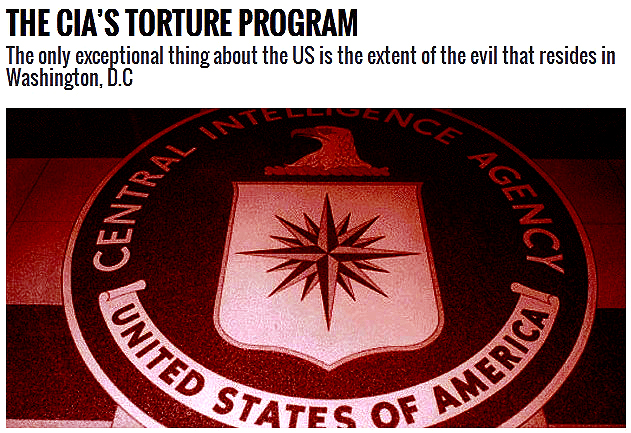 The CIA's Torture Program
The only exceptional thing about the US is the extent of the evil that resides in Washington, D.C
by Paul Craig Roberts | Infowars.com | December 12, 2014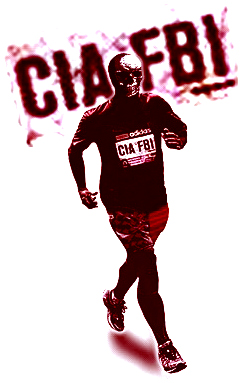 Readers have asked for my take on the CIA torture report. There is so much information and commentary available that it is unnecessary.
Igor Volsky http://www.informationclearinghouse.info/article40428.htm provides a concise summary. President George W. Bush signed off on torture and then told the gullible people that "this government does not torture people." The torture was horrific.
The CIA even tortured its own informers. Two American psychologists who designed the torture program were paid $81 million.
CIA torturers received cash awards for "consistently superior work" when their innocent victims died.http://www.informationclearinghouse.info/article40431.htm
The US government involved 54 countries in its torture program. The rendition program sent detainees to other countries where they were tortured in secret "black sites.'
http://www.informationclearinghouse.info/article40435.htm
Obama tortures also. http://www.informationclearinghouse.info/article40430.htm
Those Americans who committed crimes as horrific as any in history have been given a pass by Obama. No accountability for their crimes. http://news.antiwar.com/2014/12/10/justice-dept-spurns-calls-to-prosecute-cia-torturers/ This finishes off the rule of law in America, which was already on life support.http://www.informationclearinghouse.info/article40434.htm
CIA Torture Report Sparks Worldwide Condemnation
Even Nations That Participated Were Shocked How Far It Went
http://news.antiwar.com/2014/12/10/cia-torture-report-sparks-worldwide-condemnation/
A history of the CIA's torture program: http://www.nytimes.com/interactive/2014/12/09/world/timeline-of-cias-secret-interrogation-program.html?_r=0
Former president of Poland admits that Poland hosted a CIA torture prison:http://news.antiwar.com/2014/12/10/former-polish-president-admits-to-cia-torture-site/
CIA destroyed evidence of its crimes:
http://www.freep.com/story/news/local/2014/12/10/levin-interrogation-cia-tapes-torture/20207577/
Instead of apologizing for the CIA's destruction of our country's reputation, CIA director John Brennan defended the policy and claimed it helped to protect us from terrorists. The CIA fought for months to block even the release of the truncated and redacted report that made it to the public. Have a look at Brennan: http://rt.com/usa/213663-brennan-cia-torture-report/
He looks more dangerous than a Nazi.
Just google CIA torture report and you will find much to read, including justifications of the torture program by neoconservatives, Republican members of the House and Senate, Dick Cheney, the presstitute media, and a large number of others.
Here's my two cents: One purpose of the torture program was to produce self-incriminated "terrorists" to justify and feed the hoax "war on terror." The "war on terror" was public cover for secret agendas that the American people would have rejected. This is disturbing enough. Even more disturbing, the torture program shows that no one in the US and European governments who knew of the program and participated in torture has an ounce of humanity, integrity, compassion, and morality. They are evil people, and the ones who inflicted the torture enjoyed the pain and suffering that they inflicted on others.
The only exceptional thing about the US is the extent of the evil that resides in Washington, D.C.
Paul Craig Roberts was Assistant Secretary of the Treasury for Economic Policy and associate editor of the Wall Street Journal. He was columnist for Business Week, Scripps Howard News Service, and Creators Syndicate. He has had many university appointments. His internet columns have attracted a worldwide following. His latest book, The Failure of Laissez Faire Capitalism and Economic Dissolution of the West is now available.
Naomi Wolf: "Obama can lock any US citizen up without trial"
Naomi Wolf: "Obama can lock any US citizen up without trial"
Barack Obamas indefinite detention claim, coupled with the enemy combatant right he inherited, enables him to lock up any US citizen forever without a trial, author and political consultant Naomi Wolf told RT.

GOP House Affirms Military Detention, As Thai Military Shows How It Will Go Down For Politicians
The same day US Special Forces were practicing Urban Warfare in America with foreign troops from 16 nations, in one of those nations, Thailand, a military coup was rounding up politicians. Ironically, the GOP controlled House reaffirmed yet again, its approval of indefinite detention by the military. And on the same day, the Democrat controlled Senate approved a lawyer who wrote secret memos making secret arguments supporting drone assassinations of Americans, for a lifetime appointment to a court one level below the Supreme Court.
A General Writes the First After-Action Report on the Wars in Afghanistan and Iraq: Why We Lost
U.S. SPECIAL FORCES, FOREIGN TROOPS PRACTICE INVADING TAMPA
Thai military detains politicians and activists
House Passes NDAA; Critical Amendments Fail, Others Succeed
WYDEN: "EVERY AMERICAN HAS THE RIGHT TO KNOW WHEN THEIR GOVT. BELIEVES IT IS ALLOWED TO KILL THEM!"
Barron Narrowly Confirmed by Senate Despite Drone Memo
LINKS:
Foreign Troops Training To Confiscate Guns of Americans
Martial Law Rise of The Police State
UPDATE 2013
NDAA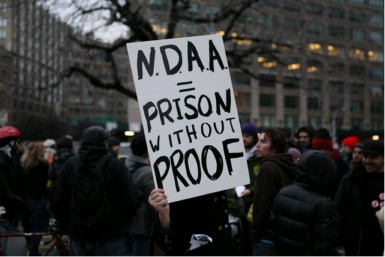 National Defense Authorization Act
Americans can legally be kidnapped and held without trial
David Knight breaks down anti NDAA legislation and "head fakes" being used by our national leaders.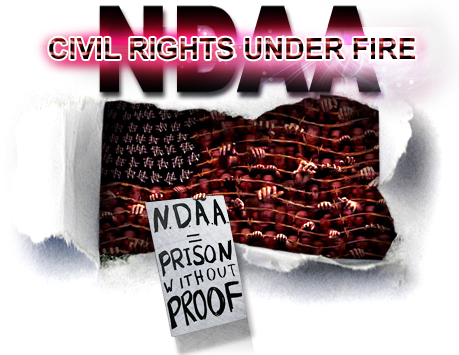 One of the Most Powerful Speeches Ever
- Daphne Lee on the NDAA -
Daphne Lee is "just a Mom", she says. But this liberty-minded, passionate Constitutionalist gave one of the most powerful speeches about the NDAA that we have ever seen. Daphne, who is the Nevada state Director of PANDA (People Against NDAA)
had to sit for more than 8 hours at a recent Clark County Commission meeting in Las Vegas before she was finally allowed to speak, to a mostly empty room. It was the third meeting Daphne had attended in her attempt to share the truth about the 2011 NDAA law with the Commission.

Barack Hussein Obama swore he wouldn't sign the NDAA because it contained two provisions inserted into the military funding bill allowing for the military to snatch and detain any citizen the government labels as "a possible terrorist'. These provisions were fought for by Lindsey Graham and John McCain who claim the United States is a 'battlefield' in the endless 'war on terror'. To the surprise of some, Obama LIED and he signed the NDAA on New Year's Eve 2011.

"The laws of war DO NOT and CAN NOT coexist with our Bill of Rights. It's not possible. You cannot apply the laws of war to this country and expect for the Bill of Rights to be respected and upheld. It's NOT possible." - Daphne Lee, Nevada State Director, PANDA

Daphne's Full Speech:
http://sgtreport.com/2013/11/must-mus...

For REAL News & Information:
http://sgtreport.com/
http://thelibertymill.com/

Video clip: Public domain, Daphne's speech video used with her expressed consent and permission.
Mandatory Vaccine Threat
NDAA on Steroids: Ebola Death Camps
Published on Oct 15, 2014
FOX news celebrities are floating trial balloons for Ebola camps — i.e., rebranded FEMA camps. Is anyone on FOX or mainstream media about due process or review for those accused of potentially BECOMING sick? And does our government's response look more like Nigeria, where it was contained, or Liberia, where it is growing exponentially?
EBOLA CAMPS? Fox Analyst Calls For Quarantine Camps In Every City - http://www.infowars.com/ebola-camps-f ...
Memo: Ebola Exposed US Troops To Be Quarantined Near Washington DC - http://www.infowars.com/memo-ebola-ex...
LINKS :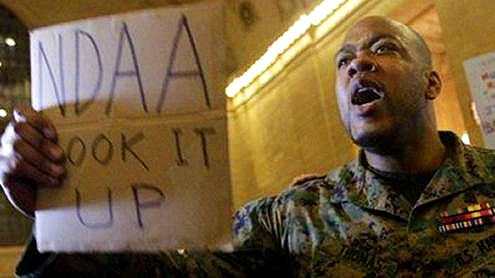 LINK : NDAA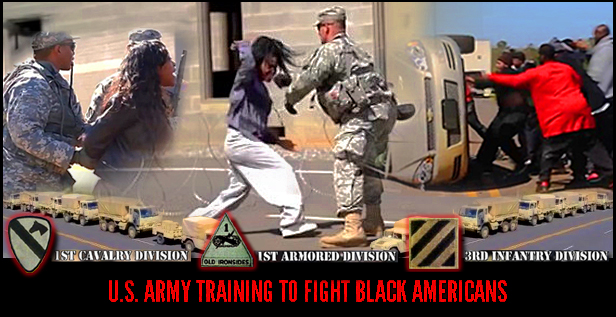 In the video below, Alex Jones highlights how the Guardian Centers video is yet another startling indication that authorities in the United States are preparing for civil unrest as America increasingly begins to resemble a militarized police state.
U.S. Army Training to Fight Black Americans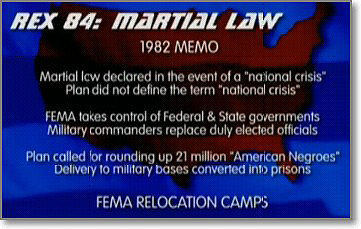 LINKS :
ASSASSINATION PROGRAM

My topic for this evening is "now, it's assassinations". What have we allowed ourselves to become? Are we no longer a nation of laws? Have we become instead a nation of men who make secret arrests? Are secret prisons now simply another tool of the federal government law enforcement? Is secret rendition of individuals now permitted out of misplaced fear? Have we decided that the writ of habeas corpus is not worth defending? Is torture now an acceptable tool for making us safe?
Unfortunately, the single answer to all these questions from the leaders of our country to many of our citizens appears to be yes. And now we are told that assassination of foreigners as well as American citizens is legitimate and necessary to provide security for our people. It is my firm opinion that nothing could be further from the truth.
Secret arrests, secret renditions, torture and assassinations are illegal under both domestic and international law. These activities should be anathema to the citizens of a constitutional republic. The real threat doesn't arise from our failure to torture, rather desensitizing our nation to the willful neglect and sacrifice of our civil liberties fought and died for over the centuries, is the threat.
-- Ron Paul --

LINK : Assassination Program
Alex Breaks Down McCain & Lieberman's "Enemy Belligerents" Bill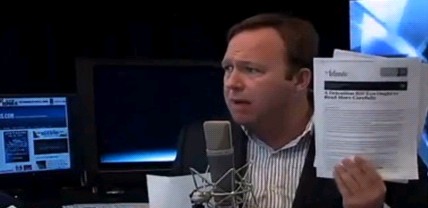 Alex Breaks Down McCain & Lieberman's "Enemy Belligerents" Bill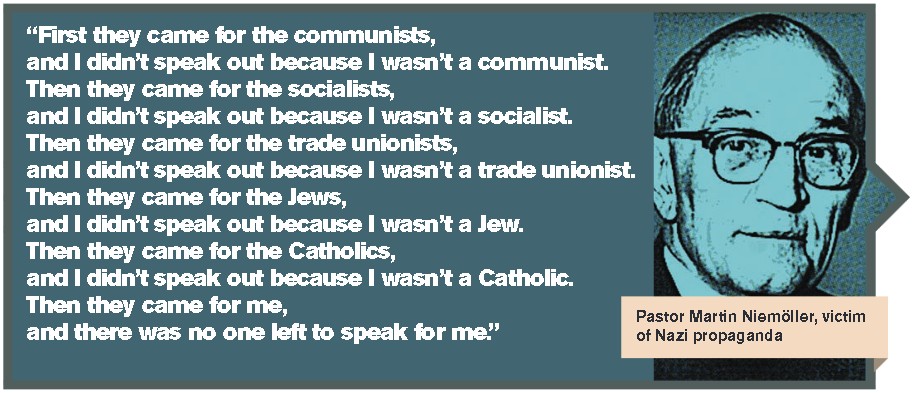 Dissenters To Be Detained As "Enemy Belligerents"?
New bill allows U.S. citizens to be kidnapped and detained without trial indefinitely based on "suspected activity"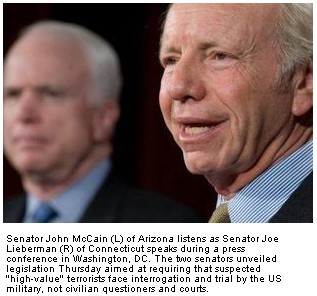 Paul Joseph Watson
Prison Planet.com
Monday, March 8, 2010
Since the establishment media is convinced that tea party members, 9/11 truthers, libertarians, Ron Paul supporters, and basically anyone with a dissenting political opinion is a likely domestic terrorist, they should be celebrating the fact that a new bill would allow the government to detain such people as "enemy belligerents" indefinitely and without trial based on their "suspected activity".
The "Enemy Belligerent, Interrogation, Detention, and Prosecution Act of 2010," introduced by Senators John McCain and Joseph Lieberman on Thursday with little fanfare, "sets out a comprehensive policy for the detention, interrogation and trial of suspected enemy belligerents who are believed to have engaged in hostilities against the United States by requiring these individuals to be held in military custody, interrogated for their intelligence value and not provided with a Miranda warning," writes the Atlantic's Marc Ambinder.
The full bill can beread here (PDF). And HereS3801
The bill does not distinguish between U.S. citizens and non-citizens, and states that "suspected belligerents" who are "considered a "high-value detainee" shall not be provided with a Miranda warning."
A person is considered a "high value detainee" if they fulfil one of the following criteria.
(1) poses a threat of an attack on civilians or civilian facilities within the U.S. or U.S. facilities abroad; (2) poses a threat to U.S. military personnel or U.S. military facilities; (3) potential intelligence value; (4) is a member of al Qaeda or a terrorist group affiliated with al Qaeda or (5) such other matters as the President considers appropriate.
Now that theSouthern Poverty Law Center and the federal government, via the MIAC report and innumerable other leaked documents, now consider virtually anyone with a dissenting opinion against the state as "posing a threat," millions of peaceful American citizens could be swept up by this frightening dragnet of tyranny.
However, according to the bill, an individual doesn't even have to pose a threat to be snatched, detained and interrogated – they can merely be deemed to be of "potential intelligence value" or come under the vague and sweeping mandate of "such other matters as the President considers appropriate".
This last designation hands Obama dictator powers to have any American citizen kidnapped, detained, and interrogated on a whim.
The only proviso that even hints at some form of check or balance is the measure that states, "The High-Value Detainee Interrogation Team must make a preliminary determination whether the detainee is an unprivileged enemy belligerent within 48 hours of taking detainee into custody."
"The High-Value Detainee Interrogation Team must submit its determination to the Secretary of Defense and the Attorney General after consultation with the Director of National Intelligence, the Director of the Federal Bureau of Investigation, and the Director of the Central Intelligence Agency. The Secretary of Defense and the Attorney General make a final determination and report the determination to the President and the appropriate committees of Congress. In the case of any disagreement between the Secretary of Defense and the Attorney General, the President will make the determination," states the bill.
The ACLU has expressed its vigorous opposition to the legislation, labeling it nothing less than a "direct attack on the Constitution".
"Indefinite detention flies in the face of American values and violates this country's commitment to the rule of law," states Laura W. Murphy, Director of the ACLU Washington Legislative Office.
Of course, such positions from the ACLU as well asAmnesty International will only be used as grist for the neo-con propaganda mill about how the bill ought to be passed in order to avoid being "soft on terrorists," a piece of spin still being swallowed whole by millions of conservatives who are blissfully unaware of the fact that the apparatus of the war on terror is now being aimed squarely at politically active American citizens.
"Torture, indefinite imprisonment, secret trials and limited staged hearings are the stuff of cheap dictatorships," writes Ian McColgin. "They are the sort of idiocy we scorned in the Soviets, the Koreans and the Vietnamese. It is astonishing that we have senators and citizens even discussing this bill which is not a capitulation to terrorism – it's the triumph of terrorism."
Homeland Security is already implementing technology to be enforced at "security events" which purportedly reads "malintent" on behalf of an individual who passes through a checkpoint. Perhaps the video below explains just how "enemy belligerents" will be identified on American soil.
The full bill can beread here (PDF). And HereS3801
We Tortured Some Folks
Published on Aug 13, 2014
SUPPORT BFP: http://ur1.ca/hi0ua
SHOW NOTES: http://www.corbettreport.com/?p=11789
by James Corbett
BoilingFrogsPost.com
August 13, 2014
A rose is a rose a rose. And torture is torture is torture.
Obama's remarks, delivered at a White House press conference on August 1st, have already passed through infamy to become part of the internet lexicon. But why? He did not tell us anything new, did not impart any information that added to our understanding of the sexual assault, sleep deprivation, mock executions, forced medications, temperature extremes, or waterboarding that the US military and CIA have admittedly deployed on their captives in the years since 9/11.
No, we already knew that. This is not why Obama's words are so remarkable.
Less than one week after this speech, New York Times Executive Editor Dean Baquet came out with a remarkable statement of his own.
"Over the past few months," read the statement, "reporters and editors of The Times have debated a subject that has come up regularly ever since the world learned of the C.I.A.'s brutal questioning of terrorism suspects: whether to call the practices torture."
"When the first revelations emerged a decade ago, the situation was murky. The details about what the Central Intelligence Agency did in its interrogation rooms were vague. The word 'torture' had a specialized legal meaning as well as a plain-English one. While the methods set off a national debate, the Justice Department insisted that the techniques did not rise to the legal definition of 'torture.' The Times described what we knew of the program but avoided a label that was still in dispute, instead using terms like harsh or brutal interrogation methods."
The Times claims that its sudden abandonment of the English language over the past decade in favor of tortuous, concocted phrases like "enhanced interrogation methods," itself first coined by the Nazi Gestapo in 1937 to describe their own identical torture techniques, was necessary to preserve the distinction between common usage of the word "torture" and its legal definition. This is a lie. The new standard that the Times is using to employ the term—"incidents in which we know for sure that interrogators inflicted pain on a prisoner in an effort to get information"—is almost word-for-word identical to the definition under US law, specifically 18 USC 2340: "an act committed by a person acting under the color of law specifically intended to inflict severe physical or mental pain or suffering." The definition was always what the Times is now claiming they have discovered it to be. That they are now going to call torture "torture" should not be remarkable.
And yet these things are remarkable. Why? Because words, language, names have been used to obscure political realities for so long that when facts are simply described in plain language, it is nearly unfathomable.
The phenomenon of doublespeak is nothing new. As Orwell wrote in his classic essay "Politics and the English Language:"
"In our time, political speech and writing are largely the defense of the indefensible. Things like the continuance of British rule in India, the Russian purges and deportations, the dropping of the atom bombs on Japan, can indeed be defended, but only by arguments which are too brutal for most people to face, and which do not square with the professed aims of the political parties. Thus political language has to consist largely of euphemism, question-begging and sheer cloudy vagueness. Defenseless villages are bombarded from the air, the inhabitants driven out into the countryside, the cattle machine-gunned, the huts set on fire with incendiary bullets: this is called pacification. Millions of peasants are robbed of their farms and sent trudging along the roads with no more than they can carry: this is called transfer of population or rectification of frontiers."
In fact, historians tell us that this phenomenon occurs almost as far back in history as we are prepared to look, back even to the 5th century B.C.
But in our current age, when virtually every act of the criminal and almost universally-reviled political class requires this reality inversion, any speaking of the plain truth is a revolutionary act.
It is sometimes said that words are merely words, and that, carrying no weight, they have no relevance in the real world. On the contrary, as the philosopher Ludwig Wittgenstein noted nearly a century ago, "The limits of my language mean the limits of my world." What is not expressible is not conceivable.
If the victims of US aggression are always and everywhere described as "terrorists" and "human shields" and "war criminals," let alone "gooks" or "nips" or "sand niggers," then defenders of those populations are at a disadvantage before they even begin their defense. Their opponents are defending "heroes" and "patriots" and "freedom fighters," so how can they lose the argument?
Merely putting a word in the form of a derogatory phrase creates in the mind of the listener the impression of something unsavory. People who care about the truth are mere "truthers," after all. Tenth amendment supporters are "tenthers." Those who prepare for the future are "preppers." Want to demonize someone who does good things? Call them a do-gooder!
Language is the great tool of the tyrants. It always has been, and always will be. Patriots are expected to abide by a PATRIOT Act that destroys their Bill of Rights, support "surgical strikes" against "enemy combatants" by the Department of "Defense," and cheer the award of the Nobel Peace Prize to those who wage war.
Our language has been weaponized against us.
Taking our cue from Orwell, then, we might observe that telling the truth is a revolutionary act, and calling things by their right name a revolutionary idea.
Yes, a rose is a rose is a rose. And torture by any other name is still torture. Down with Big Brother.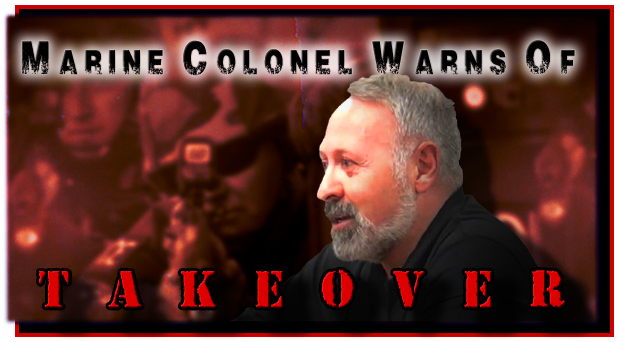 A former Marine Corps Colonel who was stationed in Fallujah and trained Iraqi soldiers warns that the Department of Homeland Security is working with law enforcement to build a "domestic army," because the federal government is afraid of its own citizens.
In this exclusive in studio interview Ret. Col Martino covers the DHS buildup and solutions our overreaching corrupt government officials.
Ret. Marine Col:
DHS Is Prepping For War With Americans

LINKS :
Police Trained That Informed Americans Are Terrorists
Doomsday Preppers Will Be Treated As Terrorists
U.S. Military Killing Its Own Troops!
The NSA (National Security Agency)
Tattle-Tell Squads and Surveillance
PSYOPS
-- Psychological Operations --
"People in general just will NOT, take their heads out of the sand!"

Psyops, or psychological operations, is a term used to describe the techniques of psychological manipulation used in warfare. These operations are used to deceive, confuse, disrupt and demoralize the enemy, with an aim toward weakening enemy resistance or even causing enemy forces to surrender and enemy populations to capitulate.
NOTES :
http://www.corbettreport.com/psyops-101-an-introduction-to-psychological-operations/
http://www.corbettreport.com/psyops-101-a-brief-history-of-fake-news/
http://www.corbettreport.com/psyops-101-psyops-on-the-homefront/
http://www.corbettreport.com/psyops-101-the-technology-of-psych-warfare/
http://www.corbettreport.com/new-world-next-week-2012111/
LINKS :
Military Illegally on American Streets
Military Training to Take on Americans
DHS Preparing For 7-Year War Against American People
Foreign Troops Training To Confiscate Guns of Americans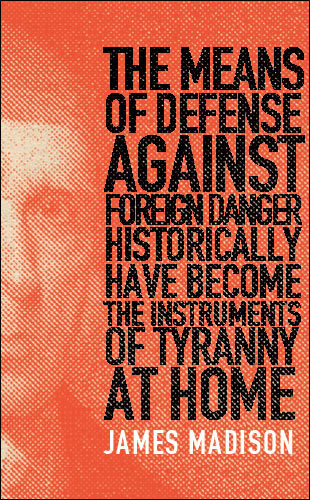 LINK : THE FAKE WAR ON TERROR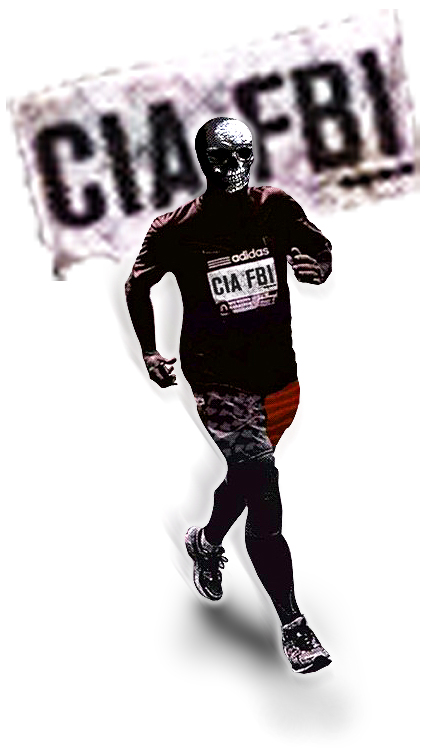 THE CIA
An independent agency of the United States government responsible for collecting and coordinating intelligence and counterintelligence activities abroad in the national interest; headed by the Director of Central Intelligence under the supervision of the President and National Security Council...There has been considerable criticism of the CIA relating to security and counterintelligence failures, failures in intelligence analysis, human rights concerns, external investigations and document releases, influencing public opinion and law enforcement, drug trafficking, and lying to Congress. In 1987, the former CIA Station Chief in Angola in 1976, John Stockwell, said the CIA is responsible for tens of thousands of covert actions and destablization programs since it was created by Congress with the passage of the National Security Act of 1947. At the time, Stockwell estimated that over 6 million people had died in CIA covert actions.
LINK : C.I.A.
THE FBI
The Federal Bureau of Investigation (FBI) is a governmental agency belonging to the United StatesDepartment of Justice that serves as both a federal criminal investigative body and an internal intelligence agency (counterintelligence). Also, it is the government agency responsible for investigating crimes on Indian reservations in the United States under the Major Crimes Act. The branch has investigative jurisdiction over violations of more than 200 categories of federal crime. The agency was established in 1908 as the Bureau of Investigation (BOI). Its name was changed to the Federal Bureau of Investigation (FBI) in 1935. The agency headquarters is the J. Edgar Hoover Building, located in Washington, D.C. The agency has fifty-six field offices located in major cities throughout the United States, and more than 400 resident agencies in lesser cities and areas across the nation. More than 50 international offices called "legal attachés" exist in U.S. embassies and consulates general worldwide.
'Federal Bureau of Investigation organizes almost all terror plots in the US' ...The report reveals that the FBI regularly infiltrates communities where they suspect terrorist-minded individuals to be engaging with others. Regardless of their intentions, agents are sent in to converse within the community, find suspects that could potentially carry out "lone wolf" attacks and then, more or less, encourage them to do so. By providing weaponry, funds and a plan, FBI-directed agents will encourage otherwise-unwilling participants to plot out terrorist attacks, only to bust them before any events fully materialize.
LINK : F.B.I.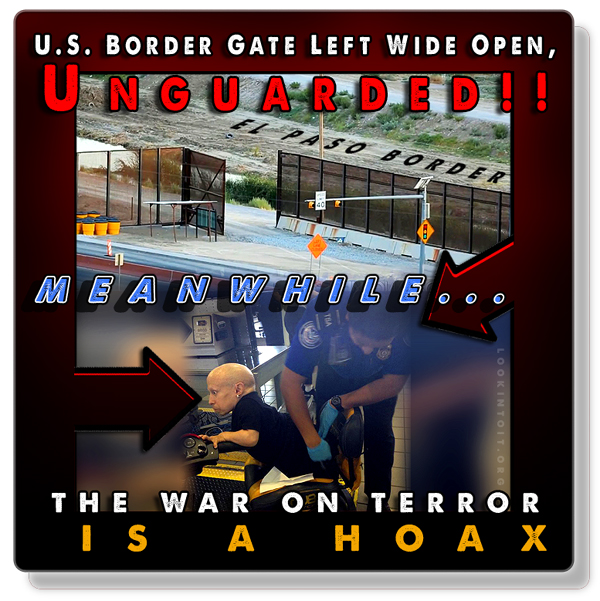 LINK : American Border Debacle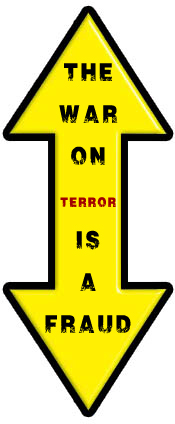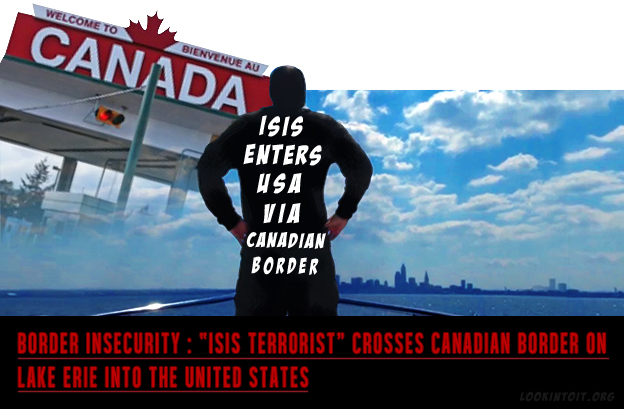 How could there be a War on Terror and actually say that we're having a war against terrorism, and leave the borders wide open? If you were the President of the United States, or I were the President of the United States, and 9/11 really happened the way they want us to believe it happened, the first thing you would do is shut down the borders, so people couldn't get in the country to harm you. But they left the borders wide open. Because the bankers want the borders open, because they want a one-world government. They want a North American Union. They don't want borders here. 9/11 was only a manifestation. It was done to create a fear in the American public, so that we will obey what they want us to do.
LINKS :
Illegal Checkpoints In America
Mobile Van Radiating the Public
Police Trained That Informed Americans Are Terrorists
The NSA (National Security Agency)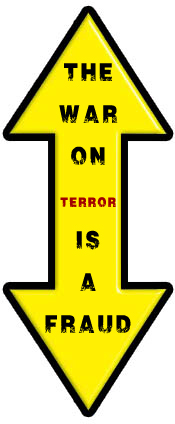 It's no longer Al-Qaeda, it's now supposedly your friends and neighbors. This is the prevailing meme of every tyrannical fascist regime in history.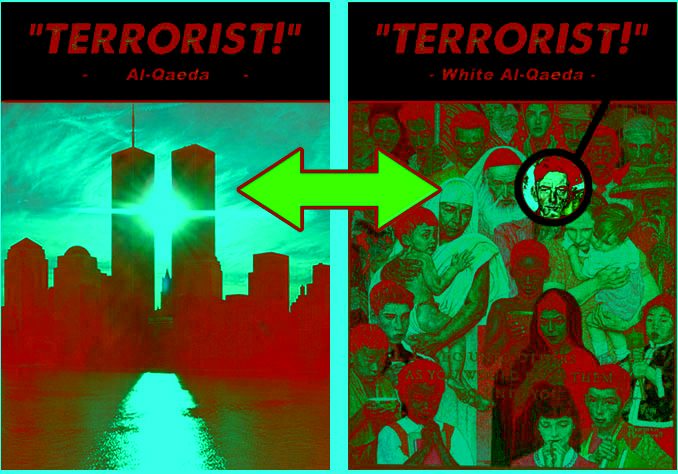 Attorney General Holder: American People Are Terrorists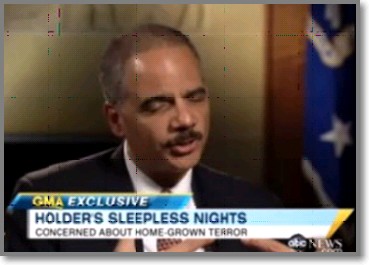 THE WAR ON TERROR IS AN ABSOLUTE FRAUD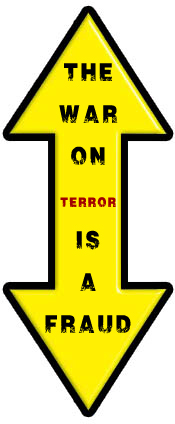 [OBAMA RELEASES MAJOR TERRORIST ORGANIZERS OF THE TALIBAN]
Could Obama Face Impeachment For Bergdahl release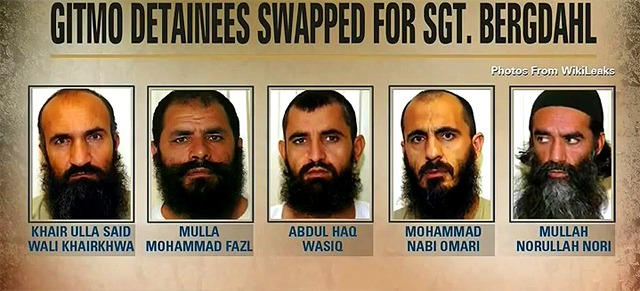 What happened in the last few weeks to change the Bergdahal situation? Was he a CIA operative, or was this a failed attempt to take the heat off the VA scandal?
Impeachment now very valid argument
http://www.infowars.com/judge-napolit...
Jay Carney 2013: we won't transfer detainess without consulting congress
http://www.weeklystandard.com/blogs/j...
Obama clearly broke the law
http://www.infowars.com/pro-obama-har...
Is this a ramp up to "White al Qaeda"
http://www.infowars.com/holder-to-cre...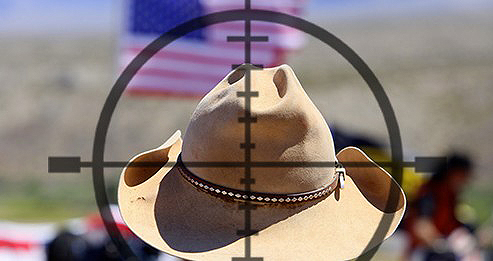 Alex Jones breaks down the bigger picture behind the move to turn the war on terror against American citizens
EVERYONE IS A TERRORIST

White House Tells Parents: Children Could Be Terrorists!
I have told you this was coming. Under the new homeland we are all the enemy in the eyes of the occupiers.
LINKS :
AGENDA 21 Cliven Bundy Case Example
Police Trained That Informed Americans Are Terrorists
Troops Ordered To Kill All Americans Who Do Not Turn In Guns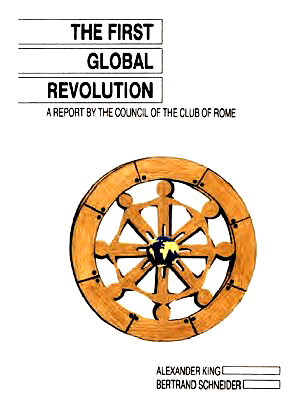 In 1991, the Club published The First Global Revolution. It analyses the problems of humanity, calling these collectively or in essence the 'problematique'. It notes (laments) that, historically, social or political unity has commonly been motivated by enemies in common: "The need for enemies seems to be a common historical factor. Some states have striven to overcome domestic failure and internal contradictions by blaming external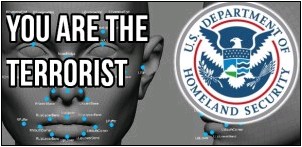 enemies. The ploy of finding a scapegoat is as old as mankind itself - when things become too difficult at home, divert attention to adventure abroad. Bring the divided nation together to face an outside enemy, either a real one, or else one invented for the purpose. With the disappearance of the traditional enemy, the temptation is to use religious or ethnic minorities as scapegoats, especially those whose differences from the majority are disturbing." "Every state has been so used to classifying its neighbours as friend or foe, that the sudden absence of traditional adversaries has left governments and public opinion with a great void to fill. New enemies have to be identified, new strategies imagined, and new weapons devised."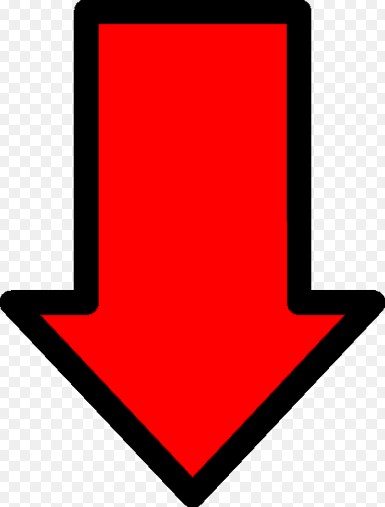 THE GLOBALISTS MOVE FROM THEIR ALQAEDA CREATION, TO FABRICATING HOMEGROWN DOMESTIC TERROR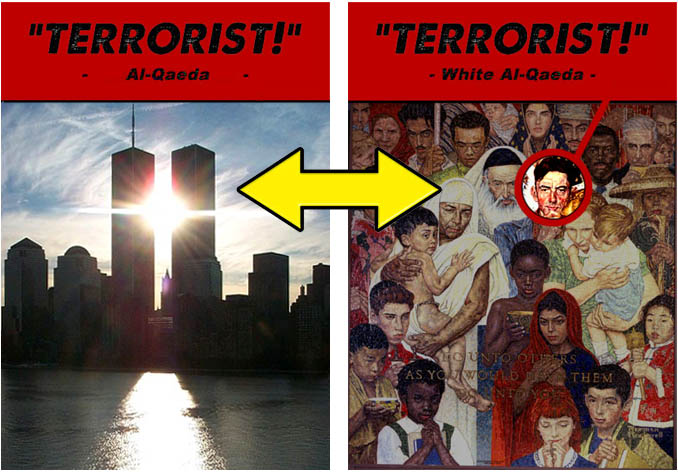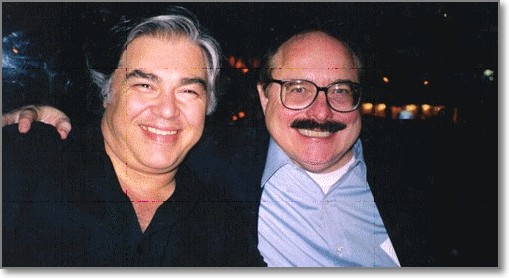 Several years ago, after his popular video "Mad As Hell" was released and Aaron Russo began his campaign to become Governor of Nevada, Russo was noticed by Nicholas Rockefeller and introduced to him by a female attorney. Seeing Russo's passion and ability to affect change, Rockefeller set about on a subtle mission to recruit Russo into the elite's CFR. Watch the full interview here: Reflections and Warnings.
Aaron Russo talks about the CFR...And The Fake War On Terror!
Aaron Russo talks about the CFR...And The Fake War On Terrorism!
LINKS :
---
---
"It is the common fate of the indolent to see their rights become a prey to the active.
The condition upon which God hath given liberty to man is eternal vigilance
; which condition if he break, servitude is at once the consequence of his crime and the punishment of his guilt." --
John Philpot Curran
---
---
WHY WE MUST FIGHT TYRANNY
Dan Johnson, Founder of PANDA - People Against the NDAA (and indefinite detention of American citizens) on WHY we must fight & defeat tyranny in all its forms...

For REAL News & Information:
http://sgtreport.com/
http://thelibertymill.com/

Music: "White Lotus" by Kevin MacLeod (incompetech.com) Licensed under Creative Commons "Attribution 3.0" http://creativecommons.org/licenses/b...
http://creativecommons.org/licenses/b...

The content in my videos and on the SGTbull07 channel are provided for informational purposes only. Use the information found in my videos as a starting point for conducting your own research and conduct your own due diligence (DD) BEFORE making any significant investing decisions. SGTbull07 assumes all information to be truthful and reliable; however, I cannot and do not warrant or guarantee the accuracy of this information. Thank you.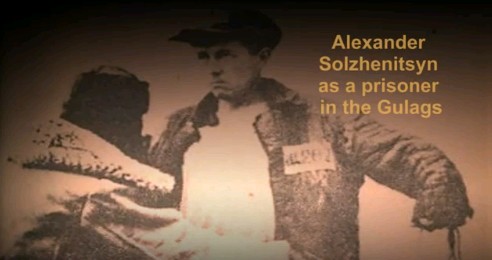 Alexander Solzhenitsyn
Alexander Solzhenitsyn was born in Russia, DECEMBER 11, 1918. He was arrested for writing a letter criticizing Stalin and spent 11 years in labor camps. He began writing and eventually received the Nobel Prize for Literature.

REACH OUT TO OTHERS
[Help Educate Family And Friends With This Page And The Links Below]
---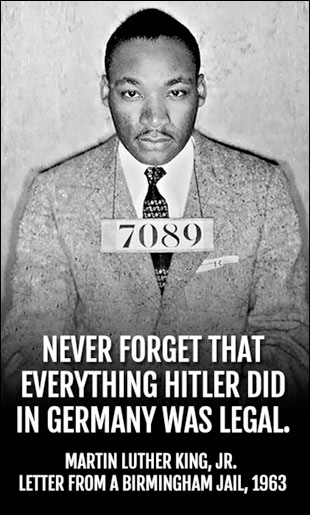 RECOMMENDED LINKS:
Police Trained That Informed Americans Are Terrorists
Troops Ordered To Kill All Americans Who Do Not Turn In Guns
Foreign Troops Training To Confiscate Guns of Americans
The International Criminal Court