Terrorism's
Big Dirty Secrets

Philosophers have long noted the utility of fear to the state. Machiavelli notoriously argued that a good leader should induce fear in the populace in order to control the rabble. Hobbes in "The Leviathan" argued that fear effectively motivates the creation of a social contract in which citizens cede their freedoms to the sovereign. The people understandably want to be safe from harm. The ruler imposes security and order in exchange for the surrender of certain public freedoms. As Hobbes saw it, there was no other way: Humans, left without a strong sovereign leader controlling their actions, would degenerate into mob rule. It is the fear of this state of nature — not of the sovereign per se, but of a world without the order the sovereign can impose — that leads us to form the social contract and surrender at least part of our freedom.
---
Al Qaeda's Dark Secret Exposed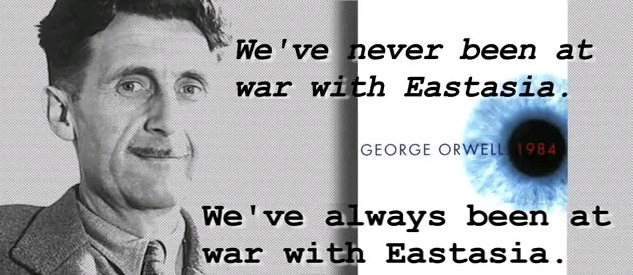 Terrorism's Big Dirty Secret
In a special video address, Alex Jones terms the al Qaeda intelligence operation a 'swiss army knife' for destabilization. Simply put, it is a tool to foment crisis that allows the globalists to offer up a solution.The shadowy enemy supposedly run by Osama bin Laden and top jihadists like Anwar al-Awlaki is really run out of U.S. foreign policy and the Pentagon. It is perhaps government's greatest hoax... and one of the oldest tricks in the book.

For the average person who has lived through the phony 'War on Terror', a post-9/11 age of fear that has swirled around the persona of bin Laden, it may be quite confusing to now read headlines like Libya: the West and al-Qaeda on the same side. Indeed the rebel forces trying to topple Gaddafi admittedly include thousands of al Qaeda forces while enjoying total backing-- weapons, planes, funding and forces-- from the U.S., Britain, NATO and other allies.

HOW TERRORISM REALLY WORKS
(EVEN CHILDREN UNDERSTAND THE REAL GAME, WHAT ABOUT YOU?)
For More Information On False Flag Events Click Here: False Flag Event
CIA And Pentagon Asset Anwar Al Awlaki Dined At Pentagon Months After 9/11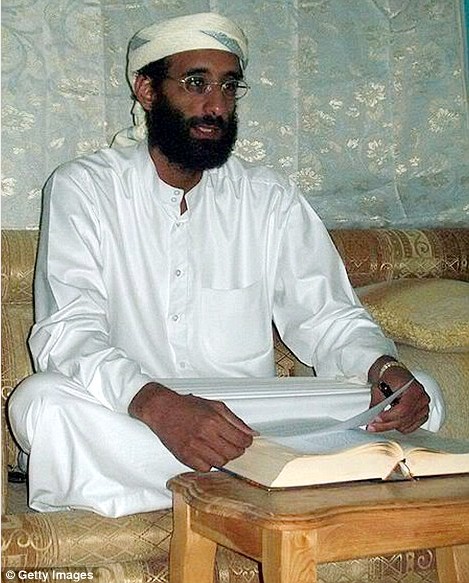 Terrorist ANWAR AL AWLAKI Invited To Pentagon By Secretary Of Defense Days After 9-11
9/11 Mastermind Invited to Pentagon! - Alex Jones Tv
Topic Starts @ 2:20
Al-Qaeda terror mastermind Anwar Al-Awlaki, the man who helped plot the aborted Christmas Day bombing, the Fort Hood shooting, the Times Square bombing attempt, and who also preached to the alleged September 11 hijackers, dined at the Pentagon just months after 9/11 documents obtained by Fox News show.

American-born cleric Awlaki's role as a key figure in almost every recent terror plot targeting the United States and Canada, coupled with his visit to the Pentagon, only confirms our long stated position that Awlaki is a chief terrorist patsy-handler for the CIA -- he is the federal government's premier false flag agent.

"Documents exclusively obtained by Fox News, including an FBI interview conducted after the Fort Hood shooting in November 2009, state that Awlaki was taken to the Pentagon as part of the military's outreach to the Muslim community in the immediate aftermath of the attacks," states the report.

Awlaki was vetted before he was invited to attend a luncheon at the Pentagon in the secretary of the Army's Office of Government Counsel. His appearance at the meeting was deliberately engineered despite Awlaki's ties to three of the alleged 9/11 hijackers -- Nawaf al-Hazmi, Khalid al-Mihdhar and Hani Hanjour -- who were identified as the suicide pilots that slammed Flight 77 into the Pentagon.

Following the Fort Hood shooting it was also revealed that shooter Major Nidal Malik Hasan had been in contact with Awlaki before the rampage. Awlaki preached to both Hasan and the 9/11 hijackers at the Dar al-Hijrah mosque in Falls Church, Virginia in 2001.

Awlaki also met with Christmas Day underwear bomber Umar Farouk Abdulmutallab and acted as "the middle-man between the young Nigerian and the bombmaker." As we have thoroughly documented, the Delta Flight 253 incident was staged from start to finish. The US State Department allowed Abdulmutallab to board the plane, aided by a well-dressed Indian man, despite the fact that he was on a terror watch list and had no passport.

The Christmas Day incident was a boon for companies linked with the military-industrial complex, as it greased the skids for the global introduction of naked body scanners in airports.

Times Square bomber Faisal Shahzad was also reported to have been directed by Awlaki before his failed attack on May 1st

"The Pentagon has offered no explanation of how a man, now on the CIA kills or capture list, ended up at a special lunch for Muslim outreach," states the Fox News report.

The explanation is quite simple -- Awlaki is the CIA's chief patsy handler for planning and staging false flag terror attacks through the dupes that he radicalizes.

http://www.infowars.com/al-qaeda-mastermind-invited-to-pentagon-after-911/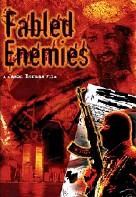 Fabled Enemies is required viewing for those who wish to understand the dark and murderous modus operandi behind state sponsored false flag terror and how such operations are employed to instill fear and politically manipulate the public into surrendering their liberty.
Seven years after 9/11, the supposed mastermind behind the attacks is still at large, and the nation is entrenched in multiple wars in the Middle East. Is Bin Laden the evil behind the attack or a mere front man in a larger picture, a Bogeyman?
Al-Qaeda Is A Front Group For The US Military-Industrial Complex
Paul Joseph Watson
Infowars.com
October 22, 2010
American-born Al-Qaeda terror leader Anwar Al-Awlaki, who met with Pentagon officials months after 9/11, is by no means the only patsy handler the Central Intelligence Agency has used over the years to oversee false flag attacks in America and around the world. In fact, just about every major terror attack has been run by an operative with direct ties to the US military-industrial complex.
As we reported this morning, Awlaki, the man who helped plot the aborted Christmas Day bombing, the Fort Hood shooting, the Times Square bombing attempt, and who also preached to the alleged September 11 hijackers, dined at the Pentagon just months after 9/11 documents obtained by Fox News show.
Awlaki is just the latest in a long list of Al-Qaeda double agents whose activity proves that the terror organization is little more than a front for the Pentagon and the US war machine. Let's take a look at just a handful of dozens of examples of terror masterminds working for intelligence agencies.
Emad A. Salem
The feds used FBI informant Emad A. Salem to run the first World Trade Center bombing back in 1993.
Before the attack, the FBI planted informant Salem within a radical Arab group in New York led by Ramzi Yousef. Salem was ordered to encourage the group to carry out a bombing targeting the World Trade Center's twin towers. Under the illusion that the project was a sting operation, Salem asked the FBI for harmless dummy explosives which he would use to assemble the bomb and then pass on to the group. At this point the FBI cut Salem out of the loop and provided the group with real explosives, leading to the attack on February 26 that killed six and injured over a thousand people. The FBI's failure to prevent the bombing was reported on by the New York Times in October 1993, as well as CBS News in the clip below.
Haroon Rashid Aswat
The alleged mastermind of the 7/7 bombings in London, Haroon Rashid Aswat, was also revealed to be an intelligence asset, in this case working for British MI6.
In July 2005, terror expert John Loftus told Fox News, "…back in the late 1990s, the leaders all worked for British intelligence in Kosovo. Believe it or not, British intelligence actually hired some Al-Qaeda guys to help defend the Muslim rights in Albania and in Kosovo. That's when Al-Muhajiroun got started."
Loftus said that British MI6 colluded to hide Aswat after the 7/7 bombings. Watch the clip below.
David Headley
The mastermind behind the Mumbai massacre was "an American secret agent who went rogue," reported the London Times, referring to Washington-born David Headley, who was caught smuggling heroin but then given a job by the Drug Enforcement Agency and later went on to work for the CIA.
"The Indian media has raised the possibility that Mr Headley was being protected by his American handlers — a theory that experts say is credible," reported the Times.
Headley was allowed to fly in and out of India as he scouted targets for the attack despite being "firmly on the radar of the US intelligence agencies."
Prince Bandar "Bush"
Saudi Arabia's former US envoy Prince Bandar bin Sultan bin Abdul Aziz, known as "Bandar Bush" for his close relationship with former President George W. Bush and his father, is another terror mastermind on the payroll of the US military-industrial complex. Bandar worked closely with CIA Director George Tenet, when he was Saudi Ambassador in Washington.
Bandar disappeared two years ago after it emerged that he had become the de facto leader of "Al-Qaeda in Iraq," having been responsible for arming terrorist organizations in the Middle East. The man who George W. Bush reportedly consulted before the 2003 invasion of Iraq has trained, funded and equipped terrorists to kill US troops, providing the US government with the perfect justification to remain as an occupying force in the country.
Bandar also threatened Britain with "another 7/7″ and the loss of "British lives on British streets" if corruption investigations into Saudi arms deals were allowed to proceed. Prime Minister Tony Blair complied and quashed the inquiry.
Terrorist mastermind Prince Bandar "Bush" with his close friend George H.W. Bush.
Osama Bin Laden
Bin Laden himself was a known CIA asset stretching from the late 1970's when he was armed and funded by the CIA through the Pakistani ISI to lead the Muslim mujahideen against the Soviets in Afghanistan.
After this, Bin Laden led Al-Qaeda to Bosnia shortly after the outbreak of war in 1992 to fight against Bosnian Serbs who were subsequently the target of NATO air strikes.
Shortly before the NATO bombing of Yugoslavia in 1999, Bin Laden and Al-Qaeda moved into Kosovo, Serbia's southern province, to aid the Kosovo Liberation Army, the Albanian terrorist faction that was being supported by the U.S. and NATO in its terror campaign against Serbs in the region.
"The United States, which had originally trained the Afghan Arabs during the war in Afghanistan, supported them in Bosnia and then in Kosovo," reported the National Post.
With the help of Bin Laden's terror network, backed up by the U.S. and NATO, no less than 90% of Serbians were "ethnically cleansed" and forced to leave the region, while the international media played its role dutifully in portraying the Albanians as the "victims" of Serbian aggression.
Barely weeks before 9/11, former members of Al-Qaeda who had subsequently joined the Kosovo Liberation Army were airlifted out of Macedonia by U.S. paratroopers.
As former FBi translator Sibel Edmonds revealed, the US maintained "intimate relations" with Bin Laden, "all the way until that day of September 11."
The "war on terror" is a fraud
While Homeland Security chief Janet Napolitano, FBI head Mueller and others ceaselessly fearmonger about domestic terrorists being an imminent threat, the federal government has a reliable menagerie of pocket Muslim radicals on which to call upon to radicalize followers into launching an attack on 'the great satan' whenever the political climate deems it necessary.
The fact that just about every major terror attack or aborted terror scare for decades has been run by people with direct ties to US intelligence renders the entire war on terror a complete fraud, and once again underscores the truth that the real terrorists reside a lot closer to home than caves in Central Asia or the Middle East.
—
Paul Joseph Watson is the editor and writer for Prison Planet.com. He is the author of Order Out Of Chaos. Watson is also a fill-in host for The Alex Jones Show. Watson has been interviewed by many publications and radio shows, including Vanity Fair and Coast to Coast AM, America's most listened to late night talk show.
This article was posted: Friday, October 22, 2010 at 7:28 am
---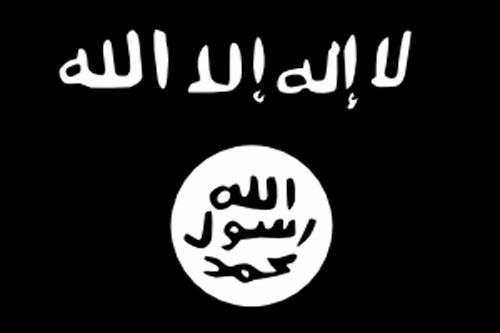 Thanks To Obama, The Al-Qaeda Flag Is Now Flying High And Proud Over Libya
Libya - The flag of NATO buddies Al Qaeda flies over the courthouse of Benghazi
Al Qaeda flag flying over Libya - Dennis Kucinich reports
Hillary Clinton Admits the U.S. Government Created al-Qaeda!!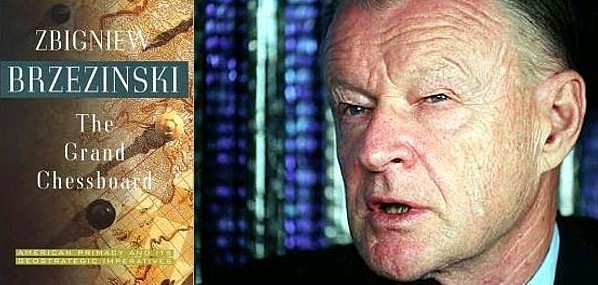 WAR CRIMINAL SUPREME : Zbigniew Brzezinski
Infinitely easier to kill a million people then to control a million people
Seal Team 6 Was Executed
(FAMILIES ARE BEING THREATENED)

http://www.michaelstrangefoundation.org/category/silent-heroes/
http://www.michaelstrangefoundation.org/remember/
SEAL Team 6 Family Members, Bin Laden Raid Was Staged!! ...Seymour Hersh Calls Osama Bin Laden Raid A Lie. Pulitzer-prize wining journalist slams "pathetic" US media for failing to challenge White House. Hersh added that the Obama administration habitually lies but they continue to do so because the press allows them to get away with it. "The republic's in trouble, we lie about everything, lying has become the staple," concluded Hersh.
LINK: Seal Team 6 Was Executed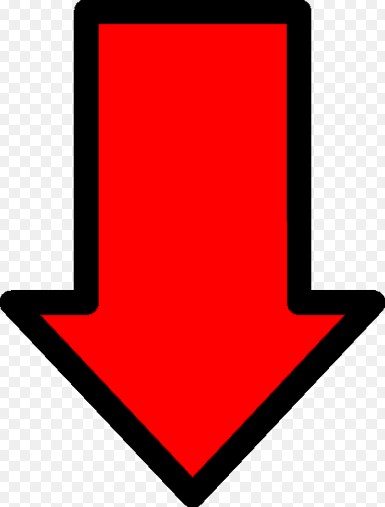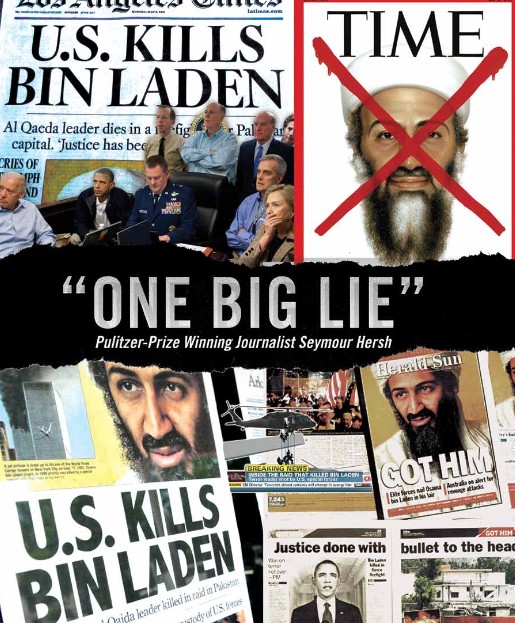 Seymour Hersh: Bin Laden Raid "One Big Lie"
Pulitzer-prize wining journalist slams "pathetic" US media for failing to challenge White House
Paul Joseph Watson
Infowars.com
September 27, 2013
Pulitzer Prize-winning journalist Seymour Hersh says that the raid which killed Osama Bin Laden in 2011 is "one big lie" and that "not one word" of the Obama administration's narrative on what happened is true.
In a wide-ranging interview published today by the Guardian, Hersh savages the US media for failing to challenge the White House on a whole host of issues, from NSA spying, to drone attacks, to aggression against Syria.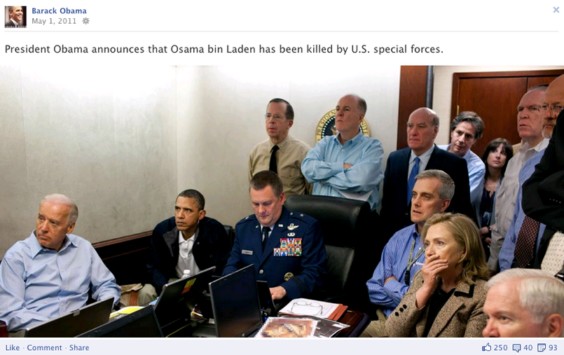 On the subject of the Navy Seal raid that supposedly resulted in the death of the Al-Qaeda terror leader, Hersh remarked, "Nothing's been done about that story, it's one big lie, not one word of it is true."
Hersh added that the Obama administration habitually lies but they continue to do so because the press allows them to get away with it.
"It's pathetic, they are more than obsequious, they are afraid to pick on this guy [Obama]," Hersh told the Guardian.
The raid that supposedly led to Bin Laden's death has been shrouded in mystery for over two years. Speculation that the Obama administration may have embellished or outright lied about the true account of what happened has persisted, mainly because the White House has refused to publicly release images of Bin Laden's body.
Although the White House said the corpse was immediately "buried at sea" in line with Islamic tradition, it quickly emerged that this was not standard practice.
Numerous analysts have claimed that Bin Laden had in fact been dead for years and that the raid on his alleged compound in Pakistan was little more than a stunt.
Other questions also persist, such as why the narrative and timeline of the raid has changed multiple times, why the White House initially claimed that "situation room" photos showed Obama watching the raid live when in fact there was a blackout on the live feed, and why neighbors in the immediate area surrounding the compound said with absolute certainty that they had never seen Bin Laden and that they knew of no evidence whatsoever to suggest he lived there.
During the rest of the Guardian interview, which is well worth reading in its entirety, Hersh lambastes the corporate press and particularly the New York Times, which he says spends "so much more time carrying water for Obama than I ever thought they would."
Hersh's solution is to shut down news networks like NBC and ABC and fire 90% of mainstream editors, replacing them with real journalists who are outsiders and not afraid to speak truth to power.
"The republic's in trouble, we lie about everything, lying has become the staple," concluded Hersh.
*********************************
Facebook @ https://www.facebook.com/paul.j.watson.71
FOLLOW Paul Joseph Watson @ https://twitter.com/PrisonPlanet
Paul Joseph Watson is the editor and writer for Infowars.com and Prison Planet.com. He is the author of Order Out Of Chaos. Watson is also a host for Infowars Nightly News.
This article was posted: Friday, September 27, 2013 at 12:52 pm
Tags: domestic news, mainstream media, terrorism
Seymour Hersh Calls Osama Bin Laden Raid A Lie
Pulitzer-prize wining journalist slams "pathetic" US media for failing to challenge White House. http://www.infowars.com/seymour-hersh...
Seal Team 6 Dad Blasts Obama
http://www.michaelstrangefoundation.org/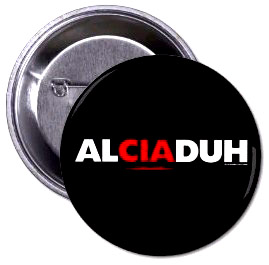 The United States Has Supplied Millions To The FSA (Free Syrian Army), Many Of Which Are Alqaeda Fighters From Iraq!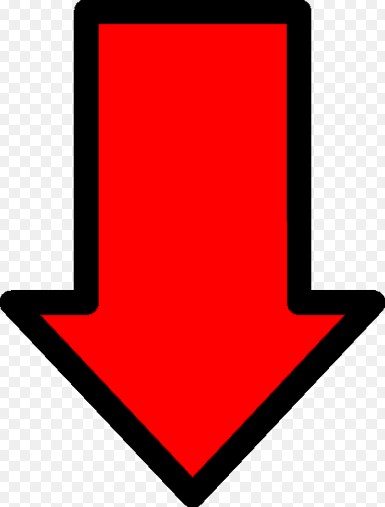 Full Disclosure: What the Media Isn't Telling You About War in Syria
Get engaged right now http://www.benswann.com
"The Goal That I Set To Defeat [FUND] Alqaeda & Deny [ALLOW] It A Chance To Rebuild Is Within Reach"
-- Obama --
LINK : Obama Now Global Head of Alqaeda!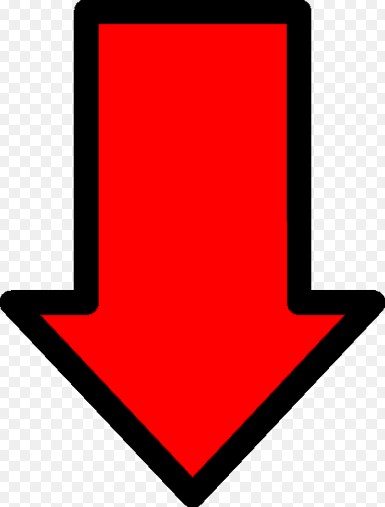 Al Qaeda Now Controls More Territory In The Arab World Than Ever Before

Remember this?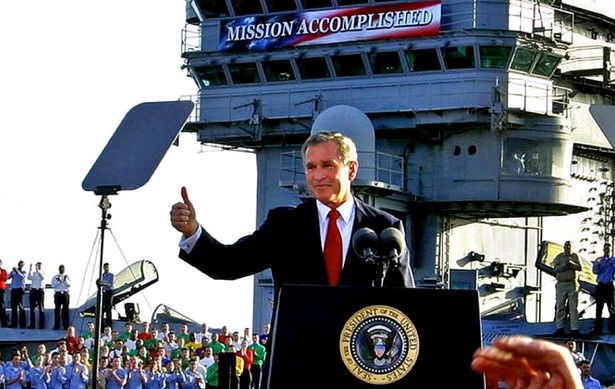 This was the neo-conservatives' victory lap when they supposedly achieved one of their main stated goals: to discover and neutralize terrorist organizations, primarily al Qaeda.
Well, things have changed.
In what can be described a truly ironic event and a major failure for America's stated mission (because one can't help but wonder at all the support various Al Qaeda cells have received from the US and/or CIA) of eradicating the Al Qaeda scourge from the face of the earth, we learn today that al Qaeda appears to control more territory in the Arab world than it has done at any time in its history. According to a CNN report "from around Aleppo in western Syria to small areas of Falluja in central Iraq, al Qaeda now controls territory that stretches more than 400 miles across the heart of the Middle East, according to English and Arab language news accounts as well as accounts on jihadist websites."
The following recent map from Jane's shows just how extensive Al Qaeda's influence has grown in recent years.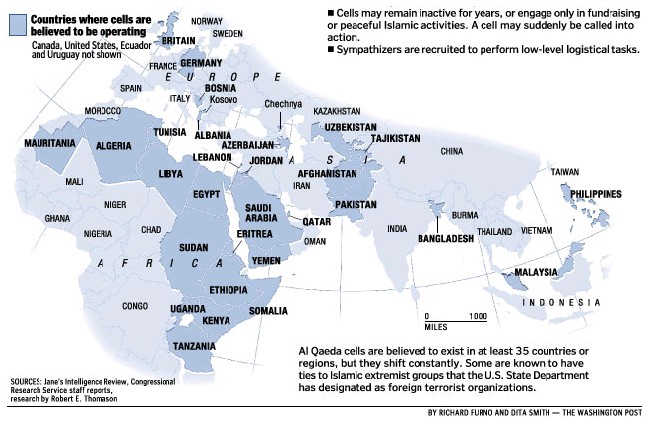 And nowhere is the surge of Al Qaeda more visible than in recent events in Iraq. From CNN:
The focus of al Qaeda's leaders has always been regime change in the Arab world in order to install Taliban-style regimes. Al Qaeda's leader Ayman al-Zawahiri acknowledged as much in his 2001 autobiography, "Knights Under the Banner of the Prophet," when he explained that the most important strategic goal of al Qaeda was to seize control of a state, or part of a state, somewhere in the Muslim world, explaining that, "without achieving this goal our actions will mean nothing."
Now al-Zawahiri is closer to his goal than he has ever been. On Friday al-Qaeda's affiliate in Iraq seized control of parts of the city of Falluja and parts of the city of Ramadi, both of which are located in Iraq's restive Anbar Province.
Anbar is home to predominantly Sunni Muslims, who feel that that the Shiite-dominated Iraqi government of Prime Minister Nuri al-Maliki treats the Sunnis as second-class citizens.
Sectarian tensions in Anbar recently burst into several all-out revolts against the government, and the Islamic State of Iraq and Syria (ISIS), as the al-Qaeda affiliate there is known, quickly seized the opportunity to notch some battlefield victories.
Government forces increased their presence around Falluja in response and on Tuesday tribal leaders issued a statement urging people who had fled the city or stopped reporting to work to return.
America's escapade in Syria - where it was merely a puppet for Qatari nat gas oligarchs - has also backfired.
ISIS is also operating in Syria, where it has established a presence in many areas of the Aleppo and Idlib Governorates in the northwest. In August, ISIS launched a propaganda series on video highlighting their activities in Syria, which includes interviews with fighters; the "graduation" of a group of mujahedin "cubs" (aged about 7 to 10 years old) from training, and sermons at local mosques preaching al Qaeda's interpretation of Islam.
The al-Nusra front has claimed to control parts of at least a dozen Syrian towns. Those include sections of the ancient city of the Aleppo in the northwest, where fighters have been filmed running a community fair and preaching al Qaeda's values to crowds of children. The group has also released videos on jihadist websites claiming that it is providing services to the people of several towns in the governorate of Idlib, which borders the Aleppo Governorate to the west. Al Nusra claims that it is a quasi-government and service-provider in the towns of Binnish, Taum, and Saraqib.
Al-Nusra fighters allied to al Qaeda function like a government in areas they control in Syria. The group provides daily deliveries of bread, free running water and electricity, a health clinic, and a strict justice system based on Sharia law in the eastern Syrian city of Ash Shaddadi, where it also took control of the city's wheat silos and oil wells. In September a CNN reporting team concluded, "Al Qaeda has swept to power with the aim of imposing a strict Islamist ideology on Syrians across large swathes of Syria's rebel-held north."
In sum, al Qaeda affiliates now control much of northern and northwestern Syria as well as some parts of eastern Syria, as well as much of Anbar province, which is around a third of Iraqi territory.
It wouldn't be a US diplomatic debacle without at least one soundbite from John Kerry. So here it is:
Secretary of State John Kerry said on Sunday that the United States will "do everything that is possible to help" the Iraqi government control al Qaeda's expansion in Anbar, but stressed that no American troops would be sent back to the Middle Eastern nation . Last month, the United States quietly sent Hellfire missiles and surveillance drones to the Iraqi government to support their fight against increasing al Qaeda-related violence.
The question of how quickly the US "gift" was intercepted by Al Qaeda is rhetorical. The other rhetorical question is how long until the now much better armed (with US weapons) jihadists will turn those same weapons on the liberating Western powers. The US for now seems safe. Europe is a different matter.
For the United States the widening reach of al Qaeda in the Middle East doesn't necessarily translate into an immediate threat at home. So far only a handful of Americans have fought in the Syrian conflict alongside al Qaeda's affiliates there so concerns about some kind of "blowback" from the Syrian war in the U.S. are, at this point, unfounded.
European countries are rightly concerned, however. Many European countries have seen their citizens drawn to the Syrian war; more than a hundred from Britain and many dozens from countries like Norway, Denmark and the Netherlands, according to multiple European officials we have spoken to. These countries are concerned that the returning veterans of the Syrian conflict might launch terrorist attacks in Europe.
In October for instance, British authorities arrested militants who were allegedly planning a terrorist attack. Two British officials who work on counterterrorism issues told us that that the militants had recently traveled to Syria.
Finally, none of this should come as a surprise to anyone. Ron Paul, for one, has long predicted precisely this chain of events. In this context his latest commentary, posted here over the weekend, bears repeating.
Iraq: The 'Liberation' Neocons Would Rather Forget
Remember Fallujah? Shortly after the 2003 invasion of Iraq, the US military fired on unarmed protestors, killing as many as 20 and wounding dozens. In retaliation, local Iraqis attacked a convoy of US military contractors, killing four. The US then launched a full attack on Fallujah to regain control, which left perhaps 700 Iraqis dead and the city virtually destroyed.
According to press reports last weekend, Fallujah is now under the control of al-Qaeda affiliates. The Anbar province, where Fallujah is located, is under siege by al-Qaeda. During the 2007 "surge," more than 1,000 US troops were killed "pacifying" the Anbar province. Although al-Qaeda was not in Iraq before the US invasion, it is now conducting its own surge in Anbar.

For Iraq, the US "liberation" is proving far worse than the authoritarianism of Saddam Hussein, and it keeps getting worse. Last year was Iraq's deadliest in five years. In 2013, fighting and bomb blasts claimed the lives of 7,818 civilians and 1,050 members of the security forces. In December alone nearly a thousand people were killed.

I remember sitting through many hearings in the House International Relations Committee praising the "surge," which we were told secured a US victory in Iraq. They also praised the so-called "Awakening," which was really an agreement by insurgents to stop fighting in exchange for US dollars. I always wondered what would happen when those dollars stopped coming.

Where are the surge and awakening cheerleaders now?

One of them, Richard Perle, was interviewed last year on NPR and asked whether the Iraq invasion that he pushed was worth it. He replied:
I've got to say I think that is not a reasonable question. What we did at the time was done in the belief that it was necessary to protect this nation. You can't a decade later go back and say, well, we shouldn't have done that.
Many of us were saying all along that we shouldn't have done that – before we did it. Unfortunately the Bush Administration took the advice of the neocons pushing for war and promising it would be a "cakewalk." We continue to see the results of that terrible mistake, and it is only getting worse.

Last month the US shipped nearly a hundred air-to-ground missiles to the Iraqi air force to help combat the surging al-Qaeda. Ironically, the same al-Qaeda groups the US is helping the Iraqis combat are benefiting from the US covert and overt war to overthrow Assad next door in Syria. Why can't the US government learn from its mistakes?

The neocons may be on the run from their earlier positions on Iraq, but that does not mean they have given up. They were the ones pushing for an attack on Syria this summer. Thankfully they were not successful. They are now making every effort to derail President Obama's efforts to negotiate with the Iranians. Just last week William Kristol urged Israel to attack Iran with the hope we would then get involved. Neoconservative Senators from both parties recently introduced the Nuclear Weapon Free Iran Act of 2013, which would also bring us back on war-footing with Iran.

Next time the neocons tell us we must attack, just think "Iraq."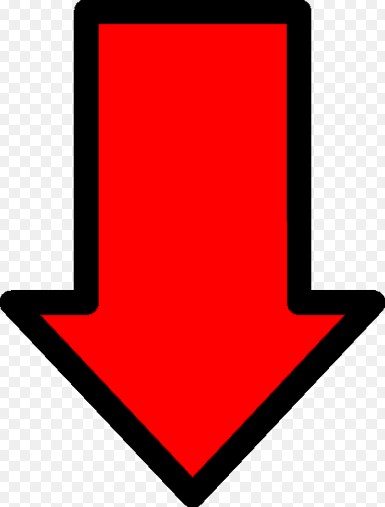 REPORT: Al Qaeda Stronger Than They Have Been In 8 Years
Despite claims that Al Qaeda is on the run, a new report shows that Al Qaeda is actually stronger than they have been in 8 years. In this video, Ben takes a look at why that is and what it means for America's foreign policy.

LINK : WE WHO DARE SAY NO TO WAR!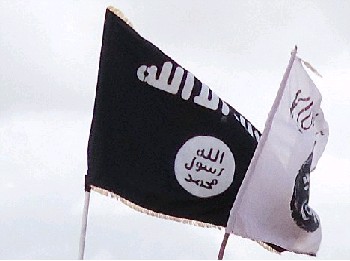 Thanks To Obama, The Al-Qaeda Flag Is Now Flying High And Proud Over Libya
The American Dream
Friday, November 4, 2011
The Al-Qaeda flag has been flying high over Libya and the governments of the western world that helped remove Gaddafi from power don't seem to mind at all. The flag, which contains the phrase "there is no God but Allah" with a full moon underneath, has been photographed flying beside the new national flag of Libya at the courthouse in Benghazi.
The courthouse in Benghazi is where the "rebels" established their provisional government, and it is where the "media center" for communication with foreign journalists was located during the fight against Gaddafi. So it isn't as if the al-Qaeda flag has been flying over some insignificant building. But this should be no surprise. It has been known all along that al-Qaeda was very heavily represented in the army of "the rebels" and among the leadership of "the rebels". Now, thanks to Obama, they have taken over Libya and they intend to impose a brutal form of Sharia law on the entire Libyan population.
You can see more pictures of the al-Qaeda flag flying over Libya on the website of the Telegraph and on the website of the Daily Mail.
The following is video of the al-Qaeda flag flying over the courthouse in Benghazi….
"So where is the uproar about this in the U.S. media?
The silence has been deafening."
I guess it would be hard to explain to the American people why they should be sacrificing their sons and daughters to fight al-Qaeda when we just spent billions of dollars helping them take over Libya.
Sadly, the flag of al-Qaeda is not just being flown at the Benghazi courthouse. According to eyewitnesses, it is now being displayed all over Benghazi. The following is an account from an eyewitness that has seen the flag flying over the Benghazi courthouse for himself….
It was here at the courthouse in Benghazi where the first spark of the Libyan revolution ignited. It's the symbolic seat of the revolution; post-Gaddafi Libya's equivalent of Egypt's Tahrir Square. And it was here, in the tumultuous months of civil war, that the ragtag rebel forces established their provisional government and primitive, yet effective, media center from which to tell foreign journalists about their "fight for freedom."

But according to multiple eyewitnesses—myself included—one can now see both the Libyan rebel flag and the flag of al Qaeda fluttering atop Benghazi's courthouse.

According to one Benghazi resident, Islamists driving brand-new SUVs and waving the black al Qaeda flag drive the city's streets at night shouting, "Islamiya, Islamiya! No East, nor West," a reference to previous worries that the country would be bifurcated between Gaddafi opponents in the east and the pro-Gaddafi elements in the west.
So what in the world are we supposed to think about all this?
We were told that we had to invade Afghanistan because they were harboring "al-Qaeda" leaders.
We were told that it was necessary for us to stay in Iraq for so long so that "al-Qaeda" would not take over.
But now we have helped al-Qaeda take over Libya.
It isn't as if the governments of the western world did not know what was going on in Libya.
According to the Telegraph, the leader of the Libyan rebels was very open about the fact that his "troops" included significant numbers of al-Qaeda fighters that were firing bullets at U.S. soldiers in Iraq….
Abdel-Hakim al-Hasidi, the Libyan rebel leader, has said jihadists who fought against allied troops in Iraq are on the front lines of the battle against Muammar Gaddafi's regime.
According to a recent article by Kurt Nimmo for Infowars.com, al-Qaeda rebels had established an "Islamic emirate" in eastern Libya as early as February….
In February, it was reported that al-Qaeda had set-up an Islamic emirate in Derna, in eastern Libya, headed by a former prisoner at Guantanamo Bay, Abdelkarim al-Hasadi.
Now that they have won the war, the "rebels" have announced that they will be imposing strict Sharia law all over Libya.
The head of the National Transitional Council in Libya, Moustafa Abdeljalil, has already made this very clear. Just consider the following statements….
-"Sharia law is the source of all our laws."
-"We take the Islamic religion as the core of our new government"
-"The constitution will be based on our Islamic religion"
Shouldn't the people of Libya have a say in all of this?
Sadly, one kind of tyranny has just been replaced with another.
In fact, some elements of Sharia law have already been implemented.
According to a recent article posted on the Telegraph, Mustafa Abdul-Jalil has already announced that the law banning polygamy has been repealed because it is not compliant with Sharia law….
Mr Abdul-Jalil went further, specifically lifting immediately, by decree, one law from Col. Gaddafi's era that he said was in conflict with Sharia – that banning polygamy.
The American people were told that the system of government established by the Taliban in Afghanistan was so repressive that it needed to be overthrown, but now we are helping essentially the exact same system of government be set up in Libya.
It makes no sense whatsoever.
Not only that, we have greatly destabilized the region and there will almost certainly be very bloody internal conflicts within Libya for many years to come.
The following comes from a recent report posted by The New American….
Gadhafi and the remnants of his regime are thought to have distributed vast stockpiles of weapons and wealth so anti-revolutionary forces could wage what the despot promised would be a long-lasting insurgency. Many of those fighters fled to the desert and are staging surprise attacks on roaming bands of militiamen.

The ongoing battles have sparked widespread speculation that the bloody conflicts will continue to rage far into the future.
In addition, as The New American notes, as a result of this conflict huge amounts of very dangerous weapons have fallen into the hands of potential terrorists….
Advanced weaponry including anti-aircraft missiles has also fallen into the hands of known terrorist organizations. The deadly stockpiles are turning up all over the region, but it remains unclear how much firepower has been smuggled out of the country so far.
But does the Obama administration seem alarmed by any of this?
No, they just want us all to praise them for a "job well done" in Libya.
Hopefully the American people will see right through this nonsense.
The flag of al-Qaeda has been flying over the headquarters of the provisional government in Libya, and yet the American people are the ones that are being treated as potential terrorists.
Our borders are wide open and anyone that wants to can sneak into this country, and yet we are told that we must have our private parts examined before we are allowed to get on to an airplane.
Something is very, very wrong. Somehow the focus of national security has gone from protecting the American people to spying on the American people.
As I wrote about yesterday, the government has become absolutely obsessed with watching us, listening to us, tracking us, recording us, compiling information on all of us and getting us all to spy on one another.
Meanwhile, the U.S. government has been spending billions of dollars to help al-Qaeda take power in Libya and is helping them enslave the entire Libyan population to a brutal form of Sharia law.
Can anyone explain how this makes any sense at all?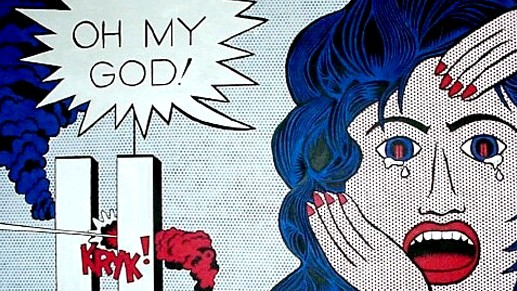 "If You Are Scared, [the Terrorists] Win. If You Refuse To Be Scared, They Lose"
Washington's Blog
January 21, 2014
Northwestern professor Peter Ludlow writes in the New York Times:
Philosophers have long noted the utility of fear to the state. Machiavelli notoriously argued that a good leader should induce fear in the populace in order to control the rabble.

Hobbes in "The Leviathan" argued that fear effectively motivates the creation of a social contract in which citizens cede their freedoms to the sovereign. The people understandably want to be safe from harm. The ruler imposes security and order in exchange for the surrender of certain public freedoms. As Hobbes saw it, there was no other way: Humans, left without a strong sovereign leader controlling their actions, would degenerate into mob rule. It is the fear of this state of nature — not of the sovereign per se, but of a world without the order the sovereign can impose — that leads us to form the social contract and surrender at least part of our freedom.
In addition to Machiavelli and Hobbes, University of Chicago professor Leo Strauss and German philosopher Carl Schmitt espoused the same views:
Leo Strauss is the father of the Neo-Conservative movement, including many leaders of recent American administrations. Indeed, many of the main neocon players – including Paul Wolfowitz, Richard Perle, Stephen Cambone, Elliot Abrams, and Adam Shulsky – were students of Strauss at the University of Chicago, where he taught for many years.

***

What did Strauss teach?

Strauss, born in Germany, was an admirer of Nazi philosophers such as Carl Schmitt and of Machiavelli (more on Schmitt later).

Strauss believed that a stable political order required an external threat and that if an external threat did not exist, one should be manufactured. Specifically, Straussthought that:

A political order can be stable only if it is united by an external threat . . . . Following Machiavelli, he maintained that if no external threat exists then one has to be manufactured.

(the quote is by one of Strauss' main biographers).

Indeed, Stauss used the analogy of Gulliver's Travels to show what a Neocon-run society would look like:

"When Lilliput [the town] was on fire, Gulliver urinated over the city, including the palace. In so doing, he saved all of Lilliput from catastrophe, but the Lilliputians were outraged and appalled by such a show of disrespect." (this quote also from the same biographer)

Moreover, Strauss said:

Only a great fool would call the new political science diabolic . . .Nevertheless one may say of it that it fiddles while Rome burns. It is excused by two facts: it does not know that it fiddles, and it does not know that Rome burns.

So Strauss seems to have advocated governments letting terrorizing catastrophes happen on one's own soil to one's own people — of "pissing" on one's own people, to use his Gulliver's travel analogy. And he advocated that government's should pretend that they did not know about such acts of mayhem: to intentionally "not know" that Rome is burning. He advocated messing with one's own people in order to save them from some artificial "catastrophe". In other words, he proposed using deceit in order to demonize an adversary and artificially turn him into a dangerous enemy.

***

But to really understand Strauss – and thus the Neocons – one must understand his main influence: Carl Schmitt. Schmitt was the leading Nazi legal scholar and philosopher who created the justification for "total war" to destroy those labeled an "enemy" of the Nazi state.

Strauss was a life-long follower of Schmitt, and Schmitt helped Strauss get a scholarship which let him escape from Germany and come to America.

Not only was Strauss heavily influenced by Schmitt, but Strauss and Schmitt were so close that – when Strauss criticized Schmitt for being too soft and not going far enough – Schmitt agreed:

Schmitt himself recommended Strauss's commentary [on Schmitt's writing] to his friends as one that he believed saw right through him like an X-ray.

Schmitt's philosophy argued that the sovereign was all-powerful in being able to to declare a state of emergency. As Neil Levi explains:

The sovereign is the name of that person (legal or actual) who decides not only that the situation is a state of exception but also what needs to be done to eliminate the state of exception and thus preserve the state and restore order. Note the circularity of the definitions: the sovereign is the one who decides that there is a state of exception; a state of exception is that which the sovereign deems to be so.

The sovereign eliminates the state of exception to restore order, but the content of this order is historically contingent, because it is dependent on the sovereign's will. All that matters to Schmitt is, as Slavoj Žižek puts it, "the decision for the formal principle of order as such." Similarly, Schmitt says nothing, can say nothing, about what it is that makes a [principle] worth defending with one's life, what substance and concrete content could or should compel one to make such a commitment to preserve this form.

Indeed, Schmitt says that "politics" is not the process of debate, making trade-offs, building consensus or letting the best ideas win. Instead, the sovereign – through an act of will – makes a decision, and then the political system should carry it out, and the military effectuate it.

George W. Bush's statement that he was the "decider" fits in nicely with Schmitt's theories. [Similarly, Obama is ignoring the will of the people. Indeed, Obama is worse than Bush in favoring the super-elite, bailing out the big banks, protecting financial criminals, targeting whistleblowers, keeping government secrets, trampling our liberties and starting military conflicts in new countries. Obama is even worse than Bush in redistributing wealth from the American people to a handful of fatcats and spying on Americans. Obama is also worse than Bush in appointing cronies to powerful government positions.]

Moreover, Schmitt argued that war against one's enemy is total – lacking any legal constraints – but the sovereign can use ever-shifting definitions of who the enemy is:

War is the existential negation of the enemy.

***

As with the state of exception, there are not rational criteria for distinguishing friend from enemy. All conflict is situational conflict.

***

Indeed, Schmitt said that those who are like our "brothers", who are as much the same as different from us, must be demonized so that we don't feel any compassion for them. They are either "with us or against us", regardless of whether or not they are good people, or how close to us they may be.

The Georgetown University Law Center notes:

Schmitt denounces all "neutralizations and depoliticizations," which for him are the hallmarks of liberalism. There are no neutralizations: if you are not with us you are against us and we will destroy you: "If a part of the population declares that it no longer recognizes enemies, then, depending on the circumstance, it joins their side and aids them."

Indeed, Schmitt believed that demonization and war must be maintained for their own sake, or else a horrible world where peace and culture reined would be created:

Schmitt writes that if war became impossible, then "the distinction of friend and enemy would also cease" and what remained would be "neither politics nor state, but culture, civilization,economics, morality, law, art, entertainment, and so on"….
Current American Politicians Still Follow the Old Fear Playbook
Professor Ludlow continues in the New York Times:
Since 9/11 leaders of both political parties in the United States have sought to consolidate power by leaning not just on the danger of a terrorist attack, but on the fact that the possible perpetrators are frightening individuals who are not like us. As President George W. Bush put it before a joint session of Congress in 2001: "They hate our freedoms: our freedom of religion, our freedom of speech, our freedom to vote and assemble and disagree with each other." Last year President Obama brought the enemy closer to home, arguing in a speech at the National Defense University that "we face a real threat from radicalized individuals here in the United States" — radicalized individuals who were "deranged or alienated individuals — often U.S. citizens or legal residents."

The Bush fear-peddling is usually considered the more extreme, but is it? The Obama formulation puts the "radicalized individuals" in our midst. They could be American citizens or legal residents. And the subtext is that if we want to catch them we need to start looking within. The other is among us. The pretext for the surveillance state is thus established.

And let there be no mistake about the consolidation of power in the form of the new surveillance state. Recent revelations by Edward Snowden have shown an unprecedented program of surveillance both worldwide and on the American population. Even Erik Prince, the founder of the private military contractor Blackwater Worldwide thinks the security state has gone too far:

America is way too quick to trade freedom for the illusion of security. Whether it's allowing the N.S.A. to go way too far in what it intercepts of our personal data, to our government monitoring of everything domestically and spending way more than we should. I don't know if I want to live in a country where lone wolf and random terror attacks are impossible 'cause that country would look more like North Korea than America.

***

The interesting thing about the security measures that are taken today is that they provide, as Prince puts it, the "illusion of security"; another way to put it is that they provide "security theater." Or perhaps it is actually a theater of fear.

During the George W. Bush administration we were treated to the color-coded terror threat meter. It was presented as a way to keep us secure, but constantly wavering between orange and red, it was arguably a device to remind us to be fearful. Similarly for the elaborate Transportation Security Administration screenings at airports. Security experts are clear that these procedures are not making us safe, and that they are simply theater. The only question is whether the theater is supposed to make us feel safer or whether it is actually intended to remind us that we are somehow in danger. The security expert Bruce Schneier suggests it is the latter:

By sowing mistrust, by stripping us of our privacy — and in many cases our dignity — by taking away our rights, by subjecting us to arbitrary and irrational rules, and by constantly reminding us that this is the only thing between us and death by the hands of terrorists, the T.S.A. and its ilk are sowing fear. And by doing so, they are playing directly into the terrorists' hands.

***

As the Norwegian philosopher Lars Svendsen notes in his book "A Philosophy of Fear," Hobbes already anticipated the need for the sovereign to manipulate our fears. The state, Svendsen writes, "has to convince the people that certain things should be feared rather than others, since the people will not, just like that, fear what is appropriate from the point of view of the state. Hobbes points out that this can necessitate a certain amount ofstaging by the state, which magnifies certain phenomena and diminishes others."

***

Even democracies founded in the principles of liberty and the common good often take the path of more authoritarian states. They don't work to minimize fear, but use it to exert control over the populace and serve the government's principle aim: consolidating power.

***

Fear is even used to prevent us from questioning the decisions supposedly being made for our safety. The foundation of this approach in our government can be traced back to burning rubble of the World Trade Center, exemplified by this statement by John Ashcroft, then the attorney general of the United States, in December 2001: "To those who scare peace-loving people with phantoms of lost liberty, my message is this. Your tactics only aid terrorists, for they erode our national unity and diminish our resolve. They give ammunition to America's enemies, and pause to America's friends."

As Svendsen points out, Ashcroft's reasoning is straight out of the playbook of the German legal philosopher Carl Schmitt, who was notorious for defending Hitler's extrajudicial killings of his political enemies. Schmitt too felt that national unity was critical and that liberty should be subjugated to safety.
Indeed, FBI agents and CIA intelligence officials, constitutional law expert professor Jonathan Turley, Time Magazine, Keith Olbermann and the Washington Post have all said that U.S. government officials "were trying to create an atmosphere of fear in which the American people would give them more power".
And former Secretary of Homeland Security Tom Ridge admits that he was pressured to raise terror alerts to help Bush win reelection. Fear sells.
This didn't stop with Bush … politicians are still still fearmongering every chance they get. (Indeed, the biggest fearmongerers themselves quietly back terrorism).
Ludlow points out that the government has steered us away from addressing the threats which actually threaten our safety … and whipped up an disproportionate fear of a terrorist hiding behind every bush. In reality, you're more likely to be killed by lightning, toddlers, or brain-eating parasites than by terrorists.
Sociologists have shown that fear of terrorism makes people stupid and malleable (indeed, fear can make people miss obvious absurdities … such as the fact that America now supports are supposed mortal enemy.)
So politicians will go to tremendous lengths to create fear … in the way the Machiavelli, Hobbes, Strauss and Schmidt recommended.
As we've previously noted:
A continuous "state of emergency" is required for the type of leadership advocated by Schmitt and Strauss. In 2002, Slavoj Žižek pointed out how this continuous state of emergency works:

A notable precursor in this field of para-legal 'biopolitics', in which administrative measures are gradually replacing the rule of law, was Alfredo Stroessner's regime in Paraguay in the 1960s and 1970s, which took the logic of the state of exception to an absurd, still unsurpassed extreme. Under Stroessner, Paraguay was – with regard to its Constitutional order – a 'normal' parliamentary democracy with all freedoms guaranteed; however, since, as Stroessner claimed, we were all living in a state of emergency because of the worldwide struggle between freedom and Communism, the full implementation of the Constitution was forever postponed and a permanent state of emergency obtained. This state of emergency was suspended every four years for one day only, election day, to legitimise the rule of Stroessner's Colorado Party with a 90 per cent majority worthy of his Communist opponents. The paradox is that the state of emergency was the normal state, while 'normal' democratic freedom was the briefly enacted exception. This weird regime anticipated some clearly perceptible trends in our liberal-democratic societies in the aftermath of 11 September. Is today's rhetoric not that of a global emergency in the fight against terrorism, legitimising more and more suspensions of legal and other rights? The ominous aspect of John Ashcroft's recent claim that 'terrorists use America's freedom as a weapon against us' carries the obvious implication that we should limit our freedom in order to defend ourselves. Such statements from top American officials, especially Rumsfeld and Ashcroft, together with the explosive display of 'American patriotism' after 11 September, create the climate for what amounts to a state of emergency, with the occasion it supplies for a potential suspension of rule of law, and the state's assertion of its sovereignty without 'excessive' legal constraints. America is, after all, as President Bush said immediately after 11 September, in a state of war. The problem is that America is, precisely, not in a state of war, at least not in the conventional sense of the term (for the large majority, daily life goes on, and war remains the exclusive business of state agencies). With the distinction between a state of war and a state of peace thus effectively blurred, we are entering a time in which a state of peace can at the same time be a state of emergency.

[On 9/11, Vice President Dick Cheney initiated Continuity of Government Plans that superseded America's constitutional form of government (at least for some undetermined period of time.) On that same day, a national state of emergency was declared … and that state of emergency has continuously been in effect up until today.]

Columbia Law School professor Scott Horton notes that Schmitt's philosophy formed the basis of the famous torture memos:

Where exactly did [Department of Justice torture memo author John] Yoo come up with the analysis that led to the purported conclusions that the Executive was not restrained by the Geneva Conventions and similar international instruments in its conduct of the war in Iraq? Yoo's public arguments and statements suggest the strong influence of one thinker: Carl Schmitt.

***

Perhaps the most significant German international law scholar of the era between the wars, Schmitt was obsessed with what he viewed as the inherent weakness of liberal democracy. He considered liberalism, particularly as manifested in the Weimar Constitution, to be inadequate to the task of protecting state and society menaced by the great evil of Communism. This led him to ridicule international humanitarian law in a tone and with words almost identical to those recently employed by Yoo and several of his colleagues.

Beyond this, Yoo's prescription for solving the "dilemma" is also taken straight from the Schmittian playbook. According to Schmitt, the norms of international law respecting armed conflict reflect the romantic illusions of an age of chivalry. They are "unrealistic" as applied to modern ideological warfare against an enemy not constrained by notions of a nation-state, adopting terrorist methods and fighting with irregular formations that hardly equate to traditional armies. (Schmitt is, of course, concerned with the Soviet Union here; he appears prepared to accept that the Geneva and Hague rules would apply on the Western Front in dealing with countries such as Britain and the United States). For Schmitt, the key to successful prosecution of warfare against such a foe is demonization. The enemy must be seen as absolute. He must be stripped of all legal rights, of whatever nature. The Executive must be free to use whatever tools he can find to fight and vanquish this foe. And conversely, the power to prosecute the war must be vested without reservation in the Executive – in the words of Reich Ministerial Director Franz Schlegelberger (eerily echoed in a brief submission by Bush Administration Solicitor General Paul D. Clement), "in time of war, the Executive is constituted the sole leader, sole legislator, sole judge." (I take the liberty of substituting Yoo's word, Executive; for Schmitt or Schlegelberger, the word would, of course, have been Führer). In Schmitt's classic formulation: "a total war calls for a total enemy." This is not to say that in Schmitt's view the enemy was somehow "morally evil or aesthetically unpleasing;" it sufficed that he was "the other, the outsider, something different and alien." These thoughts are developed throughout Schmitt's work, but particularly in Der Begriff des Politischen (1927), Frieden oder Pazifismus (1933) and Totaler Feind, totaler Krieg, totaler Staat (1937).

***

A careful review of the original materials shows that the following rationales were advanced for decisions not to apply or to restrict the application of the Geneva Conventions of 1929 and the Hague Convention of 1907 during the Second World War:

(1) Particularly on the Eastern Front, the conflict was a nonconventional sort of warfare being waged against a "barbaric" enemy which engaged in "terrorist" practices, and which itself did not observe the law of armed conflict.

(2) Individual combatants who engaged in "terrorist" practices, or who fought in military formations engaged in such practices, were not entitled to protections under international humanitarian law, and the adjudicatory provisions of the Geneva Conventions could therefore be avoided together with the substantive protections.

(3) The Geneva and Hague Conventions were "obsolete" and ill-suited to the sort of ideologically driven warfare in which the Nazis were engaged on the Eastern Front, though they might have limited application with respect to the Western Allies.

(4) Application of the Geneva Conventions was not in the enlightened self-interest of Germany because its enemies would not reciprocate such conduct by treating German prisoners in a humane fashion.

(5) Construction of international law should be driven in the first instance by a clear understanding of the national interest as determined by the executive. To this end niggling, hypertechnical interpretations of the Conventions that disregarded the plain text, international practice and even Germany's prior practice in order to justify their nonapplication were entirely appropriate.

(6) In any event, the rules of international law were subordinated to the military interests of the German state and to the law as determined and stated by the German Führer.

The similarity between these rationalizations and those offered by John Yoo in his hitherto published Justice Department memoranda and books and articles is staggering.
The Terrorists Lose If We Refuse to Be Terrorized
Ludlow ends on a hopeful note:
Fear is a primal human state. From childhood on, we fear the monsters of our imaginations, lurking in dark closets, under beds, in deserted alleyways, but we also now fear monsters in the deserts of Yemen and the mountains of Pakistan. But perhaps it is possible to pause and subdue our fears by carefully observing reality — just as we might advise for trying to calm and comfort a fear-stricken child. We might find that, in reality, the more immediate danger to our democratic society comes from those who lurk in the halls of power in Washington and other national capitols and manipulate our fears to their own ends.

What are these ends? They are typically the protection of moneyed interests. In 1990, the Secretary of State James Baker tried to make the case for the first Gulf War on economic grounds. "The economic lifeline of the industrial world," he said, "runs from the gulf and we cannot permit a dictator such as this to sit astride that economic lifeline."

That rationale, although honest, did not resonate with the American people — it hardly seemed to justify war. The George W. Bush administration abandoned the economic justification and turned to fear as a motivator.

***

Ultimately we are not powerless. We can resist the impulse to be afraid. We may not at the moment have answers to the very real dangers that we face in this world, but we can begin to identify those dangers and seek solutions once we overcome our fear. Or as Bertrand Russell rather more elegantly put it, as World War II was drawing to a close, "to conquer fear is the beginning of wisdom."
Indeed, security expert Bruce Scheiner writes:
The damage from terrorism is primarily emotional. To the extent this terrorist attack succeeds has very little do with the attack itself. It's all about our reaction. We must refuse to be terrorized. Imagine if the bombs were found and moved at the last second, and no one died, but everyone was just as scared. The terrorists would have succeeded anyway. If you are scared, they win. If you refuse to be scared, they lose, no matter how much carnage they commit.
Reason noted in 2006:
Already, security measures—pervasive ID checkpoints, metal detectors, and phalanxes of security guards—increasingly clot the pathways of our public lives. It's easy to overreact when an atrocity takes place—to heed those who promise safety if only we will give the authorities the "tools" they want by surrendering to them some of our liberty. As President Franklin Roosevelt in his first inaugural speech said, "The only thing we have to fear is fear itself— nameless, unreasoning, unjustified terror which paralyzes needed efforts to convert retreat into advance." However, with risks this low there is no reason for us not to continue to live our lives as though terrorism doesn't matter—because it doesn't really matter. We ultimately vanquish terrorism when we refuse to be terrorized.
Courage is contagious … and every single one of us has a huge reserve of courage just waiting for us to tap.
When we tap into our inner strength, we beat the terrorists … whether they're sitting in a cave on the other side of the world or in Washington.
Postscript: Courage is a Christian and a spiritual value. Indeed, real Christians, Jews, Hindus, Buddhists, Muslims, and atheists find the courage to stand up to tyrants.
This article was posted: Tuesday, January 21, 2014 at 5:56 am
Tags: terrorism
The Osama Bin Laden Death Hoax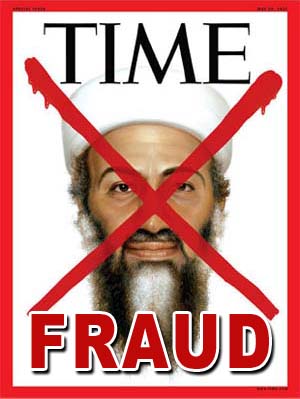 Bin Laden was a strawman-villain concocted by the Western intelligence apparatus to take the blame for the orchestrated terror that is scripted and carried out by the globalist-allied factions. The Phantom Osama bin Laden was a skeleton key opening the door to foreign intervention in the middle east or anywhere al Qaeda might be. The motive is simple-- ever-expanding wars for the military industrial complex, and the often more lucrative periods of reconstruction (i.e. you break it, you buy it). The occupation continues here at home with the creation of a police state supposedly meant to combat terrorism.
LINK : The OBL Death Hoax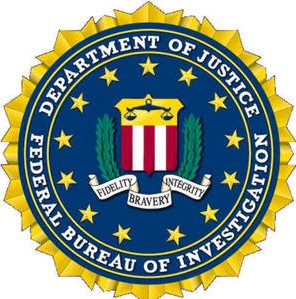 Michael German
reason.com
January 16, 2013
Imagine a country in which the government pays convicted con artists and criminals to scour minority religious communities for disgruntled, financially desperate, or mentally ill patsies who can be talked into joining fake terror plots, even if only for money. Imagine that the country's government then busts its patsies with great fanfare to justify ever-increasing authority and ever-increasing funding. According to journalist Trevor Aaronson's The Terror Factory, this isn't the premise for a Kafka novel; it's reality in the post-9/11 United States.
The Terror Factory is a well-researched and fast-paced exposé of the dubious tactics the FBI has used in targeting Muslim Americans with sting operations since 2001. The book updates and expands upon Aaronson's award-winning 2011 Mother Jones cover story, "The Informants." Most readers have likely heard about several alleged conspiracies to attack skyscrapers, synagogues, or subway stations, involving either individuals that the FBI calls "lone wolves" or small cells a credulous press tagged with such sinister appellations as the "Newburgh 4″ or the "Liberty City 7." Many of these frightening plots were almost entirely concocted and engineered by the FBI itself, using corrupt agents provocateurs who often posed a far more serious criminal threat than the dim-witted saps the investigations targeted.
"Compelling, shocking, and gritty with intrigue."
—Publishers Weekly
"A real eye-opener that questions how well the country's security is being protected."
—Kirkus Reviews
"The Terror Factory is a damning exposé of how the government's front line against terrorism has become a network of snitches at the end of their ropes, and FBI agents desperate to thwart a terrorist plot even if it means creating one."
—Will Potter, Green is the New Red: An Insider's Account of a Social Movement Under Siege
"A disturbing window into America's war on terror. In story after story, Aaronson reveals in detail how the FBI and its informants are creating crime rather than solving it. This is an important piece of journalism."
—Alexandra Natapoff, Snitching: Criminal Informants and the Erosion of American Justice
"Aaronson explains just how misguided and often deceptive FBI terrorism sting operations have become."
—James J. Wedick, former FBI Supervisory Agent
Are We Catching Terrorists or Creating Them?
Trevor Aaronson discusses his book, The Terror Factory: Inside the FBI's Manufactured War on Terrorism, at Columbia Law Jan. 31, 2013.
Trevor Aaronson discusses his book, The Terror Factory: Inside the FBI's Manufactured War on Terrorism, at Columbia Law Jan. 31, 2013. http://amzn.to/J1c6DD
LINK : F.B.I.

The Next Terrorist Attack - What The Mainstream Media Isn't Telling You
The other information mentioned is extremely easy to find with a simple google [startpage] search. Don't be lazy.
U.S. Backed Terror, Inc.

The U.S. has a deep history in dealing with terror organizations. Joe Biggs breaks down the connections between the US and terror organizations like I.S.I.S.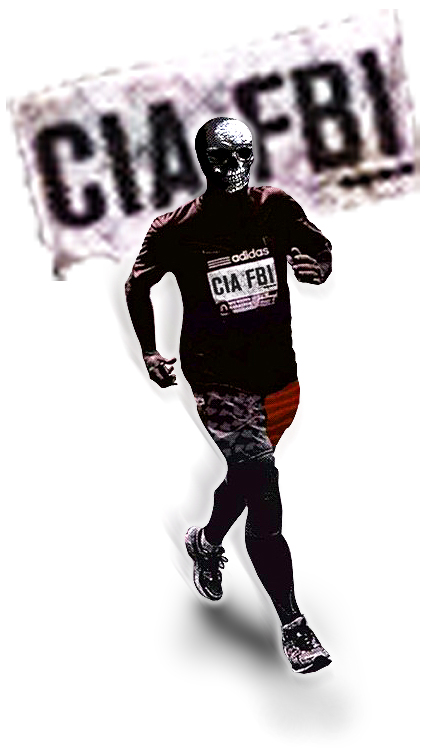 THE CIA
An independent agency of the United States government responsible for collecting and coordinating intelligence and counterintelligence activities abroad in the national interest; headed by the Director of Central Intelligence under the supervision of the President and National Security Council...There has been considerable criticism of the CIA relating to security and counterintelligence failures, failures in intelligence analysis, human rights concerns, external investigations and document releases, influencing public opinion and law enforcement, drug trafficking, and lying to Congress. In 1987, the former CIA Station Chief in Angola in 1976, John Stockwell, said the CIA is responsible for tens of thousands of covert actions and destablization programs since it was created by Congress with the passage of the National Security Act of 1947. At the time, Stockwell estimated that over 6 million people had died in CIA covert actions.
LINK :C.I.A.
THE FBI
The Federal Bureau of Investigation (FBI) is a governmental agency belonging to the United StatesDepartment of Justice that serves as both a federal criminal investigative body and an internal intelligence agency (counterintelligence). Also, it is the government agency responsible for investigating crimes on Indian reservations in the United States under the Major Crimes Act. The branch has investigative jurisdiction over violations of more than 200 categories of federal crime. The agency was established in 1908 as the Bureau of Investigation (BOI). Its name was changed to the Federal Bureau of Investigation (FBI) in 1935. The agency headquarters is the J. Edgar Hoover Building, located in Washington, D.C. The agency has fifty-six field offices located in major cities throughout the United States, and more than 400 resident agencies in lesser cities and areas across the nation. More than 50 international offices called "legal attachés" exist in U.S. embassies and consulates general worldwide.
'Federal Bureau of Investigation organizes almost all terror plots in the US' ...The report reveals that the FBI regularly infiltrates communities where they suspect terrorist-minded individuals to be engaging with others. Regardless of their intentions, agents are sent in to converse within the community, find suspects that could potentially carry out "lone wolf" attacks and then, more or less, encourage them to do so. By providing weaponry, funds and a plan, FBI-directed agents will encourage otherwise-unwilling participants to plot out terrorist attacks, only to bust them before any events fully materialize.
LINK : F.B.I.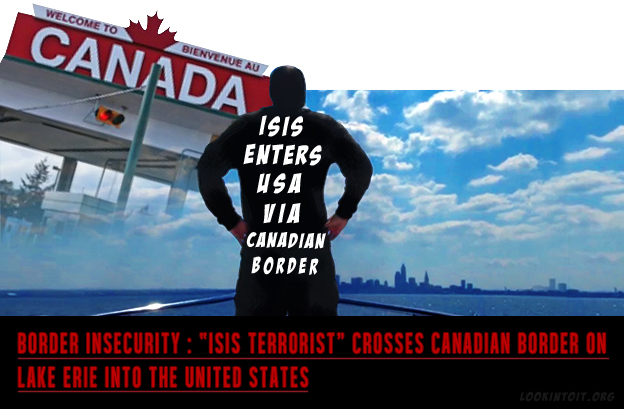 How could there be a War on Terror and actually say that we're having a war against terrorism, and leave the borders wide open? If you were the President of the United States, or I were the President of the United States, and 9/11 really happened the way they want us to believe it happened, the first thing you would do is shut down the borders, so people couldn't get in the country to harm you. But they left the borders wide open. Because the bankers want the borders open, because they want a one-world government. They want a North American Union. They don't want borders here. 9/11 was only a manifestation. It was done to create a fear in the American public, so that we will obey what they want us to do.
LINKS :
Illegal Checkpoints In America
Mobile Van Radiating the Public
Police Trained That Informed Americans Are Terrorists
The NSA (National Security Agency)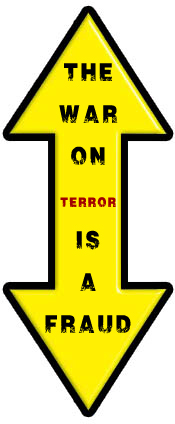 It's no longer Al-Qaeda, it's now supposedly your friends and neighbors. This is the prevailing meme of every tyrannical fascist regime in history.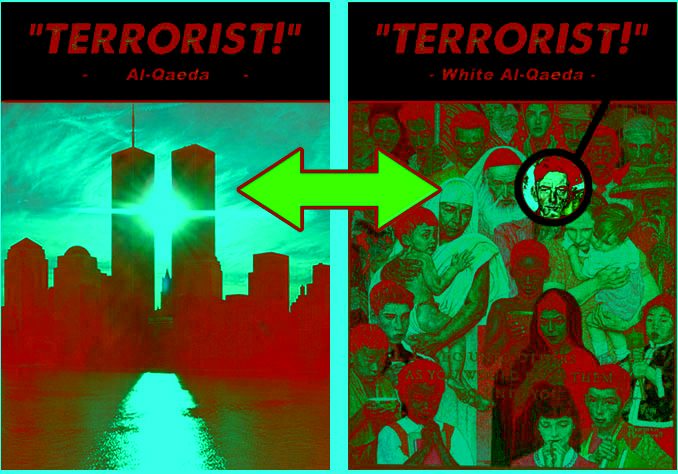 Attorney General Holder: American People Are Terrorists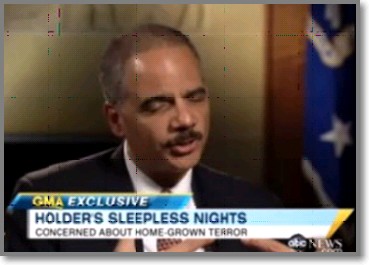 THE WAR ON TERROR IS AN ABSOLUTE FRAUD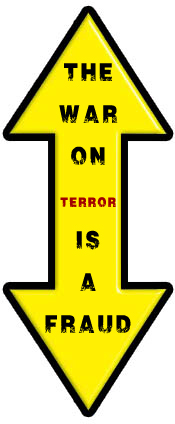 [OBAMA RELEASES MAJOR TERRORIST ORGANIZERS OF THE TALIBAN]
Could Obama Face Impeachment For Bergdahl release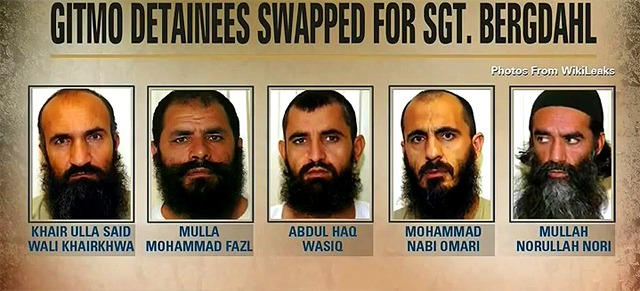 What happened in the last few weeks to change the Bergdahal situation? Was he a CIA operative, or was this a failed attempt to take the heat off the VA scandal?
Impeachment now very valid argument
http://www.infowars.com/judge-napolit...
Jay Carney 2013: we won't transfer detainess without consulting congress
http://www.weeklystandard.com/blogs/j...
Obama clearly broke the law
http://www.infowars.com/pro-obama-har...
Is this a ramp up to "White al Qaeda"
http://www.infowars.com/holder-to-cre...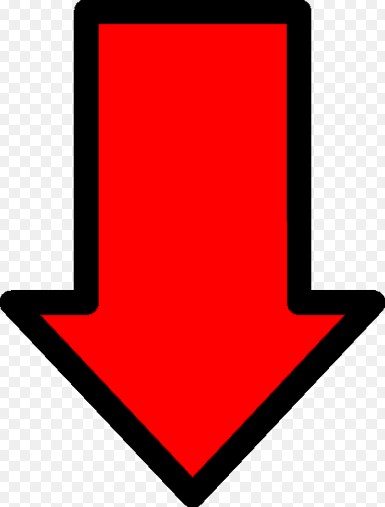 LINK : THE FAKE WAR ON TERROR!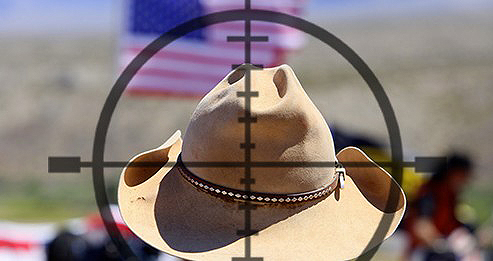 Alex Jones breaks down the bigger picture behind the move to turn the war on terror against American citizens
EVERYONE IS A TERRORIST

White House Tells Parents: Children Could Be Terrorists!
I have told you this was coming. Under the new homeland we are all the enemy in the eyes of the occupiers.
LINKS :
AGENDA 21 Cliven Bundy Case Example
Police Trained That Informed Americans Are Terrorists
Troops Ordered To Kill All Americans Who Do Not Turn In Guns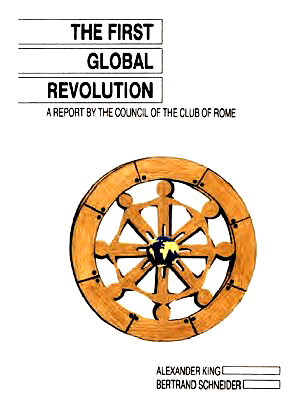 In 1991, the Club published The First Global Revolution. It analyses the problems of humanity, calling these collectively or in essence the 'problematique'. It notes (laments) that, historically, social or political unity has commonly been motivated by enemies in common: "The need for enemies seems to be a common historical factor. Some states have striven to overcome domestic failure and internal contradictions by blaming external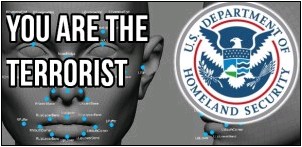 enemies. The ploy of finding a scapegoat is as old as mankind itself - when things become too difficult at home, divert attention to adventure abroad. Bring the divided nation together to face an outside enemy, either a real one, or else one invented for the purpose. With the disappearance of the traditional enemy, the temptation is to use religious or ethnic minorities as scapegoats, especially those whose differences from the majority are disturbing." "Every state has been so used to classifying its neighbours as friend or foe, that the sudden absence of traditional adversaries has left governments and public opinion with a great void to fill. New enemies have to be identified, new strategies imagined, and new weapons devised."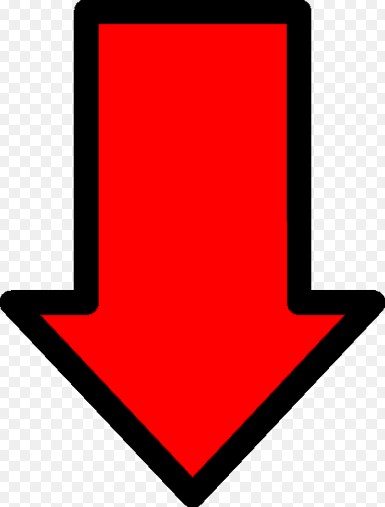 THE GLOBALISTS MOVE FROM THEIR ALQAEDA CREATION, TO FABRICATING HOMEGROWN DOMESTIC TERROR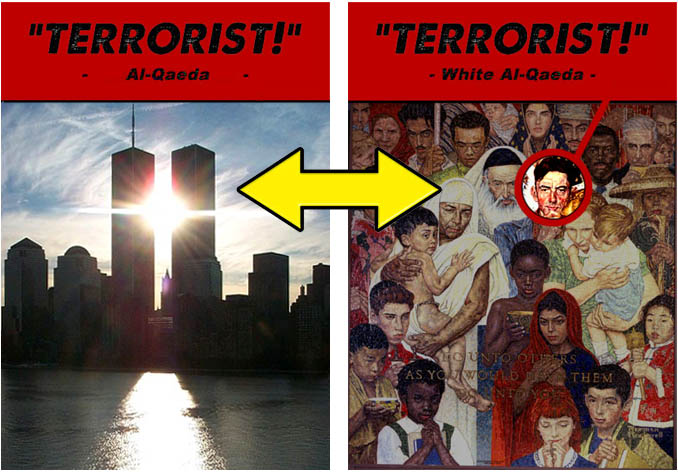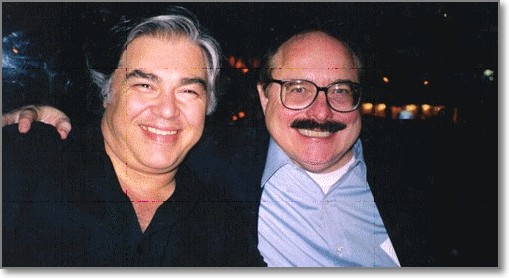 Several years ago, after his popular video "Mad As Hell" was released and Aaron Russo began his campaign to become Governor of Nevada, Russo was noticed by Nicholas Rockefeller and introduced to him by a female attorney. Seeing Russo's passion and ability to affect change, Rockefeller set about on a subtle mission to recruit Russo into the elite's CFR. Watch the full interview here: Reflections and Warnings.
Aaron Russo talks about the CFR...And The Fake War On Terror!
Aaron Russo talks about the CFR...And The Fake War On Terrorism!
LINKS :
Educational System Dismantlement

REACH OUT TO OTHERS
[Help Educate Family And Friends With This Page And The Links Below]
---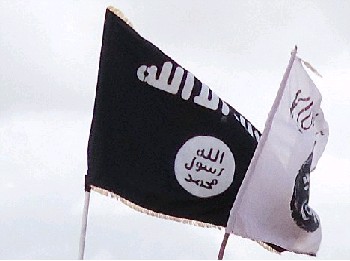 MORE:
Proof: Bin Laden Death Another Gov't Lie
CIA Admit Making Fake Bin Laden Videos
Witness to Government False Flag : Kurt Haskell
Educational System Dismantlement
Tattle-Tell Squads and Surveillance
Post Office Trucks Stasi Data Collection Nodes
Twenty-Five Rules of Disinformation