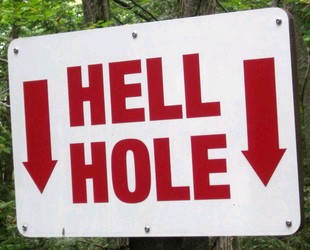 ...Bankers have embedded themselves into the economy, building up infrastructure for a time, then bringing down the system within the United States in concert with the international economic warfare and the rise of global government...This stage of the game is De-industrialization. Inside this agenda is a plan for global government to emerge from the ashes of the once great United States and for the era of national sovereignty itself to subside. To achieve their goal, an economic squeeze is placed upon the nation and environmental pretexts are being used to strangle independence and viability – in America it has been the NAFTA, GATT, WTO and United Nations treaties that have wrecked her integrity and pillaged her productiveness.
---
These 12 Hellholes Are Examples Of What The Rest Of America Will Look Like Soon
Michael Snyder
The Economic Collapse
July 16, 2012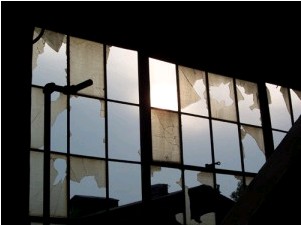 Do you want to see where this country is headed? If so, don't focus on the few areas that are still very prosperous. New York City has Wall Street, Washington D.C. has the federal government and Silicon Valley has Google and Facebook. Those are the exceptions. The reality is that most of the country has been experiencing a slow decline for a very long time and once thriving cities such as Gary, Indiana and Flint, Michigan have become absolute hellholes.
They are examples of what the rest of America will look like soon.60 years ago, most Americans were decent, hard working people and there were always good jobs available for anyone that was willing to roll up his or her sleeves and put in an honest day of work. But now all of that has changed. Over the past decade, tens of thousands of manufacturing facilities have shut down and millions of jobs have left the country. Cities such as Cleveland, Baltimore and Detroit were once shining examples of everything that was right about America, but now they stand out like festering sores. The "blue collar cities" have been hit the hardest by the gutting of our economic infrastructure. There are many communities in America today where it seems like all of the hope and all of the life have been sucked right out of them. You can see it in the eyes of the people. The good times are gone permanently and they know it. Unfortunately, the remainder of the country will soon be experiencing thedespair that those communities are feeling.
The following are 12 hellholes that are examples of what the rest of America will look like soon….
#1 Gary, Indiana
Exploring America's Ghost Town -- Gary, Indiana
RT's Anastasia Churkina travels to Gary, Indiana -- America's ghost town, one of the most dangerous places in the country that used to boom with industry and is now an urban desert
Gary, Indiana was once a great industrial city.
Today, it is one of the ten most dangerous cities in America, and the population has fallen by about 50 percent.
The following is from a recentDaily Mail article….
Frequently rated one of the ten most dangerous cities in the United States, Gary once boomed with jobs and opportunities but now faces the acute difficulties of America's growing rust belt, with 22 percent of families in the once-great city now lying below the poverty line.

This modern American ghost town began life as home for workers at the United States Steel Corporation plant until economic competition from abroad forced a 90 percent job cut.
It is hard to describe what is happening to Gary without using the word "depressing". You can watch a great video that shows what Gary, Indiana looks like these daysright here.
This is what happens when industry leaves and there are no jobs. Gary has become a wasteland and there is essentially no hope for a turnaround.
The following is howJames Kunstler described what he experienced when he traveled through Gary, Indiana recently….
Between the ghostly remnants of factories stood a score of small cities and neighborhoods where the immigrants settled five generations ago. A lot of it was foreclosed and shuttered. They were places of such stunning, relentless dreariness that you felt depressed just imagining how depressed the remaining denizens of these endless blocks of run-down shoebox houses must feel. Judging from the frequency of taquerias in the 1950s-vintage strip-malls, one inferred that the old Eastern European population had been lately supplanted by a new wave of Mexicans. They had inherited an infrastructure for daily life that was utterly devoid of conscious artistry when it was new, and now had the special patina of supernatural rot over it that only comes from materials not found in nature disintegrating in surprising and unexpected ways, sometimes even sublimely, like the sheen of an oil slick on water at a certain angle to the sun. There was a Chernobyl-like grandeur to it, as of the longed-for end of something enormous that hadn't worked out well.
Sadly, Gary is far from alone. There are a whole host of other formerly great U.S. cities that are degenerating into hellholes as well.
#2 Chicago, Illinois
Chicago police sergeant: "Tribal warfare" on the streets

There is something truly special about Chicago. Most of America loved the Bears of the Walter Payton era, the Bulls of the Michael Jordan era and the Cubs of the Ernie Banks era. Chicago is also known for great architecture and great pizza.
But these days "the windy city" is becoming known for other things.
The murder rate in Chicago is up38 percent so far this year, and the recent spike in violence in the city has made national headlines.
As I notedthe other day, there are only about 200 police officers in Chicago's Gang Enforcement Unit to deal with an estimated100,000 gang members.
That means that those officers are outnumbered 500 to 1, and more gang members pour into the city every single day.
The escalating violence in Chicago was detailed in a recent articlein the Telegraph….
"This is a block-to-block war here, a different dynasty on every street," said a dreadlocked young man heavily inked in gang tattoos who calls himself "Killer".

"All the black brothers just want to get rich, but we got no jobs and no hope. We want the violence to stop but you ain't safe if you ain't got your pistol with you. Too many friends, too many men are being killed. We don't even cry at funerals no -more. Nobody expects to live past 21 here."

The victims and killers are mainly black males aged between 15 and 35, often with gang affiliations – but not exclusively. A seven-year-old girl, Heaven Sutton, was buried this month after being gunned down at her mother's street sweet store. And last week, two girls aged 12 and 13 were shot and badly-wounded as they walked home from a newly-opened community centre.
If you are thinking of moving to Chicago, you might want to think again.
#3 Detroit, Michigan
I have written repeatedly about Detroit because it is a perfect example of what the rest of America is going to look like soon.
Once upon a time it was regarded as one of the top manufacturing cities the world had ever seen, but today it has become a total hellhole.
There are very few decent jobs available, poverty has exploded and crime is everywhere.
If you can believe it,53.6% of all children in Detroit are living in poverty, and only25 percent of all students in Detroit graduate from high school at this point.
And as I wrote about recently, justifiable homicide in Detroit increased by a whopping79 percent during 2011, and the rate of self-defense killings in Detroit is now approximately2200% above the national average.
Is it any wonder that you can still buy a housefor $100 in some areas of Detroit?
The truth is that many areas of Detroit now resemble a post-apocalyptic wasteland. Perhaps that is why one team of investors actually wants to turn some of the worst areas of Detroitinto a zombie theme park….
Derelict areas of Detroit face being taken over by hordes of 'flesh and brain-eating zombies' if an ambitious business plan takes off.

Entrepreneur Mark Siwak wants to create live-action terror theme park 'Z World' on Motor City's run-down and abandoned streets.

Customers would pay to be chased by professional actors and try to seek shelter in ghostly homes, factories and businesses.
You can see some great video of the "ruins of Detroit"right here.
#4 Stockton, California
Who Took Down Stockton?
Stockton is one of the ten most dangerous cities in America and it recently made national headlines when it declared bankruptcy.
Unfortunately, as spending on law enforcement has declined it has given the criminals a lot more room to operate in Stockton. The following is from a recentBusiness Insider article….
The city hascut more than $90 million in spending over the past few years, specifically in its police department. The city has cut over one quarter of its police jobs, which has led to a "surge in murders," and has created an "emboldened criminal element" in the city. According to police spokesman Joe Silva, the city has had 87 murders since the start of 2011, 29 of which have already occurred this year. In contrast, there were35 murders in 2009 and48 in 2010. With six months left in the year, there have already been more murders in the city since the start of 2011 than the two-year stretch of 2009-2010.
A while back in Stockton a billboard was put up with the following message: "Welcome to the 2nd most dangerous city in California. Stop laying off cops."
#5 Flint, Michigan
"America's Murder City" Flint, Michigan
So far, Detroit Mayor Dave Bing is not proposing cuts to the police department, but if he is thinking about cutting cops, he should take a look at Flint. They cut the police force there by 25-percent, last year. Since then, the murder rate has spun out of control.
Flint, Michigan is a city that Michael Moore has made famous. Flint once supported hordes of middle class workers thanks to a thriving auto industry, but today it is a just a rotting shell. It looks like a war went through it and nobody bothered to clean up the mess.
At this point, the murder rate in Flint, Michiganis worse than the murder rate in Baghdad. That is how nightmarish things have become in Flint.
The following is from an articlein the New York Times….
It's not that the cops here are scared; it's just that they're outmanned, outgunned and flat broke.

Flint is the birthplace of General Motors and the home of the U.A.W.'s first big strike. In case you didn't know this, the words "Vehicle City" are spelled out on the archway spanning the Flint River.

But the name is a lie. Flint isn't Vehicle City anymore. The Buick City complex is gone. The spark-plug plant is gone. Fisher Body is gone.

What Flint is now is one of America's murder capitals. Last year in Flint, population 102,000, there were 66 documented murders. The murder rate here is worse than those in Newark and St. Louis and New Orleans. It's even worse than Baghdad's.
Politicians love to go to Flint and make speeches, but things never get any better. The following are comments that Joe Biden made about Flint, Michiganduring a recent speech he gave to promote a jobs bill….
"In 2008, when Flint had 265 sworn officers on their police force, there were 35 murders and 91 rapes in this city. In 2010, when Flint had only 144 police officers, the murder rate climbed to 65 and rapes–just to pick two categories–climbed to 229. In 2011, you now only have 125 shields. God only knows what the numbers will be this year for Flint if we don't rectify it."
But don't look down on Flint – these kinds of conditions are coming to where you live soon enough.
#6 West Philly
Unrelenting Poverty Leads To 'Desperation' In Philly Schools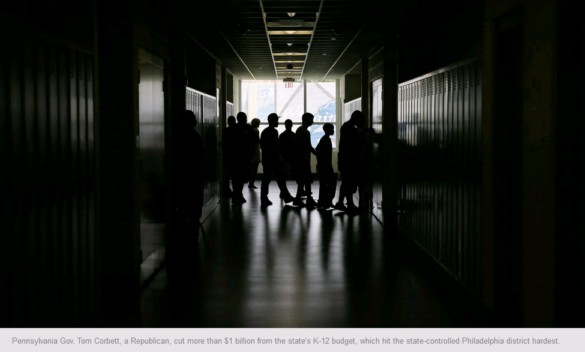 Did you know that36.4% of all children that live in Philadelphia are living in poverty?
There are some sections of Philadelphia that are actually very nice, but there are others that look like society has forgotten about them for decades.
A recent article by Jim Quinn entitled "More Than 30 Blocks Of Grey And Decay" described the depressing conditions in West Philadelphia. Quinn refers to his drive through this area as "the 30 Blocks of Squalor"….
The real unemployment rate exceeds 50%, murder is the number one industry, with drugs a close second.
But it was not always this way. Once upon a time, West Philly was actually a thriving area and was full of middle class families.
So what happened?
That is a very good question.
According to Quinn, the physical decay in West Philly is matched by the social decay….
The once proud homes are in shambles. Bags of garbage dot the landscape. Most of the people who live here are parasites on society. Personal responsibility, work ethic, education and marriage are unknown concepts in this community. Even though more than 50% of the students in West Philly drop out of high school and the SAT scores of West Philly High students are lower than whale ****, the bankrupt school district spent $70 million to build a new high school/prison to babysit derelicts and future prison inmates. The windows do not have steel bars yet, as the architect was smart to put all windows at least eight feet above street level.
These days there is a lot of despair in "the city of brotherly love". It is so sad to see what is happening to what once was such a proud city.
#7 Cleveland, Ohio
There Goes The Neighborhood
Bank foreclosures and abandonment are causing high home vacancy levels in neighborhoods across the country. Scott Pelley travels to Cleveland, a city that's fighting back against blight.
MORE: MortgageGate!
Cleveland has always had a love/hate relationship with itself. Many who live there call it "the mistake by the lake", but the truth is that it was once a truly great city.
Sadly, today it is symbol of what has gone wrong with America.
There has been a steady stream of businesses that have left Cleveland and today52.6% of all children that live in Cleveland are living in poverty.
There are not enough good jobs in Cleveland anymore, and so there are not enough workers to buy the tens of thousands of homes that have been foreclosed or abandoned.
So what is being done with all of those empty homes?
Unfortunately, they are being torn down.
The following comes from a recent CBS News reportby Scott Pelley….
Across America, recession-fueled foreclosures and plummeting home values have left countless properties abandoned and vulnerable to looting. As Scott Pelley reports, the problem has gotten so bad in Cleveland, Ohio, that county officials have demolished more than 1,000 homes this year – and plan to demolish 20,000 more – rather than let the blight spread and render nearby homes worthless.
Does that seem right to you?
Should Cleveland be destroying tens of thousands of homes that families could be using?
Something has gone very, very wrong in this country.
#8 Camden, New Jersey
Camden, NJ. The poorest city in the US
Camden,New Jersey has the highest murder rate in the country,and the highest crime rate per capita. the criminals and drug deals operate in the open and the police department is understaffed. some residents are working hard to get their city back on track.
If you want to see what a hellhole looks like just visit Camden, New Jersey.
Although you will probably want to take an armed escort with you.
As industry has abandoned Camden, the gangshave basically taken over. The "growth industries" in Camden these days are drug dealing and prostitution.
In an article entitled "City of Ruins", reporter Chris Hedges described what life is like in Camden at this point….
There are perhaps a hundred open-air drug markets, most run by gangs like the Bloods, the Latin Kings, Los Nietos and MS-13. Knots of young men in black leather jackets and baggy sweatshirts sell weed and crack to clients, many of whom drive in from the suburbs. The drug trade is one of the city's few thriving businesses. A weapon, police say, is never more than a few feet away, usually stashed behind a trash can, in the grass or on a porch.
Not that other cities in New Jersey are shining examples for the rest of the world either.
For example, if you want to get really depressed just drive through the bad parts of Newark some time.
#9 St. Louis, Missouri
Gangland - Boys of Destruction [BOD - St Louis, Missouri]
Accordingto U.S. News and World Report, the most dangerous city in the United States is St. Louis.
If you have a death wish, just wander around the streets of East St. Louis at night.
There is a decent chance that someone will shoot you.
Things were not always this way in St. Louis. But today things have gotten so bad that you can find packs of wild dogs roaming the city digging through trash and threatening children.
The following is from a reportby the local CBS affiliate in St. Louis….
…Lewis Reed is sounding the alarm. "I've witnessed packs of dogs, 10 and 15 dogs running together, and I've seen all these dogs I'm talking about they don't have collars, they don't have tags, these are truly wild dogs," he said.

Reed says stray dogs are terrorizing the north side. "It's obscene that parents have to walk their kids to school, in some parts of the city, with a golf club to fend off wild dogs."
This kind of thing is actually happening in America?
#10 New Orleans, Louisiana
Seven Years After Katrina, New Orleans Still Struggles to Rebuild
The problems that New Orleans has experienced have been well documented.
But unlike most of the cities listed above, at least New Orleans has an excuse. New Orleans permanently lost29% of its population after Hurricane Katrina, and large sections of the city were essentially destroyed by that storm.
Even today, there are still some areas of New Orleans that look as if they have just been bombed.
It has been estimated that about 20 percent of the homes in New Orleans are still standing vacant, and poverty is rampant. New Orleans will probably never fully recover to the level it was at before Hurricane Katrina hit.
#11 Oakland, California
"Crime in Oakland"
Oakland residents share their voice about how crime in Oakland has affected them.
Oakland has always been in the shadow of San Francisco, and the contrast between the two cities continues to grow.
Oakland has always been considered one of the more dangerous cities in America, and this year crime rates in Oakland are rising rapidly. The following is from a recent articlein the New York Times….
At the beginning of April, murders in Oakland were up 26 percent over a year ago, rapes were up 41 percent, and robberies were up 35 percent.

When Chief Batts arrived as a "change agent" in 2009, the police department employed 837 officers. It now has 635. The department no longer responds to burglaries that are not still in progress, and frequently does not respond to other calls for help.
So if your house has been robbed and the burglars are gone what are you supposed to do?
Due to a crippling lack of resources, the previous police chief decided that his department would no longer be able to respond to all crimes.
The followingis a partial list of the crimes that police in Oakland are no longer likely to respond to….
burglary

theft

embezzlement

grand theft

grand theft: dog

identity theft

false information to peace officer

required to register as sex or arson offender

dump waste or offensive matter

loud music

possess forged notes

pass fictitious check

obtain money by false voucher

fraudulent use of access cards

stolen license plate

embezzlement by an employee

extortion

attempted extortion

false personification of other

injure telephone/power line

interfere with power line

unauthorized cable tv connection

vandalism
So what do you do if you are a victim of one of those crimes in Oakland?
That is a very good question.
#12 Baltimore, Maryland
Crowd Beats, Strips & Robs Tourist in Baltimore
Caught on camera-- a tourist being beaten in downtown Baltimore and instead of helping him, a crowd laughs and steals his belongings. (See the ENTIRE video here: http://www.youtube.com/watch?v=JJOs1q...) The video shows a man being punched in the face in Downtown Baltimore. You can hear his head hit the pavement near the entrance to Courthouse East. Instead of helping, people laugh. Then, the crowd strips him naked and takes his car keys, watch, money and iPhone.
If you can believe it, Baltimore was actually once a great city.
But today it has become a crime-ridden, drug-infested hellhole.
I used to drive up to Baltimore all the time. It truly is a "blue collar" city. There are a lot of really hard working people there.
Unfortunately, there are not nearly enough jobs for everyone and a lot of people have turned to drugs and crime.
There are some areas of Baltimore that you really should never enter by yourself. If you do go into them, you might not make it back out.
There was one incident in Baltimore earlier this year that was particularly disturbing.
One poor young man had gotten drunk and was apparently wandering around all by himself. Some thugs approached him and they clearly sensed that he was vulnerable. So they knocked him to the ground, stripped him of his car keys, his watch, his money, his cell phone and his clothes.
A crowd gathered around to watch, and instead of helping the man, several of them got out their cell phones and laughed hysterically while they recorded the incident with their cell phone camerasfor YouTube.
What made all of this even sadder is that this happened right in front of a Baltimore courthouse.
What in the world has happened to this nation?
All of us that still love this country should be deeply saddened by everything above.
America is rotting from the inside out, and if we are ever going to find any solutions we need to start admitting how bad things have really become.
The truth is that our problems are not limited to one political party, one special interest group or to one region of the country. The social decay that is plaguing America can literally be found everywhere.
For much more on this, please see the following four articles….
1) " 25 Signs The Collapse Of America Is Speeding Up As Society Rots From The Inside Out"
2) "70 Reasons To Mourn For America"
3) "20 Signs That Society Is Breaking Down And That America Has Been Overrun By Psychos"
4) "12 Factors That Are Turning The Streets Of America Into A Living Hell"
So don't laugh at Detroit or Cleveland or St. Louis.
The rest of the country is declining too.
If the city where you live is not a hellhole already, it will be soon enough.
The more impoverished the nation gets, the more society will break down, and then Americans will welcome a militarized police force.
Brazen Military Drills to Tour America in 2013
Following brazen military drills in Miami and Houston, police in Illinois plan an active shooter scenario in a suburban Chicago school today.

Students will be in classrooms at the Cary-Grove High School when police fire blanks in the school hallway "in an effort to provide our teachers and students some familiarity with the sound of gunfire," according to principal Jay Sargeant, CBS Chicago reported on Tuesday.

"From the school's request, they want to let the students know what the sound of gunshot might be, should that occur in their school," Cary Police Chief Steven Casstevens added.

According to the school, parents were informed of the drill via email. Parent Kassy Pinter told CBS Chicago she did not receive the email.

Many parents believe the "code red" drill is inappropriate and will frighten children. "If you need to run a drill, you run a drill," parent Sharon Miller told a local radio station. "They run fire drills all the time, but they don't run up and down the hallway with a flamethrower," she said in response to the plan by police to fire blanks in the school hallway. http://www.infowars.com/gunfire-in-the-hallway-illinois-school-plans-code-red...
Troops Deployed Ahead of Economic Collapse & Gun Confiscation

The economic collapse, and ensuing civil unrest is coming - or so we've been told. Why else would Homeland Security buy up more than 2 billion bullets, purchase more than 2700 tanks and stock pile weaponry all while government white papers outline preparations for a martial law containment of society?

Ahead of that breakdown of society, Washington and the powers that control it have deployed troops across America to train for domestic operation and acclimate the public to their presence. The friendlies, engaging in benign and innocuous activities, will foster trust among the people and let down their guard when things go dark later. It is classic psyops at work.

In that context, we see an acceleration of National Guard and regular Army troops used at public sporting events, in crowd control at festivals and operating with police in law enforcement checkpoints, all in violation of Posse Comitatus. Small examples of this have been occurring regularly in Texas, with a National or State Guard presence at Kite Festivals, Texas Independence celebrations and other public events.
The high level globalist minion Henry Kissinger purportedly said in an address to the Bilderbergers at Evian, France, on May 21, 1991...
"Today Americans would be outraged if U.N. troops entered Los Angeles to restore order; tomorrow they will be grateful,"
(Links Below Give More Background And Insight To Henry Kissinger's Revealing Statement Of Troops Being Needed To Restore Order)
The more impoverished the nation gets, the more society will break down, and then Americans will welcome a militarized police force.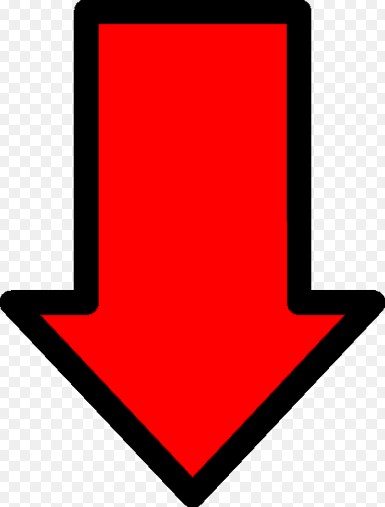 Detroit Appeals To UN For Humanitarian Assistance
Several groups appealed to the UN on Wednesday to assist in providing affordable water to the residents of Detroit. In March, the bankrupt city sent 45,000 shutoff notices to residents with overdue bills. So far, nearly 3,000 have had their water service terminated, and many more fear they are next. RTs Manila Chan has more details on the circumstances of theplea for help.
THE UN AGENDA : CIVILIAN DISARMAMENT
WATCH THE FULL PRESENTATION HERE:
DHS Has Now Acquired Enough Bullets To Wage 30 Year War!!
LINK :
LINK :
LINK :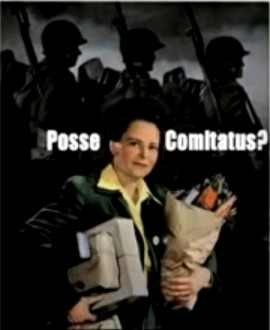 MORE: Posse Comitatus Act
THE WAR ON TERROR
IS A FRAUD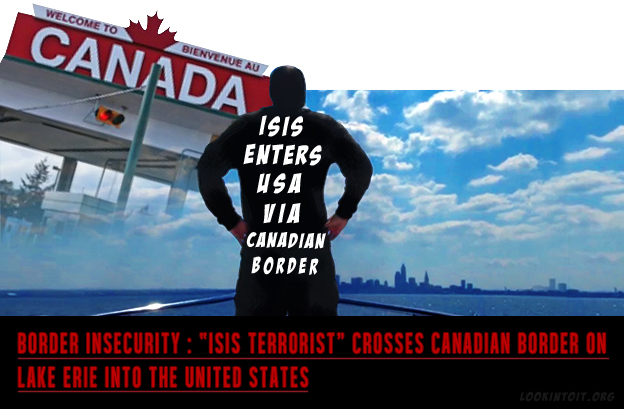 How could there be a War on Terror and actually say that we're having a war against terrorism, and leave the borders wide open? If you were the President of the United States, or I were the President of the United States, and 9/11 really happened the way they want us to believe it happened, the first thing you would do is shut down the borders, so people couldn't get in the country to harm you. But they left the borders wide open. Because the bankers want the borders open, because they want a one-world government. They want a North American Union. They don't want borders here. 9/11 was only a manifestation. It was done to create a fear in the American public, so that we will obey what they want us to do.
LINKS :
Illegal Checkpoints In America
Mobile Van Radiating the Public
Police Trained That Informed Americans Are Terrorists
The NSA (National Security Agency)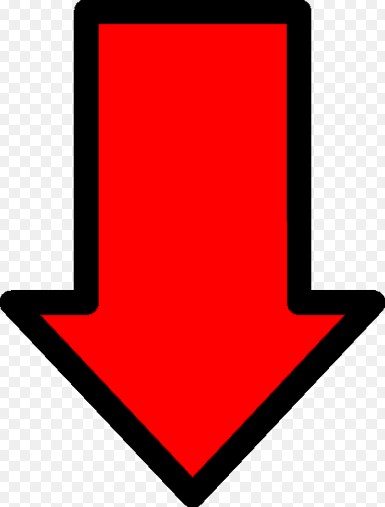 WAKE UP!!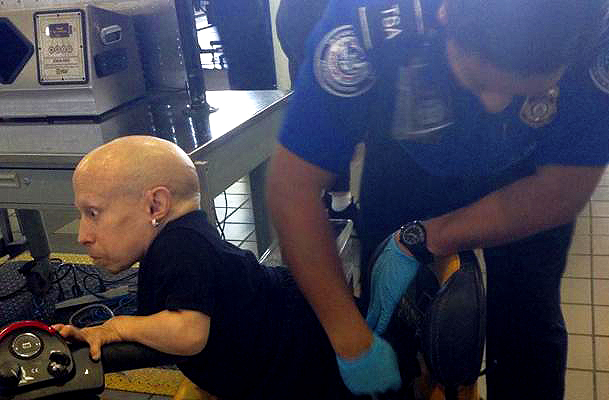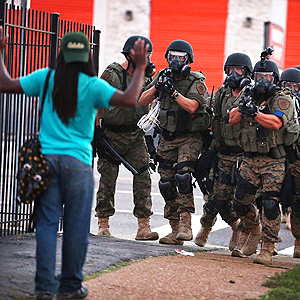 Ferguson Missouri Under Martial Law
**You Must Copy And Paste The Link Below In Your Browser**
http://www.youtube.com/playlist?list=PLKkSfhYk-XBgh6eyU6G2BHdebghLtBOx-

LINK :
---
"All the perplexities, confusion and distress in America arise, not from defects in their Constitution or Confederation, not from want of honor or virtue, so much as from the downright ignorance of the nature of coin, credit and circulation."
John Adams
WE ARE UNDER ECONOMIC SIEGE!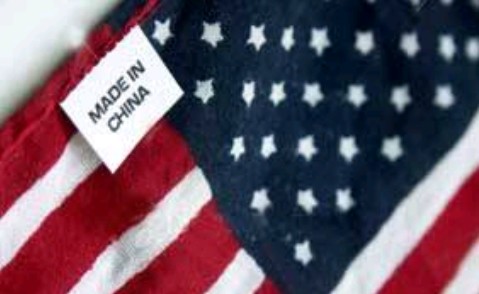 Economy Destroyed By Design!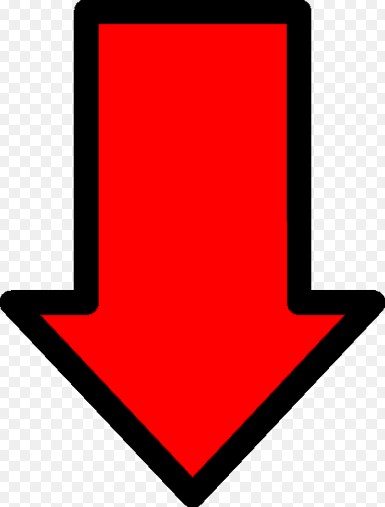 Dylan Ratigan's Epic Rant on the International Banking Cartel and Political Corruption

MSNBC's Dylan Ratigan is mad as hell about the U.S. financial crisis--and he ain't gonna take it anymore!

While convening a roundtable discussion on the market meltdown on eponymous MSNBC show on Tuesday, Ratigan exploded.

"We've got a real problem!" an exasperated Ratigan shouted. "This is a mathematical fact! Tens of trillions of dollars are being extracted from the United States of America. Democrats aren't doing it, Republicans aren't doing it. An entire integrated system, financial system, trading system, taxing system, that was created by both parties over a period of two decades is at work on our entire country right now. And we're sitting here arguing about whether we should do the $4 trillion plan that kicks the can down the road for the president for 2017, or burn the place to the ground, both of which are reckless, irresponsible, and stupid."

"I'm sorry to lose my temper," he continued. "But, I tell you what, I've been coming on TV for three years doing this, and the fact of the matter is that there's a refusal on both the Democratic and the Republican side of the aisle to acknowledge the mathematical problem, which is that the United States of America is being extracted."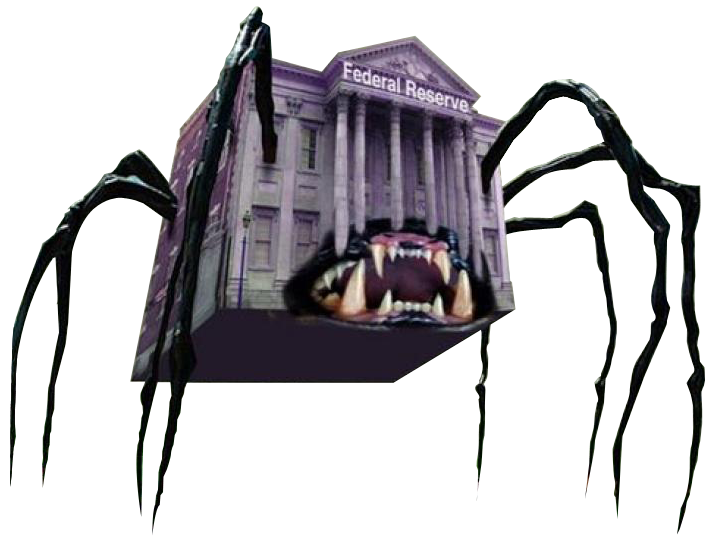 MORE:
Global Debt Crisis Simply Explained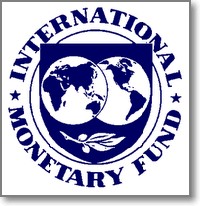 MORE: International Monetary Fund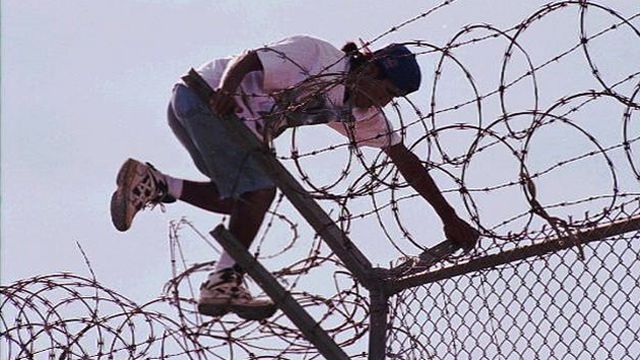 Obama, the Cloward-Piven Strategy, and the New World Order
"Barack Obama is Destroying Our Economy on Purpose," an interview with author James Simpson.
Kurt Nimmo
Infowars
March 10, 2009
On March 9, Brannon Howse of Worldview Radio interviewed author James Simpson. Entitled "Barack Obama is Destroying Our Economy on Purpose," Howse's interview of Simpson concentrated on Columbia University professors Richard Andrew Cloward and Frances Fox Piven who wrote an article in 1966 for The Nation magazine. "The article was published on May 2, 1966 and laid out what is now known as the 'Cloward-Piven Strategy'. The plan calls for the destruction of capitalism in America by swelling the welfare rolls to the point of collapsing our economy and then implementing socialism by nationalizing many private institutions," explains a synopsis on the Worldview Radio website. "Cloward and Piven studied Saul Alinsky just like Hillary Clinton and President Obama."
Alinsky is considered to be the founder of modern community organizing in America. Alinsky's teachings influenced Obama early in his career as a community organizer on the far South Side of Chicago. Obama worked for Gerald Kellman's Developing Communities Project where he learned and taught Alinsky's methods for community organizing. Obama would later work for ACORN (the Association of Community Organizations for Reform Now.
According to Sol Stern of the Manhattan Institute, ACORN is a modern successor of the radical 1960's "New Left" and holds a "1960's-bred agenda of anti-capitalism" to be implemented through "undisguised authoritarian socialism."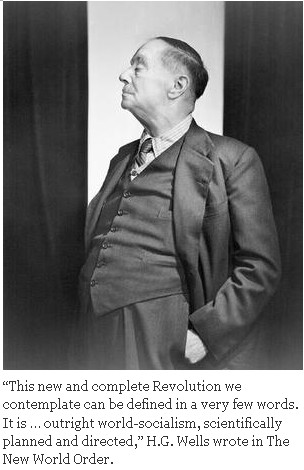 It is a brand of "undisguised authoritarian socialism" supported by the establishment. As the Union News reported last October, ACORN receives funding from the Robin Hood Foundation, a charity supported — to the tune $9,859,453 — by the globalist George Soros and his Soros Fund Charitable Foundation.
"Soros is the visible side of a vast and nasty secret network of private financial interests, controlled by the leading aristocratic and royal families of Europe, centered in the British House of Windsor," writes William Engdahl. According to Engdahl, Soros "is part of a tightly knit financial mafia — 'mafia,' in the sense of a closed masonic-like fraternity of families pursuing common aims."
As Antony Sutton documented (Wall Street & the Bolshevik Revolution), the very fount of "authoritarian socialism" was created and lavishly funded by the bankers. "The involvement of the Rockefellers with their supposed blood enemies, the Communists, dates back to the Bolshevik Revolution," notes Gary Allen (None Dare Call it Conspiracy, chapter 6). "The Federal Reserve-CFR insiders began pushing to open up Communist Russia to U.S. traders soon after the revolution."
In addition, the bankers have supported "communism" in the United States. Considering this, it should come as no surprise the anti-capitalist "Cloward-Piven Strategy" was published by The Nation, a magazine with a well-documented connection to the CIA. As researcher Bob Feldman notes, The Nation is connected to the National Endowment for Democracy, a CIA front group involved in overthrowing countries around the world by way of "color revolution." The CIA has a history of collaboration with the Ford Foundation (see James Petras: "The Ford Foundation and the CIA: A documented case of philanthropic collaboration with the Secret Police").
In 1954, Rowan Gaither of the Ford Foundation told Reese Commission investigator Norman Dodd that "the directives under which we operate is that we shall use our grant making power to alter life in the United States so that we can comfortably be merged with the Soviet Union."
This merging with the Soviet Union (or more accurately, "authoritarian socialism") has nothing to do with the sort of communism taught in school textbooks — a dictatorship of the proletariat and the workers — but rather it is an authoritarian control system engineered by the bankers and the global elite. "This new and complete Revolution we contemplate can be defined in a very few words. It is … outright world-socialism, scientifically planned and directed," H.G. Wells wrote in The New World Order.
It is a mistake to believe the Cloward-Piven Strategy is scheme cooked up by academic Marxists of "New Left" bent dedicated to the destruction of capitalism in the name of some sort of vaguely defined humanitarianism. In fact, "the destruction of capitalism in America by swelling the welfare rolls to the point of collapsing our economy and then implementing socialism by nationalizing many private institutions" is a meticulous plan on the part of the global elite to consolidate power and destroy all opposition.
It has nothing to do with liberating the proletariat but rather subjecting them to banker engineered "world-socialism, scientifically planned and directed" and devised to transform the planet into a banker dominated high-tech prison gulag.
LINK :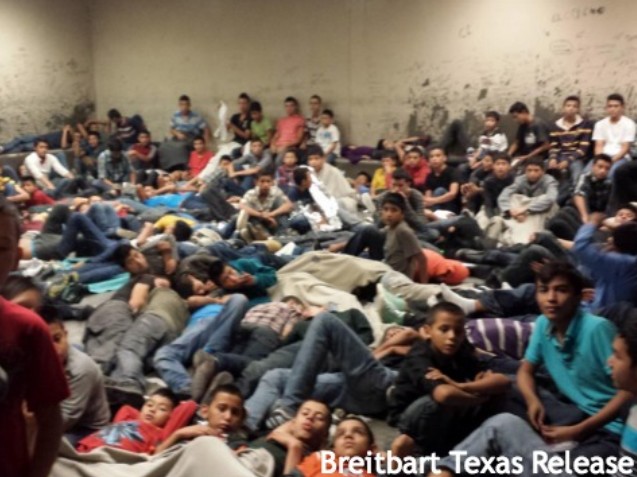 Choose an image to begin
Obama Launches Border Crisis To Destroy America
Treason: America Destroyed by Design
Orchestrated collapse of America's borders part of globalist plan to create a North American Union

With daily reports of illegal immigrants crossing into the United States, Infowars decided to head to south Texas to investigate.We discovered how the U.S. Border Patrol was providing travel accommodations to the illegals they were supposed to be detaining and putting on trial.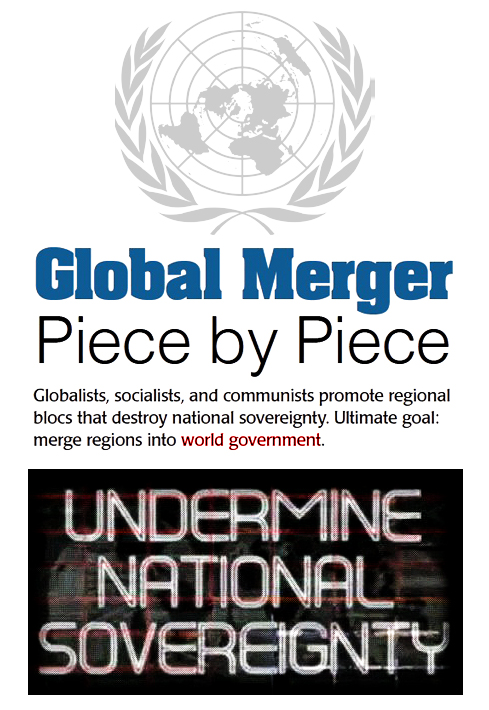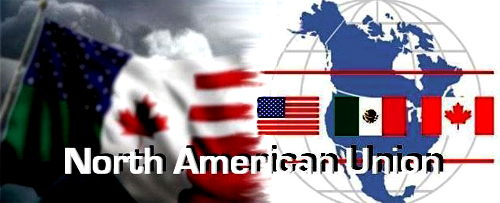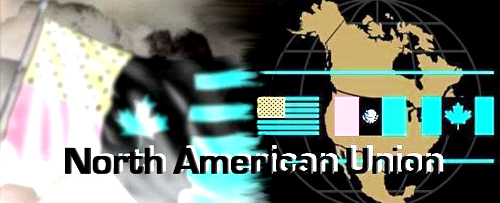 The Globalist Created 'Humanitarian' Immigration Crisis: Why This Is Happening Now
(Truthstream Media.com) Behind the endless throngs of desperate Central American children arriving on the U.S. border and a steady wave of illegal immigrants from Mexico and beyond is a covert plan for global economic warfare -- those building up the world of globalization are tearing down the sovereignty and financial strength of the United States and Europe to make way for the coming corporate new world order.
A generation of sending American jobs offshore under NAFTA, GATT and the WTO, dumping cheap corn on Mexico thereby destroying millions of farming jobs and unleashing disruptive retailers like Wal-mart upon the fragile economies of Latin America have created turmoil, uncertainty and rivers of human migration... and along with it bitter tension and discord over the dynamics of immigration, illegal immigration and the struggle for a lasting standard of living under the New World Order.
LINKS :
---
"Speaking to Alex Jones in March 2002 about the article, Palast said that the IMF/World Bank/WTO policies amount to "systematically tearing nations apart." The global economic illusionists have done it to African and Latin American nations, and now they have their bloody, slug-infested eyes set on European and North American nations."
---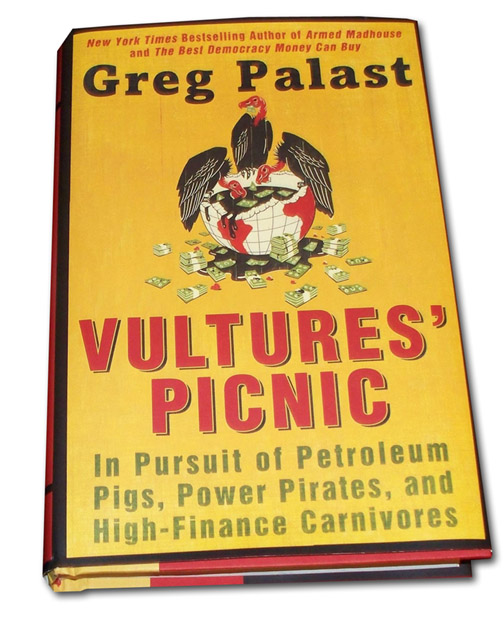 http://www.palastinvestigativefund.org/?id=46
...It's a journey into the corrupt heart of Big Oil, and behind it, Bigger Finance, exposing once and for all the corporate vultures who feed on the weak and poison our planet.
Greg Palast Tells How The IMF Set-Up Iceland & Greece on Alex Jones Tv 1/2
Alex talks with New York Times-bestselling author and a journalist for the British Broadcasting Corporation as well as the British newspaper The Observer, Greg Palast. Beginning in the 1970s, having earned his degree in finance studying under Milton Friedman and free-trade luminaries, Palast went on to challenge their vision of a New Global Order, working for the United Steelworkers of America, the Enron workers' coalition in Latin America and consumer and environmental groups worldwide.
http://www.gregpalast.com/
http://www.infowars.com/
http://www.prisonplanet.tv/
Greg Palast Tells How The IMF Set-Up Iceland & Greece on Alex Jones Tv 2/2
Alex talks with New York Times-bestselling author and a journalist for the British Broadcasting Corporation as well as the British newspaper The Observer, Greg Palast. Beginning in the 1970s, having earned his degree in finance studying under Milton Friedman and free-trade luminaries, Palast went on to challenge their vision of a New Global Order, working for the United Steelworkers of America, the Enron workers' coalition in Latin America and consumer and environmental groups worldwide.
http://www.gregpalast.com/
http://www.infowars.com/
http://www.prisonplanet.tv/
The End Game Memo with Greg Palast
Alex is joined via Skype by fraud analyst Greg Palast to discuss the fines levied against JP Morgan Chase of $13 billion dollars and the obvious fraud that is Obamacare.
http://www.gregpalast.com/
Stay in the know - Follow Alex on Twitter: https://twitter.com/RealAlexJones
'Like' Alex on FACEBOOK - https://www.facebook.com/AlexanderEme...
http://www.infowars.com/
http://www.prisonplanet.com/
http://www.infowars.net/
http://www.prisonplanet.tv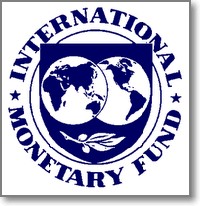 MORE: International Monetary Fund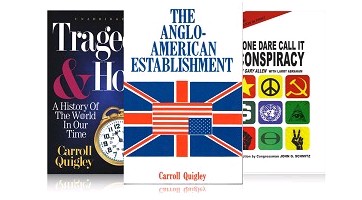 http://www.infowarsshop.com/NWO-Book-Special_p_714.html
The Unspoken Mission: The Deliberate Disintegration of America
Saman Mohammadi
Infowars.com
May 19, 2011
"Great men, great nations, have not been boasters and buffoons, but perceivers of the terror of life, and have manned themselves to face it." – Ralph Waldo Emerson
Authoritarian globalism, not terrorism, is the biggest threat America and the Western world faces. Terrorism is an invented distraction to keep the police and military guards occupied, and a government trick whose purpose is to scare the people into giving up their natural rights and accept the total government takeover of their lives and society.
When we read that nations like Libya and Iran are rogue regimes, which are regimes that pose a threat to the lawless international banking establishment, we should remember that America was a revolutionary nation and a rogue regime of its own day in the eyes of the financial tyrants. Back when America was a free and independent nation and not a mercenary nation for the bloodsucking global private central bankers it did not start large wars or slander other nations. But those days were over when the private Federal Reserve Bank was established in 1913. Soon after America became a puppet for the criminal internationalist bankers and oligarchs, and began to lose its soul.
Nearly a century after the creation of the monstrous Fed, America is on the verge of starting a new world war in the Middle East to protect the interests of its global oligarchical masters. Regimes that are not subservient to the lawless international banking establishment have to be eliminated and destroyed.
The road to World War III and the centralized global government that is being designed to take shape after the war is over has been paved with the blood of innocent Americans who were murdered on September 11, 2001 by the tricksters and traitors in the United States government.
The September 11 attacks made clear three facts: the total loss of representative and lawful government, the planned destruction of America's constitutional republic, and the beginning of a new dictatorial order based on the total subversion of civil society to an Orwellian world state controlled and owned by the global private banking system and the monopolistic corporations that profit from this unfair system.
There is a globalist war against America, but the weapons are fear, propaganda, and disinformation, not bombs and cruise missiles. The political use of state terrorism and fear against the American people by the political, financial and military establishment in Washington means that the hijacked U.S. government is afraid of the American people. The rulers in Washington have not only betrayed the interests of the American people, but they are waging a full-scale war against the American people and against the constitutional institutions of America.
The English essayist William Hazlitt said that in times of tyranny the interests of the people and the interests of the government are separated and the government by nature becomes the main enemy of the people. Hazlitt:
That Government is instituted for the benefit of the governed, there can be little doubt; but the interests of the Government (when once it becomes absolute and independent of the people) must be directly at variance with those of the governed. The interests of the one are common and equal rights: of the other, exclusive and invidious privileges. (Hazlitt: "What Is The People" from 'The Fight and Other Writings'; pg. 367).
Whenever the people are betrayed, robbed and murdered by their political leaders there is a need for a revolution. Putting off the inevitable solution to tyranny only makes the correction more painful and the suffering of the people more extreme. The terror of change is hard to overcome but survival depends on it. If the people do not act quickly and aggressively to recover their freedoms and retake their government then they will be destroyed by their political overlords. We are seeing this in America. The country is being deliberately brought down to its knees. A controlled demolition and collapse of America's constitutional government and American society is under away.
II. The Deliberate Disintegration and Destruction of America: The Eight Phases of America's Controlled Collapse
Below I will briefly list the eight phases of America's controlled collapse and disintegration and the five fronts in the war against America. Some of these phases have already been completed but not all may come to fruition if the American people are informed of the threats to their liberty, life, and country by the hijacked federal government and if they collectively resist their enslavement. The same applies for the people of Canada, England, Australia, and other Western countries.
Phase One: Militarizing The Police And Turning The Police Against The People
In the beginning of the 1970s, after the Civil Rights movement achieved victories for the people, the U.S. government began infringing on the civil rights of the people all over again, and this time it was done under the cover of the "War on Drugs." This war is not a faithful and honest war but a political war that was deliberately designed to take away the liberties of the American people, mostly black people, and unjustly imprison them in order to raise profits for a new prison industry.
Through the false and illegal war on drugs the police of every state has been brainwashed, militarized, brought under federal control, and received billions of dollars to chase around drug addicts and intimidate poor people. Naturally, this has created hostility between the people and the police. The police is seen as an occupying army on American streets which is an accurate representation because the government that they work for and defend has been hijacked and taken over by criminal bankers and globalist oligarchs.
Phase Two: Mercenary-Military Takeover of America's Constitutional Government Through The CIA and Military-Industrial Complex
The biggest lie that the U.S. government tells the American people is this one: We work for you. Nothing could be more false. The federal government works for the American people today in the same way that the Soviet Union worked for the American people during the Cold War. The truth is that America's chief political representatives and leaders are murderers and state terrorists, not protectors of America and the U.S. constitution. They are enemies of the public order and the common good of all.
Ever since President John F. Kennedy was murdered by the CIA the American government has not worked for the interests of the American people, but for a fascist clique and politically connected war racketeers who operate the CIA and the military-industrial complex. President Harry S. Truman correctly referred to the CIA as the "American Gestapo." It is led by anti-American traitors and war criminals who would prefer America to be a dictatorship than a free society.
Phase Three: The Complete Banking Takeover and Financial Rape of America
By now most people realize that the big banks on Wall Street robbed America and fleeced the American people. Watch this great interview of author Nomi Prins by Alex Jones on May 16, 2011 called " The Federal Reserve Holding America Hostage." Also, read these three articles of mine: Banksters Raped A Blindfolded America, Private Global Bankers = The Priesthood of Modern Western Civilization, and Greg Palast: "Remove the Bloodsuckers." And watch these videos by Alex Jones called The Banking Cartels Takeover: Part 1; Part 2; Part 3.
Part Four: Instituting a Regime of Repression and Terror, Enacting Emergency Law, Suspending the Constitution, Enlarging Executive Power, And Creating New Federal Agencies like Homeland Security to Spy on the American People and Treat Them Like Cattle
This phase speaks for itself. Professor Peter Dale Scott and others have written about the plan by Dick Cheney and the treasonous faction in the U.S. government to go ahead with Continuity of Government plans. I call this the COG in the War Machine. Read Professor Scott's article, Supplanting the United States Constitution: War, National Emergency and "Continuity of Government." And watch John Whitehead's informative interview of constitutional scholar and author Bruce Fein about his book ' American Empire Before the Fall ': Part 1; Part 2.
Phase Five: Stage False Flag Attacks To Increase The Power of The Government and Frighten The People
The tactic of false flag operations is a no-brainer if you're a tyrant. And it is self-explanatory so I won't go into much detail. Articles to read: 'America: A State of Terror' – 'Governments ADMIT That They Carry Out False Flag Terror' – 'Top Government Insider: Bin Laden Died In 2001, 9/11 A False Flag.'
Phase Six: The Criminalization of Patriotism and Dissent
Alex Jones has talked about the fact that the U.S. terror state is now demonizing and targeting people inside America. The myth of the "White Al-Qaeda" is now being spread in the U.S. media in anticipation for future attacks against political resisters. The American white man is being called a domestic terrorist, a racist, and an extremist for refusing to submit to the criminal government in Washington. Expressing patriotism in ways other than supporting the troops and being informed about the Constitution is viewed as a threat to the treasonous establishment in D.C.
Phase Seven: The U.S. Government's War on Questioning and Human Reason

Another part of the government's demonization campaign is the oppressive use of language. Terms like "conspiracy theorist" and "domestic terrorists" are invented to isolate political resistance and make the general public believe that questioning the government is an act of delusion and a crime. Calling political dissidents mentally ill and conspiracy theorists for questioning the policies and statements of the U.S. government is a trick that the Soviet Union also used against its own political dissidents. A good article to read on this subject is 'The Psychologisation of Dissent: The Global Warming Skepticism Mental Disorder' by Brendan O'Neill, the editor of Spiked Online. O'Neill writes:
Psychologising dissent, and refusing to recognise, much less engage with, the substance of people's disagreements – their political objections, their rational criticisms, their desire to do things differently – is the hallmark of authoritarian regimes.
Phase Seven: Rounding Up Political Dissidents Into Concentration Camps, Disarmament, Torture, and Wiping Out The Enemies of The New Authoritarian Regime
To understand what America's concentration camps might look like and what they will be used for, watch this 18 minute video of Chile's concentration camps under General Pinochet 's regime.
The government threat of disarming the American people to prevent them from fighting for their freedoms is very real, but some threats cannot be carried out. Japanese Admiral Yamamoto said near the beginning of World War II that "You cannot invade America. There is a rifle behind every blade of grass." This fact hasn't changed in seventy years.
Phase Eight: Total Slavery For The People, Acceptance of New Government Structure, New Currency, And New Way of Life.
If all goes according to plan, America will be no more. A North American Union with a whole new political system and laws is being planned for North America, and it will then be connected with the European Union and other global bodies to form a unified and authoritarian world state.
Many people believe a new world state is necessary for humanity to survive and for the global community to prosper in these challenging times. The people who are involved in the conspiracy against America, Canada, and Mexico do not believe that they are committing evil by lying to the people and keeping the agenda for world government a secret. They honestly believe they are doing good. Obviously, they are mistaken because good deeds are transparent. Secrecy breeds corruption and tyranny. A global government controlled and owned by a ruthless and cunning private international banking establishment along with multinational corporations will be an absolute disaster for the human race, much like the Soviet Union was a disaster for Russia in the last century.
III. The Deliberate Disintegration and Destruction of America: The Five Fronts In The War Against America

There are many fronts in the globalist war against America besides the five listed below such as the biological front and the cultural front, but I believe these are the most important.
Front One: Psychological Front – Psychological Warfare
There is a concerted, deliberate, and systematic effort to psychologically condition the American people into accepting the war on terror as a justified war, and the attack on their freedoms as reasonable and good. The brainwashing of the American citizenry began long before September 11, 2001, but the neocon gang and Bush administration took it to an extreme, which has backfired against the dark establishment in Washington.
Dutch-American psychoanalyst Joost A.M. Meerloo, author of the 1956 book, "The Rape of the Mind,"wrote in a chapter called 'The Cold War Against the Mind' that totalitarian regimes act irrationally in order to fool their enemies, both foreign and domestic, and to keep people terrorized with panic and confusion. Meerloo:
There is another important weapon the totalitarians use in their campaign to frighten the world into submission. This is the weapon of psychological attack. Hitler kept his enemies in a state of constant confusion and diplomatic upheaval. They never knew what this unpredictable madman was going to do next. Hitler was never logical, because he knew that was what he was expected to be. Logic can be met with logic, while illogic cannot–it confuses those who think straight. The Big Lie and monotonously repeated nonsense have more emotional appeal in a cold war than logic and reason. While the enemy is still searching for a reasonable counter-argument to the first lie, the totalitarians can assault him with another. (Meerloo: 'The Rape of The Mind'; pg. 101)
Psychological tricks and disinformation campaigns are being directed against the American people because undermining the psychological health of the American people is one of the goals of the traitors in power.
Front Two: Economic Front – Economic Warfare
Simply put, a poor population is more likely to be dependent on the government to meet the basic needs of life than a self-sufficient and wealthy population. Besides tyranny, poverty is the greatest enemy of freedom. The economic war against the American people has led to massive unemployment, housing foreclosures, homelessness, and general impoverishment. It is important to know that the economic crash in 2008 did not happen by accident but a result of government policy. And the bank bailouts were not intended to provide jobs but save the dysfunctional and corrupt banking system. America's political and financial ruling elite is beyond ruthless. They will stop at nothing from crushing the American people and turning America into a bankrupt, poor, and miserable police state.
Fresh food that lasts from eFoods Direct (Ad)
Front Three: Terror Front – Political Warfare
State terror and the political use of fear is common in authoritarian and unpopular regimes. A government staged terrorist attack keeps the people in a state of panic and confusion, afraid for their lives, and pleading for security from the government. What more can tyrants ask for? Using state terrorism to resolve social and political problems is a win-win-win formula. Nothing else equals the magical spell that is cast on the people through the instrument of fear.
Front Four: Illegal Immigration Front – Demographic Warfare
Immigration is good. America was built on immigration. But an excess of anything is bad. The problem with America's immigration system today is that it has been hijacked by globalist conspirators who are using immigration as a political weapon to weaken the American people's resolve to deal with tough economic and political issues, and to further divide the country into the rich and poor, white and Mexican, citizen and non-citizen, etc. A wise and just policy is not being taken to address the immigration problem by the establishment in Washington because they do not want to do anything about it. Their goal is to destabilize and ultimately destroy America, not protect and save it.
If Mexico's economy was not destroyed by NAFTA and other corporatist policies that benefit a small financial and political elite in Mexico, America, and Canada then there would be more jobs for the Mexican people in Mexico and less incentive to migrate to America to work. It is important to understand that both the Mexican people and the American people are the victims in the illegal immigration crisis which is connected to the larger economic crisis.
Front Five: Media Front – Information Warfare
There is not much that needs to be said here. It is self-evident that the mass media is interested in propaganda rather than informing the people about what their government is doing in their name. I view the deliberate withholding of information that proves that America is controlled by traitors who murdered Americans on September 11, 2001 as a crime against humanity. It is the greatest betrayal of the people's trust.
IV. The War For The Hearts And Minds of The American People

"Without debate, without criticism, no Administration and no country can succeed–and no republic can survive. That is why the Athenian lawmaker Solon decreed it a crime for any citizen to shrink from controversy. And that is why our press was protected by the First Amendment– the only business in America specifically protected by the Constitution- -not primarily to amuse and entertain, not to emphasize the trivial and the sentimental, not to simply "give the public what it wants"–but to inform, to arouse, to reflect, to state our dangers and our opportunities, to indicate our crises and our choices, to lead, mold, educate and sometimes even anger public opinion." – President John F. Kennedy, The President and the Press: Address before the American Newspaper Publishers Association, April 27, 1961.
The murder of John F. Kennedy was a tragedy and a crime against humanity, but it is nothing compared to the murder of an entire nation. America is being lined up to be killed and destroyed just as JFK was on November 22, 1963.
But America is not going down without a fight. The war for the hearts and minds of the people is being fought every day. One of the great generals in the infowar is Alex Jones. People wonder why Alex Jones is angry at the U.S. government and why he is always ranting. They say Alex is eccentric and psychotic for being mad but I think this criticism is stupid, backward and crazy because anger is a natural reaction to treason and grand deception. The American people are treated like fools and cattle. Alex Jones is passionate and mad for good reason. "Passion," said William Hazlitt, "is the essence, the chief ingredient in moral truth."
If you are not angry then you are not informed. And when you are not informed you make it easier for tyrants to lie to you, rob you, enslave you, and kill you.
MORE: Road to World Government
A Dream Revered
Detroit...take a good look, it's what's instore for you
An epic semi-fictional docu-drama about a retired auto worker who finds courage to take a stand when he has a phenomenal experience with a Real American Hero. This film was created in response to the call by InfoWars.com that will wake people up through Operation Paul Revere.
The Collapse of Detroit: Ground Zero for the Globalist's Deindustrialization Agenda
Aaron Dykes
Infowars
October 30, 2009
"Isn't the only hope for the planet that the industrialized civilizations collapse? Isn't it our responsibility to bring that about?" – Maurice Strong, 1992
It's a history where the bankers have embedded themselves into the economy, building up infrastructure for a time, then bringing down the system within the United States in concert with the international economic warfare and the rise of global government.
It's the collapse of Detroit, and like the Great Depression of the 20th Century, the looming Greater Depression of the 21st Century, and the collapse of Building 7 and the Twin Towers, it was a staged collapse. This stage of the game is De-industrialization. (Article Continued Below)
Obama Lied About Saving Detroit
MORE : Climate Change

This week marks the one year anniversary of the release of emails and documents from the Climatic Research Unit at the University of East Anglia that we now know as Climategate.

Sitting here now, one year later, it's becoming difficult to remember the importance of that release of information, or even what information was actually released. Many were only introduced to the scandal through commentary in the blogosphere and many more came to know about it only weeks later, after the establishment media had a chance to assess the damage and fine tune the spin that would help allay their audience's concern that something important had just happened. Very few have actually bothered to read the emails and documents for themselves.
MORE: Climategate Is Still the Issue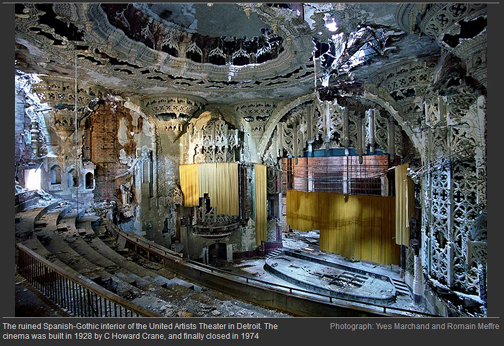 Choose an image to begin
This stage of the game is De-industrialization. ...in America it has been the NAFTA, GATT, WTO and United Nations treaties that have wrecked her integrity and pillaged her productiveness.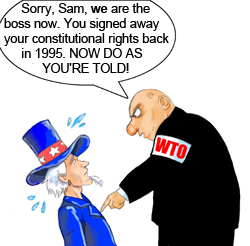 Why is the WTO Bad For You?
The stated aim of the World Trade Organization (WTO) is to promote free trade and stimulate economic growth. The actions, method, and fundamentalism, of the World Trade Organization evokes strong antipathies. Among other things, the WTO is accused of widening the sociological gap between rich and poor it claims to be fixing.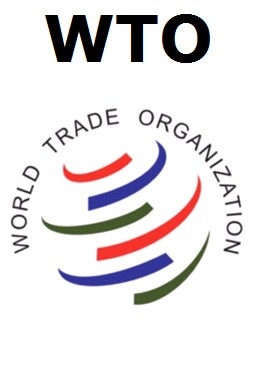 MORE: World Trade Organization
(Article Continued)
Inside this agenda is a plan for global government to emerge from the ashes of the once great United States and for the era of national sovereignty itself to subside. To achieve their goal, an economic squeeze is placed upon the nation and environmental pretexts are being used to strangle independence and viability– in America it has been the NAFTA, GATT, WTO and United Nations treaties that have wrecked her integrity and pillaged her productiveness.
A subsequent volume of 'Fall of the Republic' will further detail the staged-collapse of America's economy, and Detroit is the most-detailed ground analysis yet undertaken by the Infowars team in preparation and research for the film. As this video of Detroit shows, its decline began in the Late 1950s and early 1960s with the collapse of the Packard Plant. We witnessed boarded-up abandoned houses, cities being reclaimed by nature and ethnic demography hardening into areas divided into sub-cultures and readied for control through community demagogues.
A key agent of the Rockefeller family, Dr. Richard Day, the National Medical Director of the Rockefeller-sponsored Planned Parenthood, told a meeting in March 1969 that American industry will be sabotaged and shown to be uncompetitive. He said:
"The stated plan was that different parts of the world would be assigned different roles of industry and commerce in a unified global system. The continued preeminence of the United States and the relative independence and self-sufficiency of the United States would have to be changed… in order to create a new structure, you first have to tear down the old, and American industry was one example of that."

"Each part of the world will have a specialty and thus become inter-dependent, he said. The US will remain a center for agriculture, high tech, communications, and education but heavy industry would be "transported out."
This is Agenda 21 in action—the agenda for the 21st Century as set by the globalists who run the United Nations and other key international mechanisms. The bankers most assuredly created the crisis now underway:
Across the street from the Ford Piquette plant where the first industrial assembly line for mass-production was born, we talked to locals riding through on their bikes in the crisp of fall. Up the block, old Packards were buried under fall leaves on the side of the overpass. One guy looked out of a job, his clothes were disheveled and I wondered whether or not he might be homeless (he wasn't). After he began to rattle off a short history of the development of the engine valves, he told me that he was formerly a master technician in one of the plants. Now, only a relative fraction of those jobs remain.
Schemes for 'planned obsolescence' and other changes in the big Auto sector contributed to a competitive disadvantage in a market that became increasingly globalized and vulnerable to the low wage workers set-up to take over production. Not only the Auto Sector itself, but the wide array of related and complimentary industry was hit. Part makers and sub-contractors all saw their jobs evaporated overseas. That meant not only competition with low-wage Third World nations (via "that giant sucking sound" Ross Perot warned about), but it also meant wrestling with the nebulous global octopus sucking out the heart of America through treaties, trade agreements, debt instruments, loans, aid and more all controlled through binding international vehicles such as the IMF.
Today, Detroit looks like a war zone. The slowly rotting corpse of what had been America's backbone, the leading city in the industrial "Rust Belt." Today, those cities are on the decline and scheduled to be bulldozed, shrunk and returned to nature. Detroit, Flint, Philadelphia, Pittsburgh, Baltimore, Memphis. These centers of production and high-wage working class jobs are now collapsing in every sense. Their city governments are broke. Foreclosures range around 1 in 5 in the worst areas. Neighbors are in decline. The last jobs are about to go.
[efoods]One local told us about the recent suicide of the head of a failed plant in the Del Ray neighborhood inside Detroit. The factories jobs had been lost and unemployment benefits were about to run out. As an outsider, it was becoming difficult to keep track of the many former factories, standing as relics. I wasn't clear about the details of the scenario, but the desperation seemed to underscore the worst parts of the Great Depression many hoped was gone for good. Many areas, including the collapsed pillars on the top floor of the Packard plant, literally resemble Roman ruins. It is a study of what once was, a city based on an abortive concept. Detroit is frozen in decline, the post-industrial society has fully sunk in. Slow death since the onset of globalization had atrophied a sector once poised as a boon of wealth.
It's not a question in Detroit of the price of socialist management or the folly of capitalism's greed. Big Auto could have been easily saved, just as the home foreclosures could have been stopped. Instead, Washington turned over all financial control and gave out trillions to Wall Street and foreign, globalists-owned banks. The distinction is the intentional shedding of an entire productive sector by the same Robber Baron class who raised up American industry, bled it over the alter of the global economy and looted its assets, drying up its labor opportunities, and leaving a shell for historians to study and thrill seekers to marvel at.
President Obama, while publicly positioning himself as a supporter of middle class workers, privately worked to destroy unions, cut benefits and bust opposition. His promises to renegotiate NAFTA were exposed during the 2008 campaign as mere "campaign rhetoric" after economic advisor Austan Goolsbee told Canadian officials that no real "change" would take place. Denials from the Obama camp were made, but Canadian officials reconfirmed that these statements were made.
Now, under the auspices of climate change policies and sustainability efforts, including emissions cuts, fuel standards and other 'green' production requirements, Detroit Auto is forced to be competitive within the confines of lower performance, higher cost green chic designs. The public has proved less than enthusiastic about these measures. The government-owned GM and Chrysler will be shells of their former selves, and Ford will be forced to tow the line and face the danger of being handed off piecemeal to firms like Italy's Fiat, a company deeply embedded in the Bilderberg group which has long worked to dominate in unified, no barrier common-markets.
Experts featured in 'Fall of the Republic' have explained that the biggest key to Detroit Auto's collapse was the parasitical investment banking structure. Although CEO and corporate greed factors in to problems auto has had, targeted de-competitiveness and the weight of ill-advised leveraged and derivative-based assets are what brought auto down.
William K. Black, former bank regulator, trader Max Keiser and historian Webster Tarpley all explain how the firewall between investment and commercial banking that was set-up under the Glass Steagall Act in the wake of the Great Depression was destroyed by then-Clinton, now-Obama financial goons Larry Summers and Robert Rubin
Max Keiser, Alan Watt and John Perkins explain how public projects were shifted from public good measures and converted into vehicles for the transfer of publicly held assets to private hands. Bought-and-paid politicians in all countries of the world have been involved in deregulating and privatizing water and utility services, they have handed over land seized through imminent domain to partner companies and looted the pensions and public welfare systems. In short, the takeover by elites– including royalty, robber barons, Wall Street and environmental organizations– has indeed taken over the economy through the current economic crisis.
Foreclosures nationwide are expected to go suddenly from 1 million homes to 6 million homes. Detroit, Flint and the others are canaries in the coalmine, in terms of the American economic landscape.
As 'Fall of the Republic' details, and key subjects in the film, including Gerald Celente, detail: a nation producing almost nothing, importing nearly everything and printing money based on nothing is one scheduled for collapse and subject to reintegration into the global structure.
The sound of the circling IMF vultures loom overhead; its target has weakened. It has stopped moving and collapsed on the floor. If it doesn't get back up soon, it never will. This is America's last chance.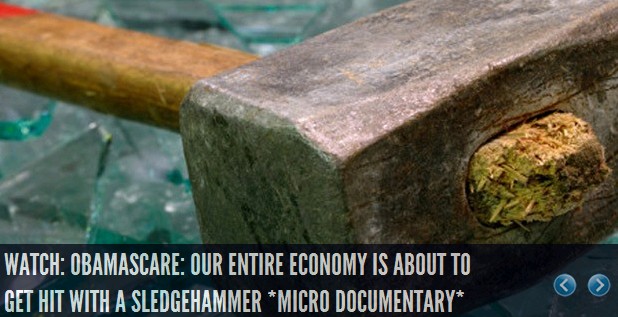 Watch: ObamaScare: Our Entire Economy is About to Get Hit With a Sledgehammer *Micro Documentary*
Mac Slavo
SHTFPlan.com
November 28, 2013
With the Patient Affordable Care Act now actively being integrated into American society, many still have no clue what its after-effects will actually be.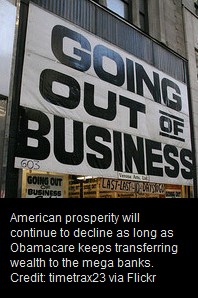 Here's the reality: The pain is coming and if you have yet to experience it in the form of higher insurance premiums, you can be assured that you're going to feel it very soon in one way or another.
Our entire economy is about to get hit with a sledgehammer.
The following must share micro-documentary from Everything Investments details many of the changes to come, and despite what the mainstream media wants us to believe, or what those who are receiving free health care think they are getting from their government, the fact is that a dark cloud of economic malaise is going to descend upon our country.
Obamacare is turning America into a part time workforce… companies all across the nation are reducing many workers to less than 30 hours a week… this includes local and state governments.

Obamacare also has job killing mandates and other penalties on business, increasing tax burdens on smaller companies.

…Costs all around are going to rise.
Watch ObamaScare and learn just how this is going to affect our economy and YOU within a few months time:
(For More Informative Videos and Resources visit Everything Investments)
Other than Congressional members and those companies which received "special" exemptions from the health care bill because of backroom deals, these new mandates are going to put so much pressure on individuals and businesses that the destruction of America's economy is now a foregone conclusion.
We can pretend "free" health care is free, or we can realize that the government just nationalized 1/6th of our country's economy and they are confiscating the wealth of an entire nation in an effort to make it work.
As we noted previously there is no fix to this debacle and we can fully expect the entire system – and that includes Obamacare and our domestic economy – to detonate within one year's time.
Buckle up, it won't be pretty.
This article was posted: Thursday, November 28, 2013 at 9:17 am
Tags: domestic news, economics
LINK : Health Care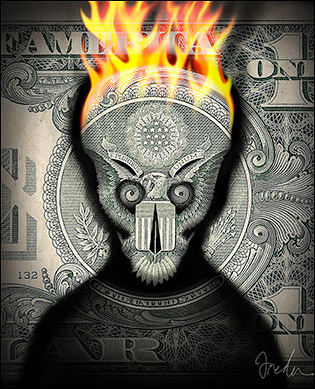 LINK : THE I.R.S.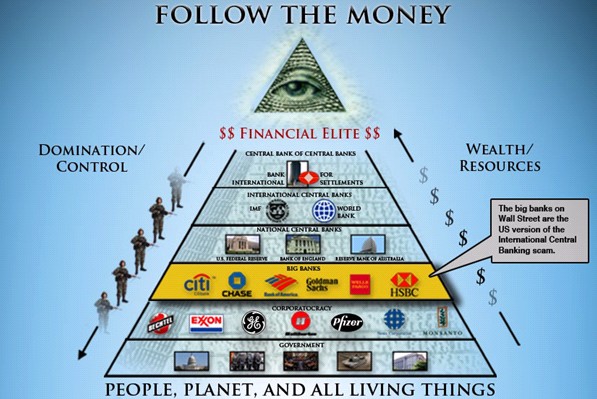 ********IMPORTANT TO UNDERSTAND********
Derivatives:
WEAPONS OF MASS ECONOMIC DESTRUCTION!
The derivatives market is the Las Vegas of the world's financial super elite, worth anywhere between 2 to 8 quadrillion dollars compared to about 70 trillion dollars of world GDP. We look at the so-called financial innovations of Wall Street from Collateralized Debt Obligations to Mortgage Backed Securities.

We also look at US government's complicity; White House and Congress both vested interests not only as recipients of Wall Street largess in the form of campaign donations but as major players with criminal asymmetrical information and influence advantages.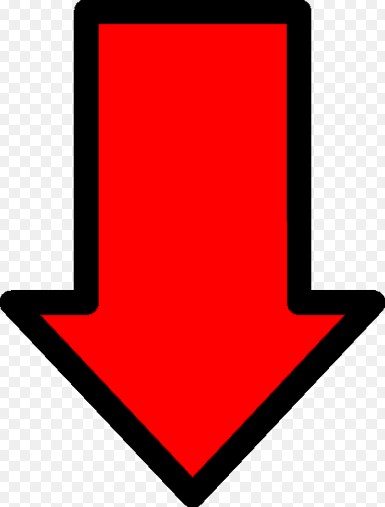 It's the Bankers or Us
Alex Jones explains how the austerity hammer is falling now on Europe, and will soon fall on the U.S. Fresh bailouts and buyouts by foreign banks are being forced on Ireland and other European nations, while officials in the United States are dropping news on Americans that pensions, insurance for veteran military personnel and more are being taken away.

The IMF and World Bank have essentially completed their phase I mission of absorbing and dominating 3rd World nations, and are now coming for so-called 1st World Nations-- the United States, Canada, UK, Europe and more.
IMF and EU put Ireland on tight leash
http://www.moneycontrol.com/news/worl...

'Irish paying for debt created by bankers'
http://www.presstv.ir/detail/151428.html

Central bank takes center stage in EU debt crisis
http://www.businessweek.com/ap/financ...

Irish Republic banks 'for sale'
http://www.bbc.co.uk/news/business-11...

Terms of Enslavement; Irish Citizens Say "Default"; Agreement Violates EU and Irish Laws; 50 Ways to Leave the Euro
http://www.howestreet.com/articles/in...

Ireland to Cut Spending by 20%, Raise Taxes as Rescue Talks Climax
http://www.bloomberg.com/news/2010-11...

Spain Depends on Budget Cuts to Stem Contagion by Luring Local Bond Buyers
http://www.bloomberg.com/news/2010-11...

EU rescue costs start to threaten Germany itself
http://www.telegraph.co.uk/finance/fi...

Europe Tries to Contain Debt Crisis
http://online.wsj.com/article/SB10001...

White House Says Europe Crisis May Harm U.S. Economic Recovery
http://www.bloomberg.com/news/2010-12...

Report of US supporting more IMF aid props up euro
http://www.washingtonpost.com/wp-dyn/...

Gates Seeking to Contain Military Health Costs
http://www.nytimes.com/2010/11/29/us/...

Military Update: Obama drops veterans' insurance proposal; more showdowns loom
http://www.stripes.com/news/military-...

Obama Administration Proposes Pay Freeze to Federal Employees
http://www.africanaonline.com/2010/12...

Union Drops Health Coverage for Workers' Children
http://blogs.wsj.com/metropolis/2010/...

The Madness of a Lost Society
http://www.infowars.com/the-madness-o...

IMF Expects to Double Its Lending Capacity
http://online.wsj.com/article/SB10001...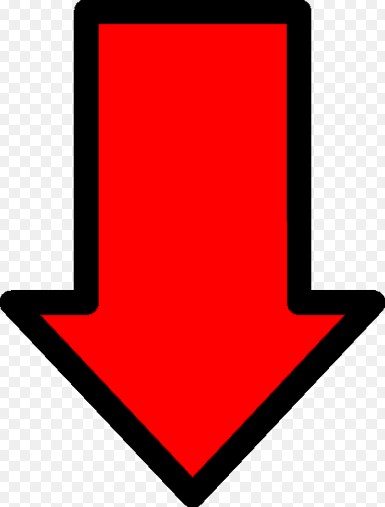 FALL OF THE REPUBLIC
(Full Movie)

"Isn't the only hope for the planet that the industrialized civilizations collapse? Isn't it our responsibility to bring that about?" – Maurice Strong, 1992 [Who is Maurice Strong?] Today, Maurice Strong sits atop the global environmental movement headed by the United Nations and its interlocking NGO's and tax-exempt foundations. Strong is considered to be the person behind the globalization of the foundation-funded environmental movement, and was the Secretary-General of the United Nations Conference on the Human Environment held in 1972, in Stockholm, Sweden.
Maurice Strong
Jurriaan Maessen Excerpt -- One-Child Policy Enforcer Crushes Baby To Death After Parents Refuse To Pay "Fine"
As I reported some time ago, UN strongman Maurice Strong told an audience of environmentalists at a side-event to the 2012 Earth Summit in Rio de Janeiro that China is the model-state for the rest of the world to emulate in regards to environmental matters.
"What China does matters to the world", Strong said, "and what China is doing is actually a tremendous source of encouragement."
Strong went on to say that "sustainable development" has become a "people's movement guided by the people's government."
Strong is a long-time advocate of the sort of draconian population policis that China has forced upon its people. As far back as the early 1970s, Strong hesitatingly admitted to the BBC that such a thing as a license to have a child is the kind of system he would see implemented globally:
Maurice Strong Interview (BBC, 1972)
Maurice Strong FALL OF THE REPUBLIC (EXCERPT)
>>Maurice Strong @ 4:23/9:28<
Maurice Strong, 1992, founder of the UN Environmental Program
[Who is Maurice Strong?] Today, Maurice Strong sits atop the global environmental movement headed by the United Nations and its interlocking NGO's and tax-exempt foundations.

Strong is considered to be the person behind the globalization of the foundation-funded environmental movement, and was the Secretary-General of the United Nations Conference on the Human Environment held in 1972, in Stockholm, Sweden.

He co-authored the 'Earth Charter' with Mikhail Gorbachev in 1992. It was Gorbachev who stated in 1996 that the "threat of environmental crisis will be the 'international disaster key' that will unlock the New World Order."

Strong was recruited by David Rockefeller at the age of 17 and groomed for the role he serves today. Despite not having a college education, he was a millionaire by his early 20's and wielded enormous power and influence.

Already in 1972, at the time of this interview, there is talk of doomsday scenarios if people don't give up their rights and drastically alter the way they live. Also mentioned in the interview is zero growth, put forward by the Club of Rome in the late 60's/early 70's, which called for the control of population and economic growth, and was the precursor to what we see happening today with the US economy and infrastructure being gutted and sent overseas.

In this interview clip Strong discusses his proposal of licenses in order for women to give birth, which has been of much talk among the elite for the past several decades. In the 70's, David Rockefeller extended his praise to communist dictator of China, Mao Zedong, in an article published in the New York Times, for his country's one-child policy, which will be the model for the Western nations to follow in the future -- hence China's "Most Favored Nation" status granted by the UN.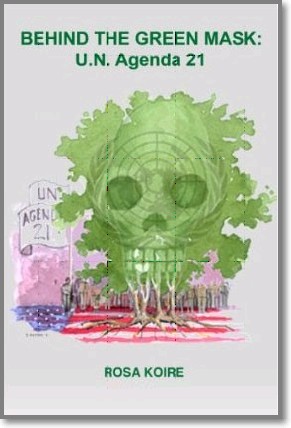 MORE: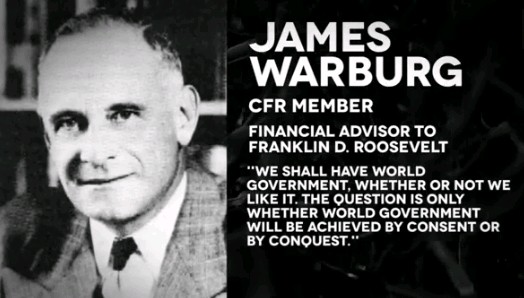 James Paul Warburg was a German-born American banker. He was notably well known for being the financial adviser to Franklin D. Roosevelt. His father was banker Paul Warburg, member of the Warburg family and "father" of the Federal Reserve system.
---
If humanity is divided along ethnic, racial and religious lines it can never come together and defeat the real enemy – the ruling hereditary elite." -- Blake McEwan

---
DIVIDE AND CONQUER
The Balkanization of America
LINKS :
Twenty-Five Rules of Disinformation
A DISTRACTED AND DIVIDED REPUBLIC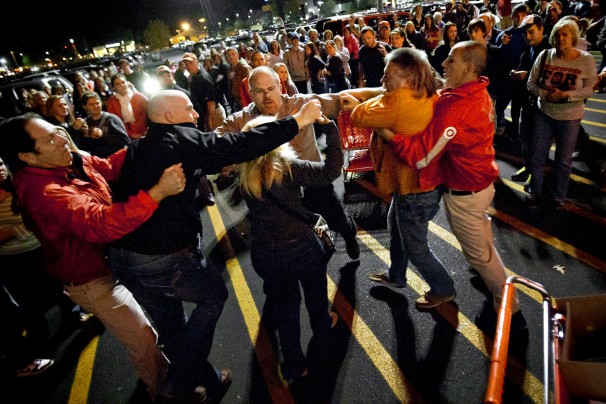 (BLACK FRIDAY IN PARKING LOT)
THE MADNESS OF A LOST SOCIETY
Another 'Black Friday' has come and gone. And it has left us with further evidence of the complete madness of the populace of our nation. America has been dealt a fatal blow by corporate greed, Bankster malfeasance and the insidious nature of collectivism -- and it's all been done to us by design.

The once proud and independent people of the United States have, in large part, been reduced to servants of the State. As Aldous Huxley famously noted, "People can actually be made to LOVE their servitude."

Featuring Mike Krieger, Rob Kirby, Chris Duane, Gerald Celente, Bill Murphy and many others, 'Madness 3' offers one last 'fair warning' for those with the eyes to see and the ears to hear.

My websites:
http://www.SGTreport.com
http://www.TheLibertyMill.com
THE MADNESS OF A LOST SOCIETY 2 : FINAL WARNINGS
We didn't stand up for truth, we didn't stand up for the Constitution, we didn't stand up for the rule of law. And now the day of reckoning is upon us. Please, prepare.

Please consider protecting yourself & your loved ones with Physical Silver and/or Gold.
THE MADNESS OF A LOST SOCIETY 3
Another 'Black Friday' has come and gone. And it has left us with further evidence of the complete madness of the populace of our nation. America has been dealt a fatal blow by corporate greed, Bankster malfeasance and the insidious nature of collectivism -- and it's all been done to us by design.

The once proud and independent people of the United States have, in large part, been reduced to servants of the State. As Aldous Huxley famously noted, "People can actually be made to LOVE their servitude."

Featuring Mike Krieger, Rob Kirby, Chris Duane, Gerald Celente, Bill Murphy and many others, 'Madness 3' offers one last 'fair warning' for those with the eyes to see and the ears to hear.

My websites:
http://www.SGTreport.com
http://www.TheLibertyMill.com
MADNESS 3 ADDENDUM - Don't Say You Weren't Warned.
Madness 3: Addendum' features critical information from my original interviews that hit the cutting room floor and didn't make it into Madness 3, but should have. Jeff Nielson, Chris Duane, The Doc, Bix Weir, Fabian Calvo, and Daniel Ameduri, provide a body blow for those who still don't believe the end of the Dollar is near.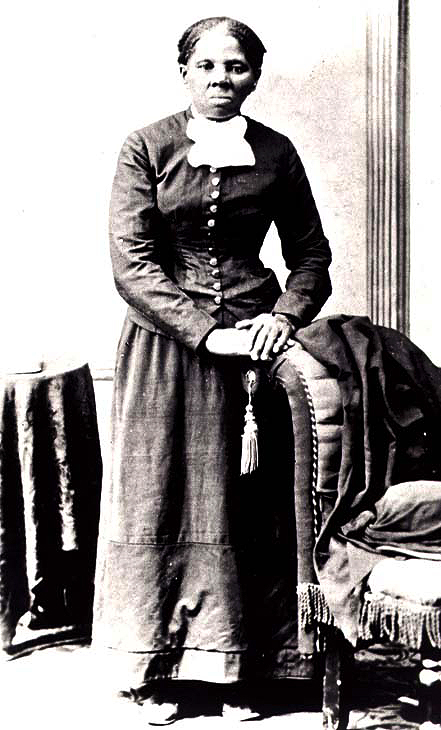 -- Harriet Tubman --
"I freed a thousand slaves; I could have freed a thousand more, if only they knew they were slaves."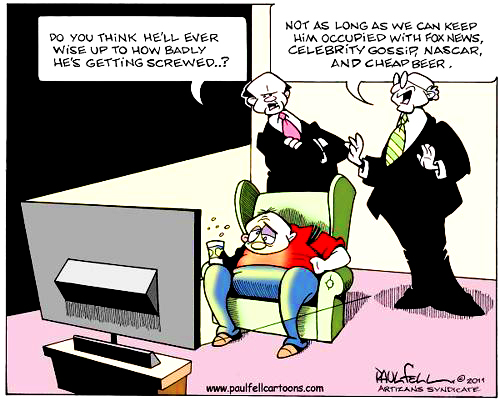 Only the vigilant can maintain their liberties, and only those who are constantly and intelligently on the spot can hope to govern themselves effectively by democratic procedures.
"A society, most of whose members spend a great part of their time, not on the spot, not here and now and in their calculable future, but somewhere else, in the irrelevant other worlds of sport and soap opera, of mythology and metaphysical fantasy, will find it hard to resist the encroachments of those who would manipulate and control it."

- Aldous Huxley -
LINK :
"It is well enough that people of the nation do not understand our banking and monetary system, for if they did, I believe there would be a revolution before tomorrow morning."
- Henry Ford -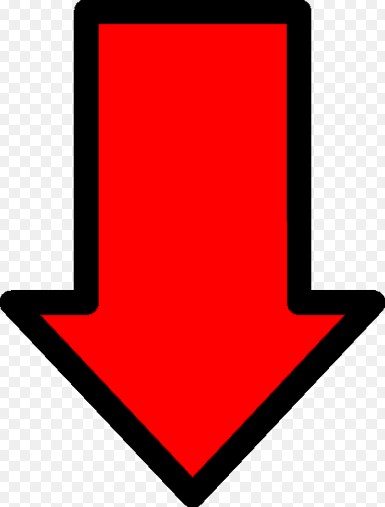 REACH OUT TO OTHERS
[Help Educate Family And Friends With This Page And The Links Below]
---
A world system of financial control in private hands able to dominate the political system of each country and the economy of the world as a whole.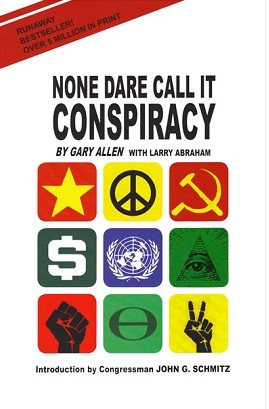 There is no other book that so clearly and concisely explains the New World Order.
MORE:
Global Debt Crisis Simply Explained
These 12 Hellholes Are Examples Of What The Rest Of America Will Look Like Soon